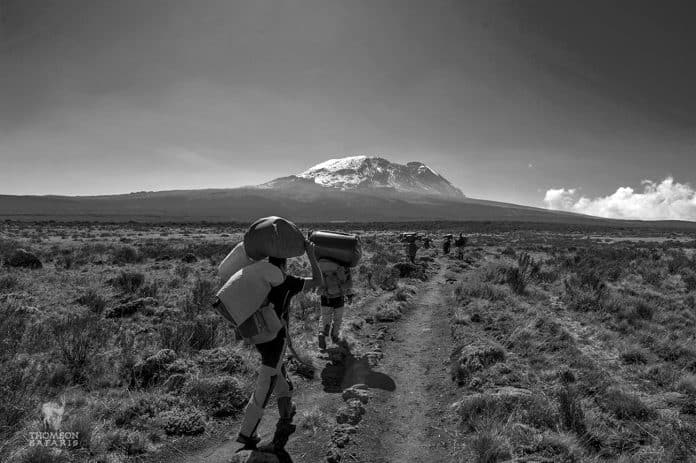 Mount Kilimanjaro Porters – Their Roles, Conditions of Employment, Wages, and Benefits
The Importance of Porters of Kilimanjaro
Your porters on Mount Kilimanjaro are essential to the success of your Kilimanjaro climb, and climbing Kilimanjaro without porters would be practically impossible. Kilimanjaro porters raced up the mountain with heavy goods to set up camp for you before reaching the next camp ahead.
By the time you reach the summit of the mountain, Kilimanjaro porters have already begun mentally planning for their next ascent.
Nearly every trekker who summits Kilimanjaro comes away from experience with a newfound appreciation and affection for the demanding job of a porter.
You can show your thanks for their hard work by joining a firm that values their contributions.
Responsibility of Porters on Mount Kilimanjaro
As the job title suggests, the Kilimanjaro porters primary duty is to move all team's belongings. This includes toilets, sleeping bags, tents, oxygen bottles, food, medical kits, hyperbaric chambers, stretchers, and garbage generated throughout the expedition.
Once you've arrived at your destination, it's time to settle in. They also set up the campsite, including the tents, toilet, and occasionally sleeping bags and air mattresses.
They are also responsible for sanitizing all water used for drinking, food preparation, and cleaning. Kilimanjaro Porters also assist with food preparation and service, including clearing plates.
As you move higher up the mountain, the porters will encourage you and cheer you on.
The effects of high altitude on our bodies can be devastating, and you may find yourself relying on porters to execute simple tasks like tying a shoelace or repairing a boot. You couldn't climb the mountain Kilimanjaro without porters.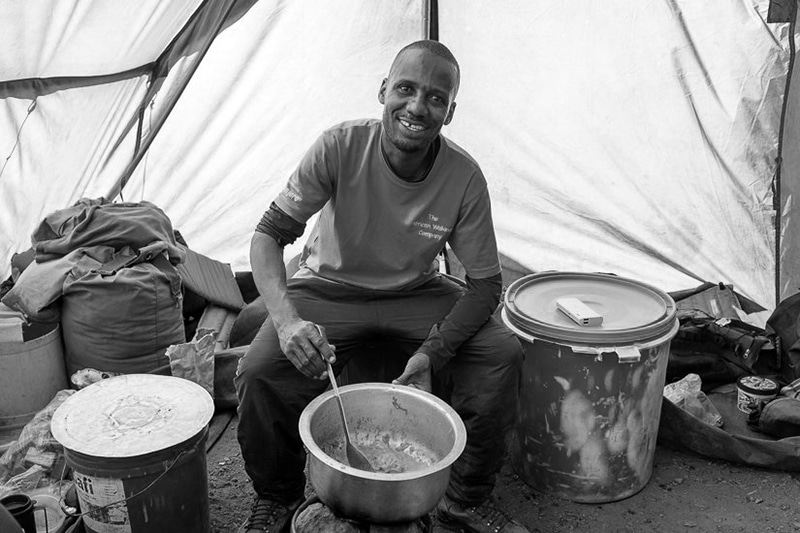 Porters' Employment Conditions
Inadequate working conditions make being a porter an already demanding job. Kilimanjaro porters who work for employers who lack integrity are frequently required to carry equipment weighing up to 40 kilograms rather than the 20 kg suggested.
If they don't work for a company with a reputation, they're more likely to be dressed in shabby, torn clothing and worn-out footwear, putting them at risk for hypothermia and even death if it becomes cold out. Understandably, so many porters die on Kilimanjaro because they're not equipped with enough food or shelter.
The vast majority of Kilimanjaro porters and guides are self-employed individuals without a steady source of income or access to health care. Instead, they show up at the mountain's entrance and ask to be hired.
Kilimanjaro porters are supposed to be paid 20,000 Tsh each day (approximately $8.50); however, many low-cost operators pay only half of this, pay them slowly, or don't pay them. Some crooked operators keep the entire tip instead of splitting it with the staff.
Many young Tanzanians don't have advanced degrees or specialized training; thus, becoming a porter is one of the few options. Many would-be porters compete for a limited number of positions, making it more forthright for companies to take advantage of the situation.
Employing fewer Kilimanjaro porters and pushing them to carry more weight than they are trained to handle is a common tactic used by dishonest companies to cut costs. If a tour seems too good to be true, it certainly is, and the porters' well-being is put at risk first.
Females Working as Porters
In addition to the primarily male Kilimanjaro porters, Kilimanjaro employs a small number of female porters. Since most companies prefer to hire men, being a female porter becomes even more challenging.
Repeatedly, female porters Kilimanjaro based, may be overlooked as they line up at the entrances of the pathways.
It is not uncommon for female porters to be subjected to sexual harassment in Tanzania. As long as they share a tent, it's easy for them to become victims to guides, rangers, and other porters.
And sharing a bathroom with men and dealing with female concerns can be unpleasant. A few organizations are improving the working circumstances of female Kilimanjaro porters, but much more needs to be done.
The Porters Assistance Project for Kilimanjaro (KPAP)
To enhance the working conditions of Mount Kilimanjaro porters, the Kilimanjaro Porters Assistance Project (KPAP) was founded.
The Kilimanjaro porters association ground rules are the recommended number of porters for each visitor excursion and the prescribed minimum wage and luggage load capacity.
Climbing Kilimanjaro places a high value on the treatment of the Kilimanjaro porters, who we employ. As per KPAP guidelines, we allocate three or four porters for each hiker to ensure that no one is overworked.
We undertake daily health checks on our personnel on the trip, just like we do for our clients, and ensure adequate food, sleeping accommodations, and trekking equipment.
To ensure that every member of our team is given adequate relaxation and "downtime," we follow the same evacuation procedure in the event of illness or injury.
What Can You Do To Support?
Booking your trip with a reputable tour operator who treats its porters with respect is the best way to prevent contributing to the abuse of Kilimanjaro porters. The temptation to book a trip for pennies on the dollar is cruel.
When conducting your study, inquire about the ethical treatment of porters by the company you are contemplating hiking with. In this sense, discuss their strategy and policies.
Tipping porters directly rather than combining tips and handing them to the guide is another way you can help out. How much to tip Kilimanjaro porters? Kilimanjaro porters like gifts of clothing and trekking gear in addition to financial tips. How much should you tip porters on Kilimanjaro? It is advisable to tip each porter a minimum of between $8- $10 per day.
These items are quickly depleted when climbing Kilimanjaro regularly. In the same way as gratuity, it is best to present these gifts directly to the receiver.
Remember that the Kilimanjaro porters are responsible for carrying your duffel bag on your trip. However, you may help by reducing the weight of these bags as much as possible (without sacrificing the essentials!).
For more articles related to Tourism in Tanzania, click here!