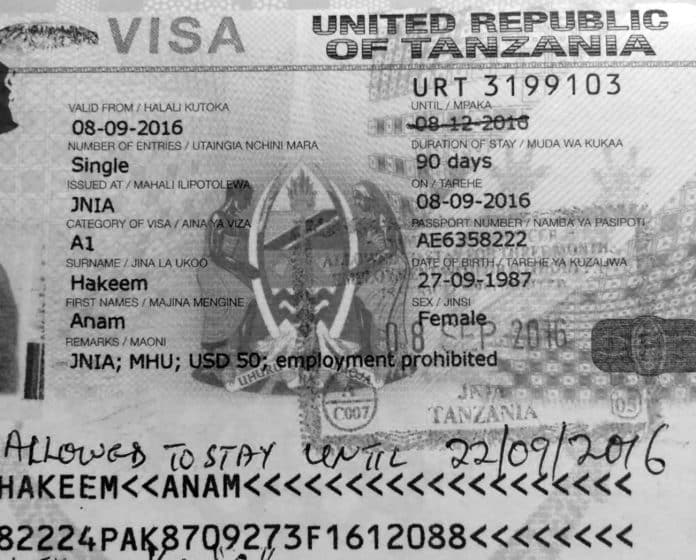 A Comprehensive Guide: Visa Requirements for Traveling to Tanzania
‍Planning a trip to Tanzania and asking yourself, "Do I need a visa to travel to Tanzania?" Look no further! This comprehensive guide will walk you through all the essential visa requirements you need to know before setting foot in this mesmerizing East African country. From the necessary documents to the application process, we've got you covered.
Do You Need a Visa to Travel to Tanzania?
Tanzania is a fantastic place with wild animals, beautiful beaches, and tall mountains and the country is visited by people from various countries every year, making the country a good vacation spot. But you might be thinking, "Do i need visa to travel to Tanzania from Nigeria?" if you are coming from Nigeria or a Nigerian traveling with a Nigerian passport or "Do US citizens need a visa to travel to Tanzania" if you're a US citizen.  The good news is that Tanzania loves visitors and does not discriminate! But the visa rules differ based on where you come from and why you're going. Let's discuss the visa requirements for traveling to this amazing country in the following subsection. 
Visa Requirements for Traveling to Tanzania
Tanzania, known for its stunning wildlife, breathtaking landscapes, and vibrant culture, offers a plethora of experiences for every traveler. But before you embark on your adventure, understanding the visa requirements is crucial to ensure a smooth and hassle-free journey.
Different Types of Visas for Tanzania
There are several types of visas available for traveling to Tanzania, depending on the purpose of your visit. The most common ones include tourist visas, business visas, and volunteer visas.
A tourist visa is suitable for those planning to explore Tanzania's natural wonders, such as the Serengeti National Park or Mount Kilimanjaro. This visa allows visitors to stay in the country for up to 90 days.
If you are traveling for business purposes, you will need a business visa. This visa allows you to attend meetings, conferences, or engage in trade activities in Tanzania. The validity of a business visa can range from 30 days to 6 months, depending on your needs.
For those who wish to volunteer in Tanzania, a volunteer visa is required. This visa allows individuals to engage in charitable activities or work with non-governmental organizations (NGOs) in the country.
The Visa Application Process for Tanzania
Now that you know the types of visas available, let's explore the visa application process for traveling to Tanzania. The process is relatively straightforward, but it's essential to follow the correct steps to avoid any delays or complications.
First, you need to gather all the necessary documents for your visa application. These typically include a valid passport with at least six months of validity remaining, a completed visa application form, a recent passport-sized photograph, and proof of travel arrangements, such as flight tickets.
Once you have all the required documents, you can submit your application either in person at the Tanzanian embassy or consulate in your home country or online through the official Tanzania Immigration Services Department website. Make sure to double-check the specific requirements and procedures for your country of residence, as they may vary slightly.
Visa Fees and Processing Time
When applying for a visa, it's crucial to be aware of the associated fees and processing time. The visa fees for Tanzania vary depending on the type of visa and the duration of stay. It's recommended to check the official embassy or consulate website for the most up-to-date information regarding fees.
As for the processing time, it can range from a few days to a few weeks, so it's advisable to apply well in advance of your planned departure date. Keep in mind that during peak travel seasons, the processing time may be longer, so it's best to plan accordingly.
Visa Extension and Renewal in Tanzania
If you wish to extend your stay in Tanzania beyond the initial visa period, it is possible to apply for a visa extension. However, it's essential to note that visa extensions are subject to approval by the Tanzanian immigration authorities, and there may be additional fees involved.
To apply for a visa extension, you will need to visit the nearest immigration office in Tanzania and submit the required documents, including a valid passport, completed visa extension form, and proof of sufficient funds to support your extended stay. It's advisable to start the extension process well before your current visa expires to avoid any issues.
Important Documents and Information for Visa Application
To ensure a successful visa application, it's crucial to have all the necessary documents and information prepared in advance. Here's a checklist of the essential items you will need:
Tips for a Smooth Visa Application Process
To ensure a smooth visa application process, consider the following tips:
Visa Requirements for Specific Purposes of Travel
Each type of travel to Tanzania has specific visa requirements. Let's explore the requirements for some common purposes of travel:
Frequently Asked Questions About Visa Requirements for Tanzania
Conclusion and Final Tips for Traveling to Tanzania
We hope we have answered your 'Do I need a visa to visit Tanzania?' Obtaining a visa for traveling to Tanzania is essential to planning your trip. By familiarizing yourself with the visa requirements, gathering the necessary documents, and following the correct application procedures, you can ensure a smooth and hassle-free journey to this mesmerizing East African country. 
Remember to start the visa application process early, double-check all requirements, and provide accurate and truthful information on your application form. Keep copies of all your documents, and be prepared to provide additional supporting documents specific to your purpose of travel.
With the right visa in hand, you can embark on an unforgettable adventure in Tanzania, experiencing its stunning wildlife, breathtaking landscapes, and vibrant culture. So, pack your bags, prepare your camera, and get ready to explore the wonders of Tanzania!
For more articles related to Tanzania Immigration, click here!