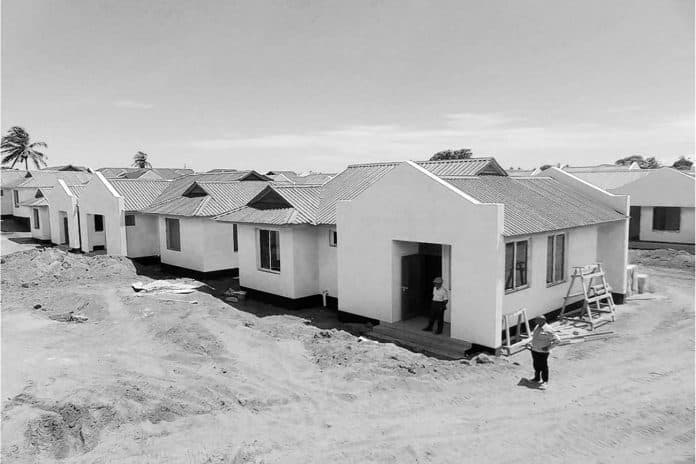 Tanzania Mortgage Refinance Company
– Overview, Services and More
Tanzania Mortgage Refinance Company (TMRC) is a Tanzanian Mortgage Liquidity Facility. The TMRC is a private sector entity owned by non-bank and bank organizations that offers long-term financing to financial institutions for mortgage lending.
Ownership
Tanzania Mortgage Refinance Company is a financial entity owned by non-bank organizations and banks that exists only to assist banks in mortgage lending by refunding banks' mortgage portfolios.
Tanzania Mortgage Refinance Company currently has 17 shareholders, which are listed according to their share percentage: 9.20%-International Finance Corporation, 4.34%-First Housing Company, 1.34%-Mkombozi Commercial Bank, 10.11%-Shelter Afrique, 5.20%-NHC, 2.17%-NCBA Bank, 13.01%-CRDB, 7.81%-NMB, 5.20% – EXIM Bank, 10.84%-Azania Bank, 6.50% – TIB Development Bank, 4.34% – BancABC, 4.77% – DCB Commercial Bank, 5.42% – NBC, 4.34% – BOA, 2.71% – I&M Bank, 2.71% – PBZ. Each of the aforementioned institutions has contributed at least Tsh 500 million to the Company's issued share capital. The total paid-up and subscribed capital is 25.37 billion Tanzanian Shillings.
Objectives
TMRC's goal is to assist financial institutions in mortgage lending by refunding the mortgage portfolios of Primary Mortgage Lenders (PMLs). This is often referred to as secondary or wholesale market lending. TMRC does not accept deposits or make direct loans to people. Tanzania Mortgage Refinance Company refunds mortgage loan portfolios instead of individual loans and serves banks among other PMLs instead of individual borrowers.
Tanzania Mortgage Refinance Company stockholders are likely to raise their stake in the firm as the Company's balance sheet improves. There are no limits on other eligible organizations or banks participating in TMRC's equity. The firm is an 'open club,' as there are no entry restrictions for other eligible investors.
Vision
To become Tanzania's chosen secondary market intermediary for mortgage borrowing.
Mission
To increase house ownership in the country by providing major mortgage lenders with long-term funding.
Tanzania Mortgage Refinance Company (TMRC) Motto
The motto of Tanzania Mortgage Refinance Company is "Homeownership via financial intermediation."
Core Values of TMRC
Teamwork

Efficiency

Passion

Integrity
Business Strategy / Model
TMRC's business plan consisted of the following stages:
Phase 1 — During the first years of operation, Tanzania Mortgage Refinance Company pre-finances and refinances PML mortgage pipelines and loans using World Bank financing. When requested by PMLS, the World Bank granted an initial loan of US$ 30 million to non-member and member banks via TMRC in Tanzanian Shillings equivalent.
Phase II – In the following years, the World Bank's 2nd loan of US $40 million was combined with TMRC's corporate bonds, public and private (Via Capital Market) issuances, and advanced to Tanzanian PMLs. Tanzania Mortgage Refinance Company will support its activities once the World Bank loan has been exhausted by giving corporate bonds on the capital market and creating credit lines with other investors interested in Tanzania's expanding housing finance industry. TMRC's bonds are simple vanilla, with bullet repayment and interest paid semi-annually.
The Bank of Tanzania, the World Bank, the Bank of Tanzania, and commercial banks are Tanzania Mortgage Refinance Company partners.
Tanzania Mortgage Refinance Company used shareholder equity and a world bank loan to pre-refinance bank loans in the initial phase of its operations. The Bank of Tanzania advanced the Tanzania Mortgage Refinance Company with a US$ 30 million loan from the World Bank in Tanzanian shillings (TZS). The World Bank provided an additional $40 million in financing to support TMRC activities throughout phase 1. TMRC has begun raising cash from the financial markets as part of its second operational phase. Market finance is obtained by issuing corporate bonds on the capital market. In May 2018, the Capital Markets and Securities Authority (CMSA) authorized a Medium Term Note Programme (MTN) worth TZS 120 billion. Following the successful provision of Tranche 1, worth TZS 12.5 billion in 2018 June and Tranche 2, valued at TZS 9.2 billion in 2019 June, the MTN will raise funds for the next 5 years, beginning in 2018.
As Tanzania Mortgage Refinance Company balance sheet expands, additional shareholders are likely to join and contribute to the Company's capital base. Other banks or qualifying institutions should not be restricted from investing in TMRC's equity. The firm is an 'open club' and has no entrance requirements for qualified investors.
The TMRC's project aims and expectations are as follows:
Provision of reliable long-term capital at impressive rates to member banks to continue lending to their customers.

Continue to reduce the cost of capital, leading to lower mortgage rates, enhancing affordability and broadening the pool of possible borrowers.

Continue to assist member institutions in extending mortgage maturities to match standard mortgage products.

Contribution to the expansion of the mortgage market via

Tanzania Mortgage Refinance Company

support of PMLs.

Contributing to the development of Tanzanian capital markets by issuing TMRC bonds to raise funds for the long-term lending to its member banks.

Aid in standardization of mortgage practices in Tanzania by providing specialized mortgage origination training to its member banks.

MLFs' existence, which guarantees the financing of mortgage portfolios, makes it easier for new mortgage lenders to enter the market.
Services
Charter
Tanzania Mortgage Refinance Company is a regulated non-deposit taking organization permitted to do business by the Bank of Tanzania (BoT) and issue bonds by the Capital Markets & Securities Authority (CMSA).
Tanzania Mortgage Refinance Company charter reflects a unique status as a single-objective vehicle. It prohibits the firm from engaging in other activities (such as accepting deposits, refinancing commercial loans, or direct lending) other than those for which it was formed.
The limited charter is intended to guarantee that Tanzania Mortgage Refinance Company concentrates on assisting the expansion of the mortgage and bond markets by confining its activities to mortgage loan refinancing and bond issuance in support of those activities.
Featured Services and Specialization
Tanzania Mortgage Refinance Company is a specialist financial organization that offers banks long-term finance. TMRC first began financing Primary Mortgage Lenders (PML) with a $30 million World Bank credit.
Services Highlighted
Tanzania Mortgage Refinance Company operates as a wholesale secondary market organization that refinances mortgage loan portfolios instead of individual mortgage loans and caters to banks instead of individual borrowers. Its members or users own it. It does not accept deposits or provide direct loans to people. It is run on commercial principles, and its specialized and restricted mission will improve the credit quality of its issued bonds. At the same time, its openness and simplicity will decrease the regulatory burden.
To that end, Tanzania Mortgage Refinance Company shall aim to "source finances as efficiently as possible in the country's financial market and channel them to member banks at competitive rates, thereby facilitating access to housing by the population while contributing to Tanzania's capital markets developments."
Refinancing Circle
The first stage involves a borrower getting a loan from a lender who, in exchange, will make monthly payments to repay the principal and interest.
In addition, the borrower offers security in the form of a mortgage on the property to be acquired, built, refinanced, or restored.
The next stage is for the lender to have it refinanced with Tanzania Mortgage Refinance Company, which will refinance bank mortgage loans with recourse to those banks.
Tanzania Mortgage Refinance Company will raise its funds in the third stage by issuing bonds in the capital markets. TMRC will issue standard corporate bonds with no pass-through of credit risk associated with mortgages. It serves as a simple go-between for capital markets and mortgage lenders. TMRC will raise finances at a lower cost than any bank could do on its own because of its creditworthiness and size. This is due to TMRC's strong shareholders, robust capital foundation, high asset quality, and its regulation by the BoT. This is among the most significant advantages of Tanzania Mortgage Refinance Company, particularly for medium and small-sized banks that would otherwise be unable to access capital markets on reasonable terms.
Funding and Pricing
Funding sources
Initially, the IDA loan was disbursed through the BoT.

Corporate Bonds. In its final years of existence, TMRC will begin issuing corporate bonds. TMRC's market funding share will be gradually raised, and the maturities of these bonds shall be gradually extended as the market develops, resulting in long-term financial independence and sustainability.

Bank credit lines.

Paid-up Capital

Borrowings in the money market
Loan from BoT Pricing:
Tanzania Mortgage Refinance Company will receive its initial financing from BoT through loans. TMRC will receive loans from BoT due to the IDA loan to BoT. It will do so as closely as possible in line with market prices. The price of the BoT loans will gradually grow more costly as the project advances, providing an incentive for TMRC to fund itself via the private bond markets. During the initial years of bond market access, a credit enhancement shall be provided in the form of a spread reduction supported by BoT, lowering TMRC's cost of funding.
Price of Loans to Mortgage Lenders
To pay Tanzania Mortgage Refinance Company return on equity and costs, an extra 150 to 250 basis points will be added to the final price paid by mortgage lenders. TMRC is anticipated to provide loans with maturities ranging from one to five years, reflecting the bond market's liquidity at these levels. Longer maturity bonds and longer-term financing might be anticipated as the bond market develops.
Tanzania Mortgage Refinance Company (TMRC) Bonds: Regulatory Treatment
Tanzania Mortgage Refinance Company will solve the long-term financial restrictions impeding mortgage market expansion. TMRC will provide long-term finance at competitive rates while guaranteeing sound lending practices by banks. This will eliminate bank maturity mismatches and lengthen loan durations.
This, in turn, would increase mortgage affordability and broaden the spectrum of qualified borrowers, resulting in the development of Tanzania's primary mortgage market and house ownership. It will be necessary for Tanzania Mortgage Refinance Company to make its bonds an appealing investment tool to possible institutional investors, notably banks, insurance firms, and provident and pension funds, to achieve its goals. TMRC will require regulatory incentives and concessions for its bonds during the first several years of operation.
Once Tanzania Mortgage Refinance Company has established itself in the market, these benefits may be gradually phased out. The regulatory concessions are intended to minimize the time and cost required for bond issuance, allowing TMRC to pass on low-cost funds to main lenders, who can then originate mortgages at favourable mortgage rates.
Mode of Operation
(a) Master Refinance and Servicing Agreement:
The bank forms a Master Refinance and Servicing Agreement with Tanzania Mortgage Refinance Company before availing of refinance loans from TMRC. This agreement sets the general conditions and terms of the mortgage loan pledge to TMRC. It contains a statement by the bank indicating it holds mortgage loans pledged to TMRC, mortgage instruments, and all money received but not forwarded to TMRC in trust for TMRC. The charges on the assets used to acquire the mortgage loans are still recorded in the bank's name.
(b) Refinance Contract:
Members asking for funds can do so through providing TMRC with written instructions.
Tanzania Mortgage Refinance Company issues advance confirmations to members, which include the conditions of the accompanying advance and obligations. TMRC may analyze any information supplied to it while reviewing each of the requests for an advance. All members should know the warranties and representations in their borrowing contracts about the accuracy of the information given to TMRC, as well as the potential contractual implications of such breaches.
TMRC's responsibility to release monies on advance commitments depends on the member's continuous eligibility for loans as decided by the Tanzania Mortgage Refinance Company under relevant legislation. The advance revenues will be deposited into the member's designated bank account. The bank enters a Refinance Contract in which the mortgage loans are pledged to TMRC every time TMRC refinances a set of loans. The bank transmits, designates, and transfers the mortgage loans to TMRC under this agreement.
(c) Refinance Value:
Tanzania Mortgage Refinance Company refinances mortgage loans at the book balance after deducting (a) 25 percent and (b) unearned interest (where applicable).
(d) TMRC Rate:
Services and Products are priced in compliance with applicable legislation while accounting for the cost of borrowing money in the capital market. Tanzania Mortgage Refinance Company charges advances at or slightly above the marketplace marginal cost of accumulating matching maturity funds, such as operational and administrative costs. TMRC sets the same pricing for its credit products to all members who apply for advances. TMRC may price advances differently based on volume, tenor, or other acceptable factors applied uniformly to all members.
(e) Review Date:
The review date is the last day of the refinancing term. On this day, the bank can settle the loans or roll the loans over at the then-current Tanzania Mortgage Refinance Company rate.
(f) Right of First Refusal:
Tanzania Mortgage Refinance Company has the right to sell the mortgage loans, either to the bank that refinanced them or to a 3rd party. TMRC will initially offer the mortgage loans to the bank for which it refinanced the loans before selling them to a third party.
(g) Compulsory Replacement:
If a loan becomes faulty or is defaulted, the bank is compelled to replace it with suitable collateral.
(h) Payment of TMRC Installment:
For TMRC-refinanced mortgage loans, the bank is obligated to collect mortgage payments monthly from loanees based on the negotiated Tanzania Mortgage Refinance Company rate and remit them to TMRC. Regardless of whether the loanee makes the monthly mortgage installments, the bank must remit the agreed payment according to the payment schedule agreed upon by TMRC and the particular bank at the time of refinancing those loans. TMRC payments can be made quarterly, monthly or semi-annually (depending on the bank's agreement with TMRC).
(I) Accounting Records:
The bank must develop and keep accounting records in line with any applicable BoT and TMRC directives.
(j) Reports:
The bank must create and submit monthly/quarterly reports to Tanzania Mortgage Refinance Company on partial prepayments and defective loans.
(k) Audit:
Tanzania Mortgage Refinance Company maintains the right to inspect or request that the bank appoint authorized agents to review and audit any records relevant to TMRC-refinanced mortgage loans.
(l) Advance Prepayment:
Advance prepayments shall be subject to a prepayment fee that will be agreed upon in advance. Suppose, for whatever reason, a loan becomes payable and due before its initially planned maturity date. In that case, Tanzania Mortgage Refinance Company will levy a prepayment fee sufficient to make TMRC indifferent to such a prepayment. Prepayment penalties are assessed on the date the advance is prepaid.
Laws and Regulations
Tanzania Mortgage Refinance Company is a financial institution under the Banking and Financial Institutions Regulations, 2015 (Mortage finance). It is governed by the BoT as a non-deposit accepting institution under the 2006 Banking & Financial Institutions Act, with certain extra regulatory powers.
Tanzania Mortgage Refinance Company is regulated as a non-deposit financial institution with specific constraints on its scope of operation, confining it to its primary activity of mortgage refinancing. Furthermore, because TMRC intends to raise funds by issuing bonds, it will need to be licensed and controlled by CMSA.
Effective and transparent Tanzania Mortgage Refinance Company regulation is crucial for instilling trust in the bonds it issues. A competent regulator is critical in building the trust needed by potential investors in TMRC. The Regulator's responsibilities include, among other things, reviewing financial information, monitoring capital sufficiency, reviewing risk management methods, and assessing management quality. TMRC must be viewed as an organization that fills a vacuum in the bond and mortgage markets or corrects an existing' market failure' rather than as a tool of the government to exercise excessive influence on bank choices since this may distort TMRC's purpose.
For more articles related to Financial Services in Tanzania, click here!