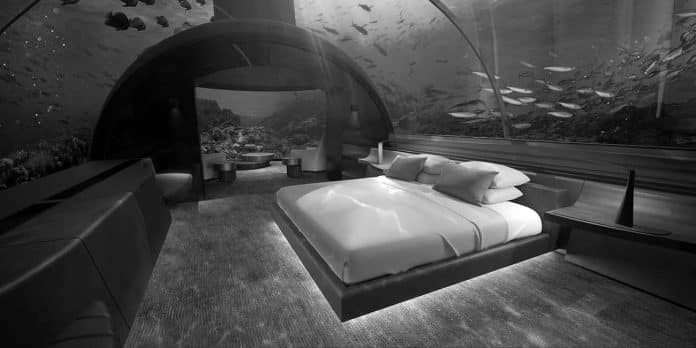 Pemba Underwater Hotel
– The Manta Resort, Off Pemba Island
The Lodging's Underwater
You can relax and watch exotic fish swim by in the comfort and magnificence of Zanzibar's shimmering Pemba underwater hotel.
We can point you the right way if you've ever wondered where heaven is. The Manta Resort sits on the secluded island of Pemba in Zanzibar and is an organically built sanctuary.
On a tropical island, the eco-friendly resort stands as a symbol of peace and simplicity. Nature-lovers can get personal with nature, bask in the golden sun, indulge in water-based adventure, and experience nature's simple pleasures, with various garden and seaside villas to choose from and a spa to unwind in.
For those looking for a "bucket list" vacation that you'll talk about for years, the resort's Underwater accommodations are the jewel in the oyster.
In the crystal-clear waters of the island's marine conservation area, the Swedish-engineered afloat structure is a sight to behold, also comprehended as "the blue hole" that features beautiful coral heads. Now that you know some things about the Manta resort Pemba Island underwater hotels, you should strive to visit.
Once there, you'll be given snorkels, kayaks, and fins to get personal with some of the most beautiful marine life in the world. Uncovered on the sea-level landing deck, The Underwater Room has a comfortable lounge and bathroom, an open-air freshwater shower, and an environmentally friendly marine toilet.
It's both a wonderful place to relax in the sun and a peaceful place to gaze at the night sky and listen to the ocean's gentle sighs at any time of day or night.
Drop down to a double bed enclosed by panes of glass, where you can take in the amazing marine life from every angle. Like being in a beautiful aquarium, you're the main attraction in the Underwater accommodations.
In the evening, the Pemba island underwater hotel spotlights create a warm, inviting glow, illuminating the water and drawing further attention from the guests you're hosting.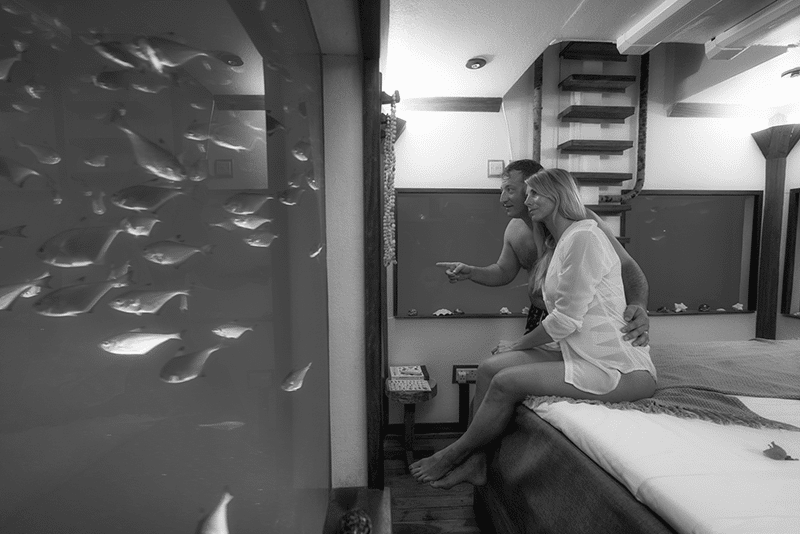 Because of the fully-stocked bar fridge on the lounge deck, you won't want to leave your underwater bubble. You can also have breakfast and dinner served on the terrace of your choice!
While staying at the resort, you'll be given a phone and contact information in an emergency. Moreover, plenty of activities are available, from watersports and safaris to spa treatments. Where else can you have such an amazing experience if not Pemba Island Zanzibar Underwater Hotel?
Although it's best to relax on the sun deck with a drink and a book while you wait for your underwater buddies to arrive in the evening, While you're in paradise, you may put off making any other decisions.
Important Points to Keep in Mind
A two-night stay in the main Pemba island Tanzania underwater hotel building is required to reserve the Underwater accommodation. The pricing is based on 1 night Underwater stay and 2 nights Standard Garden stay. Five nights are necessary during the busiest times, from December 20th to January 10th. Pemba Airport to the resort costs $90 per individual for a return transfer, and the hotel's spaces are a boat ride away. Everything from meals and beverages to kayaks and laundry service is included in the all-inclusive package. Wi-Fi connection is only available on land and not during the Underwater stay, and boat transfers to the Underwater visit are also included. This gives you a clue as to how the Pemba Island Underwater hotel price is arrived at. The Pemba Underwater hotel price will of course favor you if you are well planned. Underwater reservation visitors must be at least 12 years old to visit.
Tested and Trusted Practices
The Underwater Room was magical and beyond our expectations, but it didn't stop there. The staff delivered a level of service that was both polite and discreet, and nothing was too much trouble for the team."
At The Manta Resort, we had the time of our lives! We had a wonderful time and want to visit again soon. When I was younger, I used to go to an area of the Caribbean that was a lot like Manta, but it has since become overdeveloped. Having discovered The Manta Resort, I'm delighted. I've sworn to spread the word about these to those I know who would enjoy it. All of the employees are exceptional."
In terms of lodging, there is no better option than the Manta Resort. A stunning location on the world's most beautiful beach, even better than the Maldives', with a gorgeous infinity pool and deck overlooking the ocean, highly rich, traditional, spacious bungalows, daily spa treatments, and the most delightful cuisine around. It was an incredible experience!"
The above tested and trusted practices speak volumes about Pemba Tanzania underwater hotel. This too can happen to you if you decide to visit. The best Pemba Island underwater hotel room is probably waiting for you to be a guest.
For more articles related to Tourism in Tanzania, click here!