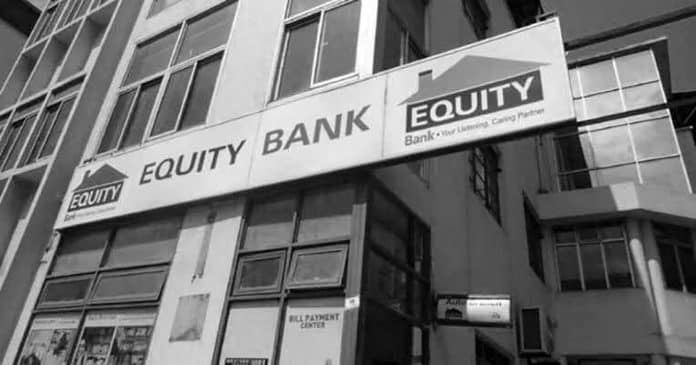 Equity Bank Tanzania Limited – History, Ownership, Network and More
Equity Bank Tanzania Limited operates as a commercial bank in the East African Community's 2nd largest economy, Tanzania. The Bank of Tanzania, the national regulator and the nation's central bank and national banking regulator licenses it. The bank is a subsidiary of Equity Group Holdings Limited, an international financial services provider conglomerate based in Kenya's Nairobi, with subsidiaries in Rwanda, Kenya, South Sudan, Uganda, Tanzania, the DRC, and an Ethiopian representative office.
The table below provides additional information about Equity Bank in Tanzania.
Type

Private

Founded

2012

Industry

Financial Services

Equity bank Tanzania address

(Headquarters)

Ohio Street, Golden Jubilee Towers, Dar es Salaam

Area served

Tanzania

Number of locations

Fourteen

equity bank Branches in Tanzania

 

Products

Checking, Loans, Savings, Debit Card, Investments, Diaspora Banking
Key people

Non-Executive Chairman – Raymond Mbilinyi

 

 

Managing Director – Robert Kinoti

Total Assets

(2020) USD 259.1 million

Revenue

(2020) 19.1 million

Total Employees

(Q4: 2019) 399

Parent

Equity Group Holdings Limited

Owner

Equity Group Holdings

Website
Equity Bank Tanzania Overview
Equity Bank Tanzania Limited has total assets of USD 143.42 million as of 2014 September, with USD 107.68 million in client deposits as well as a USD 87.1 million loan book. The bank was the biggest provider of mortgage loans in Tanzania as of June 31, 2016, accounting for approximately TZS:96 billion (about USD 45 million) in cumulative mortgage loans. This equated to around a 20% market share of the country's mortgage loans at the time.
Equity Group Holdings Limited entered discussions in 2019 with Atlas Mara to purchase four banks in Zambia, Tanzania, Rwanda, and Mozambique in a share sale estimated at Ksh10.6 billion (USD 965 million), despite the firm recording a pre-tax loss totaling Ksh559 million (USD 5.09 million). The purchase was canceled so that Equity Group Holdings Limited could stockpile reserves and maintain cash flow amidst the COVID-19 epidemic, which was being reported globally.
Equity Bank Tanzania had an estimated USD 162 million (17.8 billion Kenyan Shillings) in client deposits by December 2020, a loan book of USD 138 million (15.2 million Kenyan Shillings), and an asset value of USD 259 million (28.5 billion Kenyan Shillings). The equity bank Tanzania Exchange rates are competitive, the bank offers a variety of foreign exchange services and the rates are updated daily. 
Equity Group Holdings Limited
Equity Firm Holdings Limited is a major East African financial services group. As of 2014 March, the group possessed an asset base valued at more than USD 10.2 billion (Ksh: 1.12 trillion) by August 2021, with a total client base of at least 14 million. The Equity Bank Group is made up of the following companies:
| | | |
| --- | --- | --- |
| Company | Country | City |
| Equity Group Foundation | Kenya | Nairobi |
| Finserve Africa Limited | Kenya | Nairobi |
| Equity Investment Services Limited | Kenya | Nairobi |
| Equity Nominees Limited | Kenya | Nairobi |
| Equity Insurance Agency Limited | Kenya | Nairobi |
| Equity Consulting Group Limited | Kenya | Nairobi |
| Equity Banque Commerciale du Congo | DRC | Kinshasa |
| Equity Bank Uganda Limited | Uganda | Kampala |
| Equity Bank Tanzania  | Tanzania | Dar es Salaam |
| Equity Bank South Sudan Limited | South Sudan | Juba |
| Equity Bank Rwanda Limited | Rwanda | Kigali |
| Equity Bank Kenya Limited | Kenya | Nairobi |
Equity Group Holdings Limited shares are traded on the Nairobi Stock Exchange (NSE) as EQTY. The stock of the Group is also cross-listed on Uganda Securities Exchange (USE) as EBL. 
The Equity
Bank Tanzania Contacts
and Branches 
The Equity bank customer care Tanzania can be reached through +255768985500. 
Equity Bank Tanzania, has a branch network that covers the entire country. Equity bank Tanzania branches are available in all major cities, including Dar es Salaam, Mwanza, Arusha, and Tanga. There are also a number of rural branches, so no matter where you are in Tanzania, you can always access banking services. Equity Bank Tanzania mikopo are available for clients who need loans. Visit the nearest equity branch to get a detailed explanation on the loans available.
Equity Bank Tanzania Online Banking
Equity bank Tanzania mobile banking is an easy and convenient way to manage your finances. The equity bank Tanzania app enables customers to access the bank services online. With online banking, people can keep track of their account balances, transfer funds, pay bills, and access equity bank Tanzania loans. Equity bank Tanzania Ltd online banking is a secure and safe way to manage your money. A unique Equity Mobile banking code Tanzania user number ensures more detailed security. Incase of Equity Bank Tanzania vacancies, the positions are posted on the bank's website for clarification.
Swift Code Equity Bank Tanzania
The equity bank Tanzania swift code for is EQBTZTZZ. This code is used for international wire transfers and is necessary in order to send money to Equity Bank in Tanzania. If you are sending money from another bank, you will need to provide the Equity bank swift code Tanzania in order to ensure that the funds are sent correctly.
For more articles related to Financial Services in Tanzania, click here!