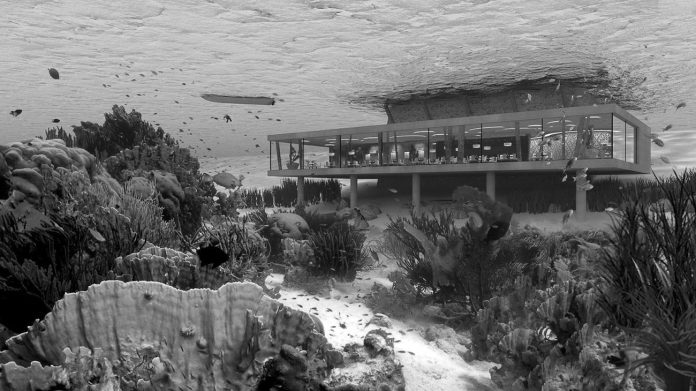 A Unique Vacation: Pemba Island Underwater Hotel
The Deep Pemba Island Underwater Hotel Rooms
Relax and enjoy the amazing comfort as well as the beauty of a shining Zanzibar submerged idyll while watching rare fishes pass by.
If you have ever wondered where paradise is, we can point you in the right direction. On the isolated Zanzibar Archipelago of Pemba, the Manta Hotel is breathtakingly serene, and organically constructed as a sanctuary.
Pemba Island Underwater Hotel Room Insight
The environmentally-friendly resort is a tropical isle that pays homage to a peaceful and uncomplicated way of life. With an option of garden rooms to choose from, seaside villas, and an in-house spa to rest in. You can get exquisitely up close and intimate with mother nature, relax in the golden sunlight, participate in water-based adventures, and enjoy all the simple pleasures of natural living on this one-kilometer-long stretch of paradise.
The Pemba Island deep underwater hotel rooms, on the other hand, is the actual jewel in the oyster -another of those unique 'bucket lists' getaways you'll be raving about for the rest of your life.
The floating superstructure, designed by Swedish engineers, is a feast for the eyes, stationed in the clear waters of the region's marine preservation area [nicknamed "the blue hole" because it is completed with spectacular coral heads]
Upon arrival at your shimmering refuge, which is positioned 250 meters from the coastline via an escort boat, you'll be given a kayak, snorkeling equipment, and fins to allow you to explore the local regions up close.
The Pemba Island underwater hotel room collections are divided into three levels, with lovely living rooms as well as bathroom areas on the wooden sea-level arrival deck, complete with outdoor freshwater showers as well as environmentally-friendly marine toilets.
Climb a ladder to the sun-drenched deck, which is just as lovely at nighttime when you lean back and stare up at the twinkling little stars in the clear skies while relaxing to the calming rhythms of the sea.
Downstairs, you'll find a downy double sleeping bed surrounded by layers of glass that provide 360-degree views of life beneath the sea. Admire the appearance of the coral while watching reef fishes pass by and maybe say hello to the unexpected squid or octopus visitor….in truth, you might say the deep Pemba Island underwater hotel rooms have the feel of being in a lovely aquarium, only, in this case, you're the fish's main interest.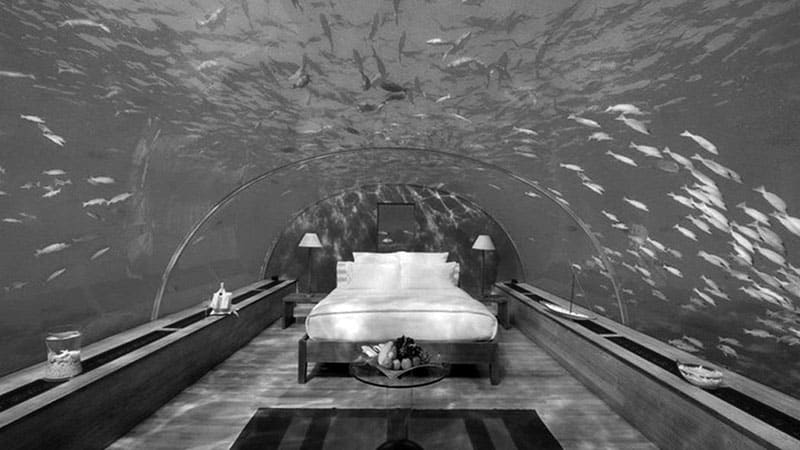 The underwater spotlights cast a warm, inviting glow at night, illuminating the waters and drawing even more interest from your sea-friendly visitors.
You won't want to abandon your deep underwater bubble, especially because the lounge deck has a fully stocked bar refrigerator, and breakfast, as well as dinner, may be delivered to you at any time on a deck of your choosing.
During your visit, you'll be given a cell phone and contact details if you need assistance, and if you choose to head out, you'll discover a wide range of activities nearby, from safari trips and water sports to peaceful spa treatments.
But in the meantime, grab a drink and a good novel and head to the sun deck, where you'll be greeted by your aquatic pals later that evening. All other major decisions may be postponed while you're staying in paradise.
Points to Consider Before Booking a Room at Pemba Island Zanzibar Underwater Hotel
*A stay in The deep Pemba Island underwater hotel rooms must be combined with a minimum two-night stay at the main complex (pricing on the website is based on one night for Underwater Rooms and two nights for Standard Garden Rooms). During peak season, from December 20th to January 10th, a 5-night minimum stay is required. Transportation from Pemba Regional Airport to the hotel costs $90 per individual round trip, and the hotel is 250 m from the island via boat. Meals and drinks, one spa treatment per guest daily, laundry, kayaks, wi-fi (on the land-only – connectivity isn't included in the deep Underwater Room), and boat transportation to the deep Underwater Room are all included in booked rooms. Children must be 12 years old to stay in the deep Underwater Room.
Tested and Proven
"The deep Pemba Island Underwater hotel was magnificent and much beyond our expectations, but that wasn't all. The remaining part of the facility was lovely, and your personnel did an excellent job – from Sele with his team to the waiters, drink mixers, spa ladies, and dive school instructors – providing just the appropriate degree of friendly, quiet service without too many difficulties.
What a wonderful vacation we just had at The Manta Hotel. I checked all of my boxes for the type of vacation was looking for, and we'll definitely be returning. I used to visit a place in the Caribbean island that was similar to Manta, but it has since been overdeveloped. It's fantastic that you've discovered The Manta Resort Pemba island underwater hotels. I know a lot of individuals who would enjoy your establishment, and I'll be sure to tell them about it. Thank you to the entire crew, who are fantastic."
"The Manta Hotel is absolutely unique! A spectacular setting on the most stunning beach, even better than the Maldives resorts, with a fantastic pool area and terrace facing the sea, costly, lovely traditional large bungalows, daily welcoming, and inclusive massage services, as well as the most delectable food. It was an absolutely magical experience!"
Pemba Island Underwater Hotel Facilities
The facility sleeps two people in a double bedroom with towels and bedding provided, an outdoor freshwater shower, a sophisticated marine toilet setup, a washing hand basin, bathroom materials, a fully equipped bar refrigerator, a lounge space, and an outside deck.
Local Activities
Boat rides, island tours, snorkeling, diving, and spice tours are just a few of the activities available.
Pemba Island Tanzania Underwater Hotel In A Single Glance
The deep Pemba Island underwater hotel Suite is a three-layer storey, one-of-a-kind floating apartment located 250 m off the coastline of Pemba Isle, the Zanzibar Archipelago, where The Manta Hotel is located. Couples can use it as a honeymoon vacation or as just a "bucket list" getaway.

The Manta Hotel itself has a variety of garden suites and rooms, as well as an in-house spa and an activity schedule.

The resort can arrange for you direct flights from Zanzibar to Pemba Airport, as well as transportation to get you to the hotel. You will be brought to the deep underwater Room after a short boat journey.

A snorkel, kayak, and fins, as well as a cell phone, will be provided. Nearby, a professional security guard is present.

Breakfast and dinner are also provided on the deck. There's also a fully equipped bar fridge and environmentally-friendly toiletries.
Other Important Information About the Manta Hotel
For more articles related to Things to Do in Tanzania (Zanzibar), click here!