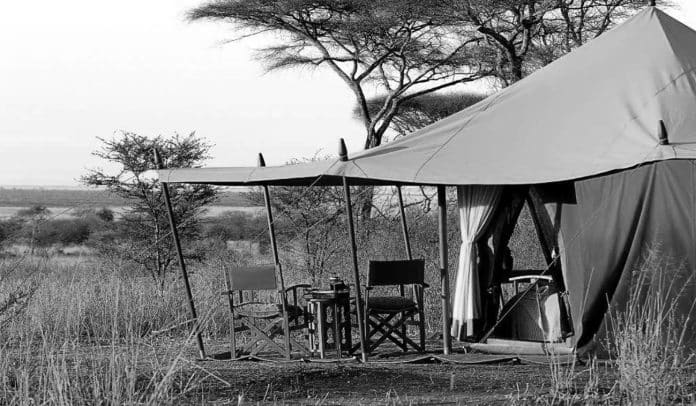 Exploring the Magic of Tanzania Tented Camp Safari
‍The realm of Tanzanian wilderness holds a magnetic allure for many worldwide. Its vast, untamed landscapes brimming with a myriad of wildlife species, coupled with the captivating cultural tapestry, make it a dream destination for any ardent traveler. However, the quintessential way to immerse in the essence of this African paradise is through a Tanzania tented camp safari experience. These unique accommodations blend the thrill of being close to nature with the comfort of luxury living, promising an unforgettable trip.
The Charm of Tented Camps in Tanzania
The tented camp safari Tanzania provides an intimate experience of living amidst wildlife while ensuring top-tier comfort. These camps are far from being basic accommodation; they're a blend of luxury and adventure. Equipped with soft cotton quilts, brass basins, and other amenities, these tented lodges are a haven of comfort nestled in the wild.
The Spectacle of Safari Tent Glamping
Serengeti, the heartland of Tanzania safari tented camp, is renowned for its unique safari tent glamping experience. It is an epicenter of wildlife activity, with the annual migration of wildebeest being a sight to behold. As the herds traverse the National Park, numerous tented camps follow suit, moving up to three times a year, ensuring front-row seats for this grand natural spectacle.
Mobile Tented Camps
From the Ndutu Plains in the South to the river crossings in the Kogatende region in the North, mobile tented camps stand as an epitome of luxury in motion. They allow visitors to stay close to the action, providing an up-close and personal experience with nature. One such camp is the Nomad's Serengeti Safari Camp, praised for its intimate setting and top-notch hospitality.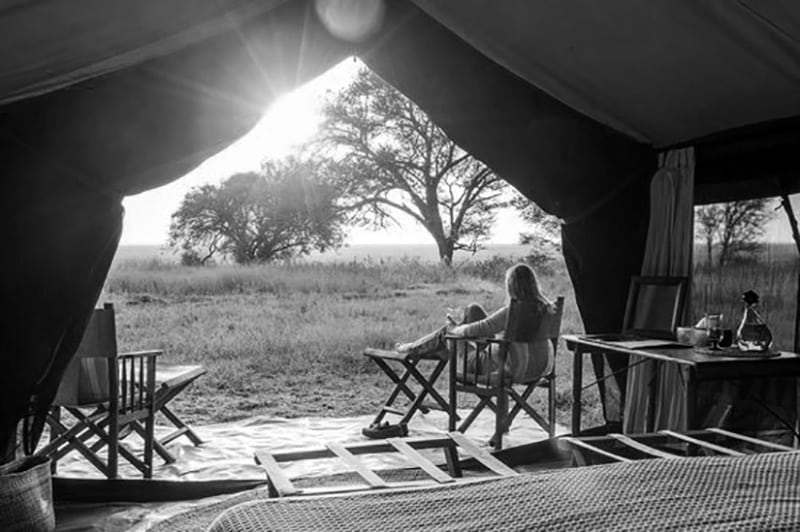 Permanent Tented Camps
While the thrill of mobile camps is undeniable, the southern parks of Tanzania offer a more stable experience with permanent tented camps. One of these is the Jongomero camp in Ruaha, with its wooden structures and canvas exteriors, offering a unique experience of feeling like you are in the wild.
Exploring the Best Small Safari Camps in Tanzania
For those who prefer a more intimate and personalized Tanzania safari tented camp experience, the small safari camps are an ideal choice. These camps, although smaller in size, do not compromise on the quality of the experience they offer.
Kichaka, Ruaha
Kichaka Safari Camp in Ruaha National Park is a testament to the charm of owner-run camps. The camp offers a simple yet stylish approach to safari living, with a focus on an authentic experience rather than extravagant luxury.
Chada Katavi
Chada Katavi stands out for its commitment to leaving minimal environmental impact. Despite being remotely located, this little camp offers a seamless blend of style and wilderness, with the added thrill of game drives in open 4x4s and sleep-outs under the stars.
Manyara Light Tented Camp, Northern Tanzania
The Manyara Light Tented Camp offers a stripped-down, simplistic approach to safari living. Despite the minimalistic approach, it does not compromise on comfort, offering a unique experience of living amidst nature's beauty.
Kuro Camp, Tarangire
Kuro Camp is a creative masterpiece built from lightweight sisal poles, offering a contemporary yet organic look. However, the camp's true charm lies in the excellent game experience it offers, backed by Nomad's impeccable credentials.
Serengeti Light Mobile, Serengeti
The Serengeti Light Mobile is the perfect choice for those seeking a more mobile and adventurous safari experience. It offers comfortable camp beds, great food, and the thrill of walking safaris in the Serengeti's wilderness zones.
Savoring Safety and Sustainability in Glamping
One of the most common questions about a Tanzania tented camp safari is about safety. Rest assured, glamping is a safe and secure experience. The unpredictability of canvas tents deters wildlife from encroaching upon them, maintaining your privacy. Moreover, these camps are powered by renewable energy sources, like solar power, minimizing their environmental footprint.
Conclusion
A Tanzania safari tented camp experience is not just about accommodation; it's an immersive journey that brings you closer to the rhythm of the African wilderness. Whether you choose a mobile or permanent camp, the thrill of hearing the lion's roar at dusk, the sight of a herd of wildebeest grazing at dawn, and the starlit African sky will leave an indelible mark on your heart.
For more articles related to Things to Do in Tanzania (Zanzibar), click here!