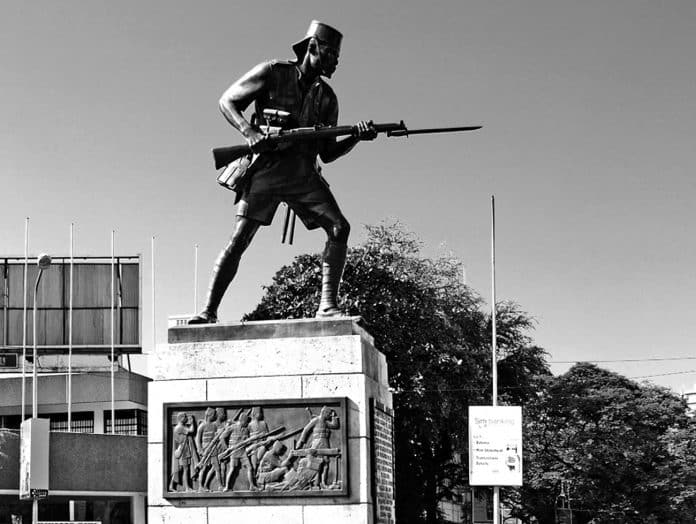 Get to Know About the Famous
Askari Monument
Dar es Salaam Tanzania
In honor of the African soldiers who fought alongside the British in World War I in East Africa against the Germans, the Askari monument in Dar-es-Salaam African Tribute was erected in a Kivukoni Ward at Tanzania's Dar-es-Salaam, in the Ilala District. It first appeared in 1927. At the intersection of Samora Avenue and Maktaba and Azikiwe Streets, the monument is situated in the middle of a roundabout, reportedly marking the city's center.
The Askari monument honors the King's African Rifles and the Carrier Corps. An African soldier sculpture called "The Askari" serves as the memorial's centerpiece. James Alexander Stevenson [sw], a sculptor for Westminster's Morris Bronze Founders, produced it in the United Kingdom. The monument bears Stevenson's moniker "Myrander." Before moving to Dar-es-Salaam, the statue was shown at the Royal Academy of Arts. It appears that the soldier is pointing a bayonet-wielding weapon at the Dar-es-Salaam port. The statue rests on a stone plinth. Two graphic plaques show African soldiers and the Carrier Corps on the pedestal's wide sides, and a plaque with a dedication in Swahili (Arabic/Latin script) and English. If you battle for your country and die, your sons will remember your name, reads the English inscription.
In the late nineteenth century, Hermann Wissmann, a German explorer and army major who served as administrator of German East Africa, had a statue in the same place as the Askari Monument. Previously, this statue, dedicated in 1911, featured Wissmann facing the harbor while holding his sword in one hand and a slain lion in the other, both draped in the German flag. With Otto von Bismarck and Karl Peters also being demolished when the British stormed Dar-es-Salaam in 1916, they demolished this statue.
The Askari Monument in Dar-es-Salaam is one of three statues marked the same year and erected in British East Africa; the other two are in Mombasa and Nairobi. Approximately 1,500 British and Indian officers and troops died in East Africa before, during, or after January 1917; No known graves have been memorialized by name in the War Cemetery in Dar-es-Salaam.
For more articles related to things to do in Tanzania, click here!