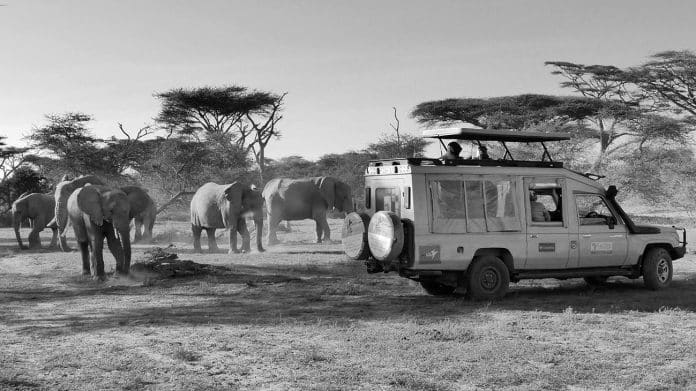 Unearth Africa: The Ultimate Combined Kenya and Tanzania Safaris
Experience the best of East Africa through combined Kenya and Tanzania safaris. These safaris offer a unique opportunity to explore two of Africa's most breathtaking countries, each possessing unique attractions, landscapes, and wildlife. Utilize the regional air hubs, Nairobi and Dar es Salaam, to maximize your safari experience.
Exploring Nairobi
First, let's take a look at Nairobi, Kenya's bustling capital. This city is more than just a gateway to your safari; it's home to some of the most unique attractions in Africa.
An Encounter with the Giraffes
One of the city's must-visit sites is Giraffe Manor. This unique hotel allows visitors to interact with the resident Rothschild giraffes that roam the grounds.
Daphne Sheldrick Elephant Orphanage
Another unforgettable experience is a visit to the Daphne Sheldrick Elephant Orphanage. This sanctuary takes in orphaned elephants and rhinos from around the country.
Kenya and Tanzania: Big Game Destinations
Once you've explored Nairobi, it's time to embark on your Kenya Tanzania combined safari. These two countries are renowned for their abundant wildlife and legendary parks.
Masai Mara and Amboseli
In Kenya, you have the Masai Mara and Amboseli reserves. These reserves offer unrivaled opportunities to see Africa's Big Five in their natural habitat.
Serengeti and Ngorongoro Crater
In Tanzania, the Serengeti and Ngorongoro Crater await. Both are UNESCO World Heritage Sites and offer unparalleled wildlife viewing opportunities.
The Great Wildebeest Migration
The wildebeest migration is a phenomenal event that should not be missed when on a Kenya and Tanzania combined safari. Witnessing the mega-herds move from the Serengeti to the Masai Mara is a spectacle that will leave you in awe.
Off-The-Beaten Track: Samburu and Tarangire
For those seeking more secluded experiences, consider visiting Kenya's Samburu and Tanzania's Tarangire parks. These lesser-known reserves offer spectacular scenery and rare wildlife sightings.
Tropical Islands: Zanzibar, Seychelles, and Mauritius
End your safari with a relaxing beach getaway in the idyllic islands of Zanzibar, Seychelles or Mauritius. Dive with whale sharks, soak up the sun on private beaches, or simply enjoy the tranquility of these tropical paradises.
Plan Your Safari
Ready to plan your combined Kenya and Tanzania safari? Tell us your wish and we'll help you plan the journey of a lifetime, tailored to your preferences.
Pro Tip: Consult our quick links for travel advice before embarking on your safari adventure.
For more articles related to Things to Do in Tanzania (Zanzibar), click here!