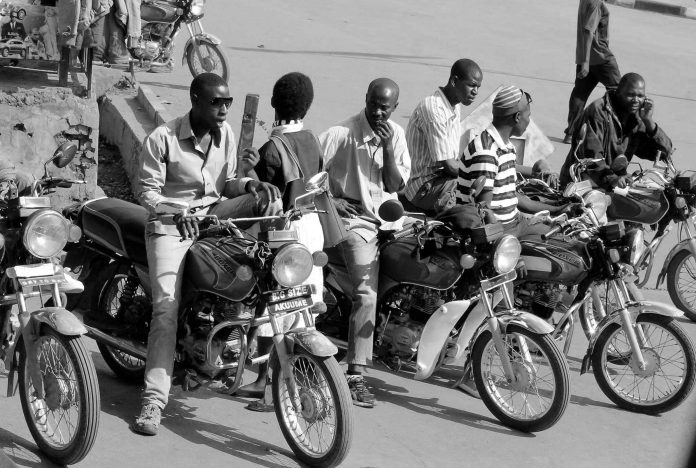 Boda Boda Tanzania -Etymology, Number in Operation, Services and More 
Overview of Boda Boda Business in Tanzania
Boda boda motorcycles and bicycles are taxis that are usually found in East Africa. Although motorcycle taxis similar to Boda boda can be found throughout Africa and other areas, the name Boda boda only refers to those in East Africa. The Kenyan ones are usually called piki pikis. Their extensive presence in East African countries is due to several factors some of which is an increased demand for public transportation, being able to buy on credit, and the influx of cheap imported goods from Indian manufacturers such as Bajaj. In the countries where Boda boda are found they can provide means of transport for passengers and jobs for drivers while also leading to increased road safety hazards and accidents with unnecessary deaths and injuries.
Etymology of Bodaboda
A journalist from the BBC thought Boda boda origins are onomatopoeia.
An alternative proposal is that Boda boda had the illicit ability to transport people across the border without the need to fill out paperwork which was necessary when using a car; i.e. from one border to the next.
The Number of Boda Boda Riders in Operation
Even though it is a well known fact that Boda boda are common in East African cities such as Nairobi and Kampala, their estimated numbers vary.
Statistics show a significant increase (about 10,000%) of motorcycles exported to Tanzania from 2003 to 2015.
Kampala Boda Boda
One source says that in 2013 300,000 Boda boda were operational in Kampala, Uganda. Data from the Capital City Authority of Kampala shows that 120,000 motorcycles were registered in the city at the same time although the actual number of Boda boda may be higher as some are not registered according to a representative from the Kampala Boda boda Riders Association. It was revealed from the same source that in 2015 about 40,000 were operational in central Kampala. Another source claimed in 2015 that the actual number is almost double that number.
Throughout Uganda, Boda boda riding has become a source of livelihood for many young people, providing a source of income for thousands of families across the country. The business has attracted tourism and travel investors in Kampala. One company 'Uganda Adventure Safaris and Boda boda Tours' provides exciting tour packages like city maneuver among others for many tourists and visitors in Kampala.
Boda Boda in Kigali
Unlike many other cities, motorcyclists which include the Boda boda in Kigali, Rwanda, are mostly registered and generally considered to be law-abiding. The preferred name for motorcycle taxis here is moto.
Possible Transition from Boda Boda to Bicycles for Reasons of Sustainability
A study that was conducted in Mukono, Uganda among some students, found four factors that have potential implications for cycling. These were: the transport system and the safety factors, environmental factors, the individual perceptions that people have about cycling, and the demographic features of these people. A model of the factors that may influence commuters to switch to bicycles also highlights demographic factors (gender, age, and individual cycling abilities) as predictors of individual shifts in transport modes to bicycles. These findings suggest that the development of a transport system that could lower the apparent risk of cycling could possibly have the most benefits to cycling in Uganda.
Ridesharing Sharing Services
SafeBoda
SafeBoda is a motorcycle taxi company that provides efficient and safe Boda boda rides for people who need a quick ride to different African cities. It was first launched in November 2014 by Rapa Thomson Ricky, Maxime Dieudonne and Alastair Sussock. Motorcycle taxis became very popular all over the world in Uganda in 2014, as more than 80,000 rode on the streets of Kampala and that was the beginning of SafeBoda. Speaking to CNN, Alastair Sussock said SafeBoda wants to take on the growing Ugandan youth who have easy access to the internet and smartphones. SafeBoda started operating in Kenya, Nairobi in 2017 and in 2019 moved to Ibadan in Nigeria. SafeBoda provides helmets and offers training for drivers who use the app to access fares. Their community of riders all receive extensive road safety training, first aid, and bicycle care in conjunction with the Red Cross to make them safer and more professional while driving on the roads. SafeBoda drivers are equipped with hygiene hair nets and a DOT-Certified helmet for clients. All SafeBoda drivers can be identified and tracked using their system.
Safe Motos
SafeMotos Boda boda started in Kigali, Rwanda but has now expanded to DR Congo.
Bolt
Bolt has introduced Boda boda sharing services in Uganda in order to complement its e-taxi services. However, it has faced criticism for poor service delivery and threatened the end of its services in February 2019.
Uber Boda
Uber also started their e-Boda boda services in Uganda from March 2018 and are operational in Kampala.
For more articles on Taxis and Buses in Tanzania click here!