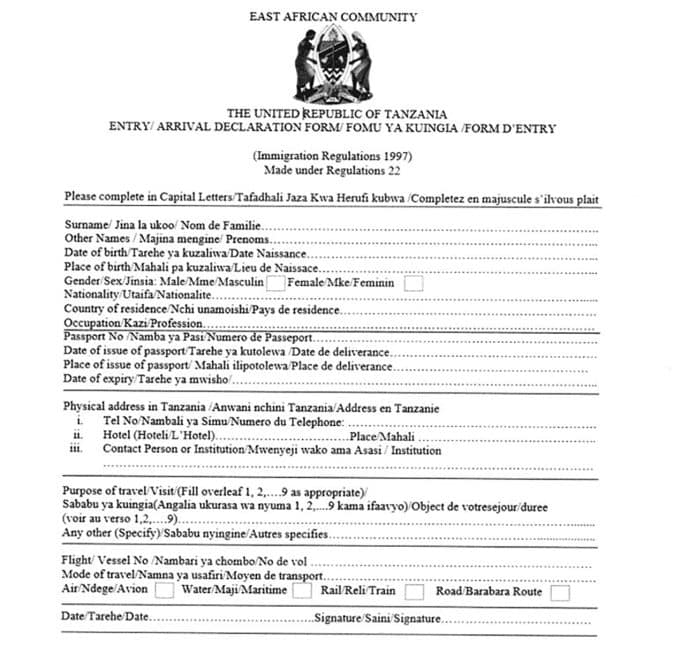 Simplifying the Tanzania Visa Process: How to Fill Out the Visa on Arrival Form
Are you planning a trip to Tanzania and feeling overwhelmed by the visa process? Look no further! We have got you covered. In this guide, we will simplify the Tanzania visa process and walk you through the step-by-step procedure of filling out the Tanzania visa on arrival application form. Whether you're a first-time traveler or a seasoned globetrotter, navigating through visa requirements can be a daunting task. But fret not! Our comprehensive guide will provide you with all the information you need to know, ensuring a stress-free and seamless experience. Say goodbye to confusion and delays at the airport, and say hello to a hassle-free travel experience. So, if you're ready to explore the breathtaking landscapes of Tanzania, let's dive right in and uncover the secrets to simplifying the visa process.
Why Choose Tanzania for Your Next Travel Destination?
Tanzania is a country that offers a wealth of natural beauty and cultural diversity. From the iconic Serengeti National Park to the stunning beaches of Zanzibar, Tanzania has something to offer every type of traveler. If you're a wildlife enthusiast, you'll be delighted to know that Tanzania is home to the majestic Mount Kilimanjaro, the Ngorongoro Crater, and the Great Migration, where millions of wildebeests and zebras cross the Serengeti in search of greener pastures. For beach lovers, the turquoise waters of Zanzibar and the idyllic islands surrounding it are a true paradise. And if you're interested in immersing yourself in the rich culture of Tanzania, you can visit the bustling markets of Dar es Salaam or explore the historical Stone Town in Zanzibar. With its stunning landscapes, diverse wildlife, and vibrant culture, Tanzania is a destination that should be on every traveler's bucket list.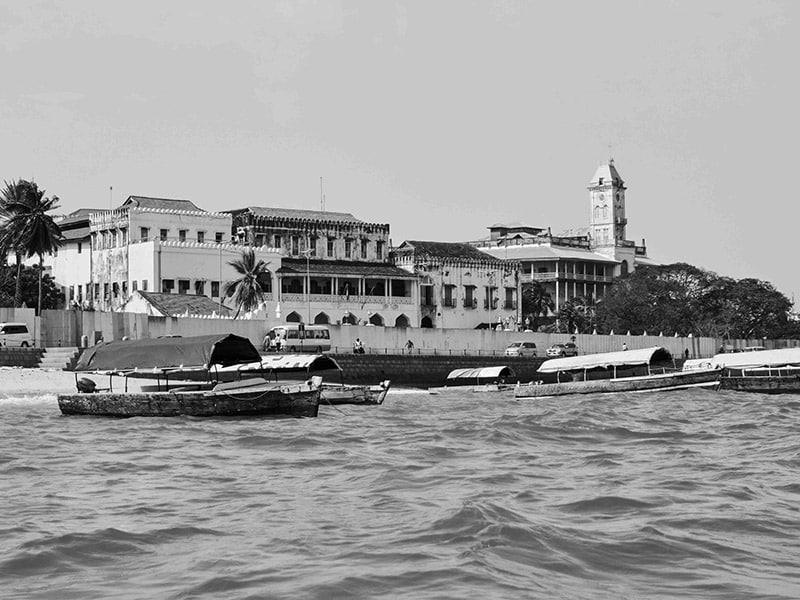 Understanding the Visa Requirements for Tanzania
Before you embark on your journey to Tanzania, it's essential to understand the visa requirements to ensure a smooth entry into the country. The good news is that Tanzania offers a visa on arrival facility for most nationalities, making it convenient for travelers. However, it's crucial to check if your country is eligible for this facility or if you need to obtain a visa in advance. You can find a list of eligible countries on the official website of the Tanzanian Immigration Department or consult with your nearest Tanzanian embassy or consulate. Additionally, it's important to note that the visa on arrival is typically valid for a single entry and allows you to stay in Tanzania for up to 90 days. If you plan to stay longer or have specific travel purposes such as business or employment, you may need to apply for a different type of visa. Once you have determined your eligibility and visa type, you can proceed with the visa on arrival process.
Overview of the Visa on Arrival Process
The visa on arrival process in Tanzania is relatively straightforward and can be completed upon your arrival at one of the designated international airports or border crossings. To ensure a smooth process, it's recommended to have all the necessary documents and information readily available. Here is an overview of the visa on arrival process: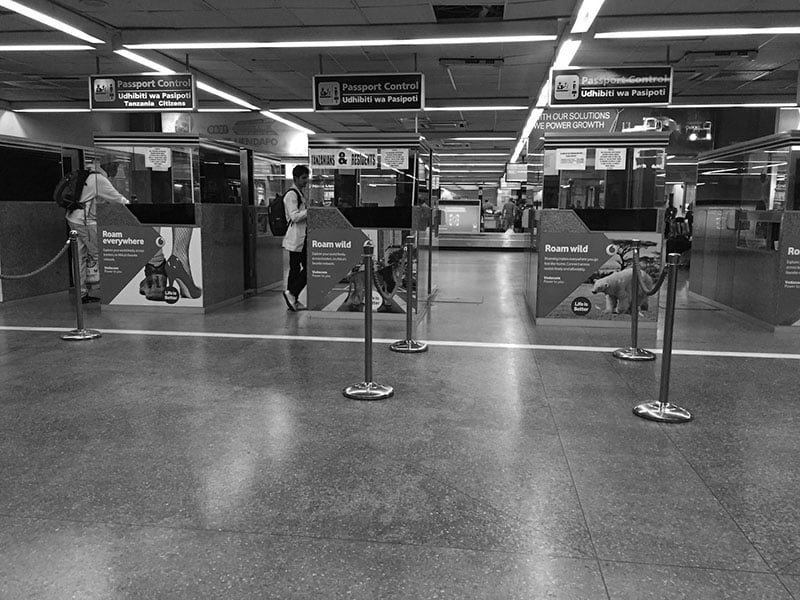 Arrival at the airport or border crossing: Upon your arrival in Tanzania, head to the immigration desk or visa on arrival counter. Make sure to have your passport, a completed visa on arrival form, and the visa fee in cash (USD) ready.

Filling out the visa on arrival form: Before reaching the immigration desk, you will need to fill out the

Tanzania visa on arrival form

. This form collects essential information such as your personal details, purpose of travel, and intended duration of stay. It's important to fill out the form accurately and legibly to avoid any delays or issues.

Payment of the visa fee: Once you have filled out the form, proceed to the visa fee payment counter. The visa fee for most nationalities is currently USD 50. However, it's advisable to check the latest fee information before your trip, as fees may vary.

Submission of documents and visa issuance: After paying the visa fee, submit your passport, completed visa on arrival form, and payment receipt to the immigration officer at the designated counter. The officer will review your documents, process your visa, and affix it to your passport.

Immigration clearance and entry into Tanzania: Once your visa has been issued, proceed to the immigration clearance counter for the final checks. The officer will stamp your passport, indicating your entry into Tanzania. Make sure to double-check the accuracy of the entry stamp before leaving the counter.
By following these steps, you can successfully obtain a visa on arrival and enter Tanzania without any hassle. However, it's always a good idea to familiarize yourself with the specific requirements and procedures before your trip to ensure a seamless experience.
Step-By-Step Guide to Filling Out the Visa on Arrival Form
Now that you understand the overall process, let's dive into a step-by-step guide on how to fill out the visa on arrival form accurately. This will help you save time and ensure that you provide all the necessary information required by the Tanzanian authorities. Also note that a Tanzania visa on arrival form download is always advised so you can be aware of its content before you have to fill it at the counter. To download this form, you can consult the official website of the Tanzania immigration department. Now, here are the steps:
Personal Information: Start by providing your personal details, including your full name, nationality, date of birth, gender, and passport information. Make sure to double-check the accuracy of this information and ensure that it matches the details on your passport.

Contact Information: Next, provide your contact details, including your address, phone number, and email address. This information is essential for communication purposes and may be used by the authorities if needed.
Purpose of Travel: Indicate the purpose of your visit to Tanzania, such as tourism, business, or transit. If you're visiting for tourism purposes, you can mention specific activities or attractions you plan to explore, such as wildlife safaris or cultural tours.

Intended Duration of Stay: Specify the duration of your stay in Tanzania. The visa on arrival is typically valid for up to 90 days, but if you plan to stay for a shorter period, make sure to mention the exact number of days.

Accommodation Details: Provide information about your accommodation in Tanzania, including the name and address of the hotel, lodge, or guesthouse where you will be staying. If you haven't finalized your accommodation yet, you can provide the details of the first place you plan to stay upon arrival.

Health Information: Answer any health-related questions on the form, such as whether you have been vaccinated against yellow fever or if you have any medical conditions that could pose a health risk.

Declaration and Signature: Read the declaration statement carefully and sign the form. By signing, you certify that all the information provided is true and accurate to the best of your knowledge.
Remember to take your time while filling out the form and ensure that all the information is legible and accurate. Any mistakes or discrepancies could lead to delays or complications during the visa issuance process. Once you have completed the form, proceed with the payment of the visa fee and submit your documents as per the previous section's instructions.
Conclusion and Final Thoughts
In conclusion, obtaining a visa on arrival for Tanzania is a relatively straightforward process that can be easily navigated with the right information and preparation. By understanding the visa requirements, familiarizing yourself with the visa on arrival process, and following our step-by-step guide to filling out the visa on arrival form, you can ensure a stress-free and seamless entry into Tanzania. Remember to check your eligibility, have all the necessary documents ready, and provide accurate information on the form. With these tips in mind, you'll be well-prepared to embark on your Tanzanian adventure and explore the wonders this beautiful country has to offer. So, pack your bags, get ready for an unforgettable journey, and let Tanzania welcome you with open arms. Safe travels!
For more articles related to Tanzania Immigration, click here!