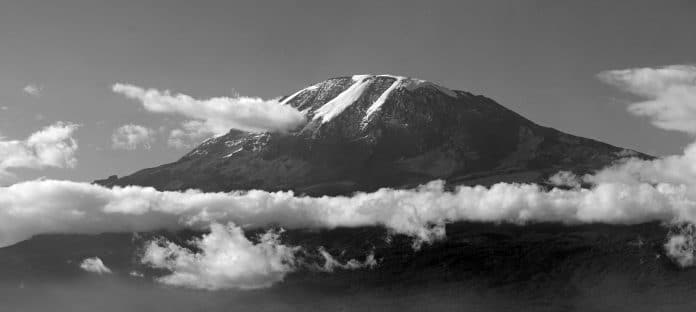 Africa Mount Kilimanjaro Facts – Everything You Need to Know About
Where is Mount Kilimanjaro? The mountain is found on Tanzania border with Kenya, in the northern side of the country. Tanzania's Kilimanjaro region is home to the famous dormant volcano, Mount Kilimanjaro. It holds the title of Africa's highest elevation and is also the highest isolated free-standing elevation globally. The three Mount Kilimanjaro volcanic cones are called Mawenzi, Shira, and Kibo.
Since the mountain is in the border, then mount Kilimanjaro is in which country exactly? The answer is Tanzania, but Kenyans have been doing great promotions for a very long time which kinda make the mountain sound to be as part of their land. The truth is mount Kilimanjaro is not part of Kenya but one can have a great Mount Kilimanjaro view from the Kenyan side too since it is in the border with Tanzania.
Cities near mount Kilimanjaro include but not limited to the following:
Kwakoa, Tanzania
Usa River, Tanzania
Same, Tanzania
Taveta, Kenya
Poli, Tanzania
Moshi, Tanzania
Namanga, Kenya
Nkoaranga, Tanzania
Lembeni, Tanzania
Monduli, Tanzania
Arusha, Tanzania
Namanga, Tanzania
Kingori, Tanzania
Longido, Tanzania
Mbuguni, Tanzania
Coordinates of mount Kilimanjaro (mount Kilimanjaro longitude and latitude) are as follows:
Latitude: -3.065653
Longitude: 37.352013
DMS Lat: 3° 3′ 56.3508" S
DMS Long: 37° 21′ 7.2468" E
How tall is Mount Kilimanjaro Located? It stands roughly 4,900 m tall from its tableland base and is approximately 5,895 m above sea level. When touring the Kilimanjaro National Park, Mount Kilimanjaro will be the highlight. It is the 4th most prominent topographical mountain top on Earth. The Mount Kilimanjaro elevation is considered as one that delivers a paramount climbing experience. Mount Kilimanjaro has also been subject to various scientific studies due to the projection that its diminishing icebergs and fields will vanish between 2030 and 2050.
Now for those who have been wondering "How high is mount Kilimanjaro" now you have a pretty good idea of what you will be facing if you decide to take the challenge of summiting Mount Kilimanjaro.
How Long Does It Take to Climb Mount Kilimanjaro? Mount Kilimanjaro hike time is approximately 5 days to 10 days contingent on your route choice and basing on the speed of your itinerary. Some hardcore climbers have tackled the mountain in just a single day. The treks are also different in terms of distance plus their duration.
Toponym of Mount Kilimanjaro Tanzania
What is Mount Kilimanjaro?
How did mount Kilimanjaro get its name? While the birth of its name is unknown, many theories exist. By 1860, European travelers had decided on the name and stated that Kilimanjaro comes from the Kiswahili language. The Nuttal Encyclopedia published in 1907 also documents the mountain name being Kilima-Njaro.
In 1860, Johann Ludwig Krapf penned down that the Swahili people beside the coast referred to the elevation as Kilimanjaro. While he offered no support, he stated that the name either represents a mountain of caravans or a mountain of greatness. Under the first translation, kilima represents mountain, while jaro represents caravans. In ancient Kiswahili, the word Njaro stands for shining. Krapf wrote regarding his visit to the Wakamba chief and stated that the chief "had been to Jagga and had seen the Kima Jajeu mountain of whiteness, the name given by the Wakamba to Mount Kilimanjaro…." Translated from Kikamba, the words would be kjima kyeu, indicating that a possible derivation was popular amongst the many investigators.
In 1885, Jim Thompson stated that Kilima-Njaro was generally accepted to represent the mountain (kilima) of greatness (njaro). Although he had no support for either of his statements, he also proposed that the word may represent the white mountain.
While others have accepted that the Kiswahili word for mountain is kilima, the issue arising is that the word kilima represents hill and, consequently making it mlima's (which is proper for mountain) diminutive.
However, it is believed that one of the first visitors from Europe who had little knowledge of the Kiswahili language might have changed the word mlima to kilima. It can also be accepted that kileman in Mount Kilimanjaro originates from the word kileme, part of the Kichagga language. This word translates to a thing that defeats. Another feasible word it might have come from is kilelema, translating to something that became impossible or challenging. Many possibilities exist around the origin of the word jaro. Some believed it is derived from the word njaare, which represents bird or leopard, or jyaro, which represents caravan.
Using the Kiswahili name components, Germans dubbed the mountain Kilima-Ndscharo when it formed together with German East Africa during the 1880s. After Hans Meyer got to the highest peak of Kibo's crater ridge on the 6th of October 1889, he dubbed it Kaiser-Wilhelm-Spitze. Until 1964, when Tanganyika gained independence, Kaiser-Wilhelm-Spitze remained the crater's name. After the country gained its independence, the mountain peak was retitled Uhuru Peak, translating to freedom in Kiswahili.
Because Wachagga natives do not use Kilimanjaro as the mountain name when referring to it, there is a likelihood that they merely uttered kilemanjaare or kilemajyaro (which translates to the mountain being unclimbable), and porters misinterpreted this as the mountain's name.
Characteristics of Mount Kilimanjaro and Why is Mount Kilimanjaro So Famous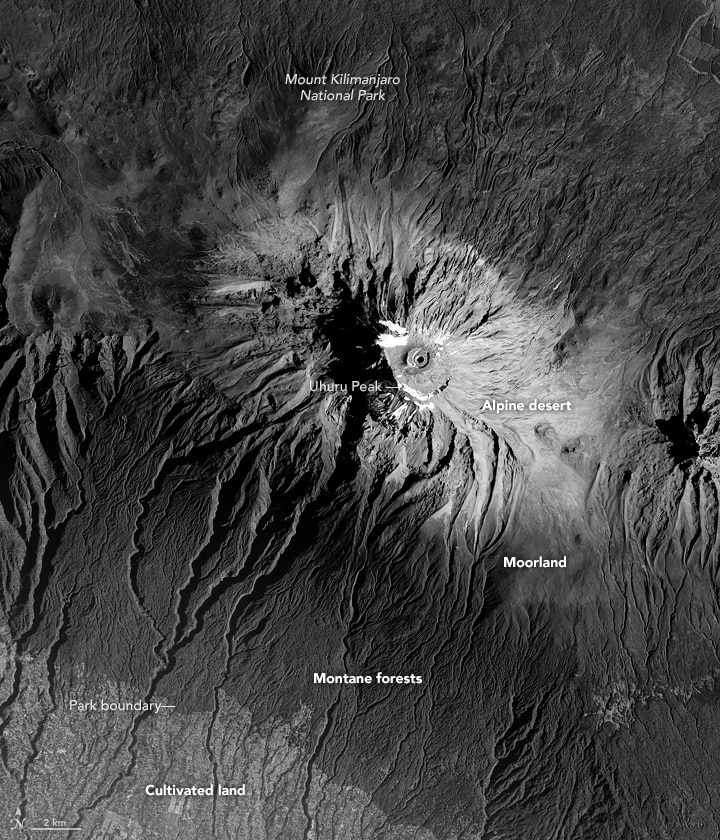 Mount Kilimanjaro Mountain Range
While the Kibo cone of Mount Kilimanjaro is dormant and holds a possibility for eruption, the Mawenzi and Shira cones are extinct. Kibo is the most elevated and highest peak of Mount Kilimanjaro, while Mwenzi is at an elevation of 5,149 m and Shira is at an elevation of 4,005 m.
Uhuru Peak formed upon the rim of Kibo's crater, and it is the most elevated summit there. Its height is listed as 5,895 m by a government agency of Tanzania called TANAPA (Tanzania National Parks Authority), and UNESCO (United Nations Educational, Scientific, and Cultural Organization). This listing is found on the 1952 British survey. However, the height was measured in 1999 at 5,892 m, in 2008 at 5,902 m, and in 2014 at 5,899 m.
1964 – The DOS (Directorate of Overseas Surveys) of the British government published a Mount Kilimanjaro on map detailing Kibo summit. They based the map on aerial imagery from the early 1960s named the Subset of Mount Kilimanjaro, East Africa (Tanganyika) Series Y742, Sheet 56/2, DOS 422 1964, Edition 1, Scale 1:50,000.
1989 – Following the initial DOS map featuring a 1:100,000 scale with 30 m lineation interludes, England published the first tourist mapping. It was published via the Ordnance Survey and named DOS 522.
1990 – An informational tourist map was produced by West Col Productions. A 1:75,000 scale with 100 m lineation intervals was used. Graphic maps of Mawenzi and Kibo on respectively 1:30,000 and 20,000 scales and 50 m lineation intervals were included.
Many other Mount Kilimanjaro map versions of different qualities have become accessible in recent years.
Mount. Kilimanjaro Volcanology
Is mount Kilimanjaro active? No significant erosions that could expose the inside (igneous strata) of Mount Kilimanjaro have occurred. This is one of the many interesting facts about mount Kilimanjaro.
How was Mount Kilimanjaro Formed?
Millions of years ago (approximately 2.5) the Shira center experienced eruptive activity. The last significant phase occurred just less than 2 mega-annum's ago. This phase was prior to the northern cone part collapsing. A wide plateau tops Shira at a height of 3,800 m, which many suspects is a filled opening. Erosion has extensively degraded the remaining caldera rim. Before it was created and affected by erosion, Shira is suspected to have been 4,900 m to 5,200 m high. Shira is mainly made out of rudimentary lavas, which contain pyroclastics. While no large-scale explosive activity was present, the hole was created by lava emerging from within ring fractures. Subsequently, two cones were created. One was the northwest phonolitic cone and the other the doleritic Platzkegel situated in the center of the opening.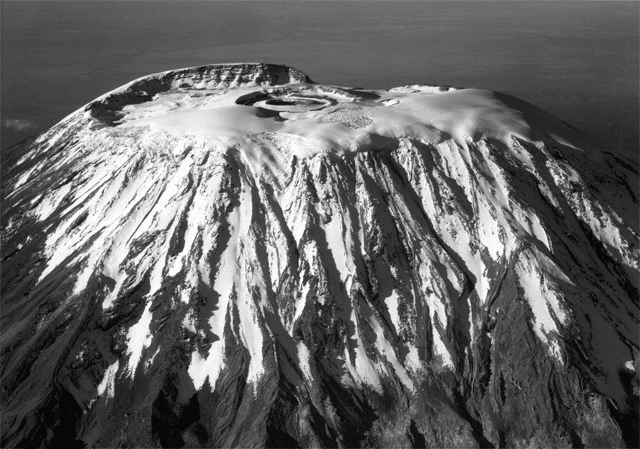 Is Mount Kilimanjaro a Volcano?
About a mega-annum ago, Kibo and Mawenzi both started erupting. The Saddle Plateau separates them at the 4,400 m elevation.
At Mawenzi, the rocks date as young as 448 thousand years old. The cone is in the form of a horseshoe-formed ridge and has ridges and pinnacles blossoming at its northeast. Its cone resembles a tower due to extensive erosion. It is believed that a mafic dike swarm also contributed to this formation. Several big cirques penetrate the ring, with the biggest one sitting at the upmost of the Great Barranco canyon. The West and East Barrancos are also notable at the northeastern flank of it. Erosion has removed the majority of Mount Kilimanjaro's eastern side. The Neumann Tower sits at 4,425 m and is a subsidiary peak of Mawenzi.
The biggest cone is Kibo. It occupies a width of over 24km at the height of Saddle Plateau. Kibo summit crater was created approximately 150 – 200 thousand years ago when it was active for the last time. Gas-releasing fumaroles are still present in Kibo's crater. Its cone is almost symmetrical and has cliffs rising to 180 – 200 m on its southern flank. Due to the collapse of the summit, these cliffs define a broad opening of 2.5 km. Inside this hole, the Inner Cone sits, and inside it, the Crater of Reusch. The government of Tanganyika titled this crater in 1954 after Gustav Otto Richard Reusch. Reusch attempted the mount Kilimanjaro climb 65 times during his lifespan and succeeded on his 25th attempt, whereafter the crater was dubbed. Inside the Resch Crater, at 350 m deep, is the Ash Pit. Approximately 100 thousand years ago, the Great Barranco and the Western Breach were created after a crater rim piece of Kibo gave in.
The Kibo Barranco and the Great West Notch have exposed strata inside them. Syenite intrusions are exposed in the Great West Notch. Kibo has 5 primary lava formations, and a lava layer (which is almost continuous) buries their geological features. The primary lava formations are:
Aphyric phonolite lavas, part of the Lent group dating to 359 – 337 thousand years ago. Basal obsidian horizons commonly underlie them.
Phonolite lava flows with aegirine phenocrysts, part of the Inner Crater group, representing the volcanic activity which last took place on Kibo.
Phonotephrites and tephriphonolites, part of the Lava Tower group, dating to 482 thousand years ago. Present on a dyke cropping at 4,600 m.
Porphyritic tephriphonolite to phonolite lavas grouping together as the Caldera Rim, dating to 274 – 170 thousand years ago.
Over 250 freeloading cones are present on the southeast and northwest sides of Kibo. They were created approximately 150 – 200 thousand years ago. Ankaramites, basanites, picrobasalts, and trachybasalts erupted. These extend to the southeast (Taveta and Lake Chala) as well as the northwest (Lengurumani Plain).
With Saddle Plateau as the exception, the majority of these cones have been well conserved. While they are mainly small, lava erupting from them has hidden large pieces of Mount Kilimanjaro. Terminal lava effusions come from Saddle Plateau cones (which are primarily cinder), while generated lava flows from the cones of the Upper Rombo Zone. Saddle Plateau cones all precede the latest glaciation.
Mount Kilimanjaro Last Eruption – From documentation of the Maasai during the 1900s, Lake Chala, which is found on the eastern flank of Kibo, is village remnants after destruction by a volcanic Mount Kilimanjaro eruption that took place.
Mount Kilimanjaro Glaciers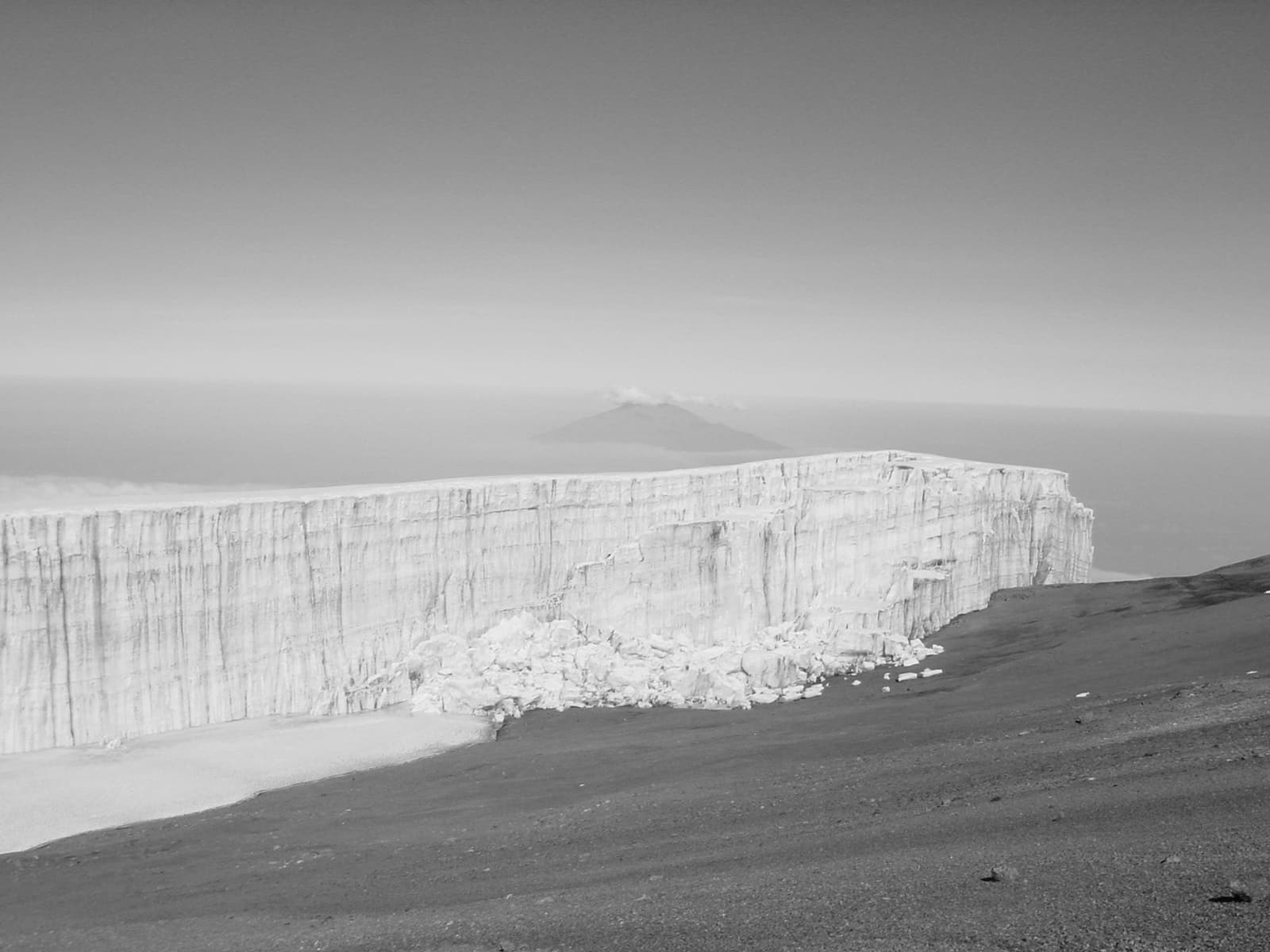 Is There Still Snow on Mount Kilimanjaro?
If you have been wondering "does it snow on mount Kilimanjaro", the answer is yes, but due to Mount Kilimanjaro being an enormous mountain rising beyond the snow border, diminishing ice caps exist at Kibo. The cap splits into separate icebergs at its edges and is classified as divergent. Kibo's crater interrupts the ice caps main piece. No noteworthy horizontal movements are displayed by the ice fields and Mount Kilimanjaro summit icebergs due to their low width preluding major deformations.
During the Quaternary period, five consecutive glacial episodes took place, according to geological evidence. The first took place about 500,000 years ago, the 2nd over 360 to 240 thousand years ago, the 3rd approximately 150 to 120 thousand years ago, the 4th (known as Main) around 20 to 17 thousand years ago, and the last (known as Little) approximately 16 to 14 thousand years ago. While the third is considered the most substantial, Little seems statistically identical to Main.
During the Pleistocene Epoch (also known as the Main Glacial Episode), during the Last Glacial Maximum, a continuous cap extending about 400 sq km downwards to a 3,200 m height, covered Mount Kilimanjaro. This enfolds the peaks of Mawenzi and Kibo. The Kilimanjaro ice fields became extinct approximately 11,500 BP due to exceptionally continuous dry states during the Younger Dryas Stadial. The icebergs from Mount Kilimanjaro's NIF (Northern Ice Field) have an estimated birth age of 11,700 based on ice cores taken from there, even though an ice analysis from 2011 based on samples from upright NIF cliffs support an age dating to only 800 BP. Approximately 11,500 BP, when the Holocene Epoch began, higher precipitation rates allowed ice caps to reform. The icebergs outlived three of drought which began about 4,000 BP.
Ice entirely covered Kibo's peak during the late 18th century. The cap was approximately 20 sq km, with outlet icebergs descending down the southern and western slopes. Besides the inside cone, the opening was buried entirely. Glacier ice ran via the Western Breach, and slope icebergs rapidly retreated from 1912 to 1953 in reaction to an unexpected climate shift that occurred in the late 1900s. This retraction made them "drastically out of equilibrium" and slower. They continue to demise, which indicates that even today, they are not in equilibrium. This represents a reaction to a continuous climate change over the last century.
The icebergs on the crater plateau of Mount Kilimanjaro have disappeared and repeatedly reappeared at the time of the Holocene Epoch, contrary to the persistent slope icebergs. This phenomenon takes place each cycle and lasts several hundred years. It seems that since the late 1900s, declining dampness has led to slope icebergs shrinking. Between 1948 and 2005, no explicit warming trend occurred at the height of these icebergs. While air temperatures are consistently below freezing at such heights, melting is caused by solar radiation on erect faces. Unique qualities belong to peak icebergs and a primary shrinkage spot on the icebergs in the upright ice margin.
They manifest calving, stratifications, and more ice features. The plateau icebergs have no other pathway than to withdraw once their erect margins have experienced solar radiation exposure. The Mount Kilimanjaro icebergs have subject to many ice-core record obtaining, with two such obtainments of the southern icefield included. Based on the mentioned information, this icefield was created from approximately 1,250 to 1,450 BP.
Will Gadd, an ice climber, noticed a coverage difference when he looked back on his climbs from 2014 and 2020. Studying records from the past, the following was concluded:
| | |
| --- | --- |
| Period | Average Ice Coverage Loss |
| 1912 – 1953 | 1.1% per annual |
| 1953 – 1989 | 1.4% per annual |
| 1989 – 2007 | 2.5% per annual |
| 2000 – 2011 | 40% |
Coverage decreased from 11.40 sq km to 1.76 sq km. In total, the loss from October 1912 to June 2011 was approximately 85%.
Besides losing sectional coverage, the icebergs are thinning. Active accumulation zones are non-existent, and glacier surfaces experience retreats. Both sublimation and melting contribute to iceberg mass loss. Mount Kilimanjaro's current diminishing and thinning ice fields are not unique. Though Mount Kilimanjaro has only experienced it within an almost twelve-year millennium history, widespread iceberg retreat around the globe has been occurring globally in middle-to-low elevations. In 2013, estimates showed that at global warming's current rate, the majority of Mount Kilimanjaro's ice would have vanished by 2040. After 2060, the chances of ice bodies remaining are slim.
If the ice vanishes entirely, it would only be insignificant to Mount Kilimanjaro's water budget. The Mount Kilimanjaro forests, situated beneath its ice fields, act as crucial water reservoirs serving the domestic and regional populace.
Mount Kilimanjaro Drainage
A web of waterbodies drains Mount Kilimanjaro. This drainage primarily occurs on the moister, more eroded southern flank and spots with an more than 1,200 m elevation. An increase in evaporation and water usage by humans reduces drainage below that height. The Lumi and Pangani rivers are responsible for drainage on the southern and eastern flanks of the mountain.
Human History of Mount Kilimanjaro in Tanzania
Many stories by East African natives attest to Mount Kilimanjaro. The Chagga people, who traditionally occupy the eastern and southern mountain slopes, tell of a man called Tone. In this story, Tone gave rise to a god called Ruwa. Ruwa brought a famine to the land, and the people were angered. They forced Tone to flee, and nobody offered him protection except a lonely dweller with stones that could magically turn to cattle. Tone was instructed by the dweller never to open the cattle stable, but Tone decided to not obey. The cattle got away and while Tone attempted to follow them, they threw uphill towards Kibo and Mawenzi. Tone could not keep up and fell down on Kibo.
Another legend by the Chagga people is about ivory-filled elephant graves situated on Mount Kilimanjaro. Also in this story is a cow called Rayli who could produce fat through the glands of her tail. Legend has it that if someone attempts to steal from her and is too leisured with his movements, he will be blown down by Rayli's mighty snort.
Mount Kilimanjaro Early Records
Mount Kilimanjaro Discovery
Sailor records indicate that non-indigenous people might have known of Mount Kilimanjaro since antiquity. Ptolemy's reports refer to a "moon mountain" and a Nile spring lake. While both may indicate Mount Kilimanjaro, historical information indicates no differentiation among other mountains in East Africa such as the mountains in Ethiopia, the Rwenzori Mountains, Mount Kenya, and the Virunga Mountains.
Herodotus and Aeschylus touched on "Egypt nurtured by the snows" and a spring between two mountains, respectively, before Ptolemy. Two tall coastal mountains consisting with a valley which has fire traces are mentioned in one. The Spanish traveller, Martín Fernández de Enciso, journeyed to Mombasa and obtained information concerning the inside from indigenous caravans. In his Summa de Geografía (1519), he said that to Mombasa's west, Mount Olympus of Ethiopia stands exceedingly high. He further states that Montes Lunae, wherein the Nile is, stand beyond it.
European Exploration of the Tanzania Mount Kilimanjaro
Early Mount Kilimanjaro Expedition and the First Person to Climb Mount Kilimanjaro
Krapf and Johannes Rebmann (both German missionaries) are the first known Europeans to attempt Mount Kilimanjaro. Halford Mackinder (English geographer) and Harry Johnston (English explorer) stated that Rebmann reported on Mount Kilimanjaro's existence in 1848, making him the first to do so. Hans Meyer stated that in 1846 Rebmann toured Africa and quoted a diary entry of Rebmann from the 11th of May:
"This morning, at 10 o'clock, we obtained a clearer view of the mountains of Jagga, the summit of one of which was covered by what looked like a beautiful white cloud. When I inquired as to the dazzling whiteness, the guide merely called it 'cold' and at once I knew it could be neither more nor less than snow…. Immediately I understood how to interpret the marvelous tales Dr. Krapf and I had heard at the coast, of a vast mountain of gold and silver in the far interior, the approach to which was guarded by evil spirits."
Karl Klaus von der Decken, a Prussian officer Baron, joined Richard Thornton (an English geologist) in August 1861 attempting to summit Kibo. They only got to 2,500 m due to harsh Mount Kilimanjaro weather conditions. Von der Decken attempted a second climb in December 1862 beside Otto Kersten, hitting 4,300 m.
Charles New (also a missionary) was the first European to get to the equatorial snows in August 1871. These snows were approximately 4,000 m high. Sámuel Teleki, a Hungarian Count, and Ludwig von Höhnel, an Austrian Lieutenant, attempted to climb Mount Kilimanjaro in June 1887. Höhnel came to a stop at 4,950 m as they approached the saddle between Kibo and Mawenzi. However, Teleki continued and at an elevation of 5,300 m set foot on snow. In 1887, Hans Meyer got to Kibo's ice cap at the nether edge before turning back due to a lack of proper equipment. He planned another climb with the cartographer Oscar Baumann in 1888, but they aborted the mission after they were victims of a hostage in the course of the Abushiri Revolt, for a ransom. In autumn of that year, Dr. Abbot, an American naturalist, and Otto Ehrenfried Ehlers, a German explorer, narrowed in on the peak from the northwestern side. Although Abbott turned early, Ehlers stated that he set foot on the peak rim. After criticism, he withdrew his statement.
Meyer went to Mount Kilimanjaro once again in 1889. He was accompanied by Ludwig Purtscheller who was an Austrian mountaineer. This third climbing Mount Kilimanjaro attempt included several campsite establishments and food supplies to ensure that they could make multiple attempts to summit the mountain. On the 3rd of October, both men neared the rim of the crater, but turned around due to exhaustion. After three days, they set foot on the rim's highest peak  at the southern flank. This success made them the first who could attest that Kibo had a crater. Purtscheller and Meyer attempted the more challenging Mawenzi after they descended Kibo and Mawenzi until they reached the saddle. They only got to the peak of the subsidiary Klute Peak before withdrawing because of illness. The men reascended Kibo on the 18th of October and entered the crater for studies. The pair spent total of 16 days on the mountain for their expedition, above 4,600 m. Mwini Amani of Pangani accompanied the men in their camps as their cook. He also supplied them with firewood and water.
On the 29th of July 1912, Fritz Klute and Eduard Hans Oehler (German climbers) made the first climb of the highest Mawenzi peak. They titled it the Hans Meyer Peak. They also made the first-ever climb of Kibo through the Drygalski Glacier and went down through the Western Breach.
The committee appointed to organize the 100th first climb anniversary celebration awarded the indigenous porter guides who accompanied Purtscheller and Meyer in 1889, with posthumous certificates. Documents or pictures of this expedition showed a person believed to be a Yogani Kinyala Lauwo, a living Marangu inhabitant. Lauwo could not recall Purtscheller or Meyer, let alone his age. However, he recalled a Mount Kilimanjaro journey alongside doctor living near the mountain and said he was from Germany. He also remembered doing the climb barefoot. Lauwo stated that before World War I, he climbed Mount Kilimanjaro three times. After considering the mentioned, the assembly decided that Lauwo was part of the team and was likely born around or in 1871. Lauwo passed away 107 years post first climb, on 10 May 1996. Some refer to him as a co-first-climber of Mount Kilimanjaro.
Scientists drilled into mount Kilimanjaro and apparently found that there is a mount Kilimanjaro biblical secret – the ice down deep the mountain indicate and supported the old testament stories about biblical drought told in the Book of Genesis (the center of it was Joseph), the Islamic Quran and the Torah.
What Resources Does Mount Kilimanjaro Provide?
Flora and Fauna
Mount Kilimanjaro Animals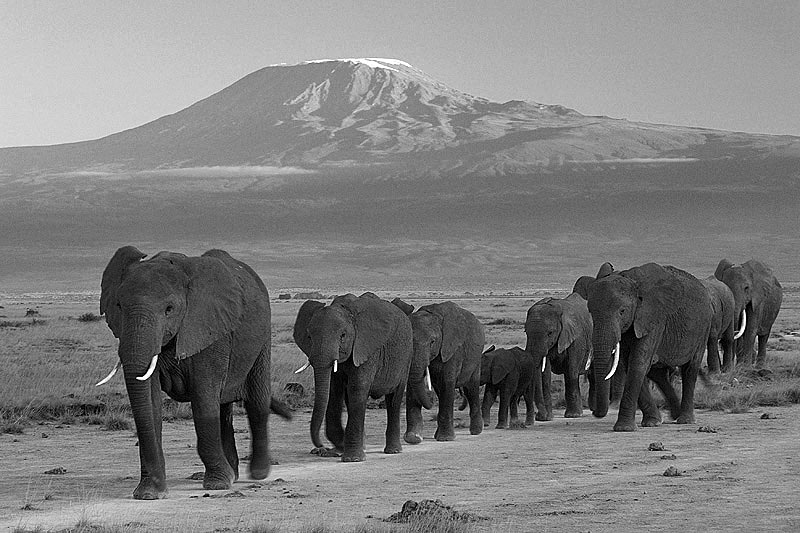 Animals that live on mount Kilimanjaro are mostly large animals which are more recurrent in the Mount Kilimanjaro Forest than on the mountain itself. Included in the animal species considered to pose a threat to trekkers are Cape buffaloes and Elephants. Other animals reported on the landscape include duikers, bushbucks, sunbirds, warthogs, chameleons, mongooses, and dik-diks. On the plateau named Shira, hyenas, leopards, and zebras have been seen.
The Mount Kilimanjaro Shrew and the Kinvongia Tavetana chameleon are two species specific to the mountain.
Approximately 1,000 sq km of Mount Kilimanjaro is covered by natural forests. The foothill region is a cultivation spot for beans, maize, sunflowers, and wheat. Preceding savanna vegetation remainders including Acacia, Combretum, Grewia and Terminalia occur. A part of traditional Chagga resident garden agroforestry includes coffee at between 1,000 m and 1,800 m. At this Mount Kilimanjaro height, native vegetation is restricted to inaccessible gorges and valleys. It is entirely contrasting to greenery at more elevated altitudes. Epiphytes, ferns, and ocotea usambarensis first appear on the montane forest slope's south side. Erica excelsa, hagenia abyssinica, podocarpus latifolius, and mosses depending on fog grow on the cloud forest further up. Cassipourea, croton-calodendrum, Juniperus, and olive form forests on the drier northern slopes in escalating elevations. Erica bush and heathlands lie between 3,100 m and 3,900 m, wherafter Helichrysum can be found up to 4,500 m. Neophytes, including Poa annua, have been noticed.
Records at the 2,780 m Maundi crater indicate greenery of Mount Kilimanjaro as varying over time. At the time of the Last Glacial Maximum, forest vegetation retreated, and with that, the ericaceous greenery belt dropped by 1,500 m between 42 – 30 thousand years ago due to cold and dehydrated states.
On the Mount Kilimanjaro slopes, the Tussock Grassland contain many unique greenery species. One of these is the water-holding cabbage.
Surrounding Mount Kilimanjaro Climate
Which Best Describes the Climate on Mount Kilimanjaro?
The height of Mount Kilimanjaro influences its climate. It allows the concurrent influence of tropical trade winds and high-elevation Mount Kilimanjaro anti-trades. The secluded mountain position also plays a role. Mount Kilimanjaro is graced by upslope winds during the day and downslope winds in the evenings. The winds are not as strong on the northern flank as they are on the southern. The atmosphere is more strongly affected by the extended, flatter southern sides.
The two well specified rainy seasons of Kilimanjaro run between March and May and around November. More rainfall occurs in the southern slopes than in the northern. Annually, the southern slopes receive 8 to 9 hundred mm. This average rises to 1.5 – 2 thousand mm at 1,500 m height and hits a peak at just over three thousand mm in the most vegetated part of the forest at 2,000 – 2,300 m height. Annual precipitation in the alpine zone can decrease to 200 mm.
On average, the Mount Kilimanjaro temperature of the area on the mount Kilimanjaro top is about -7°C. The NIF experiences night temperatures of -9°C with daytime temperatures averaging around -4°C at its highest. During extreme radiational cooling, night temperatures can drop to -15 to -27°C.
While primarily associated with the country's two seasons of rain, snowfall occur year round. At the peak, precipitation occurs as graupel and annual snow of 250 – 500mm take as little as a day to vaporize, or in some cases several years
Mount Kilimanjaro Climatic Zones
Which best describes the climate on and around mount Kilimanjaro? The following climatic zones give you a full picture of the mountain's overall climate:
| | | |
| --- | --- | --- |
| Zone | High | Low |
| Alpine Dessert | 5,000 m | 4,000 m |
| Arctic | 5,895 m | 5,000 m |
| Bushland | 1,800 m | 800 m |
| Moorland / Heather | 4,000 n | 2,800 m |
| Rainforest | 2,800 m | 1,800 m |

In 2013, the Mount Kilimanjaro National Park made 51 million US dollars in revenue. This amount was the next most of any national park in Tanzania. During the 2011 – 2012 budget year, the Tanzania National Parks Authority documented 57,456 tourist visits. Of these, 16,425 embarked on Mount Kilimanjaro hike. The General Management Plan of the park specified an annual volume of 28,470. Approximately 11,000 periodic cook, guide, and porter jobs were generated by tourists who opted to hike Mount Kilimanjaro in 2007. However, many have raised concerns surrounding inadequate wages and poor working environments associated with these jobs. Kenyan and Tanzanian governments invested funds to keep infrastructure in good conditions due to their destination popularity. Due to these investments, accessibility to the Kilimanjaro National Park improved. The Kilimanjaro International Airport located in Tanzania also acts as an essential transportation hub.
Climbers can climb up and move down the mountain via seven authorized Kilimanjaro routes for climbing. These are Lemosho, Lemosho Western-Breach, Mweka, Machame, Marangu, Shira, Rongai, and Umbwe. Climbers can complete The Northern Circuit paths within seven or more days, the Lemosho in 6-8, and the Machame in six or seven. For those going for hiking Mount Kilimanjaro, they can also choose to continue the Lemosho Route through the Western-Breach on the western mountainside. However, this breach is private and eliminates the midnight climb to the peak which can take up to 6 hours. The easiest path is the Rongai, and while the Marangu has also proved to be beginner-friendly, it is busy, and resting is offered in communal huts.
Mount Kilimanjaro Climbing Records
Oldest Climber
Anne Lorimor was 89 years old when she set foot on the Uhuru Peak on the 18th of July 2019.
Oldest Male Climber
Robert Wheeler was 85 when he got to the mountain peak on the 2nd of October 2014.
Youngest Climbers
Maxwell J. Ojerholm reached the Uhuru Peak, without assistance when he was ten. He did this on the 4th of July 2009m and chose the challenging Machame path.
Colin M. Barker also completed this path on the 22nd of December 2020 when he was ten.
Theodore Margaroli set foot on the summit without assistance via the Western Breach in 2019 at ten years old.
Despite a year ten age limit, Keast Boyd made the peak on the 21st of January 2008 when he was 7 years old.
Montannah Kenny equaled Boyd's record in March 2018.
Quickest Ascent and Roundtrip
Karl Egloff recorded the quikest ascent and roundtrip on the 13th of August 2014. He guided a group to the peak of Mount Kilimanjaro the days before and ran from the Umbwe Gate to the mountaintop in 4 h and 56 min before returning to Mweka Gare (which is at an elevation of Mount Kilimanjaro at 1,630 m) in 6 h, 42 min, and 24 sec.
(Kílian Jornet held previous records on the same path in 2010 on the 29th of September and Simon Mtuy in 2006 on the 22nd of February.
Fernanda Maciel holds the roundtrip female record clocking in at 10 h and 6 min.
Kristina Schou Masden broke Maciel's ascent time record of 7 hours and 8 minutes on the 23rd of February 2018 with 6 hours 52 minutes and 54 seconds starting at Mweka Gate.
Disabled Climbers
In 2007, Bernard Goosen, a wheelchair user, completed his Mount Kilimanjaro climb in only six days.
Kyle Maynard (forearm – and lower legless) crawled to the peak without assistance in 2012. He is populary known and searched in internet as the "guy with no legs climbs mount Kilimanjaro".
Justin Oliver Davis and Hari Budha Magar are amputees (both double above-knee) who reached the peak in 6 days after covering the 56 km distance to it.
Safety Precautions About Mount Kilimanjaro and Possible Dangers of Climbing Mount Kilimanjaro
While an Andes or Himalayas climb is more technical and challenging, the height, low temperature on mount Kilimanjaro, and high winds make it an arduous trek. The mountain peak is well beyond the altitude commonly seen as a risk for the occurrence of HAPE (high altitude pulmonary edema) or HACE (high altitude cerebral edema.) Climbers require acclimatization, and even those with experience and fitness may suffer from some altitude sickness.
A study conducted of 917 climbers attempting to make the peak through the Machame or Lemosho paths showed a 70.4% occurrence of AMS (mountain sickness of a severe degree), categorized as appetite loss, diarrhea, headaches, nausea, or vomiting. Another study conducted from July 2005 to August 2005 showed that only 61.3% succeeded in making the summit, and 77% experienced AMS.
Swift climbing schedules due to high park costs, busy travel itineraries, and scarcity of permanent shelters on most paths increase the risk of HAPE and HACE. The onset of AMS might be delayed by the 6-day Machame path, which involved a high-climbing day to Lava Tower and a low-sleeping night at Barranco Camp, although it does not prevent it.
All water on Mount Kilimanjaro must be boiled before use due to a health risk created by the improper disposal of human waste.
Trekkers have died during their climb due to falls from steep mountain pieces and natural rock slides. A path called Arrow Glacier was shut for many years due to these deaths and only reopened in 2007. From January 1996 to October 2003, 25 people have died while trekking the mountain as per the Kilimanjaro Christian Medical Centre documents in Moshi. Of these deaths, 17 victims identified as female, and 8 as male. Their ages range from 29 – 74. HACE took the life of one person, HAPE that of five, and 14 hikers died due to high-altitude sickness of an advanced level. The remaining 11 deaths were caused by acute appendicitis (1), cardio-pulmonary collapse of other root causes (1), myocardial infarction (4), pneumonia (2), and trauma (3). Overall, the Mount Kilimanjaro deaths rate was 13.6 for every 100,000 mountain climbers.
Other Fun Facts About Mount Kilimanjaro and Things Which Best Describes Mount Kilimanjaro
Climbing mount Kilimanjaro price:

How much does it cost to climb mount Kilimanjaro or may be average cost to climb mount Kilimanjaro ? – between $2,000 all the way up to $6,000 contingent on tour operator, seasonality, budget, itinerary and a ton of other variables.
Do you need a guide to climb mount Kilimanjaro? – YES, it is actually a requirement that every climber must be accompanied by a guide who possess a Kilimanjaro National Park certificate.
What type of plate boundary is mount Kilimanjaro? – The mountain's base is on top of a divergent plate boundary.
Mount Kilimanjaro location:

What country is mount Kilimanjaro in? – The United Republic of Tanzania
Mount Kilimanjaro continent – Africa
Climbing mount Kilimanjaro for beginners:

How to climb mount Kilimanjaro – Refer to Mount Kilimanjaro Guide here!
Can anyone climb mount Kilimanjaro? – Yes, as long as you are at least 10 years and older. Additionally, you will need a guide to accompany you
Can you climb mount Kilimanjaro without a guide? – No, it is illegal
Mount Kilimanjaro hiking routes – Find a full list of all available routes on Globaladventurechallenges.com with details of how many days the route will take and more!
How long is the mount Kilimanjaro hike – For those who are wondering how long does it take to hike mount Kilimanjaro….the time is at least 5 days for those with speed and endurance, but usually 7 to 8 days is the most ideal time for most people. But if you attempt to tackle more routes with scenic features and that are more gradual the answer to the question "how long to climb mount Kilimanjaro" will be approximately 10 days and more.
Climbing mount Kilimanjaro difficulty:

How hard is it to climb mount Kilimanjaro – There are professional expert knowledge or specific type of equipment needed for this expedition, and the mountain itself is not very steep. That said, main challenge most climbers face is altitude, the higher you go there will be less oxygen (going up is approximately 4,084ft and down is 6,870 ft…dealing with this with less oxygen and about 12 to 14 hours may be a big test for most people)

Climbing mount Kilimanjaro reviews:
Best time of year to hike mount Kilimanjaro – In the middle of the month of June all the way to last day of October. Another recommended season is between December to the middle of month of March.
Do you need to train to climb mount Kilimanjaro?
Mount Kilimanjaro trek – trekking mount Kilimanjaro involves a number of things which include preparation such as training for fitness, choosing the right season to go and more. Explore this guide for more details  (Mount Kilimanjaro Guide)
How do you get down from mount Kilimanjaro? – Coming down the mountain is not straightforward as it may sound, some climbers have reported the experience to be almost like skiing. Here is a review from one of the individuals who have experienced this task fully Descending from Kilimanjaro summit.
Can you walk up mount Kilimanjaro? – Even though they say that Kilimanjaro is a mountain of walking, it is not simple as it made to sound. You still need to prepare for fitness as you will be going up high altitudes, and if you are on a limited schedule in terms of time then the need for speed becomes higher.
Do you need oxygen to climb mount Kilimanjaro – No, oxygen is not needed as long as you prepared for fitness and pace yourself up the mountain
Gear for mount Kilimanjaro:
Mount Kilimanjaro ranking – Among the tallest mountains in the world, Kilimanjaro is ranked as number 6.
Climb mount Kilimanjaro tours – There are 100s to 1,000s of tour operators around the world that can take you to Kilimanjaro. Hence the options are endless, but to give you an idea here are tour selections from a company called "Intrepid".
Mount Kilimanjaro events – Google events page is the best place to get the most updated Kilimanjaro events
Is mount Kilimanjaro the tallest mountain in the world?: No

Mount Everest vs Kilimanjaro:

Everest has long hiking distances
The altitude rise on Kilimanjaro is faster than Everest's
Kilimanjaro is more physically tasking on the body than Everest, especially when approaching the summit
Can you see mount Kilimanjaro from the 

Serengeti? – yes, you can see the mountain but not the snow tops.
What type of volcano is mount Kilimanjaro – It is a dormant volcano
Best company to climb mount Kilimanjaro:

Best mount

Kilimanjaro trekking companies – Here are the top 8 operators reviewed by one of the credible sources pertaining mount Kilimanjaro, review page.
Best mount Kilimanjaro tour operators – Tour operators guide and reviews for Kilimanjaro

Climbing mount

Kilimanjaro tour – Tourradar.com will be a great place to browse the different options for Mount Kilimanjaro tours, as there are 100s of them and finding the right one depends on your preferences.
Closest airport to mount Kilimanjaro:

Mount

Kilimanjaro airport – This is the closest major airport in the city, which international airlines can land. But you do have other options such as Arusha Airport
Mount Kilimanjaro safari – Get a sneak peak of how a mount Kilimanjaro safari will be from Go2africa.com
Dead bodies on mount Kilimanjaro – It is estimated that every year there are about 10 fatalities that happen because of climbing mount Kilimanjaro. The reason is the traffic of climbers is on average about 30,000 a year, therefore the chances of something fatal happening is bound to happen.
Do people live on mount Kilimanjaro? – Yes, the Chagga tribe have traditionally made the Mount Kilimanjaro southern and eastern slopes their home.
Free Pictures of Mount Kilimanjaro
Mount Kilimanjaro Pictures
Mount Kilimanjaro images
Mount Kilimanjaro Hike Pictures
Mount Kilimanjaro Hike Pictures
Where is Mount Kilimanjaro on a Map?
Mount Kilimanjaro on Africa Map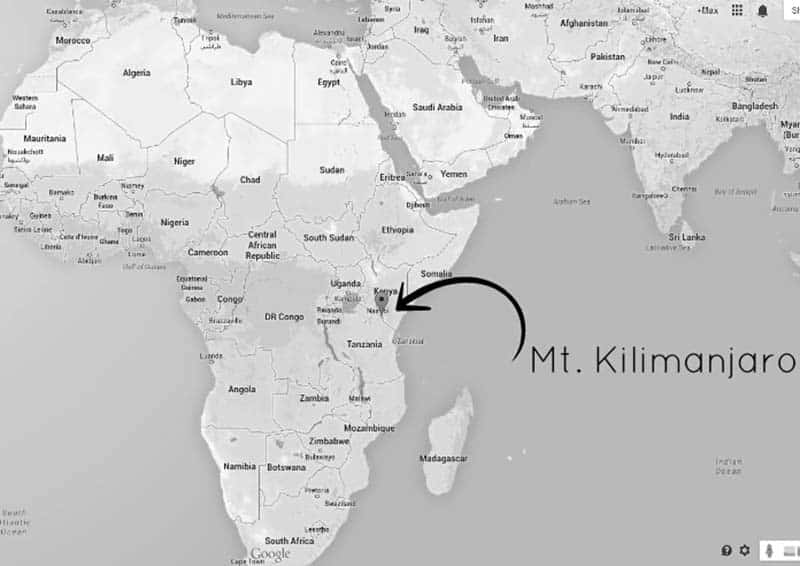 Map of mount Kilimanjaro – The height of mount Kilimanjaro tallest summits: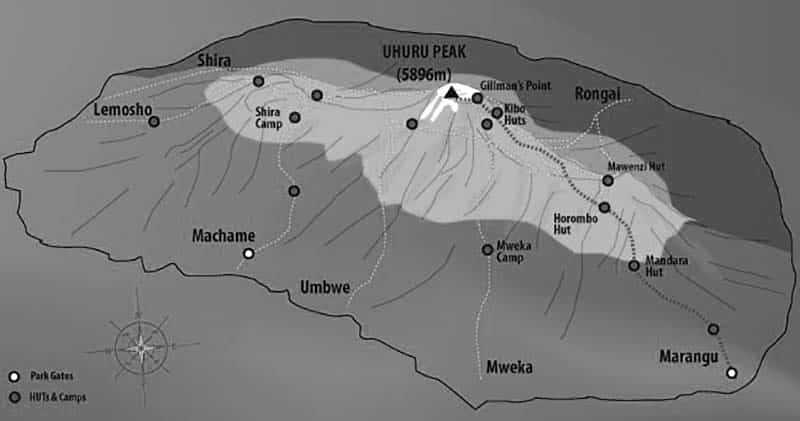 For more articles related to Mountains of Tanzania, click here!