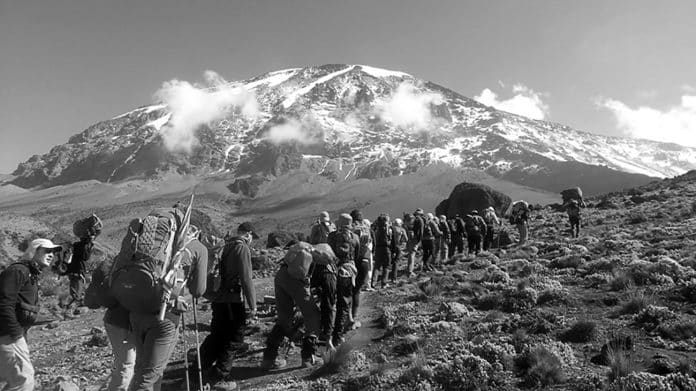 Kilimanjaro Expedition – Safety, Walking Speed, the Climb and More
What to Expect on Kilimanjaro Expedition
During the Trip
The last two nights of the Kilimanjaro expedition can be spent in an idyllic hotel in the city center of Arusha, where guests relax and recharge before and after their journey. You can choose whether you want a trio, single, or double room when you make a reservation. Bars, restaurants, a massage parlor (very soothing after a long climb), safes for valuables, and laundry are all available at the hotel.
Breakfast buffets are included in the price of your stay at the hotel.
Sneak Preview of the Expedition
How long is Kilimanjaro safaris expedition? Kilimanjaro can be summited in seven days and six nights if you choose the Machame Route. The Mweki path is used to return to the base after completing this ascent. Throughout this route, you'll see tropical rainforests and a lunar landscape more than 4,000 feet high.
One or two experienced Kilimanjaro guides expeditions, oversee the exercise depending on your group size. They have a great deal of experience in evaluating hiker's health. At any point throughout the ascent, tell your 360 expeditions Kilimanjaro guide immediately if you begin to feel unwell. The guide is often someone who has been there before and can offer advice and support. Sometimes a small amount of motivation or medical assistance is required, even dealing with blisters. Your health and safety are the sole responsibility of the mountain guides, who will do everything in their power to assist you.
All participants begin their Kilimanjaro climbing expeditions at Machame Gate, the main entry to Kilimanjaro National Park and the start of the Machame Trail. The mountain porters who carry all of your gear are selected and weighed here by the guides. Porters will lift over 60 kilograms. You must first sign up for your mount Kilimanjaro expedition first with your tour operator to arrange the porters.
Your Safety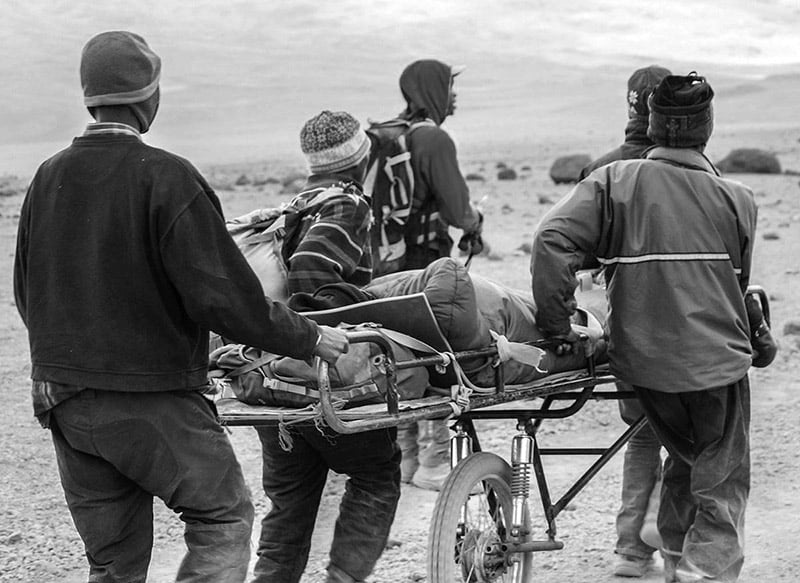 Pregnant women and those with major respiratory issues should not attempt climbing unless advised to do so by their doctor. To avoid altitude sickness: your guide will let you know if you have a cold, cough, high body temperature, or a nosebleed when you are over 3,500 meters.
Porters provide you with a daily supply of water. Bottled water will be provided on the first day, but on the mountain, you will drink boiled and filtered water that has been sanitized. Three liters of water are required each day. The porters take care of all three meals: breakfast, lunch, and dinner. You are responsible for your snacks.

Park rangers use mobile phones at the base of the mountain to communicate.

In an emergency, each guide has a first-aid package.

The guide will use an optimeter each night to check your heart rate and oxygen saturation to see if you're healthy enough to continue the next day.

The guide will inform you each night on the mountain what the next day's schedule will be like.
The Brisk Pace of Walking
You'll notice right away that the walking speed is a bit sluggish. There is no need to rush. You won't get out of breath, and you won't need as many rest stops if you keep a slow and steady pace. While you do, take in the sights and sounds of the natural world during the Kilimanjaro expeditions. The slower pace allows your body time to adjust to the high altitude.
The Ascent to the Highest Point of Kilimanjaro
Dinner will be served early on the sixth day after a long day of trekking. As the night draws near, your guide will remind you to get some early sleep so you can recharge yourself for the next adventure. From that moment on, all effort is to get to the top. After some refreshment in the thick night, the group sets off to climb to the volcano's summit after a brief bite and a cup of coffee.
With everything coming together, today is the most exciting day of the Kilimanjaro safaris expedition. How far can you go? Are you able to keep yourself warm, are you getting enough oxygen, or do you give up early? It's best to follow the guide's advice, and if you have the stamina, you can see the sunrise over Stella Point at 5685 meters. Walking along the crater rim toward Africa's tallest mountain, Uhuru Peak, as the light slowly warms your skin.
The Temperature of the Surrounding Environment
T-shirts are generally sufficient for hiking 3,000 meters, where temperatures can exceed 30 degrees Celsius, i.e., 86 degrees Fahrenheit during the day. When the wind blows, it can lower the temperature to as low as 15 degrees Celsius, i.e., 59 degrees Fahrenheit. When the sun sets and darkness falls, the temperature will drastically change. It can ice over at night, so a warm sleeping bag is required for the Kilimanjaro expedition. You'll soon be able to remove your sweater when the sun comes out again, making the morning even more enjoyable.
Even though the forecast calls for sunny skies, that cannot be guaranteed. Rain or snow can also fall at any time of year. Always wear the correct kilimanjaro expedition outfitters clothing. The guide is excellent for determining what to wear the next day.
The Meals
Incredibly, there will never be a food shortage on your private expeditions Kilimanjaro as you make your way up. The chef cooks up a storm in the mountains despite the challenging surroundings.
Toasted bread with sweet toppings, eggs, bacon, and a large dish of freshly cut fruit round out the morning meal during the Kilimanjaro expedition. Tea, hot chocolate, coffee, and filtered water are all options for drinks.
Soup and a vegetable salad are always served during lunch. Various fruit-flavored beverages will accompany your pancakes, pastries, and sandwiches. The chef prepares roasted peanuts, salted popcorn, chocolates, and cookies between courses for guests to enjoy. Dinner is a vital part of the day's schedule. The body needs sustenance after a lengthy walk to recuperate and prepare for the next day. Among the options for dinner are fried fish, rice, chicken, pasta, fries with various vegetables, Tanzanian banana stew Ndizi, and a sumptuous dessert (fresh fruit cooked in chocolate sauce). There's also a menu of banana pancakes with yogurt or honey.
Daily, you can expect to be awed by meals prepared by the chef.
When you book your mount Kilimanjaro expeditions, let us know what kind of food you prefer. The chef will prepare the meal according to your instructions.
The Porters in Charge of Moving Your Possessions
A porter can carry your baggage if it weighs no more than 15 kg. Ensure your gear (clothing, sleeping bag, etc.) does not exceed 15 kilograms.
When going for the world expeditions Kilimanjaro, your "daypack" should be the lightest it can be with the three liters of water already a significant weight. Only essential goods, like energy bars, sunscreen, and a hooded jumper, should fill the rest of your bag. It is highly recommended that you already have sunglasses and a hat on your head.
All supplies, including food, water, tents, the kitchen, and the porter's personal belongings, will be transported by a porter in addition to your luggage. Awake in the morning; they'll be on the move again as you continue your adventure. Everything will be ready for you when you reach your next destination on the mountain. You'll have everything you need in your tent, and a cup of coffee will be waiting for you.
Camping on Mount Kilimanjaro
Many other climbers will be camping nearby, and you will stay in double-person tents. Request a tent if you want it private during your reservation. It's free or at a minimal cost, and this service is often offered (locally).
Wooden boxes with a hole on the floor serve as the restrooms during the mountain expeditions Kilimanjaro. Adjusting to the feeling can take days.
The porters bring you a basin of hot water each morning to wash thoroughly.
Each morning, collect your waste and give it to the porters. Until the end of the Mt Kilimanjaro expedition, garbage is either burned or transferred down the mountain if it's plastic.
Photography on Mount Kilimanjaro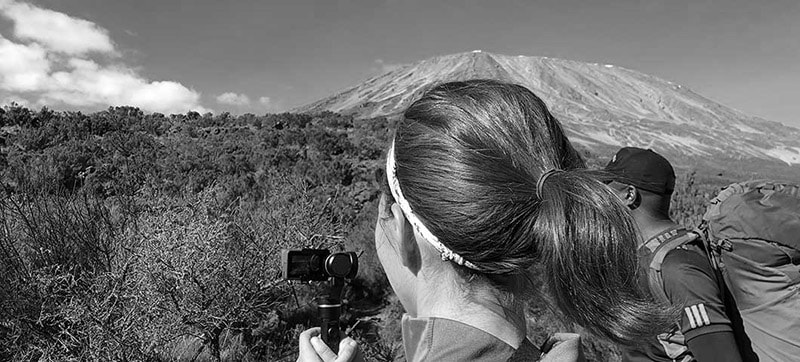 Always pack a sufficient quantity of fully charged digital camera batteries when going for a Kilimanjaro expedition. As the weather gets colder, they deplete more quickly.
Batteries should be stored in an area that is not directly exposed to the cold. During my Mt Kilimanjaro expeditions, I could sleep well with all my batteries tucked away in my sleeping bag.
Detection of Radio Waves
A mobile network, which also delivers data traffic, is present in most locations on the mountain. Some people have even used Twitter to let their friends know they've reached the top of the mount Kilimanjaro! But please remember that unless you bring solar panels with you on the Tanzania Expeditions Kilimanjaro, you will not be able to charge your phone on the mountain.
After Ascending Mount Kilimanjaro
Everyone who makes it to Uhuru Peak or Stella Point during the Kilimanjaro expedition will receive a certificate from Mweki Gate or the reserved guesthouse. The hotel offers massage services for tired legs and a sore back. You'll fall in love with it.
In Tanzania, it is customary to leave a gratuity equal to 10% of the bill.
Everything you get will be subject to this. Remember the seven-day guide, the cook, and the porters who kept you safe. If your mount Kilimanjaro expedition cost is $2,300, you'll want to set aside at least $230 for the mountain guides' tips, i.e., a group of twelve parties can have an aid crew of several chefs, assistants, guides, and around 25 porters.
If you've finished your climb and have extra clothing that you won't need, give it to your leading guide so that you can lighten your bags. That's where his expertise comes in. He knows which team members are most in need of new shoes for the winter and other accouterments.
Kilimanjaro Expedition Outfitters
The best Kilimanjaro outfitters are required to have years of experience, good feedback from clients and have the capacity to successfully organize a climb from start to end. The Kilimanjaro expedition price differs from one expedition provider to the other. The Kilimanjaro expedition cost service charges may be different but the quality of services needed and the number of people partaking the expedition also affect the price. Mount Kilimanjaro private expeditions tend to be more costly but are ideal for climbers who want to move at their own pace. Private Kilimanjaro expeditions can be arranged with the tour company the client is working with.
Some of the well known Kilimanjaro expedition outfitters include; Big expeditions Kilimanjaro, Boldr expedition Kilimanjaro, Kilimanjaro wonders expedition safari, Enosa expeditions Kilimanjaro, oneseed expeditions Kilimanjaro and Biobio expeditions Kilimanjaro. For climbers who opt for private expeditions while climbing mount Kilimanjaro, the mount Kilimanjaro safari club Tanganyika expeditions offers all the required private services.
A Few More Details
Top Climbers Expedition Kilimanjaro
Choosing the right Kilimanjaro expedition tour provider is important. We did a lot of research and came through one company called Top climbers expedition Kilimanjaro. This start-up tour company provides Kilimanjaro climbing tour services. The company has managed to build a good reputation among Kilimanjaro climbers who have seen to its success over the time. Top climbers expedition Kilimanjaro reviews on trip advisors are exceptionally positive from over 500 climbers, it also has a five star rating.
Other Important Resources
Kilimanjaro requires good physical fitness, meticulous planning, and time spent adjusting to the high altitude. Henry Stedman's guide to Kilimanjaro, Africa's highest mountain, addresses your physical and emotional well-being and the need to adapt to a new environment.
The mountain and its surroundings are well-documented in this superb book. The author provides a great deal of helpful background information on what to expect after embarking on a Kilimanjaro expedition and how to succeed. The city of Arusha, the local plants and animals, and even the mountain are covered in great detail.
The Monty python Kilimanjaro expedition film also features a episode sketch from the Monty python's flying circus as Kilimanjaro expedition. The Kilimanjaro expedition Monty python film is cast by Arthur Wilson whose main goal is building a bridge between the two peaks in mount Kilimanjaro.
For more articles related to Things to Do in Tanzania (Zanzibar), click here!