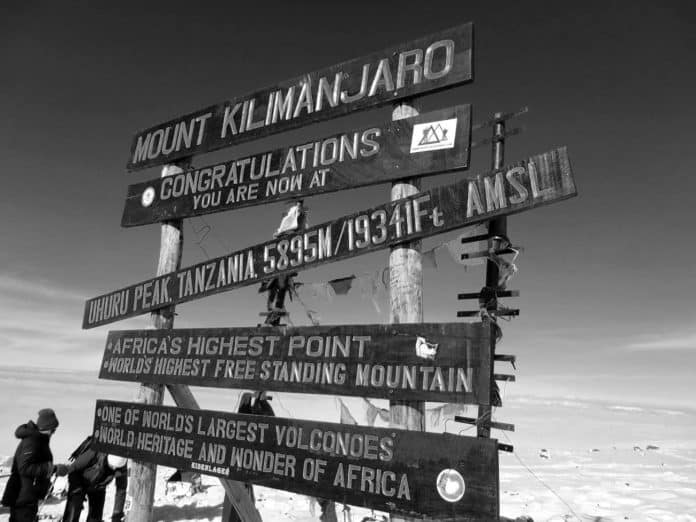 Kilimanjaro Success Rate – How Many People Get to the Summit
What is the Success Rate of Climbing Kilimanjaro on Each Route?
The Kilimanjaro routes success rates are between 70% and 80%. This, however, varies substantially depending on the route used to ascend Kilimanjaro. See our Kilimanjaro success rate by route summary below to choose the best path to summiting Mount Kilimanjaro.
Kilimanjaro Success Rate on Machame Route
Half of all hikers ascend Kilimanjaro through Machame, the most popular route. If you have six or seven days, you can see some of the world's most beautiful landscapes via this route.
On the sixth and seventh day, the climbing high, sleeping low profile influences a high conquest rate, particularly for climbers who spend an extra day acclimatizing.
According to multiple big operators, the 7-day Machame has an average climbing mt Kilimanjaro success rate of more than 85%, while the 6-day option has an average Machame route Kilimanjaro success rate at 73%.
Kilimanjaro climb Success Rate on Rongai Route
Only the Rongai trail begins on the mountain's northern side. There are 6-day and 7-day itineraries available, much like with the Machame.
The Rongai course does not offer an adequate climbing high and low sleeping profile, making this route more complex.
Since completing the 6-day route is challenging, getting an extra day on the mountain is a no-brainer.
According to our chosen tour providers, the 7-day itinerary has an 85 percent Kilimanjaro Rongai route success rate, while the 6-day route has a 70 percent summit Kilimanjaro success rate.
Kilimanjaro Success Rate on Lemosho Route
This route, our personal favorite, has swiftly become one of Kilimanjaro's most sought-after.
The popular Machame route can be joined on day four by the quiet Lemosho way for those who want to avoid the crowds.
The typical length of the trip is 7 or 8 days, but some operators offer a 6-day option to save money.
Although starting at a high elevation, this route delivers good acclimatization and a superb high, low profile despite its higher starting altitude than most others.
The 8-day Lemosho route has over 90%, whereas the 7-day Lemosho route has an average Lemosho route Kilimanjaro success rate of 85%. There is a 75% chance of reaching the peak if you choose the six-day option.
Kilimanjaro Success Rate on the Northern Circuit
The newest path on the mountain circumnavigates the peak while traversing the Northern Slopes. The Northern Circuit is the most time-consuming, taking nine days to finish.
Which Kilimanjaro route has the highest success rate? With an average Kilimanjaro summit success rate of more than 95%, the northern circuit is the safest and most successful route up Kilimanjaro. This is the ideal option if you have the time and prefer to avoid the more common and congested routes.
Kilimanjaro Success Rate on Marangu Route
The Marangu route on Mount Kilimanjaro is the most established and oldest. Due to its speed and lack of tent options, its attractiveness stems from these two factors.
It is widely regarded as the 'easiest' approach to the summit; nevertheless, almost every other course statistic contradicts this believed concept, with the Kilimanjaro Marangu route success rate frequently below 60%!
This is because climbers are not given enough time to acclimatize. After all, the route is often completed in five days.
Local tour operators choose the Marangu Route because it is short and doesn't involve camping.
Six days on the Marangu trail are more successful than a 5-day while summiting.
Climbing Mount Kilimanjaro Success Rate
Climbing Mount Kilimanjaro is, for many people, a once-in-a-lifetime experience.
Because it's an expensive endeavor (see: cost of climbing Kilimanjaro), you'll want to know your success rates on Kilimanjaro routes and the best paths to take.
Although this information is sometimes misleading, almost every tour operator will tell you about their "official" climbing mt Kilimanjaro success rate.
This is the reason behind:
Mount Kilimanjaro Success Rates of Tour Operators
Sadly, Kilimanjaro tour operators are confronted with an ethical quandary.
To go to the top, do guides have to jeopardize their safety? Or, despite their lower success record on Kilimanjaro, do they retain their high safety standards?
Option two is a no-brainer for any skilled operator.
As previously indicated, this reduces the success rate of Kilimanjaro climbs for summits. The situation is even worse for other operators who fake their numbers outright.
Increasing Your Chances of Summiting Kilimanjaro by Following These Tips
Climbers have the best chance of reaching the summit if they proceed slowly and methodically, but we can't say which operator has the highest success rate climbing mount Kilimanjaro.
The longer time you spend on the mountain, the better your chances of reaching the top. Your body has more time to adjust to the higher altitude if you stay on the mountain for a more extended period. The more time you spend walking, the more likely you will succeed.
Mount Meru acclimatization before Mount Kilimanjaro will increase your success rate Kilimanjaro.
It is also critical to consider the route's profile, and any professional tour organizer will provide options with a sharp rise and a gradual descent. To get your body used to the altitude, you'll go to the higher areas during the day and sleep in lower sections at night.
Poor service providers will rush you to the top of the mountain by taking the shortest path possible.
Consult our Kilimanjaro training and preparation manual.
Official Kilimanjaro Success Rate
Aside from obsolete Kilimanjaro National Park Authority data, there are no official statistics on climbs and Kilimanjaro success rates.
As a result of tourists being more aware of the dangers of altitude sickness on 5-day treks, the data supplied by the Kilimanjaro National Park Authority in the early 2000s is heavily skewed toward these shorter routes.
The published Mount Kilimanjaro success rate data from the Kilimanjaro National Park are shown below.
Even though these numbers are a few decades old, the chances of reaching the summit are undoubtedly higher today, given that the travel profiles have improved and the number of excursions has increased.
Overall, 66% is the Kilimanjaro success rate.

Only 27% of five-day travels are successful on the Umbwe and Marangu route.

44% of trips that take six days or more are successful on Marangu, Machame, and Rongai routes.

The Kilimanjaro success rate is 64% on Lemosho, Machame, and Rongai routes on seven-day journeys.

Eight-day excursions are successful in 85 percent of cases on Lemosho and the Northern Circuit routes.
Kilimanjaro Success Rates: Frequently Asked Questions (FAQ)
If you have further questions on Mount Kilimanjaro success rates, leave a comment. We'll get back to you right away!
Tags: All routes to the summit of Kilimanjaro, including the Lemosho, Marangu, Machame, and Rongai routes.
Referrals:
Operator interviews; and

Kilimanjaro National Park data
It's better to be Safe than Sorry!
If you plan on traveling to Tanzania, I strongly recommend obtaining travel insurance. Use your tour operator's cost estimate to get an idea of what your trip will cost. For Kilimanjaro, most credible tour operators provides comprehensive travel insurance and coverage for hiking up to 6,000 meters.
For more articles related to Things to Do in Tanzania (Zanzibar), click here!