Kilimanjaro Lemosho Route: Things to Know If You Opt for It
Lemosho: The Best Climbing Route to the Kilimanjaro Summit
You've probably decided to attempt the Kilimanjaro Lemosho Route ascent while reading this. Kilimanjaro's Lemosho Route is often considered the best way to ascend the mountain. The Marangu or Coca Cola and Machame or Whiskey were the only two main ascent routes on Kilimanjaro until recently. 
Climbers explored more of Africa's most towering peaks as Tanzania's tourism industry boomed, allowing them to pave more of the trails. As a result, bottlenecks were dealt with, alleviating congestion in certain areas and enhancing the overall experience. They also included longer distances, more time spent on the mountain, and a lower elevation gain to help the climber adjust to their new surroundings. In this regard, Lemosho route kilimanjaro, a more recent route, is a good example. 
Lemosho's beauty, remoteness, and high success rate make it a popular choice for experienced operators. Climbers climbing Kilimanjaro Lemosho route are more likely to reach the summit and enjoy the overall adventure. 
The Lemosho trail can be completed within five nights in six days of mountaineering. Still, if accomplishable, Kilimanjaro lemosho route 8 days with 7 nights mountaineering offer a better chance of a successful altitude adjustment. If you choose the latter, the chances of conquering the mountain are outstanding, at around 90%, if you choose the latter. 
Londorossi Gate, the trail's starting point, is reached after a long drive from Arusha or Moshi. It can take anywhere from three to four hours to complete this journey. Encountered near the mountain's western foot, you'll find Londorossi Gate.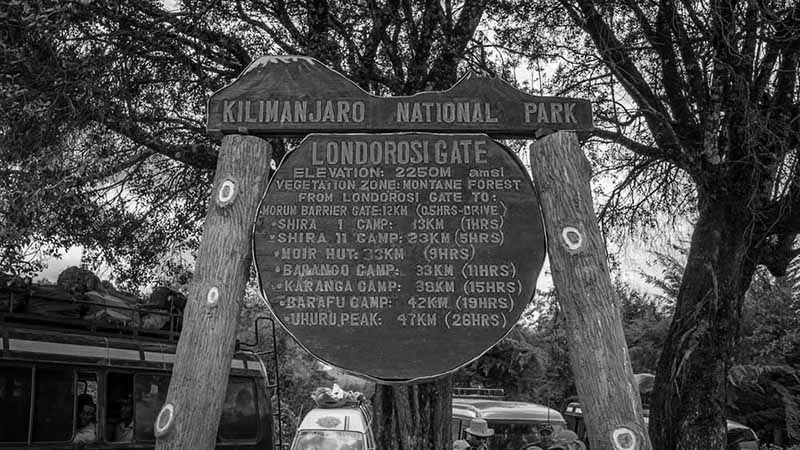 Kilimanjaro lemosho route tours a lush rainforest that is teeming with wilderness. Visitors to Kilimanjaro's first ecological zone will find a trek here for four hours. Kilimanjaro's used to be a third summit, the Shira Plateau, which was reached and traversed on this trail before it crumpled. The next stop is Moir Hut, where the nearby Lent Hills offer several short hikes perfect for acclimatization. 
One of the most magnificent sections of the path, Barranco Valley, awaits us after the Lemosho route Kilimanjaro climb, well above Lava Tower. The Barranco Wall is our first challenge, but we'll continue south to Karanga and the high camp at Barafu Hut once we've conquered it. 
The kilimanjaro trek lemosho route summit attempt from Barafu is made early in the morning, often with a full moon. Your journey's coldest and windiest part will be here. When the sun rises, you can remove most of your extra clothing. After reaching the top, the Mweka path is used to begin the descent. 
The length of the Kilimanjaro Lemosho route distance is approximately 70 kilometers or 42 miles from the first gate to the last one. It's designed for people in good physical shape with some prior hiking experience to go on this hike. On the other hand, some of our clients have successfully made their first forays into this thrilling expedition with the guide of a Lemosho route Kilimanjaro map. They did an excellent job. As you can see in the following table, a probable eight-day ultimate Kilimanjaro Lemosho route climb schedule includes starting and ending points and elevation gain, distance, time, and duration. This is frequently regarded as the best performance of the Lemosho path. 
The Variations on Lemosho Route:
The Lemosho Itinerary for 6-Day is not recommended.

The Plan for a week on the Lemosho trail is ok.

But Lemosho's 8-Day Itinerary is preferred.
The mount Kilimanjaro Lemosho route has some of the most breathtaking vistas, and this brief Kilimanjaro Lemosho route blog flick showcases some of them. 
Mount Kilimanjaro Facts Related to Lemosho Route
According to the Kilimanjaro Lemosho route map, the tallest free-standing mountain stands at 5,895 meters; Uhuru's Peak: 19,341 feet above sea level and  is the highest point on Mount Kilimanjaro, attracting climbers worldwide. Kilimanjaro Lemosho route review from a climber describes the image of Mount Kilimanjaro encased in ice as breathtaking. But this outlook will not last long. The glaciers are melting at an alarming rate due to global warming and will be gone within the next 50 years. 
Almost 50,000 visitors ascended Mount Kilimanjaro in 2013. The tally has continuously risen year after year. Because of its accessibility and the friendly lemosho route kilimanjaro cost of hiking, Kilimanjaro has become a popular destination for thrill-seekers who don't have the necessary mountaineering skills or equipment. You can climb Kilimanjaro on foot. As long as you can lift onwards one foot after the other and maintain a fair degree of fitness. 
Mount Kilimanjaro is governed by the Tanzanian National Park Authority. The authority preserves the six main routes up Mount Kilimanjaro, ensuring traffic flow, cleanness, and safety. Lemosho route Kilimanjaro tour and hiking expeditions chaperoning must be adhered to by certified mountain guides. Park officials keep a close eye on the mountain's activity to enforce this rule. Tourists are not permitted to solely climb Kilimanjaro. 
All climbers should be fully prepared for the challenge of Kilimanjaro. Climbers are encouraged to watch the kilimanjaro lemosho route youtube guide, to know what to expect. Due to its ability to create weather at its whim. All year round, there is the possibility of snowfall and intense rainfall, and gale-force winds. It is impossible to ascend or conquer a mountain. With a friendly attitude, she will grant you refuge. But those who aren't adequately prepared pay the price right away when she's cranky. 
The four seasons that most people are used to do not exist in Tanzania. There are wet and dry seasons in Tanzania. Rainfall can be every day throughout the wet season, making life on the mountain complex. As a result, climbing Kilimanjaro is best done during the dry season. This period spans the months of January to February and July to October. According to the Lemosho route Kilimanjaro review postings on google, the wet weather is most likely to fall throughout March through June and November to December. 
For more articles related to Things to Do in Tanzania (Zanzibar), click here!