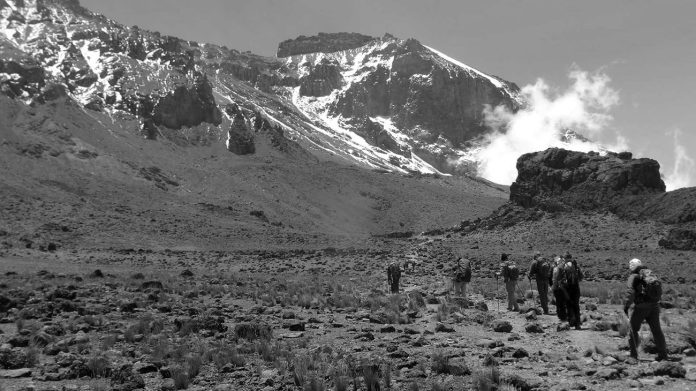 Marangu Route Review
: The Coca Cola Route & Tourist Most Chosen
The famous Kilimanjaro Marangu Route was tagged as  "Coca-Cola Route. Marangu route is the most popular route on the mountain and thus labeled "touristy" because it is the only route with sleeping huts along the way that provide beverages such as Coca-Cola.
A map of the Marangu route Kilimanjaro is shown below.
Mt Kilimanjaro marangu route is the most straightforward path up Mount Kilimanjaro. Its elevation profile is relatively mild and steady, allowing generally easy trekking. On the other hand, kilimanjaro climb Marangu route is a popular choice for novice climbers because of its reputation as a straightforward route. As a result kilimanjaro marangu route success rate shows that only about a third of hikers successfully stand atop Kilimanjaro.
From Marangu Gate in the mountain's southeast corner, hikers can begin their journey using the kilimanjaro marangu route map. The trip requires five days to execute; however, six days is more realistic and encouraged. The kilimanjaro marangu route huts mainly used for sleeping, comprise a dining hall and bunk beds with mattresses and pillows spread out along the route.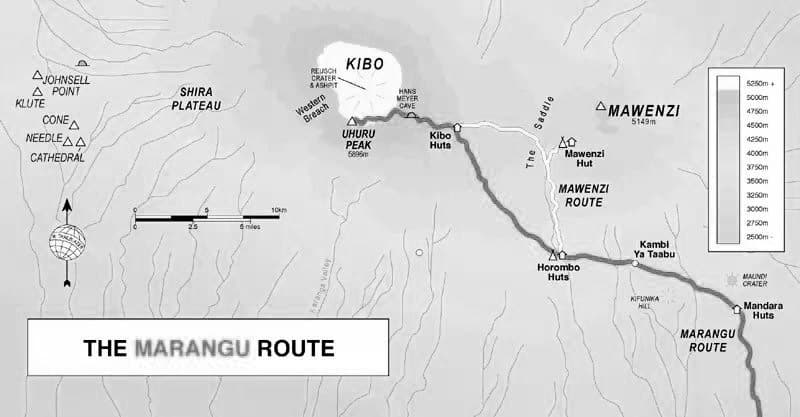 Machame Route vs Marangu Route
Marangu's sensation of overcrowdedness can be exacerbated even further; because of those descending down use this same path. Due to the gate's nearness to Moshi, the gateway town, and the shorter journey, it's also a less expensive ascent.
Marangu route vs machame route on area restriction. Because it restricts climbers to a single mountain area, the Marangu Route is less optimal than the other routes in terms of variation. However, the wilderness segment's best trail can be found at Marangu. Besides, the Mawenzi and Uruhu with magnificent sights for visitors.
When it comes to challenging hikes, mount kilimanjaro marangu route is ideal for those doubtful about their abilities. People who don't want to sleep in a tent will also find it appealing. Marangu route huts inside give shelter and protection from the harsh effects during the rainy season, making it an ideal alternative for climbing. If you don't mind the crowds and want to save money the 5 days kilimanjaro climb marangu route is the place to go. Climbers can choose between the 5 days marangu route hiking or the 6 days marangu route itinerary.
To learn more about the Marangu Route, check out the following marangu route 5 days itinerary:
A Six-Day Marangu Route Expedition Plan- Marangu Route 6 Days Itinerary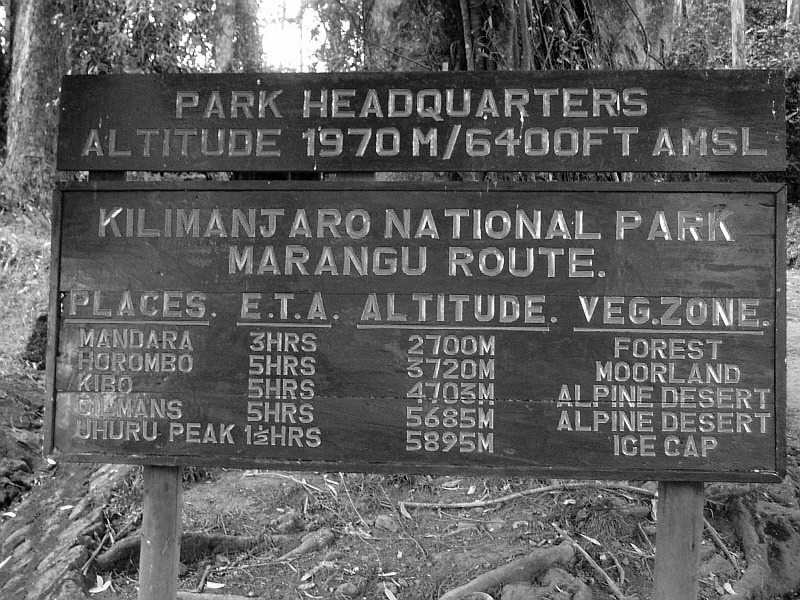 The First Day
Ascending from Marangu Gate to the Mandara Hut:
Towering from 6,046 to 8,858 feet of elevation difference.

Hiking a

marangu route distance

of eight kilometers.

Four to five hours of hiking time is required.

Located in a rainforest habitat.
To prepare for the start of our trek climbing kilimanjaro marangu route, we journey from Moshi to Marangu Gate, where we fill out the necessary papers. It begins with a steep climb up into the lush rainforest of a tropical rainforest. At the forest's highest point, we have a good chance of seeing blue monkeys. Before Mandara Hut, the walk reveals breathtaking views of the surrounding hills.
The Second Day
Ascending from Mandara Huts to Horombo marangu route Huts:
Towering from 8,858 feet to 12,205 feet of elevation difference.

Hiking a

marangu route kilimanjaro distance

of twelve kilometers.

Six to eight hours of hiking time is required.

Located in a Heathland habitat.
Hiking along the Marangu kilimanjaro Route trail before the high moorland trail breakout through the heathland forest. This reveals two of three volcanic peaks that make up Kilimanjaro's peak, Kibo and Mawenzi, which may be seen from here.
The Third Day
Ascending from Horombo Hut to the Mawenzi Ridge:
Towering from 12205 feet to 14,400 feet above sea level.

Hiking a kilimanjaro marangu route distance of five kilometers.

Two to three hours of hiking time is required.

Located in a Heathland habitat.
Getting Accustomed to Acclimatization & De-Acclimatization
Descending back to Horombo from Mawenzi Ridge:
In terms of elevation, the range is 14,400 to 12,205 feet.

The distance is 5 kilometers.

1-2 hours of hiking time is required.

Located in a Heathland habitat.
Marangu route up kilimanjaro day trekking on Mawenzi Ridge is an option for acclimatization on this extra day to prevent altitude sickness. One-of-a-kind vistas of Kibo and Mawenzi are provided by the unique location. We return to Horombo Hut after scouring around the neighborhood.
The Fourth Day
Ascending from Horombo Hut to Kibo Hut:
Elevating from an altitude of 12,205 to 15,430 feet above sea level.

Covering a distance of six kilometers.

Six to eight hours of hiking time is required.

Located in an Alpine Desert.
Our first challenge is the "Saddle" between Mawenzi and Kibo, a lunar desert. At the Kibo crater wall base, Kibo Hut serves as our base camp for the night. After arriving, we'll rest and eat for the night and schedule for the 5th day's challenge.
On the Fifth Day
Ascending Uhuru Peak from Kibo Hut:
The elevation according to the

marangu route map

ranges from 15,430 feet to 19,341 feet.

Hiking a distance of six kilometers.

Hiking can take 6-8 hours per person.

Located in an Arctic Habitat.
Descending Uhuru Peak to Horombo Hut:
A 16-kilometer journey that spans an elevation range of 19,341 feet to 12,250 feet in elevation.

Hiking a distance of sixteen kilometers.

4-to 5 hours of hiking time is required.

Located in a Heathland Habitat.
On the 5th day marangu route itinerary, at dawn we begin our Marangu Route day five ascent (midnight). In this section of the hike, both physically and mentally, you'll feel the strain. There is a lot of wind and cold at this altitude and at this time. We get up in the dark for several hours, pausing just momentarily. The sunrise above Mawenzi Peak will be one of the most breathtaking you'll ever see. You can see it from Gilman's Point elevation of 18,600 feet. And finally, the summit of Africa's tallest mountain, Mount Kilimanjaro's Uhuru Peak.
We descend to Horombo Hut after a few moments of thought on the African plains and your marangu route success rate accomplishment. Relish our final dinner and sound sleep on the mountain before returning to civilization the following day.
The Sixth Day
Descending from Horombo Hut to Marangu Gate:
From 12,205 feet to 6,046 feet in elevation.

Descending through a distance of 20 kilometers.

5-7 hours of hiking time is required.

Hiking in a rainforest habitat.
At the end of the marangu route 6 days itinerary, We begin our final day with a long, mostly downhill Marangu Route hike through the tropical trees to headquarters at Marangu gate. This is where we pick up our summit certification credentials. We'll be picked up here and driven back to our accommodation in Moshi.
For more articles related to Things to Do in Tanzania (Zanzibar), click here!