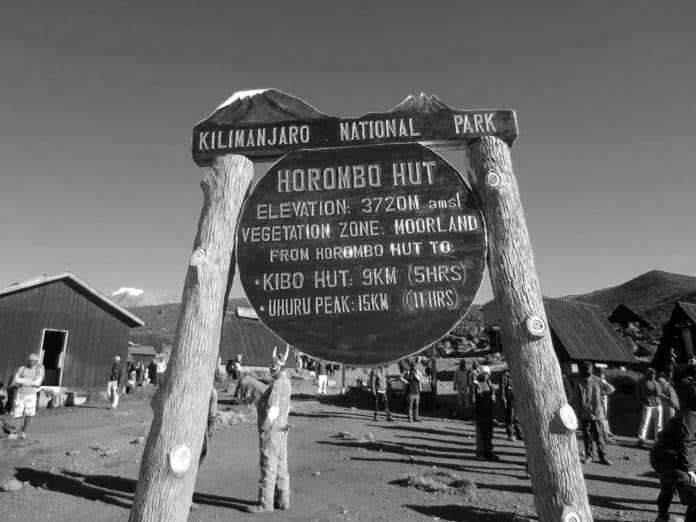 Brief Overview of the Horombo Hut Camp
Horombo Hut Altitude and Elevation Stands at 3720 m.a.m.s. L
Mount Kilimanjaro's Marangu trail, where Horombo hut and campsite are located, is home to an accommodation camp. Both cottages and a tent camping area are available.
This is the second place you'll stay on your way up mount Killi from Marangu gate. Climbers who use the Marangu path to ascend or descend Mount Kilimanjaro frequently visit this campsite.
Aside from Marangu hikers, the Horombo Huts and Campsites are used for the Rongai route's descent.
Due to its close proximity to a brook, Horombo Huts Campsite provides plenty of drinking water. With working bathrooms and sinks, it is one of the few camps on Mount Kilimanjaro that can accommodate tourists with surplus water.
Six to eight people can sleep comfortably in a Horombo Hut cabin, fashioned like an A. It is possible to fit 120 climbers in all the chalet huts, which are not self-contained.
The Horombo Hut Kilimanjaro Amenities
Horombo Hut structures include a dining hall, ranger station, office, kitchen huts, and separate lodging for porters and guides.
The Location of Horombo Huts
In Mawenzi, on Killimanjaro's southeast flank, is the Horombo huts campsite. After Kibo and Mount Kenya, Mawenzi is Kilimanjaro's third tallest peak.
Extending along the fringes of Mt. Killimanjaro moorLand zone, Horombo Hut Campsite can be found just before the alpine desert begins.
Because of the high humidity and recurring rains on this part of Mount Kilimanjaro, the Horombo Hut Campsite is frequently wet. If you arrive with wet clothes, drying them will be a challenge.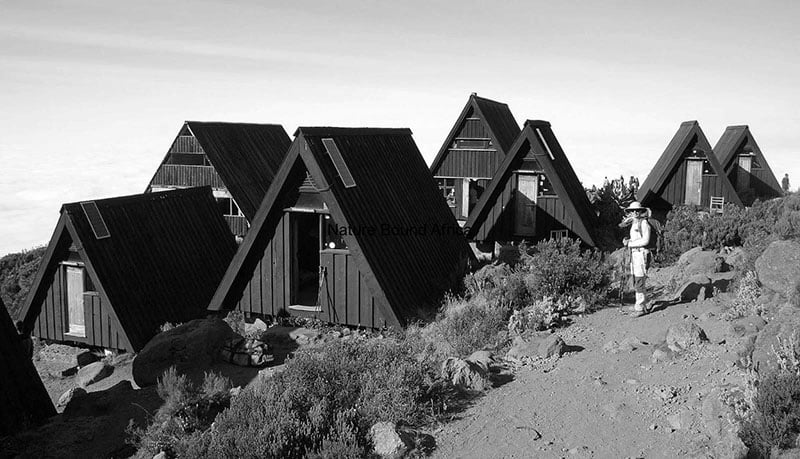 This contributes to the slickness and muddiness of the Horombo Hut area's ground, rocks, and paths.
You'll find the Zebra Rocks only a short walk from the Horombo Huts Campsite. Hikers frequent this region in preparation for the six-day Marangu route itinerary for acclimatization.
Why Does Horombo Huts Campsite Serve as an Acclimatization Location?
Altitude sickness often starts culminating here, making it the primary reason for using this campground and Zebra rocks as a base camp for Mount Kilimanjaro acclimatization.
The location of the Horombo Hut campsite on the sloping hillside makes it well-protected from the strong winds common at this elevation.
Before reaching the Horombo Huts is Mandara huts, and after Hurumbo is Kibo huts.
The Best Way to Reach the Horombo Huts' Campground?
The best way to get to the Horombo hut and campground is by foot, which you can do by hiking. A bicycle can be used to get to this Mount Kilimanjaro Accommodation as an additional option.
Horombo Hut Extra Facts
Situated on Route Marangu.

There are huts/cabins and a mess hall available: comprised of water closets and sinks, the ranger's office, kitchen, all housed in the same hut.

Vegetation is found in heathlands and moorland.
For more articles related to Things to Do in Tanzania (Zanzibar), click here!