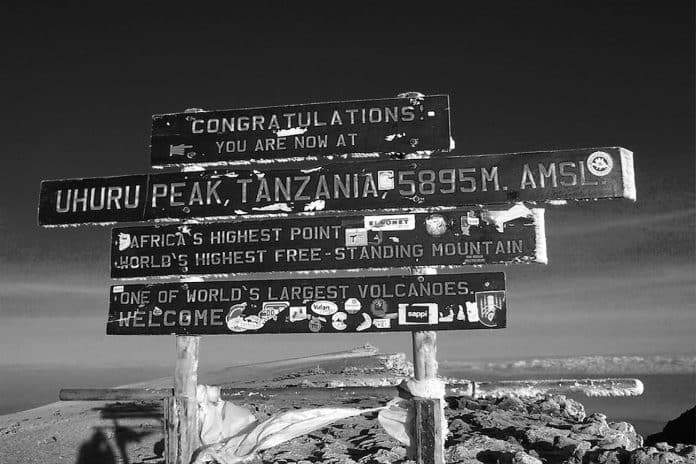 Uhuru Peak – Preparing, Fun Facts, Beauty and More
The Uhuru Peak Overview
Aspiring hikers and climbers go to Mount Kilimanjaro, representing one of the few and exciting world's most famous "wish list" goals. Tanzania's and Africa's highest points are found atop Mount Kilimanjaro's dormant volcano. Because it is the easiest amongst the Seven wonders (the loftiest points on the continents), it is indeed a favored hiking destination for experienced and novice hikers.
Where is Uhuru Peak
Kilimanjaro Uhuru Peak is Africa's tallest free-standing mountain at 5,895 meters above sea level. More than 20,000 to 35,000 hikers attempt to reach Uhuru Peak, which sits atop Kibo, a volcano on Mount Kilimanjaro. Uhuru is a breathtaking trek that offers beautiful views of Tanzania.
Kilimanjaro, or "Everyman's Everest," is a popular climbing destination since the ascent is doable by hikers of all abilities. Uhuru Peak, Africa's highest point and one of the Seven Summits' most spectacular summits, may be reached by anyone with the right equipment and preparedness.
A Detailed Dive About the Summit of Uhuru Peak
Tens of thousands of climbers each year aim to reach the summit of Mount Kilimanjaro Uhuru Peak, the highest point on the mountain. When it comes to achieving a summit, 40% of those who try the hike succeed. Guided ascents up the mountain are available to hikers, and expert climbers are on hand to assist them. There are five to eight separate routes, each with varying degrees of difficulty. Uhuru peak coordinates are 3.0666° S, 37.3507° E on the map.Uhuru Peak elevation measures at 5,895 meters above the sea level. The uhuru peak height makes mt kilimanjaro the tallest mountain in Africa.
The Uhuru Peak Meaning
Mount Kilimanjaro's three peaks, Kibo, Mawenzi, and Shira, are all located on the mountain's highest peak. Uhuru Peak; in 1961, part of Tanzania, Tanganyika, was granted independence from the United Kingdom and given the Swahili name Uhuru.
Insight About the Temperature Uhuru Peak Kilimanjaro and the Weather Uhuru Peak Has
The highest free-standing peak globally, Mount Kilimanjaro, with three unique volcanic summits of Mount Kilimanjaro, is formed by layers of solidified lava, volcanic ash, and tephra. The tallest mountain, Kibo, is considered dormant but not extinct, with the last volcanic activity occurring about 200,000 years ago, whereas Mawenzi and Shira are deemed extinct.
Mount Kilimanjaro passes through five unique climatic zones ascending from the base to the summit. Hikers ascending Mount Kilimanjaro during a five- to eight-day period will visit the following climate zones:
The Alpine Habitat

The Arctic Habitat

The Cultivation Habitat

The Heather & Moorland Habitat

The Rainforest Habitat
At the base of Mount Kilimanjaro, the temperature is often between 69 and 80 degrees Fahrenheit (21 and 27 degrees Celsius). Kilimanjaro uhuru peak temperature can get as cold as -22 degrees Fahrenheit at (0 and -30 degrees Celsius).
The Mysteries of Uhuru Peak
Even though Kilimanjaro is Africa's highest peak, it can be climbed in less than a day by experienced athletes and climbers!

The most well-known ways to Mount Kilimanjaro are the Machame to Marangu to Lemosho to Rongai to Shira to Umbwe route to the Northern Circuit.
There are three approaches to getting to Mount Kilimanjaro's peak: Machame, Marangu, and Umbwe from the south (Mweka is used only for descent). The Shira, Lemosho, and Northern Circuit paths approach the peak from the west, and the Rongai trail's northern approach. The difficulty levels vary. The steep rise and abrupt variations in altitude can be brutal for even the most experienced athletes. Some are simple enough for beginners, while others are complicated.

The dormant volcano that

Tanzania Uhuru Peak

sits on may erupt, even though it is not currently active.

Altitude sickness is the most common reason why hikers cannot reach the summit of Uhuru Peak. 

At the summit of Uhuru Peak, there is a wooden box containing a book. Tourists can use the book to jot down their ideas after reaching the mountain's summit.

While the base of Kilimanjaro is only 330 kilometers (205 miles) from the equator, Uhuru Peak is an arctic ecosystem that can't support life for long periods.
A Trip to the Summit of Kilimanjaro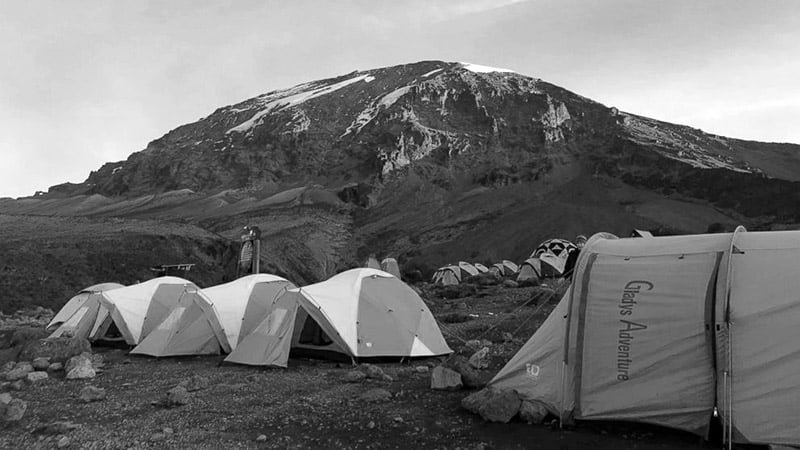 There are several reasons why climbing Mount Kilimanjaro is a popular adventure. Still, the most common reason is that most routers do not require specific equipment, rigs, or ropes, which makes them accessible to a wide range of people. Rather than scaling a mountain, one must journey through the lush African rainforest and parched Savanna to reach Uhuru Peak sign.
There is a wide range of options for those who want a full experience, including organized excursions that include sleeping tents and meals to ensure that the experience is educational and comfortable. Visitors can choose a tour length based on a wide range of criteria. Stella point to uhuru peak is a distance of 170m/ 600 ft, gilman's point to uhuru peak distance is 5.5km or 3.5 miles on foot, lastly, from barafu camp to uhuru peak is 5km.
When looking for a tour, prospective guests should keep the following factors in mind:
Included amenities like porters, food, and lodging.

Trip organizers should include oxygen, first aid supplies, and sturdy tents as standard equipment.

A tour guide's level of competence.

The percentage of people who achieve their goals.

Examine certifications in mountain rescue, CPR, and other areas.
You may have difficulty picking the best Uhuru Peak mount Kilimanjaro tour because there are many options to select from the uhuru peak wiki. If hikers keep their safety and comfort in mind, they'll be able to find a trip that matches their needs. Read the uhuru peak wikipedia article How to Choose the Finest Kilimanjaro Operator to learn how to find the best operator for your climb.
The Uhuru Peak Hike Preparation
Although sophisticated climbing abilities aren't required, visitors can do a few things to get ready for their climb. It would be best if you were thoroughly prepared for the journey to Uhuru Peak Tanzania  to have a good chance of making it to the summit. Experts offer the following advice on how to get ready:
Choose a tour that lasts at least 8 days: while many have completed the ascent and descent of Kilimanjaro in fewer than five days, eight days (or more) provides the highest chance of success, especially while combating the fluctuations in altitude, the most challenging aspect of the Uhuru Peak hike.

Comfort is just as crucial as simply bringing the essentials. Comfortable sleeping bags and air mattresses will help you sleep in various climates. Also, don't forget to bring a water bottle or a camelback. A daily water intake of 3–4 liters is recommended. If you're not a fan of plain water, we recommend carrying electrolyte mix and flavoring drops. Please check out our complete Kilimanjaro packing list and contact us if you have any questions about specific brands or models.

Prepare your stamina: Hikers should do simple endurance and muscle training before the excursion. Walking long distances every day while carrying a large pack will help hikers prepare for the daily challenges on their journeys. Strengthening the heart and lungs will help with altitude changes; thus, cardiovascular training is vital.

Ensure you have all the required vaccinations and get a physical examination. You must have a comprehensive physical assessment and any necessary vaccines before trying Kilimanjaro to avoid any unforeseen illness or other health calamities. Altitude changes can cause a wide range of medical issues, so it's critical to be healthy before taking this expedition. On our training website, you can discover more about training for Kilimanjaro and our training program.

Determine the best time to go on the trek: Tours are offered all year round, although particular seasons may be better suited to certain tourists. For climbing Mount Kilimanjaro, January to March and June to October are the best months for

uhuru peak weather

and

uhuru peak temperature

conditions.
Mount Uhuru Peak Appeal
There is much more to Africa's uhuru peak kilimanjaro highest point than just a stunning view and a sense of success for many people. It is usually viewed as a spiritual journey that allows visitors to become one with nature and the cosmos.
It's hard to believe that even a novice hiker can pass up Uhuru Kilimanjaro Peak, with its stunning views of snow-capped mountains, the sun peeking through the clouds, and miles of natural beauty.
Explore nature's beauty in a completely new and excellent way.

Discover a level of self-confidence they never knew they had.

Take a look at things from a different perspective.
People often say the sights are so breathtaking that they are moved to tears when they arrive at the summit of a mountain just as the sun is rising.
For more articles related to Things to Do in Tanzania (Zanzibar), click here!