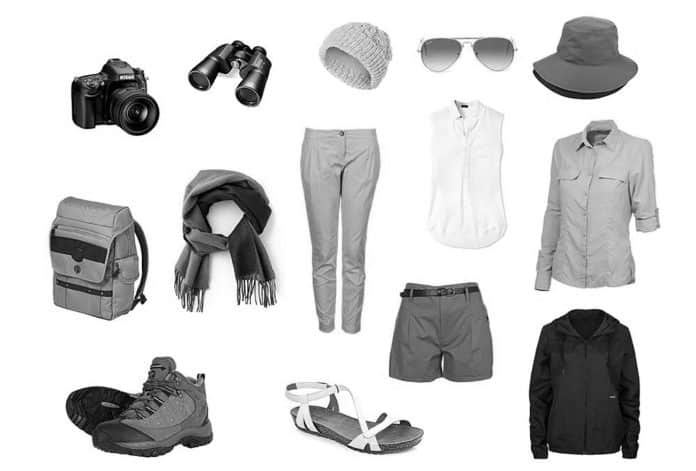 Tanzania Safari Packing List – Essential Items to Include
The Eleven Safari Packing List Tanzania Must-Haves
Safaris with animals, mountain climbing, beach days, and cultural experiences are just a few options Tanzania offers. You may be unclear about what Tanzania safari packing list to prepare, whether for a beach vacation or a safari. Using our Tanzania packing list, you'll be sufficiently making your dream holiday a reality!
Apparel That Can Be Used for Multiple Purposes – When Visiting Tanzania, What Should You Wear?
"Everything" is the brief answer. When it's hot and humid most of the year in Tanzania, you'll need a variety of attire for different activities.
If there is any chance of going on a safari, you'll need light, neutral-colored clothing for this occasion. Do you want to conquer Africa's highest peak, Mount Kilimanjaro? You'll want to pack a lot of light, breathable hiking gear for this trip. Zanzibar's beaches are a great place to relax. Swimwear is required, but you must also dress modestly outside the resorts to respect the local culture.
If you're planning a trip to Tanzania, be sure you know these cultural customs. You should include numerous layers in your Tanzania packing list, from T-shirts to long skirts to long jeans. It would help if you also took a waterproof jacket for the rainy season. Some people pack an additional scarf to cover their shoulders or dipping in water and wrapping around their necks for relief from the hot weather.
Pairs of Shoes That You Can Walk Around in With Ease
In Tanzania, you can expect to walk quite a bit, so bring a pair of sneakers that are easy to get dirty. Bring sturdy walking shoes and thick socks with you if you plan on doing any trekking or walking. You'll also need sandals or flip-flops for lounging around the pool or beach.
Protecting Yourself From the Sun
It makes no difference if you visit Tanzania in the dry or the wet season; you'll need to bring sunscreen. Pack a hat, polarized sunglasses, and lots of sunscreen with a high SPF if you don't want to get sunburned or suffer from sunstroke. As a final precaution, you may want to add some after-sun gel or moisturizer to your Tanzania safari packing list to keep your skin from drying out.
First Aid Kit
A little medical kit is usually a good idea when traveling in Tanzania, even if the establishments you stay in have one on hand. Painkillers, antiseptic ointment and bandages, hand sanitizer, electrolyte tablets or powders, potent insect repellent, eye drops, and travel sickness medicines should be included in your supplies.
Pre-travel medical advice, such as vaccines or malaria prophylaxis, should be obtained from your doctor and included in your luggage. 
Toiletries
This packing list for safari in Tanzania is entirely up to you, as everyone's needs are different regarding personal hygiene products. We recommend using reusable travel bottles to store shampoos and moisturizers to save space and avoid waste. Alternatively, you can also be interested in solid products such as shampoo bars and deodorants.
Additionally, earplugs and eye masks can be helpful when sleeping in a new lodging. Remember to bring some tissues or toilet paper with you, just in case. It never hurts to be prepared.
A Suitable Daypack
Bring a daypack to Zanzibar to carry your sunblock, water, and camera while you explore the islands. Secure, light, and water-resistant bags with multiple compartments are a must-have in your Tanzania Safari packing list before setting out on travel.
Gadgets are Also Included in This Packing List for Tanzania Safari Category
When preparing for a trip to Tanzania, there are a few must-have electronics items you should include. On this trip, many images will be taken, so bring an SLR camera or an SLR camera app on your smartphone. Pack extra memory cards, different chargers, and watertight cases to keep your valuables safe while traveling.
In Tanzania, you'll also need a travel adaptor. D and G plugs are both used in Tanzania. As you can see, plug type D has three triangular pins, and plug type G has two parallel flat ones and a grounding one. You may also want to pack a power strip and a portable charger to charge all of your gadgets at the same time.
Binoculars
Want to get the most out of your Tanzania safari? Bring a pair of binoculars! They're great for spotting animals hiding in tall grass or birds swooping through the trees, and they're sure to make your wildlife viewing trip even more memorable.
Swahili Dictionary
Tanzania is a multilingual country, with more than 120 languages spoken by its citizens. It's a good idea to learn a few words of Swahili before your trip, as it is the official language. In addition to learning a few words, add a Swahili phrasebook or dictionary to your Tanzania safari packing list so that you learn the basics like "hello," "goodbye," and "thank you" before you travel.
The locals will appreciate your efforts if you speak their language, and you'll find it easier to interact with them.
Entertainment and Having a Good Time
Tanzania is a vast country, so expect to spend a lot of time on the road or in the air. During the midday sun on safari, there is usually some quiet time to relax, read, play cards, or listen to music. Instead of bringing a massive quantity of heavy books, get some noise-canceling headphones and an e-reader.
You may also want to carry a travel diary to record all the fantastic things you see and do while you're there. You'll look forward to returning to your beautiful memories in the future.
Monetary Reservations
While in Tanzania, you won't have to worry about anything but enjoying yourself; Trafalgar takes care of the rest. However, you'll need cash if you want to buy anything as a keepsake or participate in other activities. Your Tanzania packing list includes a mix of credit and debit cards and cash.
Please bring bills dated after 2006 if you plan to pay with cash. Due to the ease of counterfeiting, any bills issued before 2006 will not be accepted for payment. Larger restaurants will accept US cash, but smaller establishments and gratuities require Tanzanian shillings.
Use only recognized exchange bureaus and hotels in Tanzania for transferring money (you can ask your Trafalgar Travel Director for advice). Some hotels and high-end retailers also accept Visa and Mastercard for payment, albeit there may be fees associated with this.
Do You Have a Tanzania Safari Packing List Ready?
What essentials did you pack for your Tanzania vacation? Let us know what you think in the comments area.
For more articles related to Things to Do in Tanzania (Zanzibar), click here!