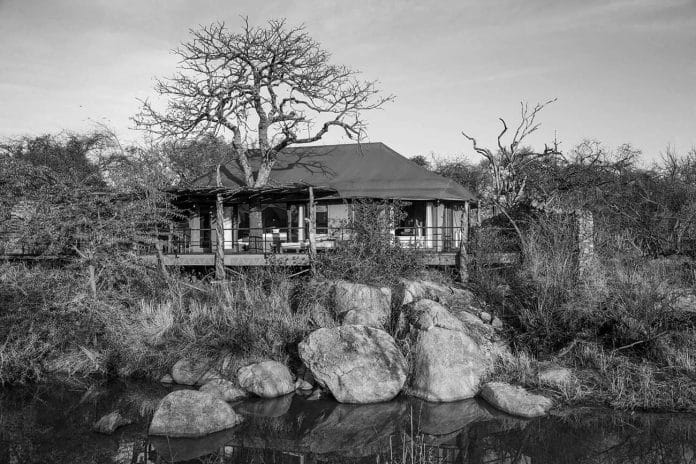 The Ultimate and Must Stay Best Safari Lodges in Tanzania
The Top 10 Safari Lodges in Tanzania
A safari in Tanzania, which is home to most of the Great Wildebeest Migration, is a must. The Serengeti is, without a doubt, a must-see, but there are plenty of other African places worth visiting. From Lake Tanganyika to Ruaha, these are our favorite and affordable safari lodges in Tanzania that come with a wide range of options and prices for everyone's preferences. 
The Serengeti's Mwiba Lodge
Our list of the best safari lodges in Tanzania includes Mwiba because it provides an authentic safari experience in the most acceptable comfort and grandeur. At Mwiba, you'll find peace and tranquility amid ancient coral trees and acacias in a private concession that offers views of the river canyon. The annual wildebeest calving, which occurs between January and March, can be observed by safari tourists. 
According to TripAdvisor, Serengeti's Mwiba Lodge is one of Tanzania's best safari lodges. Mwiba Lodge's twelve tented rooms are located in the southern Serengeti, nestled behind boulders and overlooking a river gorge. One of Tanzania's most luxurious safari hotels is situated in this exclusive concession, where you can witness the yearly calving of the wildebeests, look for leopards, and participate in tribal traditions. 
The Lodging
Being the only person at Mwiba Lodge from my daybed on an elevated wooden platform outside my room. This shouldn't be a surprise, given that the safari resort is situated on a private 70,000-hectare reserve adjacent to the Ngorongoro Conservation Area and the Maswa Game Reserve, which contain enormous stone boulders, ancient coral trees, and acacia trees the Mwiba lodge is a must stay among safari lodges in Tanzania. 
There are just ten luxury tented apartments at Mwiba Lodge, which prides itself on its exclusivity and tranquillity; wooden pathways connect the escarpment above the Arugusinyai River. My eyes are drawn to a zebra's glittering black and white stripes, the bubbling river below, and the endless views of the southern Serengeti's riverine flora and nearby plains. 
The Spaces
Open doors, wooden floors, and a deck overlook the river in our tent, so it's hard to call it a tent. As the sun began to sink lower in the sky, I returned to the tower and was impressed again by its subtle splendor. Air conditioning is provided for the king-size bed, which is canopied, and the sitting room contains linen-covered chairs with copper lamps that are already lit, making the natural cream and beige tones feel warm and welcoming. 
Before meeting my companion for sunset drinks in the main lodge, I washed my face in the two sinks provided, even though an indoor and outdoor shower and a luxury tub were available. 
The spectacular thatched lounge, flanked by massive boulders, is revealed after only a few steps. I order a drink at the bar and then head to the library, where our private meal will be served, to find my friend. We drink cocktails by the fireplace while chatting about the lodge's various activities. 
What Sets It Apart From the Rest of the Top Luxury Safari Lodges in Tanzania?
The private concession allows us to travel off-road on our game drives to see many animals from our car's comfort. Beautiful sunsets, bush kids playing in the trees, a leopard prowling, and the birth of a wildebeest calf have all been highlights of our trip. We spent a lot of time at camp watching wildlife from the various hides scattered across the property because there are over 30 springs on the site that attracts wildlife. 
Sukuma medicine men live in mud huts, and we wanted to learn more about the herbs and plants they use to heal various ailments. After the medicine man danced and chanted to diagnose my companion's mild allergic reaction, we walked into the jungle to find a plant that could help heal her. It is now clear to us that he can treat it! 
A conservation fund established by the lodge's owner, Dan Friedkin, was a pleasant surprise. The non-profit helps Tanzania's protected wildlife areas, which cover 2.5 million hectares, by providing anti-poaching units, mapping, and research. It's lovely to know that someone is taking care of this delicate ecosystem, and I'm doing the same by being here. This lodge is one of the best safari lodges in Tanzania for charity and wildlife lovers. 
At a Glimpse
Two sets of interleaved family tented suites are in the middle of a camp with 10 tented rooms (two groups interspersed for families).

Private concessions include an airstrip, a private eating area, private transportation, and customizable timings.

A complimentary one-on-one spa treatment per guest is provided; additional treatments can be purchased. Ndutu or Serengeti National Park day trips (complimentary for every three-night stay) and cultural visits are also included. Fly camping is also available (at an additional cost).

Children are more than welcome here. A crib can be placed in one of the other suites, and the sofa can be made into a single bed for a youngster under sixteen. Babysitting and safaris are available for children of all ages.
The Lake Tanganyika and the Greystoke Mahale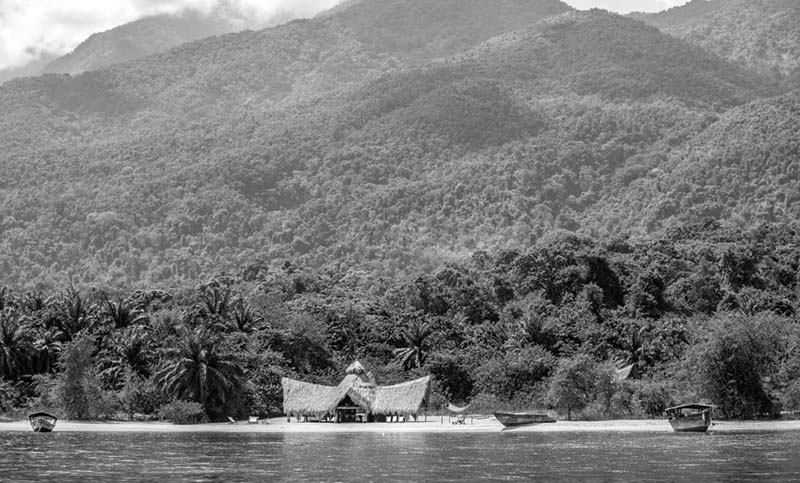 Greystoke Mahale's most popular activity is chimpanzee trekking, and it's for a good cause. The daily guided trips into the jungle allow visitors to engage with the chimpanzees in a unique and lasting way. Other enjoyable pursuits include birdwatching, waterfall swimming, fishing, kayaking, and cultural tours; sundowners are also on the menu.
It's also worth noting that Lake Tanganyika is a significant draw.
The Mahale Mountains National Park Safari Greystoke Lodge is one of Tanzania's finest and the best safari lodges in Tanzania for lovers of class and charm. Greystoke Mahale, one of Tanzania's most extraordinary safari lodges, is located near the Mahale Mountain National Park and boasts six distinct bandas overlooking Lake Tanganyika and the chimpanzees. You may go chimpanzee trekking in the nearby forest, swim in the lake, and dine on the beach under the stars from this site. 
The Lodging
Sipping a cocktail under an indigo-hued sunset at a beachside bar, I'm reminded of how much the sky looks like a canvas to an artist. To add to the sense of exclusivity, Greystoke Mahale is inaccessible by land and can only be visited via plane or dhow. 
In the Mahale Mountains National Park in western Tanzania, on the shores of Lake Tanganyika, the resort has a lonely and rugged beauty that draws me in. In anticipation of chimpanzee trekking in the roughly 2,500-meter-high Mahale Mountains, which is home to the largest chimpanzee population in the world, I get a slight tingle of excitement in my stomach. There is no guarantee of what the future holds. 
The Spaces
While floating lazily across the lake in a kayak, we can see Greystoke Mahale's main structure, which was inspired by the architectural style of the native Kitongwe people. In the shadow of the Mahale Mountains, our banda is concealed in the treeline where the forest meets the sand. We and any passing fishermen can't see it. I watch a swarm of fish swim beneath us as our oar makes contact with the clear water. 
We happily return to our dhow-reclaimed wood and thatch banda after a day of sunbathing. Canvas drapes can be drawn during lousy weather to block out lake and beach views. While the canopy bed is ideal for sleeping, we prefer to lounge around in the top sitting area. 
With the sounds of birds, insects, and the odd pant-hoots of chimpanzees reverberating through the forest canopy, we quickly find ourselves in a whole other habitat. During the day, only three groups of six people are allowed into the jungle, and each group is limited to one hour with the chimpanzees. Indeed, finding them is a big part of the fun. The lodge spaces are among the few best safari lodges in Tanzania for tranquility and peace lovers. 
To keep diseases from spreading to the chimps, we walk the forest floor in surgical-style face masks. As if out of nowhere, we see them soaring through the treetops like birds. A troop of chimpanzees grooms one another as our cameras snap away. Our guides use their exceptional skill and intuition to keep us on course as we follow them through the forest floor as they take off at an astounding clip through the jungle-like woodland. 
What Sets It Apart From the Rest?
Modern conveniences such as hot showers and canopied mattresses are available at Greystoke Mahale, but its primary purpose is to provide authentic chimpanzee encounters through frequent guided forest hikes. 
For more than three decades, researchers in Japan studied chimpanzees and made them tolerant of humans. This allowed us to see their numerous connections, such as courtship, in-fighting, leisurely grooming, and games like tag. Even a mother was spotted teaching her toddler how to capture and eat ants using a leaf stem. 
This is one of Tanzania's best-kept secrets, along with Lake Tanganyika and the surrounding wilderness. 
At a Glimpse
One of the best

safari lodges in Tanzania

secluded, authentic, and environmentally friendly resort on the shores of Lake Tanganyika, with six bandas perched on the forest's edge.

Itineraries can be tailored to meet the needs of the group and the needs of the guide.

Tourists can go chimpanzee trekking and bird watching in addition to bathing in waterfalls, canoeing (for a cost), hiking in the woods, and taking cultural tours.

Visitors under 12 are not permitted to go chimpanzee trekking, although children as young as eight are welcome. A single banda can be transformed into a triple for a child.
Streams of Sand River Selous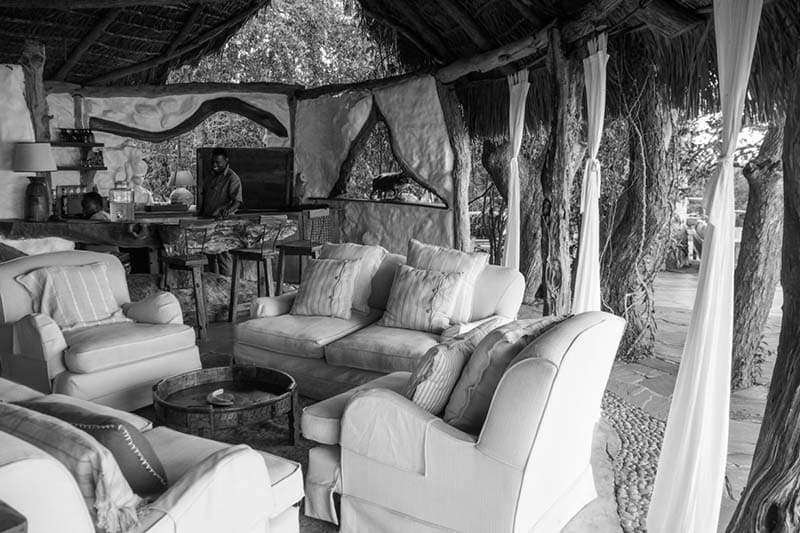 Those who love rivers will enjoy Sand Rivers Selous. On the banks of the Rufiji River, this Tanzanian safari resort makes the most of its prime location and it's the best of sandy safari lodges in Tanzania. Consider a hillside suite with its plunge pool and sitting space for enjoying the river view or a riverbank room for being right in the middle of it all. With Sand Rivers, you can enjoy the world's second-largest game reserve all to yourself, regardless of your tastes.
There are a lot of great places to stay in Tanzania's Selous Game Reserve, including Sand Rivers Selous. With its eight open-fronted cottages on the edge of the Rufiji River in Selous Game Reserve, Tanzania's Sand Rivers Selous is one of the best safari lodges in the country. This is where you can relax, watch the sunset over the water, listen to hippo splash, and embark on exciting game drives before the night sky is illuminated. 
The Lodging
Guests of Sand Rivers Selous can enjoy their meals on the balcony of a thatched open-sided boma at the Rufiji River's dramatic s-curve. As the waters churn and flow, hiding crocodiles disguised as logs, visiting hippos, and magnificent birds, I can't keep my eyes off them. A 1,500-year-old baobab tree provides shade for a rock-carved swimming hole on the river's side. 
The Rufiji River and sandbank attract a wide variety of species, as well as riverine vegetation, floodplains, and marshes intermingled with lakes and dry rivers in the Selous Game Reserve. 
The Spaces
After spending most of the day in the pool, we return to our thatch-and-stone room to relax before dinner. While a hillside suite with a private pool and living area was an option, we went with a more basic room closer to the river. From the veranda or our king-sized bed with a canopy, I can keep an eye on the riverfront activity for as long as I like. 
Every time we walk into the cottage, I get excited; the photos we looked at before selecting Sand Rivers Selous are precisely what we see here. As a bonus, the high thatched ceilings and polished white stone floors in our cottage provide the impression of even more space. 
The only thing keeping me awake at night is my desire to see as much wildlife as possible, even if we haven't been out of the lodge since last night's game drive. There is a rumored treehouse on stilts overlooking the river, so we decide to go there before sunset to see what we can discover. We sit and watch hundreds of birds flitting around in a vast marshy area as they look for food. 
In addition to a group of giraffes, an elephant family splashes mud on themselves with apparent joy at the water's edge. This beautiful animal exhibition continues, so we head back to the lodge for sundowners. 
What Sets It Apart From the Rest?
Sand Rivers is tucked away from the crowds of other Selous lodges, making you feel like you're the only one in the world's second-largest reserve making it the perfect fit out of all safari lodges in Tanzania for peace lovers and introverts. We can watch a wide variety of wildlife as it makes its way to the river from our cottage, the main buildings, the pool, and the hide. 
There's something about eating in the African bush, having breakfast under a tree, lunch on the balcony of a lodge, and dinner under the stars, all while taking in the sights and sounds of the landscape, that appeals to me. When all else fails, the stars shine like diamonds, and now and again, to our delight, meteor streaks across the sky. 
At a Glimpse
The elegant retreat on the Rufiji River includes eight thatched and stone cabins (three hillside suites with private plunge pools, sitting areas, and five riverside rooms). An outdoor eating area, a pool, a bar, a lounge, and a safari shop are all available at the resort.

There is a secluded space with private dining alternatives for those who like to dine in privacy.

Exploration of Stiegler's Gorge and its thermal waters.
Family rooms and triples are offered for guests with children over eight. Children below 12 cannot participate in fly camping or walking safaris. 
Serengeti's Sabora Campsite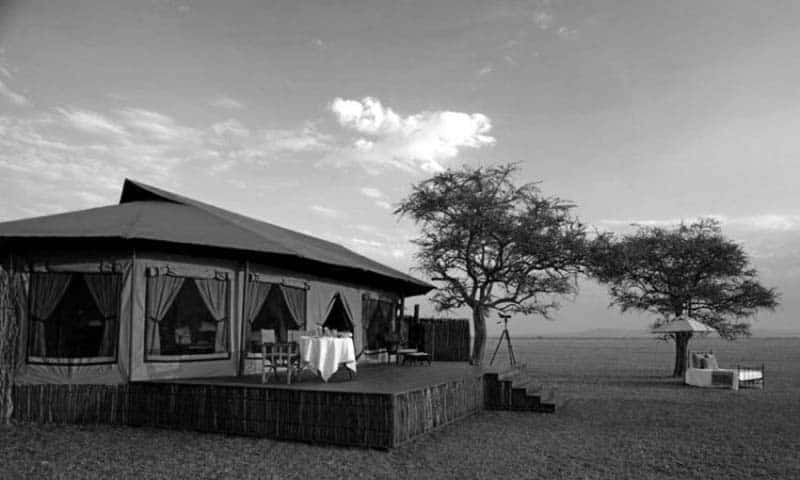 Simply put, Sabora Tented Camp is stunning and one of the popular four seasons safari lodge in Tanzania's Serengeti national park. A swimming pool, a tennis court, a spa, and a Jacuzzi are just some of the amenities available to guests at this luxurious 1920s-themed resort. Due to its romantic atmosphere, the Serengeti Sabora campsite has earned a spot on our list of the top 10 best safari lodges in Tanzania. During the Great Wildebeest Migration, its location on the Serengeti grasslands is unrivaled. 
Sabora Tented Camp in the Grumeti Reserves is One Of Tanzania's Finest Safari Lodges in the Serengeti. It's a 1920s-themed resort with a swimming pool, tennis court, jacuzzi, and a Jacuzzi from which to explore the Serengeti in luxury. Relax on your daybed and watch the Great Wildebeest Migration from a Tanzanian safari resort, or take a trip out in a game drive, walking safari, or hot-air balloon to get a closer look. 
The Lodging
There are just nine magnificent apartments at Sabora Tented Camp, an explorer's retreat in the Grumeti Reserves in northern Tanzania reminiscent of the roaring twenties. It's exactly what we're looking for, with just nine tents surrounded by 140,000 hectares of pristine forest. It just so happens that the Great Wildebeest Migration passes right through this luxurious Tanzanian safari resort, so we've planned our trip to coincide with the most incredible wildlife show on Earth. 
The Spaces
Glancing around our air-conditioned room – or tent suite, if you'd prefer – is a fascinating experience. I can't help but wonder if we'll run across a Saudi prince while we're there. It has a canopy bed, silky rugs, hurricane lamps, antique furniture, and antique trunks with warm chestnut and crimson accents. A Swarovski spyglass and a private viewing terrace with a dressing room and reading nook complete the package. Besides the Victorian-style bathtub, there is an outside bamboo-screened shower in the bathroom with leather tiled floors. 
Thousands of wildebeest cross the endless Serengeti plains every year, and I can see them from my terrace only a few feet outside. Although we've been told they won't travel by the Sabora Tented Camp for at least two days, I keep an eye on the horizon. Next week, we'll go on a game drive to put us in the middle of the action. I convinced my partner to accompany me for a game of tennis on the red clay court, promising we could relax in the spa afterward. 
We enjoy the outside dining area, bar, and lounge when passing through camp. Persian rugs cover the chaise lounges, adorned with gilt mirrors, crystal decanters, silver silverware, and freshly pressed linens. After our spa treatment, we'll be able to relax in the heated plunge pool and jacuzzi. In front of a herd of zebras grazing, we pick up our tennis rackets and traverse the groomed lawns to play a vigorous game of tennis. Watching my partner go around the tennis court in white against the massive savannah backdrop is strange. 
What Sets It Apart From the Rest?
Sabora Tented Camp's unabashed luxury in the heart of the Serengeti while adhering to ethical norms is what I love most about it. It is an eco-camp, and a percentage of its profits is used to help the people in the area. Combined with the individual treatment we received, Sabora genuinely stands out among all safari lodges in Tanzania. 
Our guide, Steven, was always available when we needed information about the Great Wildebeest Migration or the lesser-known wildlife of the Serengeti. To get a feel for the other camps in reserve without really living there, we dined at various spots within the center each night at different individual tables. Each meal celebrated the day's events, capturing the essence and flavors of Tanzania to perfection. 
At a Glimpse
Only nine tent suites overlook the Serengeti plains, with a heated pool, jacuzzi, gym, and tennis court. In the path of the Great Wildebeest Migration.

A private airstrip, a maximum of six people per safari vehicle, and the availability of private automobiles are just some features of this exclusive safari concession (additional cost).

For an additional price, guests can participate in various activities, including game and night drives, bush breakfast and dinners, mountain biking, archery, spa treatments, and hot air balloon rides.

Children above the age of ten are welcome to attend. Activities for families, including a Mini Rangers' Course, are available, along with a family suite and a babysitter. The guide has the last say on whether or not a child participates in gaming activities.
The Ruaha Jongomero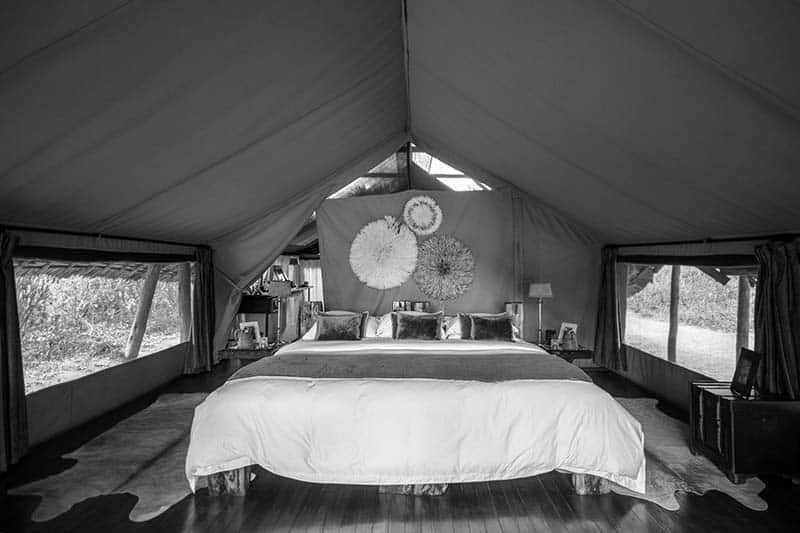 Because it is the most remote safari lodge in Tanzania, Jongomero made our top ten list of the best safari lodges in Tanzania. You can get away from it all on the banks of a seasonal river in the southernmost area of Tanzania's Ruaha National Park. Five hundred and sixty varieties of birds, the elusive wild dog, several rare antelope, and four of the Big Five can be tracked by tourists while they enjoy the serenity of the landscape. 
Ruaha National Park is home to one of Tanzania's most luxurious safari lodges, Jongomero | Ruaha. In Ruaha National Park's most isolated southern part, one of Tanzania's finest safari lodges, Jongomero, sits along the banks of a seasonal river. Choose a wildlife drive, a walking safari, or even a fly camping trip for an authentic taste of the African bush. 
The Lodging
By flying low and slow above Baobab-studded hills, gorges, and mountains of Rift Valley, we get a glimpse of the red-dusty Jongomero airfield before descending to the plains below. 
This is Tanzania's largest national park, Ruaha, and we're in its remote southern region, semi-desert during the dry season, and only the river provides beautiful greenery. When it comes to wildlife, the park is located in an area where eastern and southern species co-exist, according to our pilot. Africa's Big Five, along with one of the continent's largest elephant populations, can be found here, excluding the rhinos. 
The Jongomero River, a seasonal tributary of the Great Ruaha, is only a short distance from our temporary lodgings on the banks of the Jongomero River, where we will spend the next few days. 
The Spaces
The open bar, lounge, and restaurant are all covered by a thatched roof and outfitted with comfortable sofas made from salvaged dhow wood, as are the lodge's open bar, lounge, and restaurant. With a large verandah overlooking the river and an open-fronted tent, our private observation platform and our luggage is waiting for us in the vast tented room. 
The Emperor bed constructed of Dhow wood looks inviting, but the sound of recurrent thuds pushes us to our veranda after a long journey. To our disbelief, we watch three big bulls repeatedly charging at an enormous marula tree on the other bank of the river in an attempt to knock it down. The tree quickly offers its sweet bounty to the elephants after such a fierce assault. 
The giant pachyderms leave once they've eaten, leaving us dumbfounded at our good fortune to see this fantastic performance on our first day! 
Truly the Ruaha Jomgomero lodge is among the best safari lodges in Tanzania for unwinding and resting. On the veranda, the time has no meaning. This tranquil environment begins to take hold as we listen to the strange silence of the African desert, which is only broken by birdcalls.  
What Sets It Apart From the Rest?
A quality of exclusivity that can't be replaced is found in Jongomero's remoteness from the rest of the world. Both the cuisine and service are excellent, despite its remote location. 
Walking safaris and fly-camping activities in Ruaha National Park were our favorite parts. As we traveled through acacia woodlands, arid scrub, and open grasslands, we saw how this unique ecosystem's flora and fauna are intertwined and thrive when left alone. 
At a Glimpse
An upmarket safari lodge with a swimming pool, a shop, and eight tent suites is located in the southern part of Ruaha National Park.

Private vehicles can be rented, and flexible schedules are available for an additional price.

Game drives, walking safaris, fly camping, and swimming are all options.

A maximum of two youngsters between the ages of six and eleven are allowed to attend camp at any given time.
Mkombe's Home – The Other Alternative and Best Four Seasons Safari Lodge Serengeti in Tanzania Got to Offer
Private safari houses and villas are our favorite places to stay when traveling with a large party since they offer plenty of room for everyone to spread out and relax without disturbing the other guests. At the Mkombe's House, perched halfway up a koppie overlooking the Serengeti grasslands, there are two adult rooms and two interconnected children's rooms for 10. Traveling with various generations is more accessible because meals and activities can be scheduled anytime. 
It isn't easy to imagine a better place for a family safari than Mkombe's House in Tanzania's Serengeti National Park. Serengeti National Park's Mkombe's Lodge, a privately owned Safari House and one of the top safari lodges in Tanzania, is the perfect place for families to reunite. With its innovative structure of the adult and children's rooms and the complete freedom of mealtimes and activities, this hotel is ideal for multigenerational vacations. 
The Lodging
Mkombe's house is perched atop a koppie overlooking the Serengeti National Park. It's fun for our kids to see the animals from above while they're still high from the flight. The Great Wildebeest Migration has a new participant: the eight of us who have arrived just in time.  
The only things that cast shadows on the endless expanse of green plains are clouds and antelope herds. Using her keenest eyesight, our eldest daughter quickly spots a shimmer of water and zooms in with her binoculars to observe the river bend in detail. She exhaled a sigh of relief when she spotted a group of hippos. 
The Spaces
It is evident by the children's exuberant shrieks and splashing that they had found and entered the larger of the two pools. We follow our guide inside at a more leisurely pace and allow them to romp and snort under the watchful eye of one of the servers. However, I've been told that at night the two double rooms are closed off from the outside world.  
My siblings and I will share a room with my parents' two children, who will be sleeping in the following children's room. If someone needs reassurance, the interconnecting doors will provide the optimum combination of privacy and speed. We also look forward to a few romantic moments with our loved ones. Even on the most ideal of vacations, nightmares are not unheard of. 
In Mkombe's House, the use of organic shapes and textures, as well as a bright and airy aesthetic, is just stunning. Children will be intrigued by the Maasai beadwork on show, displayed on the terrace and lined with director's chairs made of wood and canvas that face the view. 
Open a cupboard and uncover a treasure trove of old family favorites.
As my partner examines the intricately carved wooden bao board, I know we won't be here long if we're bored. I'll give the kids about a day to beat us at it, too! 
What Sets It Apart From the Rest?
Having a safari home of this caliber in Tanzania is rare. No one else is around, so we can genuinely relax as a family, making as much noise as we want and laughing about zebra crossings. Among all the safari lodges in Tanzania, the Mkombe lodge is a home away from home. 
Having Mkombe's House to ourselves for a few days gives us the freedom to make our own decisions, not just when it comes to photography. A game drive allows us to sleep a little longer than we would on a typical school day. As a bonus, we'll be back in time for supper. (Even though my parents had no problem waking up the two oldest children before daybreak to go hot air ballooning). 
However, even though our children are too little to accompany us on a Serengeti walking safari, we are confident that they will be well cared for if we leave them with the staff for a short period. Having the kids spend time with my parents will be a massive bonus for everyone involved. 
At a Glimpse
Near two major Great Wildebeest Migration river crossings and situated halfway up a koppie, this private property offers excellent views of the northern Serengeti plains. A total of 10 beds can be accommodated in the two adult rooms and two interconnected child rooms. The facility includes a plunge pool, a larger pool, and areas for relaxing outside; each room has a balcony.

Exclusive use of a safari house, a private guide, a private vehicle, a dedicated staff including a personal chef, and complete control over meal and activity plans.

In addition to game drives, walks, sunsets, bush lunches, hot air ballooning (additional cost; age/height limits may apply), and swimming are all included in the package.

Children are more than welcome here. In addition to cribs, high chairs, and car seats, there are two child-friendly rooms (each able to hold three children). Full-service child care facility. It's not an official children's program, but staff members have a lot of fun creating educational and amusing activities for children.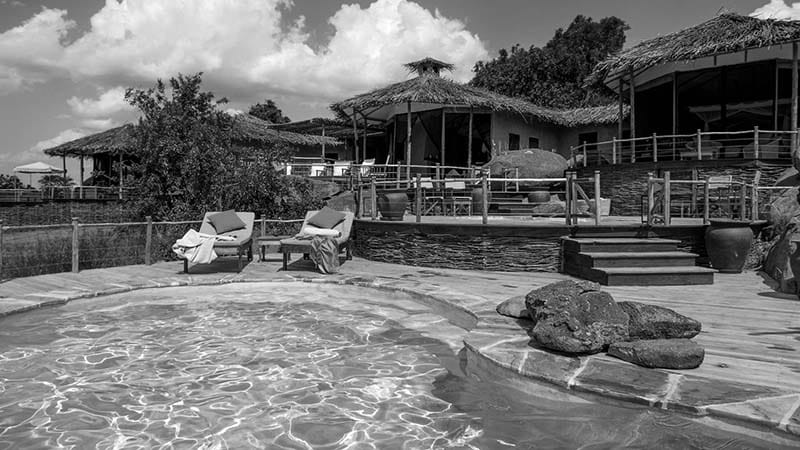 Tree Lodge at Lake Manyara
This safari lodge in Lake Manyara National Park, Tanzania, was designed with the environment in mind. Nestled in the heart of a mahogany forest, it features ten magnificent treehouses. This rustic lodge features a mix of wood floors and muted colors with minimal furnishings, allowing visitors plenty of room to spread out. 
For a Tanzanian safari experience like no other, look no farther than Lake Manyara Tree Lodge. The Lake Manyara Tree Lodge in Tanzania's Lake Manyara National Park is one of the country's finest safari lodges, with ten stilted suites. It's easy to see why Ernest Hemingway thought this was Africa's most magnificent scenery, from lakeside sundowners under breathtaking escarpments to wildlife drives and cycling adventures. 
The Lodging
During our wildlife drive in the dense jungle, we search the treetops for the famous tree-climbing lion of Lake Manyara. Like something out of Swiss Family Robinson, our lodge is hidden within the mahogany tree's sturdy branches. 
In the southwest part of Lake Manyara National Park, this magnificent safari lodge is the only permanent lodging option. Lake Manyara Tree Lodge has ten wooden and thatch apartments suspended on stilts over the reserve's various environments, including the Rift Valley, which drops 500 meters to the lake, dense woods, and high mountains. 
The Spaces
I sigh blissfully, enjoying the sensation of being encircled by a dense, wild African forest. My partner is reading me information from the brochure: that the park was established to protect the vast elephant families that call it home, that the lake attracts over 400 species of birds, including its pink flamingos, and that we could see hippo, cheetah, buffalo, Maasai giraffe, and klipspringer. 
On our verandah, I am more interested in the immediate luxuries of our luxurious apartment than I am in learning about the jungle's leafy green canopy (which overlooks an elephant route I can hear). I am delighted by how the tree branches have been incorporated into the structure as I enter. 
The interior designer in me admires the blend of understated, natural tones, distressed flooring, and minimalist furnishings. The bedroom contains a king-sized bed with billowing mosquito netting. 
This suite on stilts is anything but a child's playhouse, with an en-suite bathroom containing twin basins, a stand-alone tub, and an outside shower. When we're done with our tour, we head to the boma, an outdoor area surrounded by traditional dugout boats lit by storm lanterns. I think about how fortunate we are to be here as we tell stories around the fire. 
What Sets It Apart From the Rest?
His words "the most beautiful I've ever seen in Africa" ring true for me, too. Out of all safari lodges in Tanzania, the Mpombe lodge offers a true view of Tanzania's beauty. As I visit Lake Manyara, National Park. The tree-climbing lion was the main reason we traveled to this part of Tanzania, even though we also wanted to see Lake Manyara's soda lakes with their bright pink flamingos and the Maji Moto hot spring. Our guide pointed out two lions napping in a tree on our third game drive as if their behavior was as usual. At Lake Manyara Tree Lodge, it is the case! 
Lastly, being among the trees, with our suite's huge French windows facing out over the luscious, green forest and the couples' massages on the verandah, is romantic. 
At a Glimpse
Lake Manyara National Park is home to 10 apartments with a luxurious lodge set on stilts. There is a spa, a restaurant, a gift store, and a pool at the resort.

Butler service, private cars, and flexible schedules are all available.

Game drives, night drives, Lake Manyara cycling or walking excursions, cultural tours, gym in a bag, and spa services are all available for an additional price (additional cost).

Children are welcomed (triple rooms available). The lodge manager has the choice to let children aged 6 to 11 on wildlife drives. There is an additional charge for child care.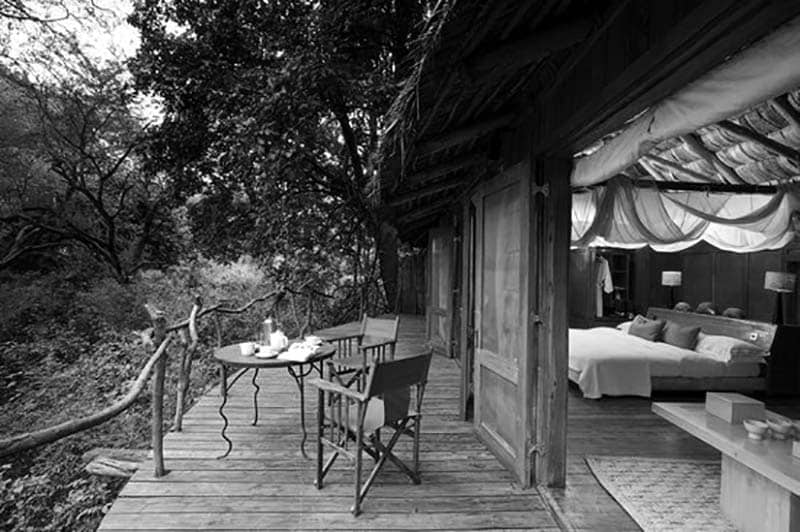 The Tarangire Chem Chem Lodge
One of the hallmarks of the Chem Chem Lodge experience is the emphasis on a "slow safari," in which guests take their time between safari activities to relax and take in the beauty of the surrounding nature. Imagine soaking up the sun by the pool, savoring a picnic, and sipping cocktails by the lakeside. It's the ideal place to wind down from a safari trip and recharge your batteries before heading home. 
This Tanzania safari lodge is located in the Burunge Wildlife Management Area, one of the best in the country. Tanzania's Chem Chem Lodge is nestled in a palm oasis on the migration route between Tarangire and Lake Manyara National Parks. At one of the most luxurious safari lodges in Tanzania, you can relax and be pampered in the African bush while staying in one of eight luxurious tent suites with a pool and a spa. 
The Lodging
I reapply sunscreen to my skin and enjoy the midday sun's warmth.
The wild African environment may surround Chem Chem Lodge's pool, but that doesn't mean it's a major attraction. 
To grasp the notion of a leisurely safari, I have four days to explore. It is a lovely safari lodge that allows me to connect with nature at my own pace, thanks to the 20,000 hectares of protected land between Tarangire and Lake Manyara National Parks. 
The Spaces
Its beauty strikes me as I enter our tent room at Chem Chem Lodge.
After a long day in the sun, I feel like I (ahem!) deserve some downtime, and fortunately, I don't have to go far to find it. In addition to the king-sized bed with a lava-stone wall behind it, the natural and earthy mood is enhanced by using canvas, lava stones, and wood. 
An elevated stone foundation keeps our room cool; a stone veranda with sun loungers and padded daybeds is located outside our room. Each of the eight tents is strategically placed so my husband and I can relax in the "quiet" of nature without encountering another soul. 
I make my way down the stone staircase to the stone bathroom, which has a closet, bathtub, and a glass door leading to the outside shower. While standing under the shower's intense spray and peeking through the branches, I catch sight of a giraffe munching on bushes beneath a baobab tree. Dinner will soon be served in the dining room, which reminds me of it. The enormous community table made from a tree trunk is one of my favorite places to eat. 
Afterward, we take a short walk to the main house, which looks like a flamingo with broad open wings. One wing houses the restaurant, while the other places the bar, lounge, and library. People are already gathering for pre-dinner drinks in the restaurant's outdoor fireplace. On the way up, we stop at the observation deck, where we can see Lake Manyara from a different perspective and get a sense of how interconnected we are with nature at one of the best safari lodges in Tanzania. 
What Sets It Apart From the Rest?
It was the perfect setting to unwind and enjoy a luxury day at Chem Chem Lodge. We could visit Tarangire and Lake Manyara National Parks whenever we wanted because we were staying on a private concession. 
We spent our days relaxing by the pool and watching the sunset over Lake Manyara. We took full advantage of the spa services available, including foot massages in the pool, full-service spa treatments in our room, and spa treatments in the existing facility. 
Almost everything could be changed. When it comes time to relax each night, we can go on safaris, dine at different restaurants, see flamingo colonies, or do nothing. We can decide how much involvement we want to have. In terms of slow-safari adventures, this was the apex. 
At a Glimpse
There are eight tented suites (one of which is a family suite), an enormous pool, restaurant, spa, and shop at this exclusive tented resort.

Only eight passengers per safari vehicle are allowed; a private car (for an additional price) is available, and departure times and schedules can be altered.

Walking safaris, cultural excursions, bush breakfasts, and picnic lunches, helicopter rides (at an additional cost), photographic safaris (at an additional cost), conservation and anti-poaching safaris, lakeside sundowners, day trips to Ngorongoro Crater and Lake Manyara (at an additional cost), bird watching, hot-air ballooning (at an additional cost), a Maasai-led sunrise run, and spa treatments are all available (additional cost).

All ages are welcome if the camp is reserved for children ages 8 and up. Adults must share a tent with minors. Babysitting, a family suite, and kid-friendly activities are all available. Families are considered when lunch hours are scheduled, and children have options.
Serengeti's Legendary Mobile Camp
According to some, a mobile camp safari is the purest form of the wild.
Our selection of top ten safari lodges in Tanzania includes the Legendary Serengeti Mobile Camp because it provides an authentic safari experience. The Great Wildebeest Migration can be seen between the north, south, and west Serengeti, regardless of whether the animals cross rivers, give birth, or spread out on grassy plains. 
The Serengeti National Park's Serengeti Mobile Camp Is a Tanzanian Safari Lodge of the Highest Quality. If you're planning a trip to Tanzania and want to see the Great Wildebeest Migration, you'll want to stay at Legendary Serengeti Mobile Camp, one of the best safari hotels in the country with just 11 tents. 
The Lodging
Dinner was served in the mess tent, which has its lounge, dining area, bar, and library, and we sat around the fire to reminisce about our many safaris. Isolation here is exacerbated by the roar of the fire, which does little to alleviate the sense of being in the wilderness. While staying at the legendary Serengeti Mobile Camp, situated in the heart of Serengeti grasslands, we feel we've found Africa's essence distinctively from safari resorts. 
Within a few weeks, we'll be able to follow the Great Wildebeest Migration from the comfort of our private van, confident that we're in the perfect spot to witness it firsthand. 
The Spaces
As we prepare for bed, a Maasai guard brings us back to our suite. After we left our tent well-lit and with hot water bottles warming our bed, phantom hands closed the tent's sides. 
Two secret locations at the camp (divided into two separate areas for privacy) face opposing directions. While brushing my teeth, I'm struck by how the hot-water bucket shower doesn't diminish the sumptuousness of the en-suite bathroom's basin stand. 
Our king-sized bed, covered with mosquito netting and surrounded by Persian rugs, is ready for us to relax. Even though we are fatigued, we are ecstatic to be here and enjoy the nocturnal entertainment: hyenas whooping and roaring and the bursts of light from flying fireflies. 
The aroma of freshly brewed coffee persuades me to get out of bed in the morning. Before heading out on a game drive to see the migration, we had a hearty breakfast. Guests at the Legendary Serengeti Mobile Camp may get up and personal with the wildebeest because the camp moves three times a year. We can see thousands of wildebeest, together with Thomson's gazelle, eland, zebra, and impala, circling the Serengeti-Masai Mara habitat in search of rains and grasses a few kilometers from our campsite. It's a real privilege to be here, and I'm grateful. 
What Sets It Apart From the Rest?
The Great Wildebeest Migration is guaranteed front-row seats to one of the best safari lodges in Tanzania; the Serengeti mobile camp. A mobile safari camp that moves around the Serengeti three times a year (north, west, and south). Despite this, we don't skimp on amenities:
Our staff is attentive.

Our cuisine is delectable.

Our tents exude an air of old-world refinement.
My favorite thing about this place is how private it seems; we have our car and can make our schedule and eat inside or outside. 
At a Glimpse
Eleven tent suites divided into two sections, each with its dining and lounge areas, make up this mobile safari camp.

Maswa has a private concession (unique to Maswa), private dining, private transportation, and customized itineraries for private events.

Maswa is the only place you can go on night drives, cultural excursions, walking safaris, bush lunches, picnics, and bush sundowners. You can even go hot air ballooning (additional cost).

All ages are welcome, and a babysitter service is available upon request (additional cost). Unfortunately, there are no tents for families, although each one may accommodate up to three people. At the discretion of the resort administration, children can participate in safari activities.
The Crater Lodge at Ngorongoro Conservation Area
A visit to Tanzania's Ngorongoro Crater is a must-do on any safari.
Ngorongoro Crater Lodge is a great site to begin your exploration of the true wonderland of Ngorongoro Crater. With butlers at your service, you may enjoy anything from rose-petal lunches to Champagne tastings to private wine store dinners at the edge of the crater rim. 
The Ngorongoro Crater Conservation Area's Finest Safari Lodge is divided into three distinct camps, each with a vantage point from which to take in the breathtaking scenery of the crater's rim. You may participate in game drives, guided walks, rose-petal picnics, and cultural excursions from one of Tanzania's finest safari lodges. 
The Lodging
This is the last obstacle I have to overcome. The world's giant complete crater, Ngorongoro Crater, can be seen from practically every angle within the lodge. One of the world's most beautiful animal refuges is centered on this three-million-year-old crater, which features a variety of landscapes, including woods, grasslands, and soda lakes. 
Relaxed and excited, we had just returned from a crater tour that left us feeling energetic and awestruck. Seeing so much wildlife in one day is incredible. Still, I should expect nothing less from a site designated as a Unesco World Heritage Site and one of Africa's Seven Natural Wonders. 
The Spaces
On stilts above the rim of the Ngorongoro Crater, the Ngorongoro Crater Lodge features thatch-and-mud guest rooms that disguise lavish interiors. There is a sense of majesty as we go up to our little cottage and open the door. The Crater lodge is among the outstanding safari lodges in Tanzania that unleash true elegance and style.
The dome ceiling in the main bedroom is embellished with a banana-leaf-and-bead-chandelier-adorned dome. The king-size bed has the best view of the outside thanks to the open silk curtains. 
The aroma of freshly cut roses envelops me as I sink into an overstuffed cut velvet sofa. I appreciate that our fireplace has been lit to have a warm room when we get back from dinner. 
Our butler has generously filled the bathtub with warm water and bubble bath, and I'm delighted to see rose petals scattered in front of the chandelier-lit tub. I detect a slight movement outside our house's floor-to-ceiling windows as I slowly lower myself into the tub. A nyala antelope grazes in the meadow below. I'll need to check with Thomas, our knowledgeable tour guide, to see if this is the case. 
When I finally put on my robe and slippers and head to the adjacent dressing room to get ready for dinner, I have no idea how much time has passed.  
And my, what a feast! Because of the dome in the dining room, I'm pleased I dressed up. Elegant crystal glasses and cutlery adorn a large table, which will soon be filled with various gourmet dishes. We'll have a special anniversary dinner tomorrow, complete with wine from their cellar, to commemorate the occasion. 
What Sets It Apart From the Rest?
With stilted bungalows perched on the crater rim's edge and facing Lake Magadi, 600 meters below, Ngorongoro Crater Lodge provides a stunning setting. You can even have a private picnic in the crater, away from the crowds. 
Ngorongoro Crater Lodge's location and activities, as well as its butler and top-notch service, make it an ideal destination for a vacation. 
At a Glimpse
Ngorongoro Crater's three small camps have their guest areas: South Camp, North Camp, and Tree Camp have 12 rooms each (6 rooms).

A butler, private meals, and private automobiles (at an additional cost) are all included in the package.

The Olduvai Gorge and Shifting Sands Tour, which includes cultural excursions (at an extra cost), a meal on the crater floor, and sundowners on the rim, are also available (additional cost).

The presence of children is permitted. One family room and an additional bed for children under 16 can be reserved in other rooms. The lodge manager has the choice to let children aged 6 to 11 on wildlife drives. There is an additional charge for babysitting.
Other Related Information
In case you happen to explore and visit any of the above lodges, and thinking of investing checkout the various links on safari lodge for sale Tanzania such as following:
For more articles related to Tourism in Tanzania, click here!