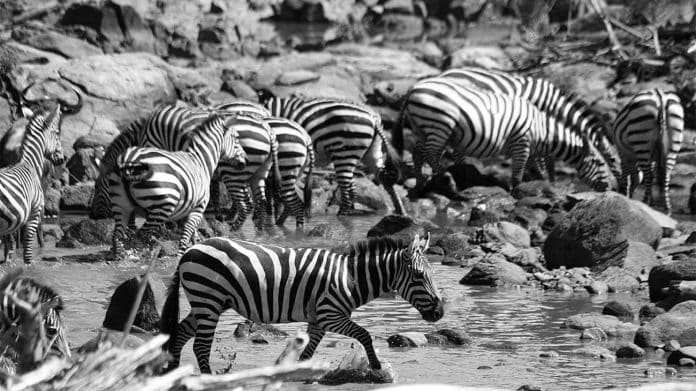 Quick Overview of the
Grumeti River
in Tanzania
The Grumeti River
The faunas face a crocodile-infested Grumeti River as one of their initial obstacles on their Great Migration from Tanzania to the Maasai Mara National Park. The Grumeti River, sometimes outranked by the Mara River, is no less beautiful when the wildebeest arrive. The best time to go is between May and June, when there is a higher chance of seeing the animals in action.
​​Grumeti River Map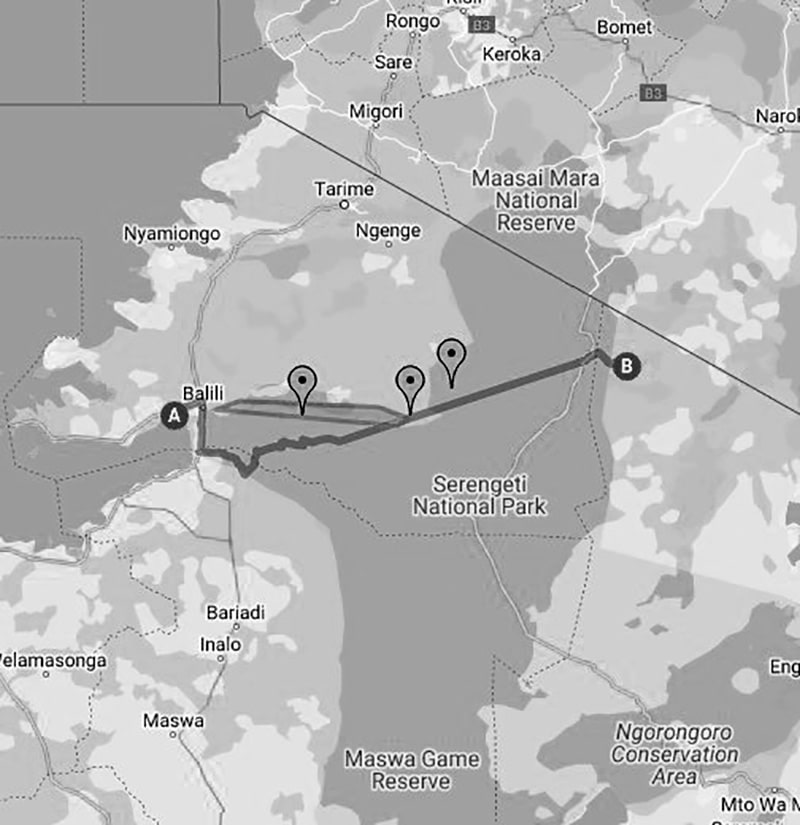 A Look Into the Potent River, the Grumeti
Western Serengeti National Park is home to the Grumeti River, which flows into Lake Victoria.
With a length of 50 kilometers, the western corridor has rolling hills, riverine forests, and unlit acacia woodlands.
This part of the Serengeti is rarely visited because of its isolation. There is a year-round abundance of wildlife, including hippos, giraffes, elephants, leopards, cheetahs, and lions, as well as large Grumeti river crocodiles
Because of its quiet location, Safari vehicle assembly is not an issue in Grumeti. There will be fewer than half the number of safari vehicles gathered along the banks of the Mara River during the Great Migration on the banks of Grumeti River.
Even though migration has become erratic, zebras, wildebeest, and antelope normally spend two weeks crossing the Grumeti River between May and June.
It is possible to spend a few hours walking through the Serengeti wilderness in the nearby Grumeti Reserve.
Another option is to fly over the river and meadows in a hot air balloon in the early morning.
During the high season, mobile campgrounds follow the flow of the migrators along the western route, which has few year-round housing choices.
Making It Easier for You to Select Between Grumeti River or Mara River
The Grumeti River
Any tourist wishing to avoid the peak season, which runs from mid-June to September and parks are most crowded and travel most expensive, might consider the Grumeti River.
Grumeti River crossing is most common during a one- to two-week period in May and June. Still, precise dates are difficult to predict because the migrators pursue the rain.
At this time of year, river crossings on the Grumeti are most common. This means that roads and scheduled trips could be in jeopardy because of occasional rain. Because the grass is frequently taller and greener, it is harder to spot wildlife.
An extra 3-4 hours of driving time is required if you want to travel to the Grumeti River, which is located in the Serengeti's remote western corridor. Grumeti Airstrip has daily flights; however, they can be costly.
There are only a few year-round and mobile campers in this area; thus, there are typically fewer hotel options.
The Mara River
When the grass is short, and animals are drawn to pools during the dry season, the Mara River crossing offers the best viewing prospects.
Because river crossings occur more frequently on the Mara, your chances of spotting one are much higher. As a result of its speed, depth, and sheer river walls, the Mara, unlike the Grumeti River, is more spectacular than any other river in the region.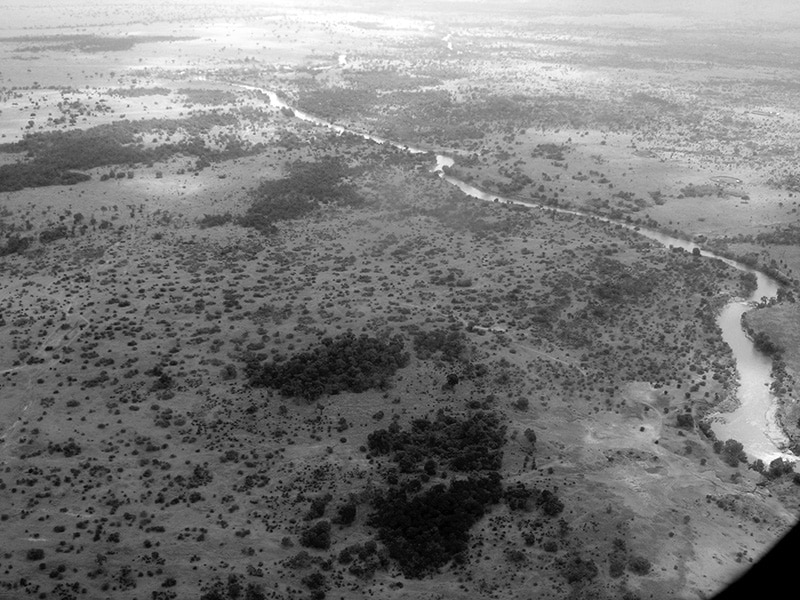 Accommodation alternatives are more plentiful and reasonable in the areas near the Mara River.
Mara River crossings occur during peak season, implying that more people are on board and thus higher rates.
Grumeti River Source of the Nile
Grumeti River is not the source of the Nile. The source of the Nile is generally considered to be Lake Victoria, which is located in East Africa and is the largest lake on the African continent. The Nile River begins its journey in Lake Victoria and flows northward through Uganda, South Sudan, Sudan, and Egypt before emptying into the Mediterranean Sea.
During What Season is the Grumeti River Tanzania the Best to Visit?
The best time to visit Tanzania, the Grumeti River, is from May through September. The months of May and June are ideal for river crossings.
Plan a river crossing trip between mid-and late-May to avoid the last of the rainy season's downpours. Events are regularly postponed or canceled due to inclement weather, often due to severity and suddenness.
However, suppose you prefer a more secluded safari experience. In that case, the western corridor is a great place to see animals through September.
Hotels and Other Forms of Lodging
Singita Sabora's tented camp is situated on the Grumeti Reserves migration route. Nine safari tents are available, all of which have been created in a clean, modern manner.
They provide a luxurious safari experience for a small group. Their location allows guests to take in the breathtaking vistas.
For your comfort, each tent has a private bathroom and air conditioning. They have a private patio with a daybed overlooking the watering hole, as well as a dressing room, reading nook, and other amenities.
In addition to wildlife drives and nature walks, guests can participate in stargazing excursions, archery, mountain biking, and tennis.
Eco-friendly designs that include indigenous materials, solar power, and water conservation are hallmarks of Singita's minimally invasive designs. As a result, they substantially contribute to the local community and conservation efforts.
Kirawira's Serena in the Serengeti's Western Corridor, a luxurious 25-tent camp with a view of the Kirawira Plains, harkens back to the early twentieth century.
It is decorated with antique trunks of Edwardian, four-poster beds, patchwork quilts, sepia-toned pictures, and brass accents. Waterfall showerheads and flushing toilets are all standard features in luxurious bathrooms.
Butler service, hairdryers, and early morning wake-up calls with coffee are just a few of the additional perks that guests receive.
Each meal has five courses, including soup and salad and roasts, sorbets, and English breakfasts.
For those who prefer to dine outdoors, the Kirawira Serena provides bush breakfasts and picnics, as well as outdoor evenings under the stars.
&beyond grumeti serengeti river lodge is located in the remote western reaches of the Serengeti National Park. It has breathtaking views and unparalleled sightings. There are very few lodges in this section of the park, which gives each guest an intimate and exclusive Serengeti safari experience.
Andbeyond grumeti serengeti river lodge Tanzania offers guests a range of activities, including game drives, guided walks, hot air balloon safaris, and cultural visits to nearby Maasai villages. The lodge also has a swimming pool, spa services, and a library where guests can relax and unwind.
Grumeti river lodge has new designs that incorporate a range of environmentally sustainable measures such as solar power generation, low-energy fixtures, water preservation, and wastewater recycling, and solar power will make up 80% of their renewable energy sources. 
One of the highlights of staying at Grumeti serengeti river lodge is the opportunity to witness the annual grumeti river migration, which passes through the area between June and September each year. During this time, the area is home to hundreds of thousands of wildebeest, zebras, and other grazing animals, attracting predators such as lions, cheetahs, and hyenas, making for an incredible wildlife spectacle.
Grumeti river camp Western Serengeti is a great option if you're looking for a unique experience in Tanzania. 
Grumeti River Camp is a luxury tented camp located in the heart of the Serengeti National Park in Tanzania. The camp is situated on a picturesque bend of the Grumeti River, offering stunning views of the surrounding wilderness.
The Grumeti river tented camp features 10 spacious tents, each with en-suite facilities and a private veranda overlooking the river. The tents are elegantly furnished with comfortable beds, traditional African decor, and all the amenities you would expect from a luxury safari camp, including hot and cold running water, electricity, and room service.
Guests at Grumeti River Camp Serengeti Tanzania can enjoy a wide range of activities, including game drives, guided nature walks, bird watching, and cultural visits to nearby Maasai villages. The camp also features a swimming pool, spa services, and a gourmet restaurant serving delicious African and international cuisine.
One of the unique features of Serengeti Grumeti River Camp is its proximity to the annual wildebeest migration, which occurs between June and September each year. During this time, the area is teeming with wildlife, including lions, leopards, elephants, and thousands of wildebeest and zebras, making it an unforgettable safari experience.
Overall, Grumeti River Camp Tanzania offers an exceptional safari experience in one of the world's most spectacular wilderness areas.
Is it Possible to Reach the Grumeti River Through a Direct Route?
The River Grumeti  can easily be reached by plane because of its isolated position.
Dar es Salaam, Arusha, and Mount Kilimanjaro have daily scheduled flights to the Grumeti Airstrip. Taking off and landing in less than two hours is possible.
Ndabaka Gate is the most direct route to the Grumeti River and the Western Corridor if you're driving.
Arusha is around a nine-hour drive away. The drive from Seronera (the Serengeti's center) or Naabi Hill, the park's main entrance, takes 3 to 5 hours.
We'll take care of all the logistics once you book with us, so you don't have to.
For more articles related to Rivers of Tanzania, click here!