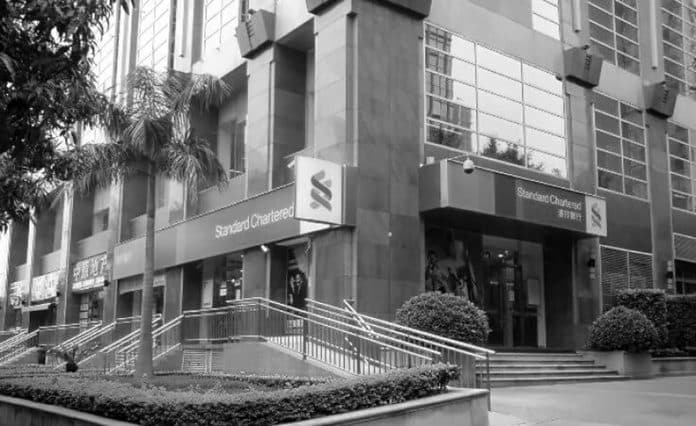 Standard Chartered Bank Tanzania
– Overview, Products, Services and More
Standard Chartered Bank Ranzania ltd is among Tanzania's oldest international banks, having begun operations back in 1917.
Standard Chartered Bank was present when Tanzania gained independence! They were present when Zanzibar and Tanganyika merged in 1964 to create Tanzania!
Therefore, the Standard Chartered Bank in Tanzania is celebrating a century since it first opened its doors in the country. The Standard Chartered bank Tanzania branches are in all major cities and employs more than 330 people. The Bank provides a comprehensive variety of services through its Financial Assets, Global Banking, Commercial and Retail Banking divisions, and it is the market's biggest International Bank.
Sanjay Rughani – country's CEO.

Local time is GMT +3hours

Population: Fifty million

Language: Swahili (National), English (Official), Forty-two local languages

Branches: Three

Established: 1911

Currency: Tanzanian Shilling

Standard Chartered Bank Tanzania swift code:

SCBLTZTX XXX

Standard Chartered bank Tanzania address:

International House, Shaaban Robert Street/Garden Avenue, PO Box 9011. City, Dar es Salaam.
Why Tanzania, and Why For So Long?
Tanzania is among the few economies in the world and Africa with a diverse economic basis that has enabled a mean of 7 percent GDP growth over the previous ten consecutive years.
Tanzania is the biggest nation in East Africa, with an area of about 945,000 sq. kilometers and sitting just south of the equator. Dar-es-Salaam is Tanzania's business capital, whereas Dodoma is its political capital. Kiswahili is the official language; however, English is widely used in urban areas.
The nation comprises around 120 ethnic groups. The estimated population in 2016 was about 51.04 million. Despite its many cultural characteristics, Tanzania stays unified as One nation, owing primarily to the Socialist Values taught by Tanzania's founding father, the late Julius Nyerere, and Swahili, which is the language spoken by all Tanzanians. By 2050, the country is anticipated to be among the top five most populated in the world.
Tanzania's future growth is encouraged by Standard Chartered Bank. The vast and increasing domestic population, plenty of natural resources, strategic position, and internal political stability continuously offer Standard Chartered Bank a fascinating market.
Accomplishments
Standard Chartered Bank Tanzania Limited has transformed Tanzanian banking.
It changed the country's traditional banking process of having to conduct all monetary transactions in banking halls by introducing Tanzania's first ATM in 1997. This was a significant milestone in Tanzanian banking history that Standard Chartered Bank was asked to preserve it at the country's National Museum.

In 2004, Standard Chartered Bank improved banking processes in the country by providing the country's 1st Visa Electron Debit card, allowing their clients to access their savings when traveling outside Tanzania, therefore eliminating the need for them to travel with large amounts of cash.

As part of Standard Chartered Bank commitment to inclusion and diversity, it was the first Tanzanian Bank to launch the Diva Account, a women-only account. With its unique qualities, this account aided in the development of a savings culture among Tanzanian women.
Standard Chartered Bank was also the 1st Bank to launch Web Banking for its Corporate Clients, utilizing technology breakthroughs – the list continues…
More Than Just Banking…
While Standard Chartered Bank is well-known in Tanzania for its banking services and products, it is also acknowledged for the innovative Sustainability Projects that it has undertaken. Seeing is Believing, the Bank's flagship initiative has transformed the lives of millions of Tanzanians. The project's fourth phase, which concluded last year, transformed the living conditions of millions of Tanzanian children: more than 360,000 children received eye health services as well as eye equipment as prescribed, and at least 2,000 children were taken for surgery for cataracts among other eye complications, more than 5,400 children with serious refractive error were given spectacles, and 1,700 kids with significantly low vision received specialized refraction and/or low vision devices. Furthermore, approximately 1,000 health professionals at all levels were trained and oriented in eye care, and 17 facilities were equipped with non-clinical and clinical equipment required to offer eye-care services to children. Ultimately, nearly 17 million children in Tanzania will benefit from favorable policy reforms, strengthened national coordination, and the promotion of child eye health.
Standard Chartered Bank has equipped more than 15,000 teenage boys and girls with Life Skills training via the GOAL program. The project's generation continues to develop increasingly self-assured and autonomous young people.
As the Bank's Centenary of the Bank approaches, it considers utilizing its Financial Literacy Pillar to provide more people with financial knowledge and skills, which is critical for Tanzania's economic success. Standard Chartered Bank will also begin the next part of the GOAL initiative, which will reach out to an additional 15,000 teenage boys and girls.
Now and In the Next Century
Standard Chartered Bank is highly confident about increasing the business four times by 2021, harnessing the enormous prospects in the Tanzanian market, based on its solid legacy and foundations that it has built-in the country since its inception, along with rigorous execution of its plan.
As a result, the Bank remains optimistic about the nation's economic prospects and its future as a distinctive and fascinating market for the Bank.
Please get in touch with Standard Chartered Bank for any other information.
Headquarters: first – third Floor of International House
Corner Shaaban Robert Street in Garden Avenue
Postal address 9011, Dar es Salaam
Fax: +255 222113770
Telephone number: +2552221221601
Please phone (022) 2164 999 for additional details.
Accounts and Deposits
Current Accounts
Hitachi Current Account
This account allows you to enjoy fast-moving, convenient banking with limitless transactions.
Standard Current Account
This account allows one to transact at any time anywhere.
Savings Account
Ordinary Savings Account
More savings guarantee better safety
Tajirika Savings Account
You can enjoy more than seventy services from the Bank's mobile app.
Fixed Deposits
Fixed Term Deposit
This allows you to enjoy high-interest rates after working hard to save.
Products
Debit Cards
Visa Infinite Debit Card
This card offers enhanced perks alongside security and convenience
Visa Platinum Debit Card
This card enables you to enjoy fantastic shopping, dining, and lifestyle rewards at any time of the year.
Personal Loans
Unsecured Personal Loans
These loans allow you to act on your dreams with the personal loan offered by the Bank.
Salary Overdraft Loan
The beneficiaries of this overdraft pay interest.
Mortgages
Mortage
The mortgage offers a solution to help you achieve the dream of owning a home.
Services
Digital Banking Guidance
SC Mobile
You can open an account using your mobile phone, which you can use to bank anywhere.
Standard Chartered Tanzania Online Banking
This allows you to manage your transactions anywhere and anytime
Banking with Standard Chartered Bank
The Bank offers secure, reliable, and easy personal banking on mobile, in-person and with Standard Chartered Bank Tanzania online.
Check out the Standard Chartered online banking Tanzania here!
ATM and Branch Locator
This enables you to locate the nearest ATM
Opening an Account
You can instantly open your account and enjoy its benefit
Straight2Bank
Standard Chartered Bank has global and local market expertise that can push your company into fulfilling its total international potential.
The Bank's Straight2Bank is a totally integrated the Standard Chartered Bank Tanzania online banking platform that caters to reporting and transacting needs of its users across foreign exchange, cash management, and trade finance.
SC Mobile
Standard Chartered Bank acknowledges that its customers are always on the move. Customers can use the Bank's Mobile App to help them manage their finances anywhere, anytime.
How to open an SC Mobile account
Step 1: Download the SC Mobile Application and press the "Open Account" button.
Step 2: Launch the app by keying in the contact details.
Step 3: Input the six-digit OTP that will be sent to your phone number
Step 4: Take a selfie picture and then upload a valid identification card
Step 5: Update the contact details where necessary and write about yourself.
Step 6: Afterwards, Review the provided information and then tick the Terms and Conditions checkbox.
Step 7: Continue to submit your request and then wait for some time for the account to be established. The account will be activated after customer verification following card delivery. It is important to note that in case of failure of the account number to be immediately displayed on the screen, you will receive temporary registration details to your mobile number and Email Address after some time. The bank staff might also contact you.
For more articles related to Financial Services in Tanzania, click here!