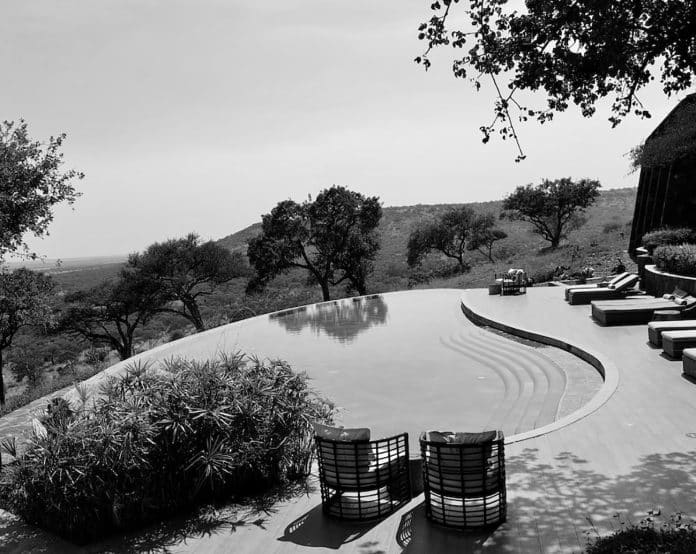 The Ultimate Guide to Tanzania Luxury Safari Resorts
‍Tanzania is an unparalleled blend of vast, wildlife-rich savannahs, vibrant markets, untouched beaches, and aromatic spice bazaars. This East African gem offers a plethora of memorable places to stay, but for those seeking the epitome of luxury and exclusivity, we've curated a list of our top-notch picks. This guide features 10 of the best Tanzania luxury safari resorts that will transform your Tanzanian holiday into a dreamlike experience.
---
Serengeti's Crown Jewel: Singita Sasakwa Lodge
Nestled in the heart of the Grumeti Game Reserve, overlooking the sprawling plains of the Serengeti, Singita Sasakwa Lodge offers a remarkable safari base. The lodge exudes luxury at every turn, from the expansive cottages replete with private pools to the grand manor house.
Unique Features
Private Pools: Each cottage comes with its private pool, offering a luxurious escape amid the African wilderness.
Gourmet Dining: The lodge ensures a lasting culinary impression with its unforgettable meals.
Expert Guides: Their knowledgeable guides ensure a rich and enlightening safari experience.
---
A Slice of Paradise: The Palms, Zanzibar
Situated along Bwejuu Beach, The Palms Zanzibar offers a unique escape to a serene, sun-kissed paradise. This resort is designed for those seeking to unwind and rejuvenate after their safari adventures.
Unique Features
Private Villas: The resort comprises six luxury villas, each with a large veranda, personal butler, and private plunge pool.
Robinson Crusoe Experience: The Palms provides a unique, 'deserted island' experience with its thatched beach bandas and tropical gardens.
---
A Dome in the Sky: The Highlands, Ngorongoro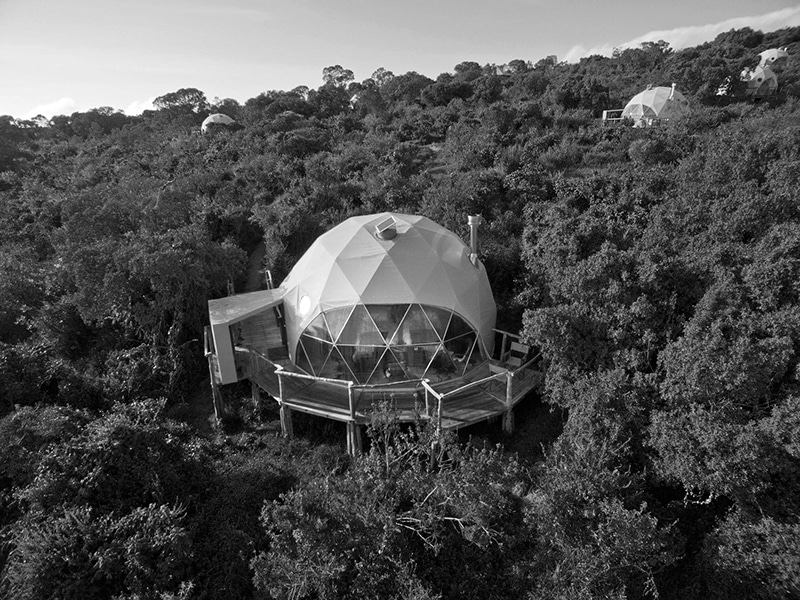 At The Highlands in Ngorongoro, you can explore more than just the famous crater. The dome-shaped suites offer sweeping views of the region, with large glass fronts revealing the picturesque landscape.
Unique Features
Dome-shaped Suites: The uniquely designed suites offer panoramic views of the Ngorongoro Conservation Area.
Wood-burning Stove: Each suite is equipped with a wood-burning stove, providing a cozy and warm atmosphere.
---
An Exclusive Wilderness Retreat: Azura Selous, Selous Game Reserve
Situated in a secluded part of the Selous Game Reserve, Azura Selous guarantees an exclusive safari experience in this stunning and untamed African wilderness. Azura is one of the Tanzania luxury safari resorts that is a beacon of tranquillity, offering a picturesque view of the Ruaha River rapids.
Unique Features
Infinity Pool: The lodge features an infinity pool, perfect for a relaxing dip while appreciating the stunning scenery.
Private Tented Villa: Each villa is equipped with a plunge pool, ensuring a private and luxurious retreat.
---
Island Luxury: &Beyond Mnemba Island Lodge, Zanzibar
Regarded as one of the Tanzania luxury safari resorts and world's best beach destinations, &Beyond Mnemba Island Lodge offers an exquisite island escape. The luxury bandas are strategically scattered along the pristine white coral sand beach, promising a serene experience.
Unique Features
All-inclusive: The resort offers an all-inclusive experience, including gourmet food, laundry, and scuba diving.
Luxury Bandas: The bandas are situated on the white coral sand beach, offering stunning views and direct beach access.
---
Modern Safari Experience: Four Seasons Safari Lodge Serengeti
The Four Seasons Safari Lodge offers an upscale safari experience in the Seronera area of the Serengeti. Its top-tier amenities make it an ideal choice for both couples and families.
Unique Features
Spa and Fitness Centre: The resort features a spa with six standalone treatment pavilions and a modern fitness centre.
Infinity Edge Swimming Pool: The infinity pool offers breathtaking views of the Serengeti plains.
---
Barefoot Luxury: Ras Kutani, Tanzania Mainland Coast
Set on a beautiful beach, Ras Kutani is the perfect hideaway for post-safari relaxation. The thatched beach cottages, all with ocean views, ensure an intimate and tranquil experience.
Unique Features
Beach Cottages: The resort offers nine thatched beach cottages, each with a veranda and ocean view.
Private Plunge Pools: The four suites offer more privacy and feature private plunge pools.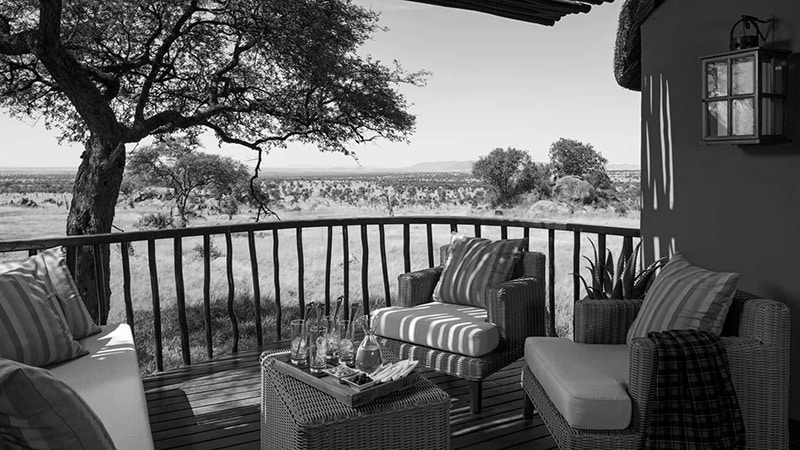 ---
A Treehouse Dream: &Beyond Lake Manyara Tree Lodge
Beyond Lake Manyara Tree Lodge is the only lodge nestled within Lake Manyara National Park. This lodge offers an enchanting experience with its elevated tree houses.
Unique Features
Tree Houses: The lodge comprises lofty tree houses, each with a private veranda and large windows offering a panoramic view of the lush forest.
Free-standing Tubs: Each tree house is equipped with a large, free-standing tub, offering a view of the forest.
---
A Serene Riverfront Stay: Sand River Selous, Selous Game Reserve
One of the pioneer and arguably the Tanzania luxury safari resorts in Selous Game Reserve, Sand Rivers Selous offers a truly versatile safari experience. The open-fronted rooms overlooking the river provide an ideal spot to relax between safari activities.
Unique Features
Wildlife Diversity: The lodge is renowned for its diverse wildlife, ensuring a unique safari experience.
Open-fronted Rooms: The rooms are open-fronted, providing a panoramic view of the river.
---
Elevated Luxury: Tarangire Treetops, Tarangire
Tarangire Treetops offers a unique blend of modern safari luxury and the nostalgic allure of a treehouse. The enormous rooms, each with private decking areas, are a popular spot for relaxation and impromptu game viewing.
Unique Features
Treehouse Rooms: The rooms are elevated, promising an adventurous and unique accommodation experience.
Private Decking Areas: Each room comes with a private decking area, perfect for relaxation and game viewing.
---
This guide gives you a glimpse of the luxury and unique experiences these Tanzania luxury safari resorts have to offer. If you're planning your dream holiday to Tanzania, consider including these luxury resorts and safari camps for an unforgettable experience. For more information or to make a booking, you can contact our Africa Travel experts on 020 7843 3500.
For more articles related to Tourism in Tanzania, click here!