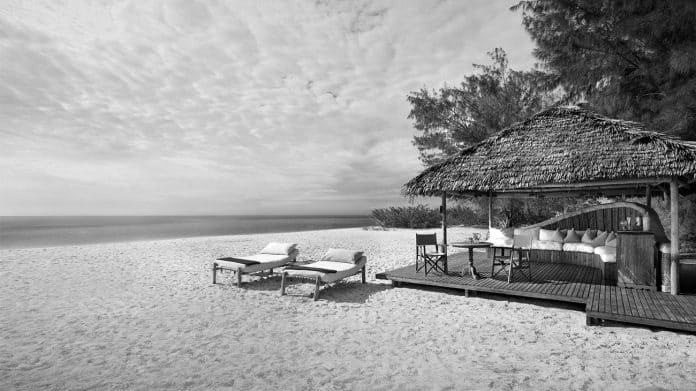 Mnemba Island
– Getting There, Accommodation, Dining and More
Overview of the Island of Mnemba
White sands and blue waters make up Mnemba Island, a private paradise.
For those looking to unwind, make new memories, and get back in touch with nature, the private Mnemba island in the Zanzibar archipelago is the ideal destination.
An Aerial View of Mnemba Island Zanzibar
One of Unguja's most minor private islands, Mnemba Island, is just 3 kilometers off the island's northeast shore, with Coral reefs around the island. The island, which has pristine white sand beaches and a casuarina pine forest, is owned by &Beyond company.
Bandas on the beach at &Beyond can accommodate up to 24 guests, and the staff outnumbers tourists two to one. The island's triangle form and 1.5-kilometer radius give it a personal feel.
Celebrities flock to the island, but it is also an excellent place for families who have just completed a safari. &Beyond offers a wide range of enjoyable activities for the whole family.
What is the Best Way to Get to Mnemba?
&Beyond's chauffeurs will pick you up from Abeid Amani Karume International Airport or Stone Town, Zanzibar's main airport and the island's capital. European, Middle Eastern, and East African airlines fly into Abeid Amani Karume International Airport.
An unpaved, rocky route covers the final 20 minutes of the 1.5-hour journey across Unguja.
A 15-minute open-air boat trip across crystal clear seas awaits you after that.
Because there are no jetties, you will have to wade into the water to take off and land, but the personnel will do everything they can to ensure you are comfortable.
Mnemba Island's Facilities
Each banda has a separate veranda that views the beach and tropical flora.
Unpretentious and elegant despite their richness, these romantic hideaways are perfect for lovers.
Family bandas may sleep up to four people, and their verandas are great for watching the Mnemba Island sunset.
Mnemba Island's Restaurants
Fresh local foods are the show's star at Mnemba's beachside candlelit meals.
You can choose to dine inside a thatched hut or on the sand, listening to the waves lapping at your toes.
You can have a fruit basket and Tanzanian coffee sent to your room if you prefer to sleep in. Views of the ocean from your table during your meal
During mealtimes, the chef visits each diner to ensure that they are satisfied with the food, and you can inform him of any special dietary needs you may have.
In addition to traditional ngalawa outrigger-harvested shellfish like lobster and crab, diners can look forward to various other tasty alternatives on the menus.
Before dinner, many guests gather at the bar to drink cocktails and take in the stunning sunset. If you'd rather have your place, you may order champagne and sushi to be delivered right to your sun lounger at Mnemba Island Tanzania.
Mnemba Island Snorkeling
Don't miss out of snorkeling Mnemba island. Due to the favorable tide, swimming and snorkeling are great on Mnemba's beaches. Staff can easily organize a 10-minute motorboat a Mnemba island snorkeling tour to the best spot in the area.
If you're an experienced diver, PADI runs a Mnemba island scuba diving private center for you (diving certifications are necessary). During your stay, you'll have access to two daily instructor-led Mnemba island diving lessons.
PADI diving classes are also available at the facility. Some guests even see the whale shark, the world's largest fish, when they dive.
Equipment for snorkeling and scuba diving is offered free of charge.
Fishing in the Sea
While deep-sea fishing, you can catch kingfish, tuna, barracuda, mackerel, sailfish, and marlin.
Fly fishing on the shore is also possible. Catch-and-release fishing is allowed at the resort.
Mnemba Island is a Great Place to Relax
It's the simplest thing to do at Mnemba Island: Breathe in the sea air and take in the breathtaking views.
Some people like to lay around alone, while others choose to work out on the beach or get a massage.
The resort has kayaks, windsurfing, cycling equipment, and fishing and scuba diving gear.
With kids in tow, the Wild Kids Club has a wide range of activities to keep them entertained.
Flora of Mnemba Island
Despite its small size, Mnemba is home to an incredible array of above and below-the-surface animals.
The tiny Suni antelope, brought from Unguja's Jozani Forest, can be seen on the island. The island is also home to the Ader duiker. Only 300-600 of these elusive antelopes are thought to remain in the wild, making it Africa's most endangered species.
Due to the lack of natural predators on Tanzania Mnemba Island, Ader's duiker was chosen as a haven for the species. Due to their elusive nature, there are only about 25 Ader's duikers on the island.
The island is surrounded by an oval reef classified as a marine conservation area.
Dolphins, Humpback whales, and whale sharks are typical sightings in the warm waters around the island.
During February and March, Mnemba's turtle hatching season is one of its most intriguing sights. The warm sands of Mnemba island are a popular place for green turtles to lay their eggs, and the island has been designated a turtle sanctuary.
The Mnemba Island Rates
Considered by many to be the pinnacle of paradise, Seasonal pricing affects the cost of a product. Off-season (April, May, October, November, and December) costs $1,270 per person per night at the time of this writing.
Seasonally (January, February, and March). The resort charges $1,760 per person per night during June, July, August, and September.
Please check directly with your hotel or tour agency for current and most updated prices.
The following items are included in the price:
Transfers between lodging establishments

There should be three meals a day.

Drinks from a local brewery or distillery such as sodas, wines, teas, and coffees, as well as spirits and beers
Sports in the water (scuba diving twice daily, snorkeling, kayaking, sundowner dhow cruise, paddle boarding)

Laundry helper
This price does not include yoga sessions, champagne, fine wines, branded booze, cigars, and wellness treatments.
Tanzania's Mnemba Island is a Popular Destination for Tourists
The following excursions are but a sampling of what can be done during your visit to Mnemba Island. Use these plans as a starting point or inspiration. Contact us, and we'll work with you to create the perfect itinerary!
Mnemba Island Hotels
There are multiple Mnemba island accommodation around the island. Here are some of the best:
&beyond Mnemba Island Zanzibar Tanzania
andbeyond Mnemba island is a luxury private island resort located off the northeastern coast of Zanzibar in Tanzania. It is a beautiful and secluded tropical paradise that offers guests an exclusive and intimate vacation experience.
&beyond Mnemba island Zanzibar Tanzania has only 10 beachfront bandas (traditional thatched-roof bungalows) that can accommodate a maximum of 20 guests at any time. All the bandas at andbeyond Mnemba island Zanzibar have a large en-suite bathroom, outdoor shower, and private veranda overlooking the turquoise waters of the Indian Ocean.
andbeyond Mnemba island Zanzibar Tanzania is a true haven for those seeking to escape the hustle and bustle of everyday life. The cuisine at and beyond Mnemba island is a blend of international and local flavors, with an emphasis on fresh seafood and locally sourced ingredients.
Additionally, andbeyond Mnemba island lodge is committed to sustainability and community development. &beyond Mnemba island has implemented several initiatives to minimize its environmental impact, such as using solar power and composting waste.
Check out the official Mnemba island and beyond website!
Mnemba Island Resort
This Mnemba island hotel offers 10 guest cottages. The few numbers of cottages means that the private island is kept for the exclusive use of you and a handful of others.
This resort hotel Mnemba island offers airport transfer service, bar, gift shop, Outdoor swimming pool, massage services, and more!
Check out the official website for the Mnemba island hotel price!
Mnemba Island Lodge
Zanzibar Retreats is situated on an exclusive island just 4.5 kilometres off the north-eastern coast of Zanzibar in the azure Indian Ocean. This Mnemba island lodge Tanzania is one of the most romantic ocean destinations in the world.
The Mnemba island lodge Zanzibar has 12 bungalows, is family-friendly, has a spa, diving center, and more! It also has special offers for Mnemba island honeymoon trips.
Check out the Mnemba island lodge prices here!
Mnemba Island Tour
On the Mnemba island tripadvisor page, you can find multiple tour options. Make the most of your Mnemba island trip by doing one of these tours!
Each of them has a different Mnemba island tour price and offers. So you're free to choose the one that works best for you!
Mnemba Island Map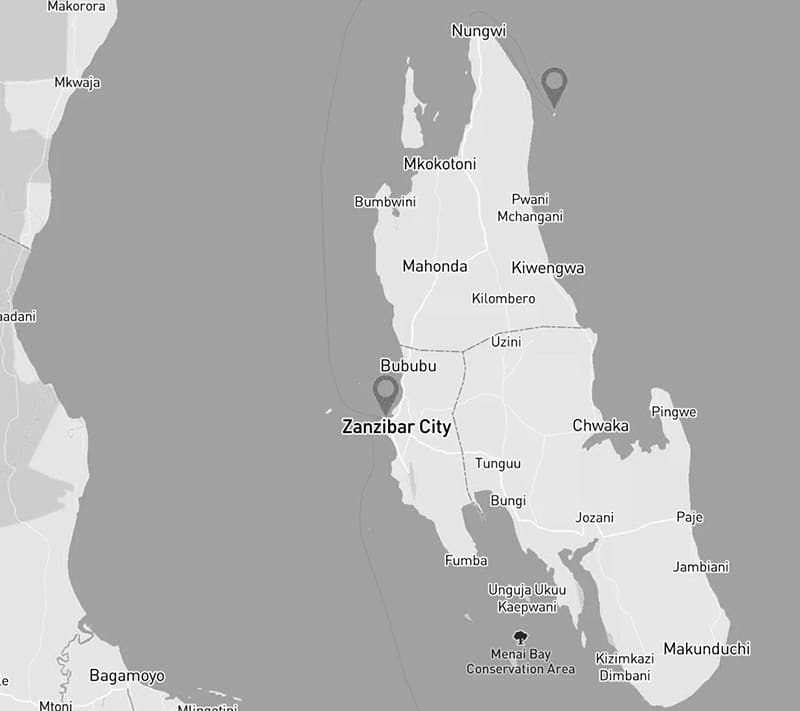 Mnemba island map
FAQs
How to get to Mnemba island?
To get to Mnemba Island, you would need to first travel to Zanzibar in Tanzania, and then arrange a boat transfer from the mainland to the island, which is located off the northeast coast of Zanzibar.
What are the best hotels near Mnemba island?
The best hotel near Mnemba island is Mnemba island &beyond. Schedule a Mnemba island booking today!
What is the Mnemba island price per night?
The price per night for a stay at Mnemba Island can vary depending on factors such as the time of year, length of stay, and type of accommodation chosen. The starting price for a one-night stay at Mnemba Island was around $1,500 USD per person, with a minimum two-night stay requirement
Where can I read Mnemba island reviews?
You can read a review here!
What's the Mnemba island weather like?
Mnemba Island has a tropical climate with hot and humid conditions throughout the year. The dry season from June to October is generally the best time to visit, with sunny days and lower humidity, while the wet season from November to May can bring occasional rainfall and higher humidity.
Does Bill Gates own Mnemba island?
No, the Mnemba island owner Bill Gates rumor is not true.
The Mnemba Island owner is a luxury safari company called &Beyond, which specializes in high-end eco-tourism experiences in Africa and South Asia.
The origin of the rumor about bill gates Mnemba island ownership is unclear. He is a consistent visitor, so that might be where the Mnemba island bill gates speculation comes from.
Read more about Mnemba island zanzibar Bill Gates here!
For more articles related to Things to Do in Tanzania (Zanzibar), click here!