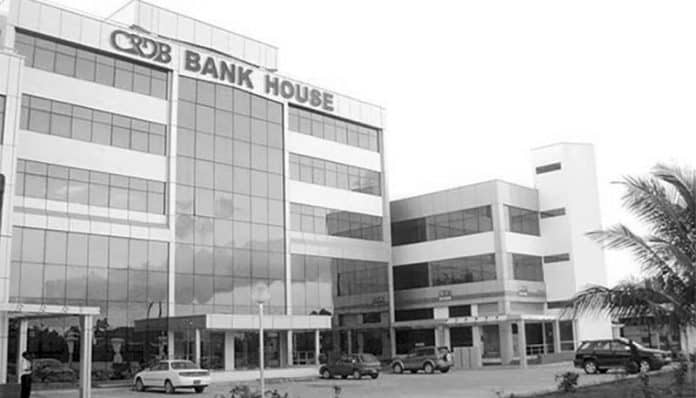 CRDB Bank – Background, Locations, Internet Banking, SIM and More
CRDB Bank Plc is among the commercial banks licensed and regulated by the Bank of Tanzania. By 31 December 2018, CRDB bank had total assets worth TZS 6.0 Trillion with overall deposits worth TZS 4.7 Trillion.
Background
It is the biggest bank under private ownership in Tanzania. The bank was established in 1996 after the government of Tanzania privatized state-owned financial firms. Its biggest shareholders include Tanzania's pension fund and a fund sponsored by the government of Denmark.
In 2009, CRDB bank listed its shares on the Dar es Salaam Stock Exchange (DSE) and by December 2019 the bank had more than30, 000 shareholders.
Locations
The bank's main branch and headquarters are located in the CRDB Bank Building on the 3rd Floor, along Azikiwe Street, Dar es Salaam, the country's largest city and financial capital. The geographical coordinates of CRDB's bank head office are 39°17'15.5″E, 06°48'53.5″S, (Longitude: 39.287639; Latitude:-6.814861).
Ownership
The bank is a public listed company on the DSE owned by government institutions, individuals, and private firms with the shareholding structure below;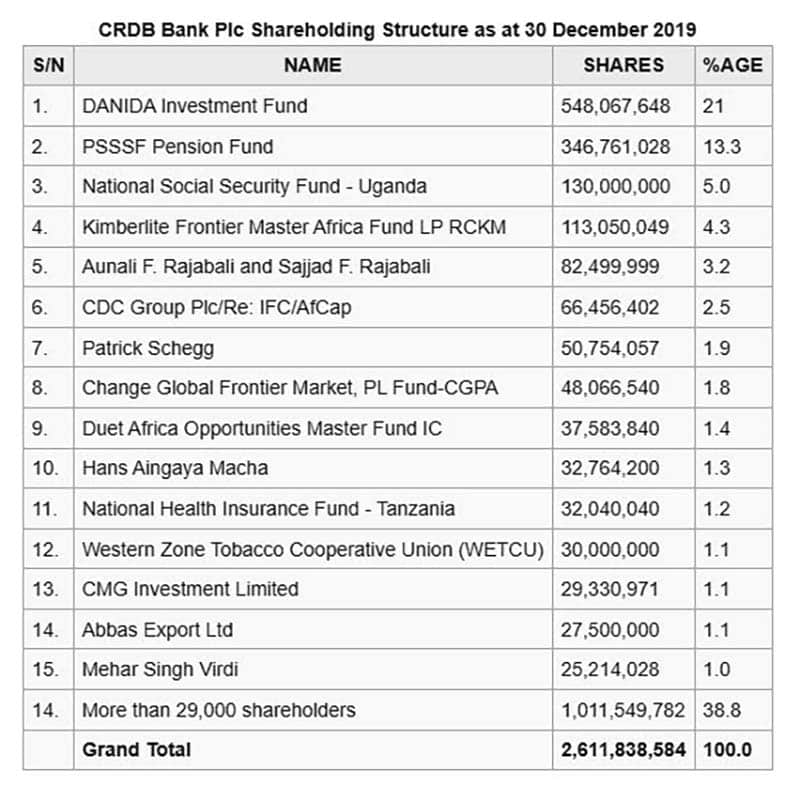 The shareholders were 30,023 before the last days of 2019.
Operating Network and Structure
The CRDB Bank conglomerate comprises of 3 subsidiaries including CRDB Insurance broker offering various insurance products and/or services, CRDB Microfinance Ltd – a Microcredit business, and CRDB Bank Burundi Ltd, its  first subsidiary overseas in Burundi as part of the expansion plan in the East African region.
In Tanzania, CRDB Bank owns 234 branches, with 535 ATMs (scattered countrywide), 490 microcredit partners' institutions, 15 mobile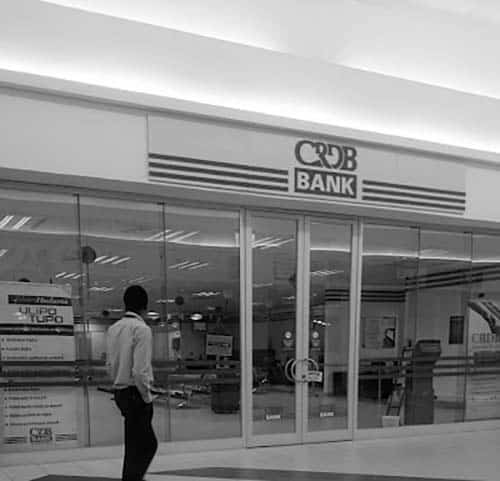 branches, more than 1,500 merchants having sales terminals (PoS), more than 8,000 CRDB Wakala, mobile and internet banking services.
Financial Standing
Many international financial organizations such as KFW-DBG Germany, African Development Bank, International Financial Corporation (IFC), and CDC-UK have selected CRDB Bank as a friendly partner.
In 2016, the bank became the first one in Tanzania to join the list of the top 10 safe and stable African banks to invest in by Moody's Investors Services, an international financial rating company. According to Moody's, CRDB Bank deserved a "B1 stable outlook" — the best rating ever acquired by any financial institution or bank in sub-Saharan Africa.
By 2018, CRDB Bank's balance sheet showed total assets worth TZS 6.0 trillion with total deposits worth TZS 4.7 trillion by 31 December 2018. CRDB handles leading financial investment transactions in Burundi and Tanzania and has about 3,100 employees.
For more articles related to Financial Services in Tanzania (Money) click here!