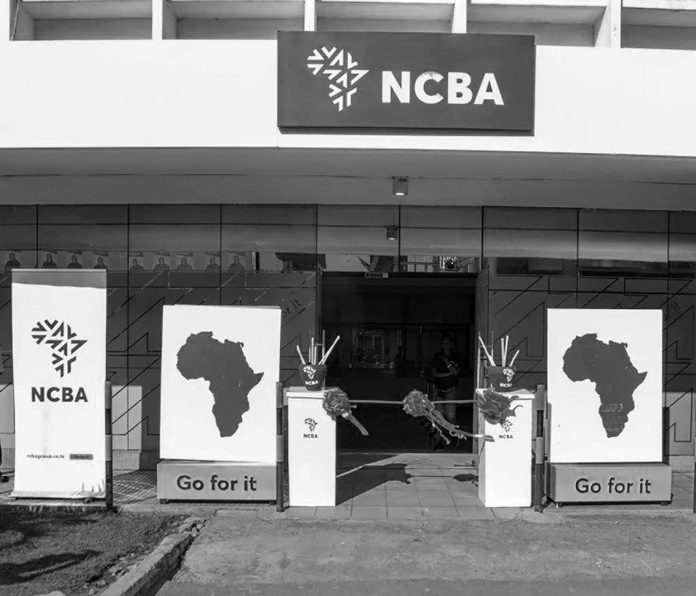 NCBA Bank Tanzania – History, Ownership, Network and More
NCBA Bank Limited Tanzania is a bank formed by the merger of NIC Bank Tanzania and Commercial Bank of Africa (CBA) (Tanzania). It is a Tanzanian commercial bank regulated by the country's banking regulator and central bank.
Type

NCBA Group's subsidiary

Founded

60 years ago (1962)

Industry

Banking

Key people

Chairman- Sharmapal Aggarwal, CEO and Managing Director- Margaret karume

Headquarters

Dar es Salaam

Total Assets (2020) Q1

Tsh 508 billion (USD 210 mill)

Product

Transaction accounts, Loans, Savings, debit cards Investments.

NCBA bank Website

NCBA bank contacts

https://ncbagroup.co.tz/

+255 767 486 526/ +255 685 701 036 
NCBA Bank
Location
The bank's head offices are on the first, second, and tenth floors of the Amani Place Building on Ohio Street in Dar es Salaam's CBD, Tanzania's financial capital. The ncba bank postal address for bank mails is P.O BOX 20268, Dar-es salaam, Tanzania.
The bank's headquarters are located at 06°48'41.5″S and 39°17'15.0″E. (Longitude: 39.287500:-Latitude: -6.811528).
Overview
What is NCBA Bank
?
NCBA Bank Tanzania limited is a med-sized Tanzanian company that provides financial services. As of March 31, 2020, its total assets were around Tsh: 508 billion (USD 210 million), with shareholders' equity of Tsh: 61.2 billion (USD 26.5 million). It was classified as a Tier II Commercial Bank at the time. The bank is an affiliate of NCBA Group Public Limited Company, a conglomerate of financial services based in Kenya and with subsidiaries in Rwanda, Kenya, Tanzania, Ivory Coast, and Uganda. NCBA bank interest rates are at 14.1% on the reducing balance and can be easily accesed on all the bank branches inclusive of ncba bank trm. The NCBA bank logo is an icon representation of the coming together of CBA and NIC. NCBA reflects the best of both.
NCBA Bank History
In 1994, NIC Bank Tanzania was established as a non-banking financial entity. After obtaining a banking license from the Bank of Tanzania in 2004, the institution entirely became a commercial bank known as SFCB. NIC Bank, a prominent financial services provider headquartered in Nairobi and listed on the Nairobi Stock Exchange, acquired a 51 per cent stake in SFCB in May 2009. The Tanzanian affiliate successfully rebranded as NIC Bank Tanzania in 2010.
The CBA was established in Dar es Salaam in 1962. NCBA bank branches were quickly established in Mombasa and Nairobi, Kenya, as well as Kampala, Uganda. In 1967, after Tanzania nationalized all private banks, the NCBA investment bank headquarters were relocated to Nairobi. After Uganda's political upheavals in 1971, NIC bank sold its assets in the nation. The CBA bought a controlling stake in First American Bank of Kenya in July 2005, which then had a subsidiary in Tanzania known as the United Bank of Africa. The NCBA bank Rwanda was founded in December 2016.
NCBA Group
What does NCBA Bank stand for and what is NCBA bank full name;
The Central Bank of Kenya granted NIC Bank Group regulatory clearance in 2019 September to merge with CBA, becoming the NCBA Group Public Limited Company, effective October 1, 2019. The ncba bank in full is known as NCBA bank PLC. The ncba bank meaning National Commercial Bank of Anguilla Ltd includes its subsidiary companies, affiliates, parent companies and network members.
After receiving clearance from Tanzania's banking regulators, NIC Bank Tanzania and CBA (Tanzania) combined to establish NCBA Bank Tanzania in July of 2020.
NCBA Bank Ownership:
Who Owns NCBA Bank
By September 2020, NCBA Bank Tanzania was a member and subsidiary of the NCBA Banking Group (NCBA Group Public Limited Company, whose stock is traded on the Nairobi Securities Exchange under the name NCBA).
NCBA Online Banking
The ncba internet banking offers online banking services that allow customers to securely access their accounts and manage their finances from anywhere in the world. The NCBA online banking anguilla platform is designed to be user-friendly and easy to navigate, so you can focus on what's important – managing your money.
Online banking ncba features:
– 24/7 access to your accounts
– Check account balances and transactions
– Transfer money between accounts using NCBA mobile banking
– Pay bills online
– View account statements
– Secure login and encryption
To sign up for ncba anguilla online banking, simply visit the ncba bank anguilla website and click on the "ncba bank Login" button at the top of the page. After successful NCBA online banking login, enter your customer number and password to access your account.
With ncba bank online banking, you can do everything from checking your account balance to transferring money – all from the comfort of your own home.
Here are just some of the benefits of using NCBA banking online service:
– Save time by not having to go to a branch
– Simple and easy to use
– Check your account balance and transactions at any time
– Make payments and transfers- Set up account alerts
To deposit money into your account using the NCBA bank paybill in Kenya, customers can use the NCBA bank paybill number 880100.
NCBA Bank Intelligence Test
The ncba bank intelligence test 101 102 is a test of your financial knowledge and skills. This test is used by banks to assess your suitability for a role in their organisation. The test covers a range of topics, including banking regulation, financial analysis and risk management. There are a total of 50 questions on the test, and you will have 45 minutes to complete it. To pass the ncba bank intelligence test, you will need to score at least 70%. 
Branch Network
The bank had branches in the following cities as of September 2020:
| | | |
| --- | --- | --- |
| Branch | City | Address |
| Amani Place | Dar es Salaam | Ohio Street |
| Kijitonyama | Dar es Salaam | TTCL Buliding along Bagamoyo Road |
| Zanzibar Branch | Zanzibar | Muzammil Centre at Mladenge Street |
| Mwanza City Centre | Mwanza | Kauma House at Kenyatta Road |
| Mwanza Branch | Mwanza | Kauma House along Kenyatta Road |
| Arusha Branch 1 | Arusha | Central Plaza along Sokoine Road |
| Arusha Branch 2 | Arusha | TFA Building along Fire Road |
| Kariakoo | Dar es Salaam | Corner of Aggrey Street and Sikukuu Street |
| Harbour View Towers | Dar es Salaam | Harbour View Towers, Ground Floor, Samora Avenue |
| Nyerere Road | Dar es Salaam | Jamana House along Nyerere Road |
| PSSF House | Dar es Salaam | Corner of Morogor Road and Samora Avenue |
NCBA Bank Code
The NCBA bank code is a code used by the National Credit Union Administration (NCUA) to identify credit unions in the United States. The code is a three-digit number that is used to track and manage credit unions. 
The NCBA bank code 07000 is a three-digit number. The first two digits of the code identify the state in which the credit union is chartered. The third digit of the code identifies the credit union's charter number. The NCBA bank swift code for kenya PLC, Nairobi is CBAFKENX.
For NCBA bank branch codes please visit the website or contact their support team.
For more articles related to Financial Services in Tanzania, click here!