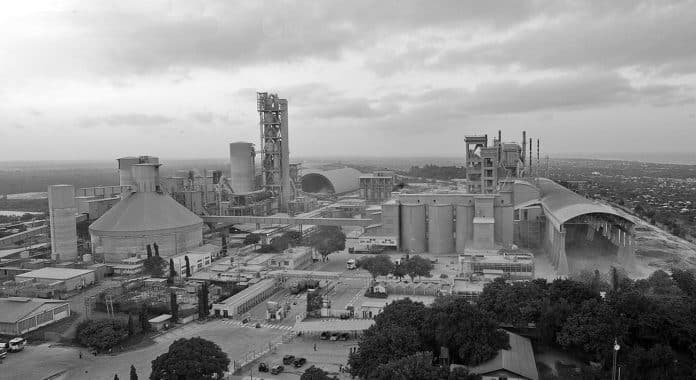 Twiga Cement – Location, History, Ownership, Governance and More
Twiga Cement, also known as Tanzania Portland Cement Co. Ltd. (TPCC), is a cement-making company located in Tanzania. Twiga cement factory dar es salaam is the first to start producing cement in Tanzania, starting operations in 1966.
The company is a member of the HeidelbergCement Group as of 2020. The company's stock is listed on the Dar es Salaam Stock Exchange, trading with the symbol: TWIGA
Location
Twiga Cement is  factory is situated on Wazo Hill, near Bagamoyo-Dar es Salaam Road, almost 11 miles (18 km) northwest of Dar es Salaam. The coordinates of the factory are 39°10'03.0 "E, 06°39'47.0 "S (Longitude: 39.167502; Latitude: 6.663064).
Twiga Cement Contacts
Main Office
P O Box 1950,
Dar es Salaam,
Wazo Hill,
0701342 TZ
Overview
Twiga cement Tanzania is a big cement maker that produces three types of portland cement – Twiga Extra, Twiga Plus+ and Twiga Ordinary. The factory was expanded in 2014 to increase the production capacity to 2,094,391 tons (1,900,000 tonnes) yearly.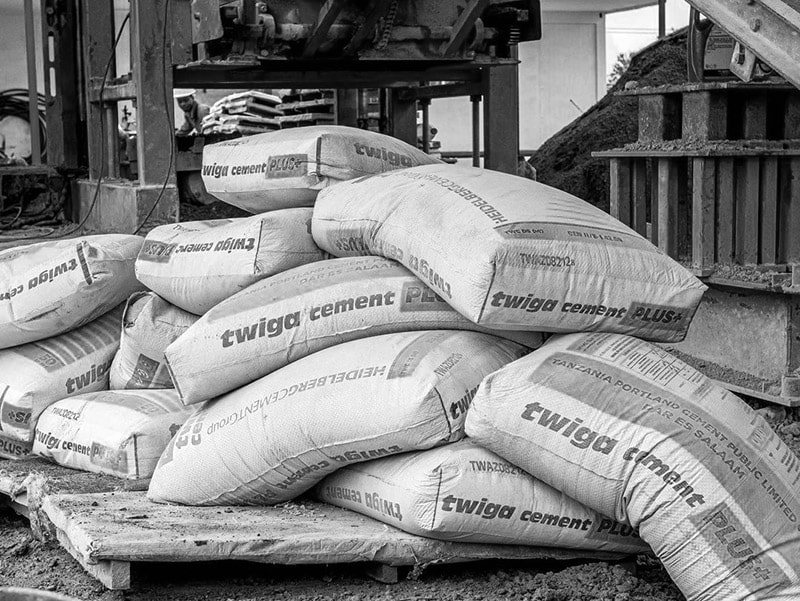 The company's annual report published in December 2018 indicated that the twiga cement share price total assets totaled $41 million (322.76 billion Tanzanian shillings), with total twiga cement shares equity amounting to $98 million (224.94 billion Tanzanian shillings). In regards to Twiga Cement jobs, the company hired 285 people that same year.
Twiga Cement History
Twiga Cement factory was established in 1959 as Tanzania Portland Cement Co., and its first bag of cement was produced in 1966.  The company was a joint venture involving the Tanzanian government via the Tanzania Development Corporation and Switzerland's Cementia AG. The former owned 20% of the company, with the latter owning 80%. The government's ownership was increased to 50% in 1967. The government nationalized the company in 1967, transferring total ownership to the Tanzanian government.
Norwegian company Scancem International acquired 13% ownership of Twiga Cement from the government in 1992. Another 13% was sold to Swedfund International, and the government kept 74% to itself. The company was privatized again in 1998. The company's stock ownership at the time is shown in this table:
| | | |
| --- | --- | --- |
| S/N | Owner's name | Percentage owned |
| 1. | Swedfund International | 19% |
| 2. | Scancem International | 41% |
| 3. | TPCPLC Workers | 0.6% |
| 4. | Tanzanian Government | 19% |
|   | Total | 100% |
Twiga Cement Ownership
The Tanzanian government divested from Twiga Cement in 2006 by floating its shares on the Dar es Salaam Stock Exchange. Twiga cement's stock is traded with the symbol TWIGA. The holders of the company's stock as of December 2018 are presented below:
S/N

 

 

Owner's name

 

 

Percentage owned

 

 

Country

 

 

1.

Parastatal Pension Fund

5.42%

Tanzania

2.

Scancem International

69.25%

Norway

3.

Public Service Pension Fund

1.76%

Tanzania

4.

Standard Chartered Bank Uganda Limited

5.28%

Uganda

5.

Said S.A. Bakhresa

0.51%

Tanzania

6.

National Social Security Fund

1.24%

Tanzania

7.

9,487 other shareholders

13.70%

 

8.

Umoja Unit Trust Scheme

0.79%

Tanzania

9.

Murtaza B. Nasser

0.90%

Tanzania

10.

Sayed Kadri and Group

0.59%

Tanzania

11.

Government Employees' Provident Fund

0.56%

Tanzania

 

Total
100%

 
Twiga Cement Governance
Mr. Alfonso Velez is the company's Managing Director, while Mr. Hakan Gurdal is the Chairperson of the company's Board of Directors.
Twiga Cement Price in Tanzania
Twiga cement price ranges between Tzs 3,700 and TZS 3,800. The limestone company produces one of the best known cement brands in Tanzania. Twiga Cement dividend 2022 with a 10.54% yield, stands at Sh390.00 according to market watch. This is with a public float of 38.41M.
For more related articles on Manufacturing and Business in Tanzania (Trade) click here!