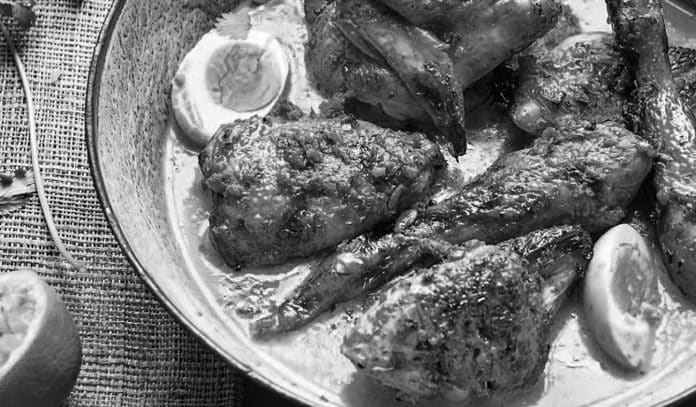 Swahili Food Recipe: Coconut Chicken Recipe Using Tanzanian Flavors
Coconut Chicken Ingredients
Servings-                                                                                                                              
4
1 kg                                                                                                                          
chicken legs.
800 milliliter                                                                                               
            coconut milk.
2 teaspoon                                                                                                              
salt (divided).
2                                                                                 
                                                      onions.
10 gram                                                                                                                           
ginger.
4 cloves                                    
                                                                                        garlic.
Two                                                                                                                    
red bell peppers.
6          
                                                                                                                          potatoes.
½                                                                                                                 
lime (juice and zest).
2 tablespoon                                                                                                         
vegetable oil.
1 teaspoon                                                                                                       
curry powder.
2 teaspoon                                                                                                        
ground cumin.
2 teaspoon                                                                                                    
ground coriander.
2 teaspoon                                                                                                          
garam masala.
2 teaspoon                                                                                                       
ground turmeric.
One stick                                                                                                                  
cinnamon.
150 milliliter                                                                                                                        water.
400 gram                                                                                         
canned chopped tomatoes.
Metric Use-                                                                                                        Imperial.
Utensils to Use in This Recipe for Coconut Chicken
Cooking spoon, bowl, tongs, citrus press, cutting board, fine grater, knife, large pot,
Coconut Chicken Nutrition per serving
Cal.         
1128.
Protein.              
55 g.
Fat .            
83 g.
Carb  .        
39 g.
How To Make Coconut Chicken
Step 1
One kilogram of chicken legs, one teaspoon of salt, two onions, 10-gram ginger, four garlic cloves, two bell peppers, six potatoes, 1\2 limes, Chopping board- knife, citrus press and fine grater
Remove the bones from the chicken and set them aside to be used later in the coconut chicken curry. Slice the chicken into portions and put it away in a bowl sprinkled with 1\2 of the salt. The onions should be finely diced, and the garlic and ginger should be minced. Cut off the central core and chop the bell peppers into slices after removing the ends. Potatoes should be peeled and roughly chopped. The lime should be zested and juiced, with the zest set aside for serving. Set aside all of the vegetables.
Step 2
Two tablespoons of vegetable oil.
Huge pot, tongs
In a big pot over moderate-high heat, warm the oil. Five minutes to fry the chicken slices till golden brown. Remove the chicken from the skillet and put it by the side. Return the conserved bones to the saucepan and cook for 1 minute.
Step 3
One teaspoon of curry powder, two teaspoons cumin, two teaspoons coriander, two tablespoons garam masala, two teaspoons turmeric, one cinnamon stick, one teaspoon of salt
cooking spoon
Put in the ginger, garlic, and onions, into the saucepan with the bones of the chicken and sauté for about two minutes. In a very large mixing bowl, blend the turmeric, curry powder, coriander, cumin, garam masala, and cinnamon stick. Cook for roughly two mins until it becomes aromatic after seasoning with the remaining salt and stirring well.
Step 4
Coconut milk (800 mL),

150-millilitre water,

400 gram mashed tomatoes from a can.
Drain the crushed tomatoes from the can. Stir together the water, potatoes, drained tomatoes, lime juice, coconut milk, and bell peppers in a large pot. Cook for about 15 minutes, covered. Remove the chicken bones, return the seared chicken to the saucepan, and simmer for another 5 minutes, uncovered. Serve the coconut chicken curry with rice or alone, garnished with lime juice. Enjoy!
Enjoy your food!
For more articles related to Tanzania Food Recipes, click here!