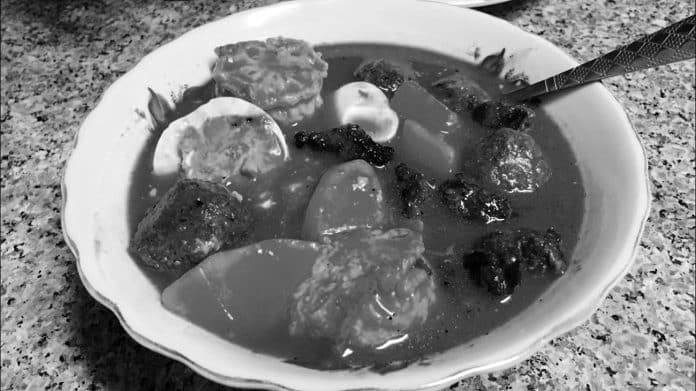 Swahili Food Recipe: Yummy Urojo wa Zanzibar
Urojo wa Zanzibar Soup, also known as Zanzibar Mix, is a famous dish in East Africa's Zanzibar\Tanzania region. This meal is a popular street cuisine in Stone Town, and numerous street vendors sell it (check out the popular seafood paradise at Forodhani Gardens). This soup recipe, which has its origins in India, is a rich combination of tasty and spicy components created to offer each bite an excellent mouth-watering encounter!
To make this dish, you'll need to organize the following toppings first: Mashed Potatoes, Bhajias, Red & Coconut Chutneys, upfront before preparing the Urojo wa Zanzibar soup to whom the toppings as mentioned earlier can be introduced. You may understand how to create each topping individually by clicking on its name.
My pals Fauzia and Fozia of Fauzia's Kitchen-Fun deserve full appreciation for the Urojo wa Zanzibar. They are two beautiful ladies who are excellent cooks and have a website full of delicious recipes. Look them up and give them some affection on Facebook (thanks, guys)!
Without further delays, let's get started:
Components: Urojo wa Zanzibar Sauce ("Mix")
Two heaped tablespoons gram flour

Two heaped tablespoons atta flour

1 litre of warm water (1000ml) (keep some additional water by the side)

1/2 cup of coconut cream (optional)

salt to get the taste

Two to three tbsp raw mango, [grated]

two lemons' juice

two tablespoons of red coloured chilli powder

Two to three green chilli peppers

2-pound potatoes (cleaned and chopped into bite-sized shapes, then boiled until ready)

a quarter teaspoon of turmeric powder

a droplet of yellow (optional)

a pinch of garlic paste
Process:
Marinate the daal and cowpeas for at least five hours or overnight.

Remove as much peeling as possible by washing and sieving it, then changing the water many times till the grains are super clean and free of stones.

Rinse the grains and combine them with some green chillies, onion, and coriander sticks in a food processor.

Grind to a rough paste, then add 1\2 teaspoons of garlic paste and a pinch of salt; do not put water into the mixture. Put in some sliced coriander and sliced methi after fully mixing.

In a small saucepan, heat the oil on low flame and drop little balls using your palms as a funnel.

To make the coconut chutney, combine all of the ingredients in a blender and put them aside; to make the red chutney, repeat the process.

Fill a pot halfway with water, set it on the cooker, and let it boil.

Place the baking powder in a mixing bowl, add some water, and whisk thoroughly to produce a thick batter.

Immediately the water has reached a boil, slowly pour in the flour batter, constantly stirring to avoid lumps.

Mix in the lemon juice, salt, red chilli flakes, green chilli, turmeric powder, garlic paste and yellow food colouring, if using, right away. Turn on the fire and gradually bring to a low simmer, stirring regularly to prevent lumps from forming.

Stir and combine for at least twenty-five minutes, or until the sourness of the flour is no longer detectable.

You'll need some thickness in the mixture, but if it's too thick, thin it out with additional water.

Add the chopped potatoes and simmer for several minutes on low heat. Salt should be tasted.
Now is the time to serve the Urojo wa Zanzibar/Mix. Serve it very hot with a variety of fillings such as Bhajias, Chutney (don't forget to look out for the Red & Coconut Chutney formulas), mashed, fried potatoes, and cassava\potato shavings. Enjoy!
I will leave you readers with this footage of Migrationology's Mark Wiens devouring Urojo wa Zanzibar dish in Dar City (thanks, Mark!). Enjoy!
For more articles related to Tanzania Food Recipes, click here!