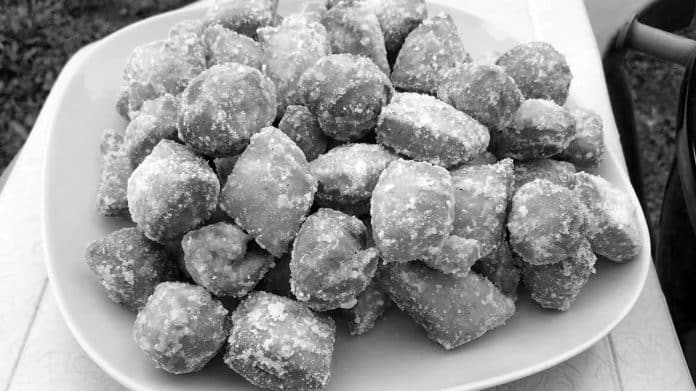 Swahili Food Recipe: The Famous Coconut Donuts (Visheti)
Visheti Recipe Ingredients
What is Visheti in English? They are pretty much coconut donuts, and here are the ingredients used to make them:
1 1/2 kilogram flour (wheat)

Vanilla Essence, one cap (Bottle of Vanilla)

2 tsp. melted butter

three teaspoons of custard powder

1/4 gallon milk/1/4 gallon water

A sprinkle of salt

1-litre oil (cooking)
Sugar Syrup Ingredients
One cup of water

Sugar, 3/4 cup

ten pieces of cardamom
Visheti Preparation Method
Dissolve the butter.

Combine the custard powder, salt, melted butter, and wheat flour in a mixing basin.

steadily pour in the cream and mix it in.

Pull the contents together to make a dough (do not mix the dough if you prefer non-soft vikokoto\

visheti

).

Separate the batter into three balls.

Cut the batter into long and thin strips using both hands and a knife.

Cut each strand into smaller pieces with a knife.

The slices are ready for deep frying right away.
Visheti Deep Frying Instructions
In a frying skillet, heat the oil until it is hot.

Please take a few squares and drop them into a pot of boiling water.

After five mins, turn the

visheti

and fry until the preferred gold-like brown colour is achieved.

Drain all excess oil after removing it from the oil.

Allow it cool completely before dipping your

visheti

into the sugar syrup.
Sugar Syrup Coating for Visheti
In a saucepan, combine the sugar, vanilla, water, and cardamom.

Bring the entire mixture to a boiling point, then reduce the fire to a low flame and let it cook.

Saute for a few mins till it thickens moderately.

Pour in the syrup on top of the fried Vishete.

Throw the vishete in syrup and shake it.

Continue to shake the pan to flip the vishete up into the air, then return it to the fire until the sugar coating on the

visheti

turns whitish.

Take the

Visheti

off the fire and place the them on a tray to cool completely.
Then, to keep the crunchiness, preserve them in a sealed container.
For more articles related to Tanzania Food Recipes, click here!