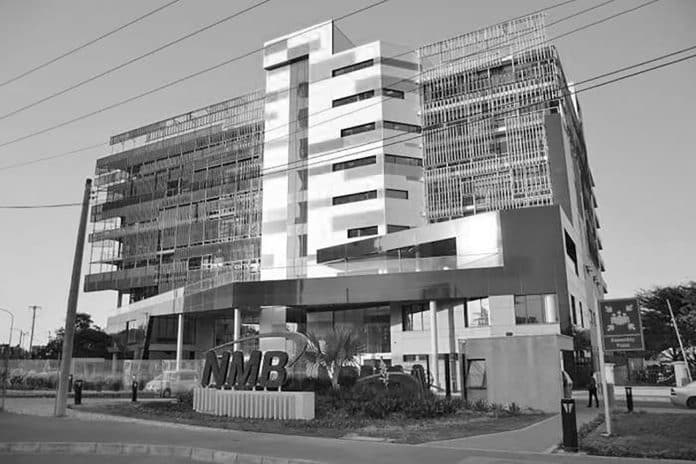 NMB Bank Tanzania – History, Ownership, Network and More
NMB Bank Tanzania operates as a Tanzanian commercial bank. The Bank of Tanzania, Tanzania's national banking regulator and central bank, grants it a license.
NMB Bank dar es salaam Tanzania was a big financial services institution by September 2013, offering commercial banking to individuals, medium and small-sized corporate customers, and large corporations. It was the 3rd-biggest commercial bank by assets at the time, trailing only CRFDB bank and FBME Bank.
The total asset value of the bank was approximately USD2.212 billion as of 2016 June. (TZS:4.72 trillion).
| | |
| --- | --- |
| Type | Public |
| Industry | Finance |
| Traded as | NMB at DSE |
| Founded | 1997 |
| Key People | Chairman- Dr Edwin Mhede, CEO- Ruth Zaipuna |
| Headquarters | Dar es Salaam |
| Products | Savings, Loans, Transaction accounts, Investments, Credit Cards, Debit Cards, Mortages |
| Total Assets (2016) | USD 2.212 billion (Tsh 4.72 triillion) |
| Employees | 3,316 (2016) |
| Revenue (Aftertax) (2019) | USD 63.8 million (Tsh 145.5 billion) |
| Website | https://www.nmbbank.co.tz/ |
NMB Bank History
After the 1997 dissolution of the old National Bank of Commerce by a parliamentary act, three entities were formed: (a) National Microfinance Bank (b)National Bank of Tanzania in 1997 and (c) NBC Holdings Limited. Initially, NMB only provided savings accounts and had restricted lending capabilities.
NMB was privatized in 2005, with the Tanzanian government, which had been the sole owner of the bank until then, selling a 49 percent stake to Rabobank, a company based in the Netherlands.  The Tanzanian government has further divested more shares, followed by the listing of the stock of the bank, resulting in a varied ownership structure, as indicated under "Ownership."
Ownership
The bank's stock is traded on the Dar es Salaam Stock Exchange as NMB. The NMB bank Tanzania management team constitutes of Private individuals and institutions who own NMB stock, as shown in the table below:
| | |
| --- | --- |
| Owner | Total |
| TCCIA Investment Company Ltd | 1.7 |
| National Investment Company Ltd | 6.6 |
| Private Investors through DSE | 25.0 |
| Tanzanian Government | 31.8 |
| Arise BV from Norway and Netherlands | 34.9 |
| TOTAL | 100.0 |
NMB Bank Tanzania Branch Network
NMB Bank Branches in Tanzania
The NMB Bank had over a hundred and eighty-five networked NMB bank Tanzania branches across Tanzania's provinces and regions. The NMB bank Tanzania branch codes differ per branch. The bank branch code is inserted at the end of the swift code and often entails 3 digits.
NMB Bank Swift Code Tanzania
The NMB bank Tanzania swift code is NMIBTZ XXX.  The swift code for NMB bank Tanzania branches is uniquely designated. The customer can use the headquarters bank swift code to send money in cases where he/she is unaware of the branch code.
NMB Online Banking Tanzania
NMB Tanzania internet banking provides a safe, convenient and easy way to bank. NMB internet banking Tanzania, customers can access your account anytime, anywhere – all that is needed is an internet connection. 
Here are some of the things you can do with NMB online banking.
– Check your account balance and transactions
– Transfer money to other accounts
– Pay bills
– Apply for loans
– Manage your NMB cards
NMB Bank Tanzania Exchange Rates
The NMB bank Tanzania offers very competitive exchange rates. Depending on the country you are sending money to, you could get a significantly better rate than the standard rate. This is because the NMB bank Tanzania tariffs take into account the current economic situation in the country you are sending money to.
To get the best NMB bank Tanzania exchange rate today rate, it is recommended that you use the online calculator on the NMB bank website. This will give you an accurate estimate of the exchange rate you will be getting.
To learn more about NMB bank and NMB bank Tanzania careers, you can visit their website.
For more articles related to Financial Services in Tanzania, click here!