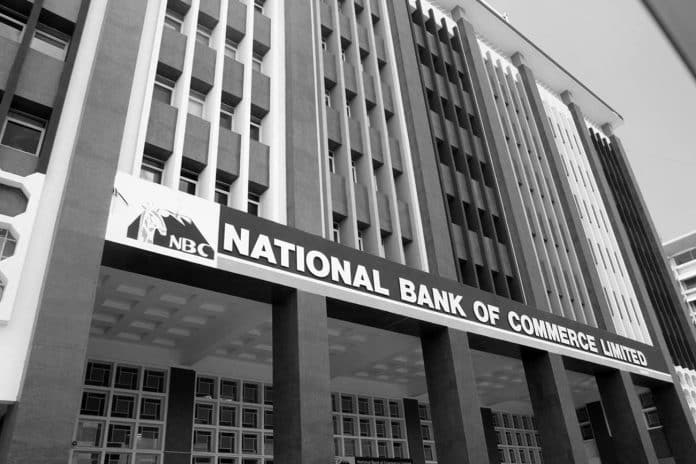 Quick Snapshot of the National Bank of Commerce Tanzania Limited
National Bank of Commerce Tanzania, full name National Bank of Commerce Limited (Tanzania), often known as NBC (Tanzania) or NBC Limited, operates as a Tanzanian commercial bank. It is among the commercial banks licensed by Tanzania's central bank and banking regulator, the Bank of Tanzania. It was fined a billion TZS (USD 435,000) in August 2019 for failing to create a data center in Tanzania.
| | |
| --- | --- |
| Type | Private |
| Founded | 25 yrs ago (1997) |
| Industry | Finance |
| Headquarters | Sokoine Drive at Kivukoni in Dar es Salaam |
| Products | Savings, Loans, Investments, Debit Cards, Checking, Mortages, Global Market |
| Key People | Chairman – Francis Mwakapalila Managing Director – Theobald Sabi |
| Revenue (Pretax) | Tsh 14.3 billion (USD 6.5 million) (2013) |
| Employees (2017) | 1200+ |
| Total Assets | Tsh 14.3 billion USD 6.5 million |
| Website | https://www.nbc.co.tz/en/personal/ |
Location
The national bank of commerce Tanzania address is as follows: bank's headquarters and main branch are on Sokoine Drive, Dar es Salaam, which is Tanzania's largest city and financial capital.
The headquarters of the bank are located at the following coordinates: 39°17'24.0 "E, 06°49'04.0 "S. Longitude:39.290000; (Latitude: -6.817778)
Overview
The National Bank of Commerce Tanzania is among the country's oldest banks, with origins dating back to Tanzania's independence. The bank has an asset base of approximately USD 773 million (Tsh 1.69 trillion) at the end of 2015, making it the 4th-best capitalize bank in Tanzania, trailing National Microfinance Bank, FBME Bank, and CRDB Bank.
The total banking assets of Tanzania were estimated at Tsh:29.97 trillion (USD 13.2 billion) by year-end 2017. Concurrently, the NBC (Tanzania) was estimated to possess 5.6% of the total national banking assets, amounting to Tsh:1.768 trillion (USD 779 million).
History
The National Bank of Commerce Tanzania can be traced back to 1967, when the government of Tanzania nationalized all financial organizations, including banks. The banking business was deregulated in 1991. After 6 years, in 1997, the "NBC" institution was divided into three different entities: (a) NBC Holding Corporation, (b) NBC (1997) Limited (c) National Microfinance Bank (NMB). Absa Group Ltd, a financial group based in South Africa, purchased a controlling share in NBC Limited (1997) in 2000. The Tanzanian government kept a 30 percent stake in the bank, while the International Finance Corporation (IFC), a World Bank Group member, acquired a 15 percent stake. The new company was named National Bank of Commerce Limited (Tanzania).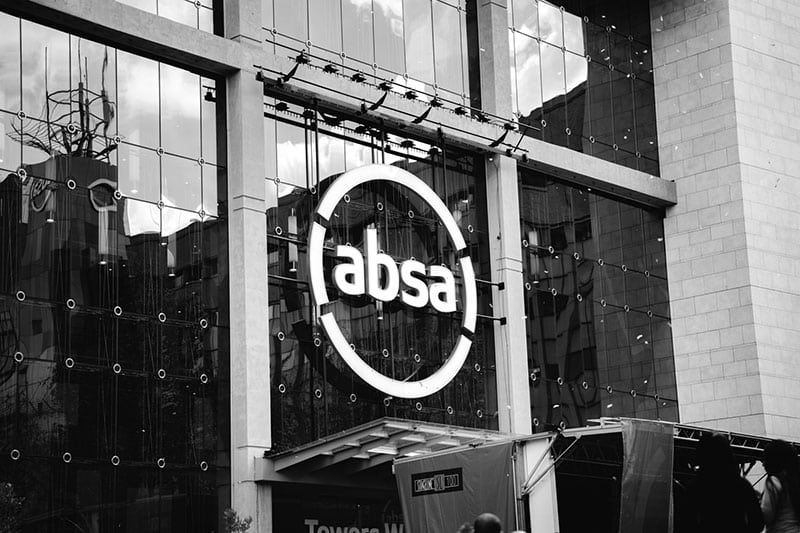 Merger
By 2016 March, Barclays Bank Public Limited Company sought regulatory clearance in the country to combine it with Barclays Bank Tanzania, where Barclays had a majority stake.
Corporate Matters
Ownership
By the time 2015 ended, the National Bank of commerce Tanzania had roughly USD 117.7 million in shareholder equity (Tsh:257 billion). The following table shows the present ownership of NBC (Tanzania):
| | |
| --- | --- |
| Owner | Percentage |
| International Finance Corporation | 15.0 |
| Tanzanian Government | 30.0 |
| Absa Group Ltd | 55.0 |
| TOTAL | 100.00 |
Barclays Africa Group
Previously called Barclays Africa Group, it is South Africa's biggest consumer banking organization. By June 2013, it controlled assets worth more than USD 77 billion (841.33 billion ZAR). On top of its extensive operations in South Africa, Barclays Group holds subsidiaries in other regions of Africa, including controlling stakes in Mozambique, Angola, and Tanzania and minority stakes in Zimbabwe and Namibia. Absa Group Ltd was renamed Barclays Africa Group in 2013. In 2018, the group reverted to its original name, Absa Group Ltd.
Important People
The Board's Chairman is Francis Mwakapalila. Theobald Sabi is the National Bank of commerce Tanzania Managing Director, having taken over when Edward Marks, the previous managing director, was moved.
Branch Network
NBC Tanzania maintained a network of forty-nine branches and several ATMs throughout most of the country's major towns and cities by August 2018. The National Bank of Commerce Tanzania swift code is NLCBTZTXFIN.
The National bank of Commerce Tanzania Exchange Rates
The National Bank of Commerce Tanzania Exchange Rates page offers competitive rates for all major currencies. The bank's rates are updated regularly to ensure that you get the best possible rate.
For more articles related to Financial Services in Tanzania, click here!