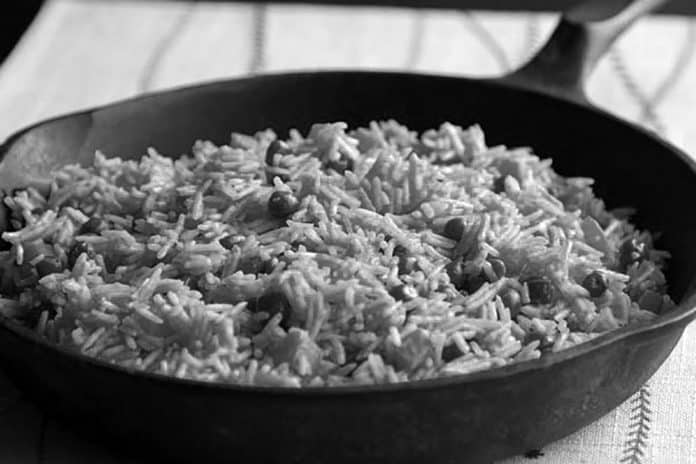 Swahili Food Recipe: Tanzania Coconut Rice and Peas Recipe (Wali wa Nazi na Kunde)
A recipe for the United Republic of Tanzanian Coconut Rice and peas mixed with carrots [Wali Wa Junde Na Karoti]! Rice and peas with sliced carrots are cooked in coconut cream with turmeric powder.
Coconut Rice [Wali Wa Nazi] is widely consumed in Tanzania and other Eastern African countries. The United Republic of Tanzanian Coconut Rice and Peas alongside Carrots [Wali Wa Junde Na Karoit] is yellow coloured with turmeric flour and blended with peas and sliced carrots before being cooked in dissolved coconut milk.
This rice and peas combination goes well with curries and stews, but it can also be eaten alone as a light dish.
I utilised a cup of cold carrots and peas for a convenient and simple lunch. For consistent cooking and uniformity, dice fresh carrots to nearly the similar size as the peas.
This meal is traditionally cooked with handmade coconut milk (in Swahili: maziwa ya Nazi) made from grated coconut. Before adding the ingredients to the hot water, shake the tin can or stir them thoroughly.
Course-Side Dish
Cuisine-Tanzanian
Keywords -coconut, Tanzania, rice, Tanzanian
Preparation Time: 10 minutes
Cooking Time: 20 minutes
Total Time- thirty minutes
Servings- two to four Serving
Ingredients
1 tbsp olive oil

1 cup of raw basmati rice

1\2 cup of peas

1/2 cup of chopped carrots

half a tsp turmeric powder

Salt to get the taste

One cup of can coconut milk

1 cup of hot water
Instructions
Heat oil [olive] in a medium saucepan over moderate heat.

Once heated, put in the carrots,

rice and peas

. Cook, frequently mixing, till the rice is nearly white. Put in the salt and turmeric.

Mix coconut cream and hot water in a medium mixing bowl.

Add one cup of water from the coconut into the pot. Bring the water to a boil. Reduce the flames to a gentle simmer and cover tightly with a transparent top to check when the water has decreased. Cook, adding extra coconut water as necessary, till the

rice and peas

are cooked.

Fluff with just a fork and knife and serve it immediately.
For more articles related to Tanzania Food Recipes, click here!