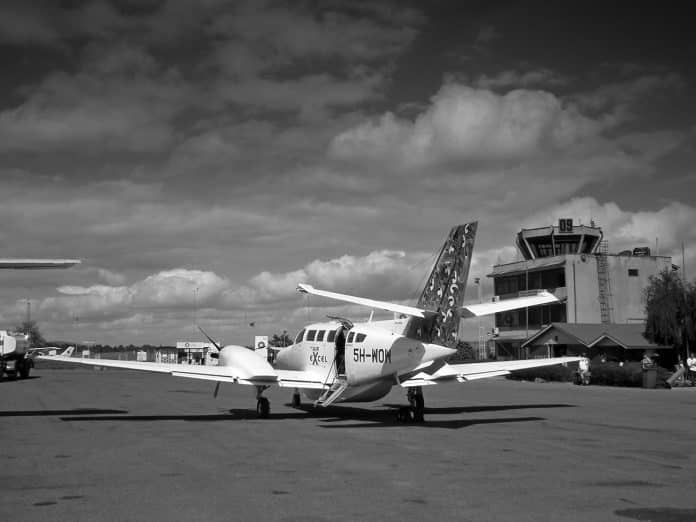 Air Excel
Tanzania – Company, Scheduled Flights, Private and Scenic Flights
COMPANY
The
History and Founders of Excel Air Tanzania
Air Excel is a Tanzanian owner-run and operated air charter company that was founded in 1997 and began operations in early 1998. Starting with one jet and two employees, the firm has grown to 40 employees and a fleet of seven aircraft ranging in size from 9 to 19 seats.
Air Excel has maintained its owner-operated philosophy of going above and beyond for personalized, friendly , safe, and efficient service since its beginning and subsequent growth.
Air Excel focuses on private air charter services across Tanzania and East Africa, as well as regular flights to the Northern Circuit, Dar es Salaam, Zanzibar, and Kilimanjaro.
AIRCRAFTS
Grand Caravan | CESSNA 208B
The Cessna 208B, also known as the Grand Caravan or C208B, is a 13-seater high-wing aircraft with a belly pod powered by a single engine jet-prop. It has a wide, comfy seating arrangements and is very suitable for flying in and out of small airstrips. Air Excel has six C208Bs in service, one of which is a 9-seater with eight executive seats.
Luxury Seating | CESSNA 208B
Another one of the six Cessna 208Bs Air Excel plane that is equipped with spacious seats, making it ideal for luxury travel. There are nine seats in total: eight luxury seats and one seat close to the pilot.
LET 410
Air Excel Let 410 E20 is a twin-engine jet-prop with high wings and the biggest cabin in its class. It can seat up to 19 people and needs two crew members to fly. Ideal for parties of 13 to 19 people flying between Tanzania airstrips and airports, as well as points of entrance and departure in Rwanda, Uganda, and Rwanda.
There are a few airstrips where the number of people on board is limited. This may vary depending on the route/distance flown and the state of the airfield, but the maximum number of passengers will be 16 or 17.
SCHEDULED FLIGHTS
Daily Flight Routes
Air Excel daily scheduled services allow everyone to visit and experience beautiful sites in Tanzania at a reasonable cost. 
Air Excel transports you between breathtaking jungle places such as the Serengeti's wide Kopje-strewn grassland and Zanzibar's beautiful turquoise lagoons and sandy beaches. Transfers are available to/from Arusha, which is the airline's base and Northern Tanzania's tourism center, to the Northern Parks circuit (Serengeti, Manyara,Tarangire) and also to/from the main international airports of Dar es Salaam and Dar es Salaam.
Baggage Guidelines
Tanzania's natural landscapes and beach resorts may be explored with modest general aviation aircraft. This implies that if your luggage does not fit into Air Excel restricted cargo space, it is unlikely to accompany you on your travel or arrive at your destination with you.
Air Excel highly advises that you go through these prerequisites and suggestions to ensure that you are safari-ready and that you do your bit to prevent any hitches or disappointments on your travel day.
Here is a video of one of Air Excel flights to give you a sneak peak of the airline service.
Policy on Seat Cancellation
CANCELLATION POLICY
Cancellations or changes made within four days before the flight's departure time will be charged in full.
Cancellations or changes made between 4 and 7 days before the flight are subject to a $50 handling charge per ticket.
Cancellations/amendments A handling fee of ten dollars per ticket is charged if the flight is cancelled seven days or more before time of flight.
NO-SHOW POLICY
If a person does not fly on the ticketed flight(s), the unused sector(s) of the ticket may be utilised on a stand-by basis by the same customer within 6 months of the initial date of travel.
Only when there are extraordinary reasons that can be backed in writing will the Carrier issue partial or full refunds for unused tickets.
Any approved refunds will be issued in the same currency and form as the original ticket purchase.
Private Charters
Make the journey your own.
Personalized service is the cornerstone of Air Excel private charter services. Every client benefits from the luxury of flexibility and exclusivity, ensuring that their requests are met as quickly as possible. We make every effort to meet our customers' needs and safely transport them to their preferred destinations within Tanzania and its neighboring countries.
Email administration@airexcelonline.com if you're interested in booking a charter.
Scenic Flights
From the air, a one-of-a-kind, special experience
Scenic flights allow you to see and film the magnificence of Tanzania's countryside and animals from the air. Air Excel Cessna Grand Caravans are great for shooting since the cargo door can be removed and the plane's wings are not in the way of the passengers' view.
Among the most popular picturesque spots are:
The breathtaking Mount Kilimanjaro, Africa's roof and the world's biggest free-standing mountain.
The Ngorongoro Crater is a World Heritage Site.
The Serengeti is known for its yearly migration of white-bearded wildebeest and zebra.
Lake Natron is a salt lake that is ideal for flamingos.
Oldonyo Lengai is an active volcano known to the Maasai as the "mountain of God."
The Great Rift Valley is a geographical rift that connects Lake Tanganyika and Lake Victoria.
Cancellation Policy for Private Flights
POLICY OF CANCELLATION
All cancellations within one week of the scheduled departure time will be assessed a 25% cancellation fee on the charter price.
Private charter flights that are canceled less than 48 hours before their scheduled departure are charged in full.
FREQUENTLY ASKED QUESTIONS | SCHEDULED FLIGHTS
Cancellations and Modifications…
… will be charged in full within four days of the flight.
… between 4 and 7 days before departure include a $50 handling charge per ticket.
… a USD $10 handling charge per ticket if cancelled 7 days or more before the flight.
Check-In
One hour before departure, passengers must check in.
If seats are not claimed 15 minutes before the planned departure time, the Air Excel maintains the right to re-allocate them.
Allowance for Baggage
Each traveler is allowed 20kg of luggage, which includes all checked baggage, hand luggage, cameras and camera bags, binoculars, souvenirs, and any other goods you wish to bring.
It is strongly advised that you use soft bags.
Excess baggage costs $3 per kilogram.
See here for a comprehensive list of baggage regulations…
Children under the age of 12 are considered children and are charged 70% of the adult price.
Infants
Children who are below 2 years  of age and do not occupy any seat ride free of charge.
Plane Crash Incidents?
Air Excel Flight 1991 in year 2017, was reported to be part of an accident at a Northern airstrip in Tanzania called Sasakwa. You can read more about this incident on the following website:
http://www.darpost.com/2017/01/small-plane-crashes-near-serengeti/
On any flight, smoking is prohibited.
All planned flight timings are estimations that are subject to change depending on the final route of the day.
Please contact the Air Excel office the day before your trip to check the timings.
For more articles on airlines in Tanzania click here!