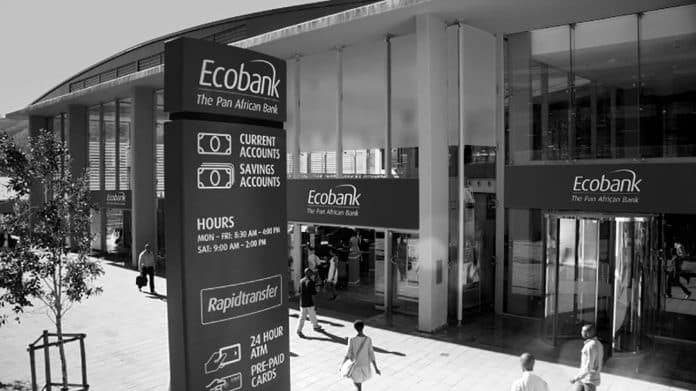 Ecobank Tanzania – History, Ownership, Network and More
Ecobank is a pan-African conglomerate bank with operations in thirty-six African nations. Its official name is Ecobank Transnational Inc. (ETI). It is West Africa's and Central Africa's largest independent regional banking organization, servicing both retail and wholesale customers. It has subsidiaries in Southern and Eastern Africa as Ecobank Tanzania. Its representative offices are found in Angola, Dubai, China, France, the UK, and South Africa.
Ecobank Tanzania Limited Overview
Type

Public Company

 

BRVM: ETI

NSE: ETIT

GSE: ETI

Founded

1985

Industry

Financial services

Headquarters

Boulevard du mono, 2365 , Lome

Products

Asset and Security Management, Investment banking, corporate finance, treasury services, value-chain finance, internet banking, cash management, trade services, pan-African lending, funds transfer, investments, Banking Services
Key people

Chairman- Emmanuel Ikazoboh

 

Group CEO – Ade Ayeyemi

Employees

(2015) 19,568

Total Assets

(2014) USD 24.2 billion

 

(2015) USD 23.6 billion

Net income

(2014) USD 395 million

 

(2015) USD 107 million

Revenue

(2014) USD 2.11 billion

 

(2015) USD 2.28 billion

Total Equity

(2014) USD 2.66 billion

 

(2015) USD 2.52 billion

Website

Homepage
ETI is a big financial services company with offices in thirty-six countries and a presence in thirty-six nations in Sub-Saharan Africa including Ecobank Tanzania in Tanzania. ETI's client base was approximated to be 13.7 million in December 2012, with 9.6m (70.2 per cent) in Nigeria, the most populated country on the continent. ETI had 1,305 branches, with 1,981 ATMs.
Ecobank Tanzania Swift Code
ECOCTZTZXXX
Group Network
Ecobank Transnational operates in 36 African nations as of June 2014, with representative offices in Beijing, Angola, Dubai, South Africa, Ethiopia, and the UK:
Africa
Ecobank Benin

Ecobank Angola (Luanda)

Ecobank Burundi

Ecobank Burkina Faso

Ecobank Cameroon

Ecobank Central African Republic

Ecobank Cape Verde

Ecobank Congo Brazzaville

Ecobank Zimbabwe

Ecobank Zambia

Ecobank Uganda

Ecobank Togo

Ecobank Tanzania

Ecobank South Sudan

Ecobank South Africa (Johannesburg)

Ecobank Sierra Leone

Ecobank Senegal

Ecobank Sao Tome and Principe

Ecobank Rwanda

Ecobank Nigeria (Oceanic Bank)

Econbank Niger

Ecobank Mozambique

Ecobank Mali

Ecobank Malawi

Ecobank Liberia

Ecobank Kenya

Ecobank Guinea-Bissau

Ecobank Guinea

Ecobank Ghana

Ecobank Gambia

Ecobank Gabon

Ecobank Equatorial Guinea

Ecobank Ethiopia (Addis Ababa)

Ecobank DRC

Ecobank Cote d'Ivoire
Outside Africa
Beijing, China

Dubai, UAE

London, UK

Paris, France
History
ETI was founded in 1985 as a bank holding company by the Federation of West African Chambers of Commerce and Industry, with the backing of the Economic Community of West African States (ECOWAS). At the start of the 1980s, state-owned and foreign banks dominated the banking business in West Africa. In West Africa, there were few commercial banks owned and controlled by the private sector of Africa. ETI was established to fill this need.
The Federation of West African Chambers of Commerce initiated and promoted the establishment of a private banking institution in Western Africa. Ecopromotions S.A. was founded in 1984. The initial funding for the promotional initiatives and feasibility studies that led to the foundation of ETI was raised by its founding shareholders to other african countries like Ecobank Tanzania.
ETI was incorporated in October 1985 with a US $100 million authorized capital. Over 1,500 institutions and individuals from West African nations contributed to the first paid-up US $32 million in capital. The ECOWAS Cooperation Fund, Development and Compensation (ECOWAS Fund), ECOWAS' development financing arm, was the largest stakeholder. In 1985, ETI signed a Headquarters Agreement with the Togo government, granting it international organization status with all of the privileges and rights essential to function as a regional institution, the non-resident financial institution status included.
eProcess International (eProcess) and Ecobank Development Corporation (EDC) are two of ETI's specialized subsidiaries. EDC was formed with a mandate to grow ETI's investment banking and consulting operations throughout all of Ecobank's operating nations. EDC has brokerage houses on all three West African stock markets, as well as licenses to trade on the two Central African stock exchanges: Cameroon's Douala Stock Exchange and Gabon's Libreville Exchange. The mission of the eProcess is to administer the information technology function of the group, to eventually centralize the middle and back and middle office processes of the group to increase service standards, efficiency and cost savings.
Governance Lapses
ETI has been deterred by a series of high-profile governance failures:
In 2014, the CFO was fired and then reinstated after she claimed: "…Mrs. Do Rego wrote to the SEC alleging that Mr Lawson, the Chairman and Mr Tanoh, the GCEO were trying to sell off non-core assets at below-market prices, that both of them "tried" to tamper with the 2012 results for the Group (ETI) to display a much better 2013 growth; and that she questioned the procedures surrounding the approval of a significant increase in the 2012 bonus of Mr Tanoh (which he later chose not to receive). She further claimed that she was urged to write off the debts of a real estate firm that Mr Lawson heads…
The Chairman stepped down but afterwards sued Ecobank, demanding that they examine the claims, which were backed up by a secret E&Y audit report on significant fraud charges.
"When the EY inquiry was ordered, I requested my attorneys to write to the Board clearly alerting them of the illegality of forwarding these accounts to the shareholders before making full disclosure of the facts. On June 26th, 2014, this letter was given to board members (See Appendix 1). Unfortunately, the ETI Board of Directors ignored the letter, and this clear dereliction of duty still continues to this day. "
Ecobank later reached an agreement with the chairman, clearing him of any wrongdoing.
Subsidiaries
The following are Ecobank's specialized subsidiary companies:
| | | |
| --- | --- | --- |
| Company | Country | City |
| EBI SA Groupe Ecobank | France | Paris |
| Ecobank Asset Management Company P/L | Zimbabwe | Harare |
| e-process International SA | Ghana | Accra |
| Ecobank Asset Management | Cote d'Ivore | Abidjan |
| EDC Stockbrokers Limited | Ghana | Accra |
| EDC Securities Limited | Nigeria | Lagos |
| EDC Investment Corporation | Cameroom | Duala |
| EDC | Togo | Lome |
| EDC Investment Corporation | Cote d'Ivore | Abidjan |
The Ecobank-Nedbank partnership
The Ecobank-Nedbank Alliance is Africa's largest banking network, with over 1,500 branches accross 35 countries like Ecobank Tanzania in East Africa. The alliance was founded in 2008 by the Nedbank Group, one of the four major financial service providers in South Africa with an expanding reach across the Southern African Development Community and Ecobank.
Ownership
Ecobank Transnational Inc. shares are traded on three stock exchanges of West Africa: the Ghana Stock Exchange (GSE), Ivory Coast's BRVM stock exchange and the Nigeria Stock Exchange (NSE). The ten biggest shareholders in Ecobank Transnational as of 2014 December were:
| | |
| --- | --- |
| Owner | Ownership Percentage |
| B.I.D.C | 1.0 |
| Africa Capitalization Fund Ltd | 1.5 |
| JP Morgan Bank Luxemborg | 2.0 |
| IFC ALAC Holding Company II | 2.3 |
| Social Security and National Insurance Trust | 4.0 |
| International Finance Corporation | 5.2 |
| IFC Capitalization (Equity) Fund, L.P | 5.4 |
| Government Employees Pension Fund | 13.8 |
| Qatar National Bank | 17.4 |
| Needbank Group Limited | 20.7 |
| Other Investors | 26.6 |
| Total | 100.0 |
Ecobank Tanzania Address
Acacia Building, #84, Kinondoni Road, P O Box 20500, Dar es Salaam, Tanzania;
+255 22 213 7447
+255 22 213 7446
For more articles related to Financial Services in Tanzania, click here!