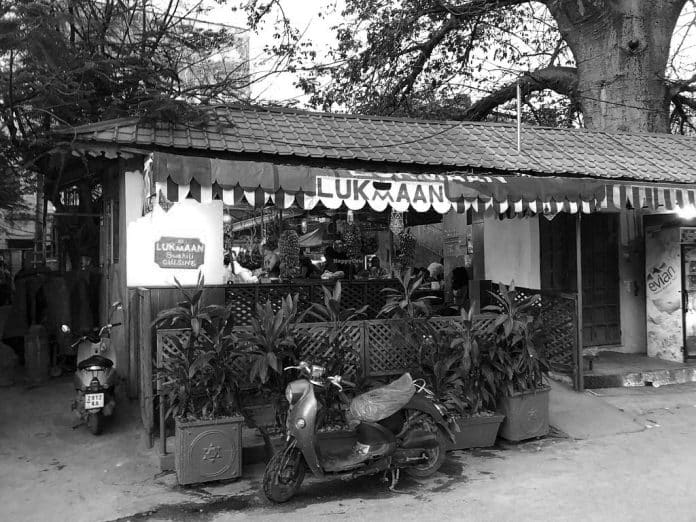 Lukmaan Zanzibar – One of Top Notch Stone Town Restaurants
Quick Overview of the Lukmaan Restaurant Zanzibar Tanzania
One of Stone Town's legendary restaurants that serve native Zanzibar food is Lukmaan Restaurant.
Together with Passing Show Hotel, these two establishments are famous for their legendary native dishes in Stone Town.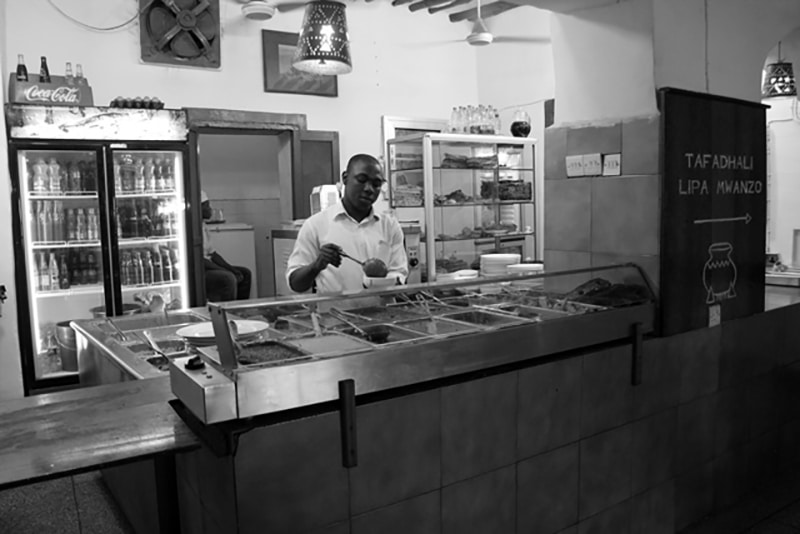 I have visited Lukmaan Restaurant multiple times on earlier visits to Zanzibar (if you remember when my comparison between pilau and biryani). On my current trip, we went to Lukmaan for lunch immediately after landing.
I was delighted to see the place in the exact location I had in my mind, with a baobab tree on the right side and the white and blue striped awning.
However, on my earlier visits at Lukmaan, there was a Lukmaan restaurant Zanzibar menu style to make your order. This time they served buffet style. You had to go to the counter at the front, pick whatever you wanted, and then pay before getting a seat.
Okay with me to have no more Lukmaan restaurant menu as long as the food is still delicious!
The Lukmaan biryani was irresistible. I ordered, and this time I ordered with fish but not mutton. It was precisely as wonderful as my recollection. The heavy, oily stew was flavoured with spicy and sweet spices and onions.
I opted for a yellowish steamed fish piece, and it was delicious. Still, after selecting it, I realized choosing full-fried mackerel (similar fish we had at Holiday Out) would have been a better idea.
To get some additional protein, we opted for beans in a side bowl. This was plain, but with everything to make it delicious.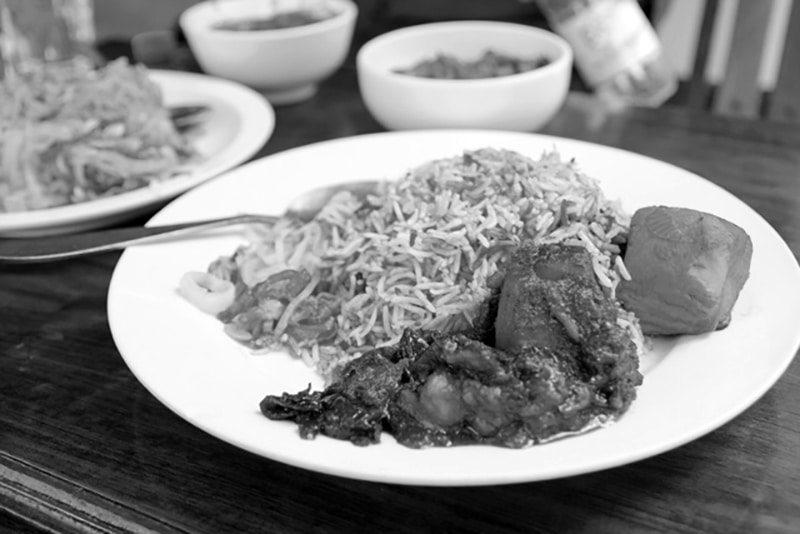 With Lukmaan Restaurant's biryani, pilau is another special rice eaten all over Zanzibar, and I couldn't risk missing it.
The pilau flavoured with cardamom pods and cinnamon bark was served with some kachumbari, a mixture of onions and tomatoes, by the side.
We asked for a bowl with octopus curry for eating with the pilau, a popular local dish in Zanzibar. This was the meal's prized dish by far – it was impressive!
To begin, the octopus was very soft, not falling apart delicately, but soft just like chicken, than the undercooked octopus. Gravy included a heavenly combination of coconut milk full of various Indian spices and much lime juice for a spicy and sour taste.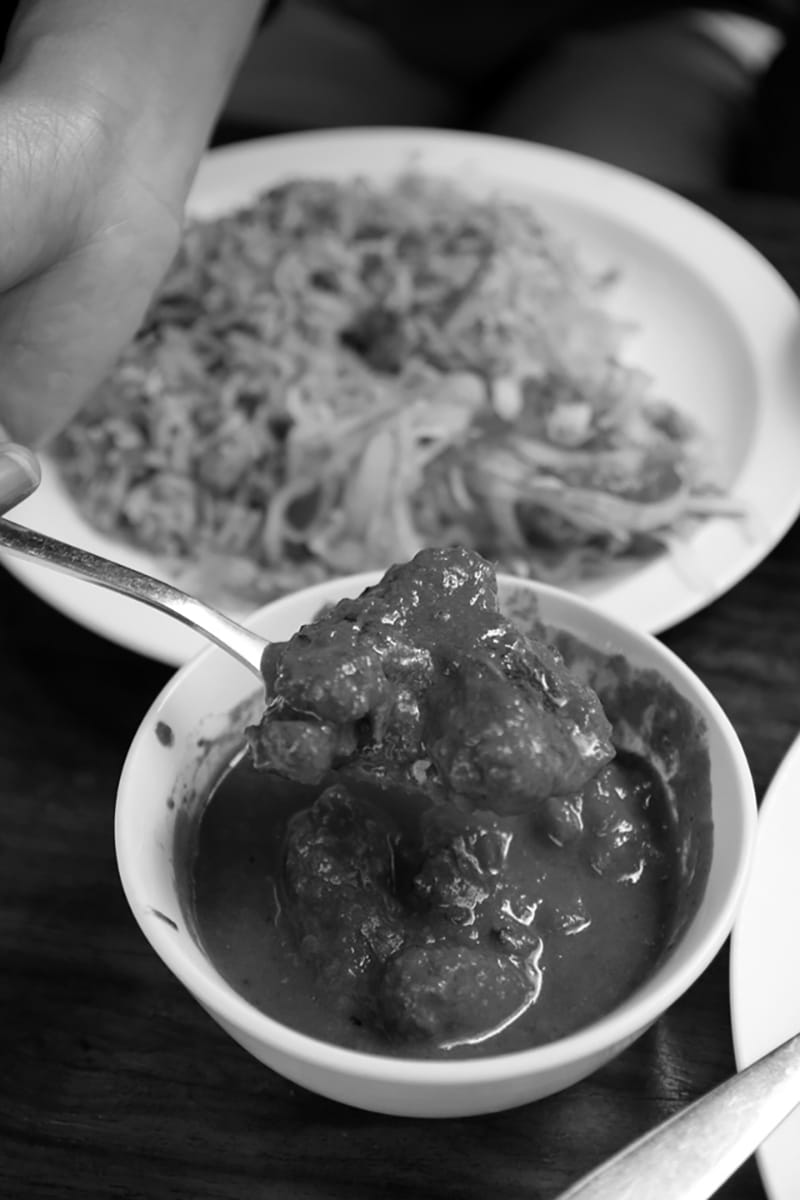 Putting the octopus sauce and curry using a spoon to add it to my pilau whilst including in pieces of broken chili (pili pili), to quench my addiction for chili, every bite at Stone Town's Lukmaan restaurant was a perfect pleasure.
We loved the octopus curry so much, after cleaning out the first bowl, I went back to the counter and ordered it again.
Lukmaan restaurant Stone Town has wonderful native Zanzibar dishes.
Opening hours: around 7 am – 9 pm every day, considering going at lunchtime.
Costs: The price for most meals is about 5,000 TZS ($3) for every person. However, we had too much food with a bottle of water to make our bill come to 12,000 TZS ($7.26).
Getting there: Same as every place in Stone Town, reaching here is somewhat confusing. You might have to walk in circles, requesting locals for directions, before getting there. Lukmaan restaurant is on New Mkunazini Road, outside the lanes of Stone Town, and immediately at the back of what used to be the slave chamber and the Anglican Cathedral.
For more articles related to Tourism in Tanzania, click here!