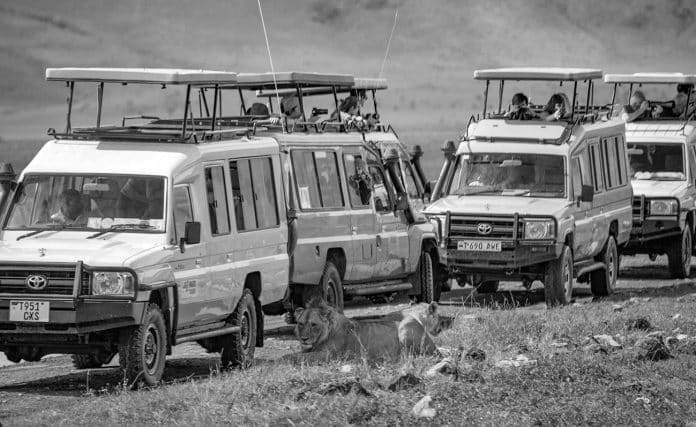 The Ultimate Guide to a 2-Week Kenya and Tanzania Safari Itinerary
‍Embarking on an unforgettable journey through the heart of Africa? A Kenya and Tanzania safari itinerary presents a myriad of possibilities. From the bustling city life of Nairobi to the tranquil beaches of Zanzibar, it's a journey that will leave you with memories to last a lifetime.
Let's delve into the perfect 2-week plan that encapsulates the best of these two majestic African nations.
Sojourn Begins: Nairobi, Kenya – 2 Days
Kick-off your exciting Kenya and Tanzania safari itinerary in the heart of Kenya, the bustling city of Nairobi. This city may seem overwhelming to first-time African travelers but its vibrancy and energy are contagious.
From amazing Ethiopian cuisine to the renowned Kenyan 'Dawa' cocktail at the famous Carnivore restaurant, Nairobi offers a rich tapestry of experiences. Of course, don't forget to explore the city's various attractions, which are detailed in our in-depth Nairobi guide.
Dream Destination: Masai Mara, Kenya – 3 – 4 Days
Next on your Kenya and Tanzania safari itinerary is the iconic Masai Mara. The Mara is an absolute must-visit for safari enthusiasts, offering unparalleled wildlife sightings, including the famed Big 5.
Accompanying the wildlife is the enriching cultural experience of spending time with the Maasai tribe. Additionally, the town of Sekenani nearby serves as a great spot for dinner after a day of exploration.
Cultural Hub: Arusha, Tanzania – 1 – 2 Days
Transitioning from Kenya to Tanzania, your first stop is Arusha. Known as the gateway to the Serengeti and the Ngorongoro Crater, Arusha also offers plenty of attractions in its own right.
From the city's beautiful jacaranda-lined streets to its cozy cafes, Arusha is a great place to unwind and prepare for the safari adventures ahead. Check out our Arusha guide to plan your stay.
Wildlife Wonder: Serengeti National Park, Tanzania – 2 Days
Your Kenya and Tanzania safari itinerary would be incomplete without a visit to the Serengeti. This wildlife haven is best explored on an organized safari, where you'll experience the thrill of spotting diverse animal species in their natural habitat.
Choose from a range of safari options depending on your budget. Our comprehensive guide can help you find the perfect Serengeti and Ngorongoro Crater tour.
Marvelous Landscape: Ngorongoro Crater, Tanzania – 1 Day
Next, head to the Ngorongoro Crater, an unmissable part of any Kenya and Tanzania safari itinerary . The Crater's stunning views are worth the trip alone, not to mention the rich wildlife you can spot in the early morning hours.
Cultural Immersion: Mto wa Mbu – 1 – 2 Days
Take a break from the safari and immerse yourself in Tanzanian culture at Mto wa Mbu. Located near Lake Manyara and Tarangire National Parks, this bustling town offers market visits, cycling tours, and cooking lessons.
Mount Kilimanjaro's Base: Moshi, Tanzania – 1 – 2 Days
Moshi, at the base of Mount Kilimanjaro, is another gem on your Kenya and Tanzania safari itinerary. Whether you're planning a Kilimanjaro expedition or simply soaking in the beautiful surroundings, Moshi is a lovely place to relax and unwind.
Explore the region's Maasai villages or simply chill at the Chemka Hot Springs, a popular picnic and swimming spot. Our Moshi guide provides a comprehensive list of activities.
Off the Beaten Path: Bagamoyo, Tanzania – 1 Day
Bagamoyo offers a glimpse into the less touristy side of Africa. This former major port of Tanzania is rich in history and culture, offering a unique blend of traditional and modern life.
Take a stroll around the town, admire the architecture, and don't miss the sunrise at the beach. For a comfortable stay, consider Firefly, one of the best hostels in Bagamoyo.
Island Escape: Zanzibar, Tanzania – 4 – 5 Days
Conclude your Kenya and Tanzania safari itinerary on the enchanting islands of Zanzibar. From the cultural melting pot of Stone Town to the pristine beaches of Paje, Zanzibar is a paradise for beach lovers and history buffs alike.
Savor fresh seafood, take a sunset cruise on a traditional dhow, or go snorkeling around the Mnemba Atoll. Our comprehensive guides on Zanzibar's attractions and Stone Town's best sites offer more detailed insights.
Crossing Borders: Traveling from Kenya to Tanzania
To transition from Kenya to Tanzania, consider taking a bus from Nairobi to Arusha. For a more comfortable journey, opt for a shuttle bus service by companies like Impala and Riverside.
If you're self-driving or on a tour, you can go from the Masai Mara to the Serengeti via the Isibania border. Alternatively, you could fly between the two countries, although this option is more expensive.
To expedite the visa process at the borders, consider applying for your Tanzania visa in advance online.
With this comprehensive Kenya and Tanzania safari itinerary, you're now equipped to plan an unforgettable African adventure. Enjoy the journey of a lifetime!
For more articles related to Things to Do in Tanzania (Zanzibar), click here!