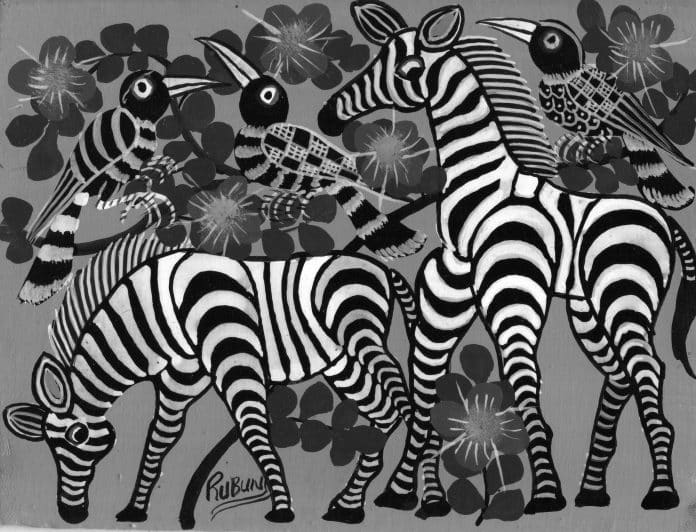 Origins, Influences, and Other Contributions of Tinga Tinga Art by George Lilanga and Others
It's called the Tinga Tinga Art (Painting)
Painting in the Bay district of Oyster (of Tanzania in Dar es Salaam) from the second half of the twentieth century became known as tingatinga (also written Tinga-tinga or Tinga Tinga) and spread to the rest of East Africa. Tanzania, Kenya, and neighbouring countries are known for their Tinga Tinga art, which are popular with tourists. Edward Said Tingatinga, a Tanzanian painter who created the style, is the inspiration behind the genre's name.
With numerous layers of bicycle paint, Tinga Tinga art's brilliant, highly saturated colours are achieved on masonite. Paintings are frequently small in size to enable shipment, and themes are geared toward Europeans and Americans to create many aspects of this style that are drawn from business needs (e.g., the big five and other wild fauna). When it comes to "airport art," Tingatinga paintings fit the bill. Naive and caricatural, with frequent references to wit and irony in the drawings themselves.
History of Tinga Tinga Art
In 1968, Tanzanian artist Edward Tingatinga began his career as a painter (Dar es Salaam). His bright, both naive and surrealist aesthetic attracted in tourists with his use of low-cost materials like masonite and bicycle paint. An entire "Tinga Tinga Art school" had grown up around Tingatinga's work by the time of his death in 1972.
In the early days of Tinga Tinga art, the first generation of painters simply re-created the works of the founder. New Tinga Tinga art styles emerged in the 1990s in response to cultural shifts occurring in Tanzania after independence. Topics including congested and bustling streets and squares, as well as the city's expanding urban and multi-ethnic society, were discussed, as were occasional technical innovations in Dar es Salaam (such as the use of perspective). Edward Tingatinga's brother-in-law, Simon Mpata, is one of the most well-known Tingatinga artists of the second generation.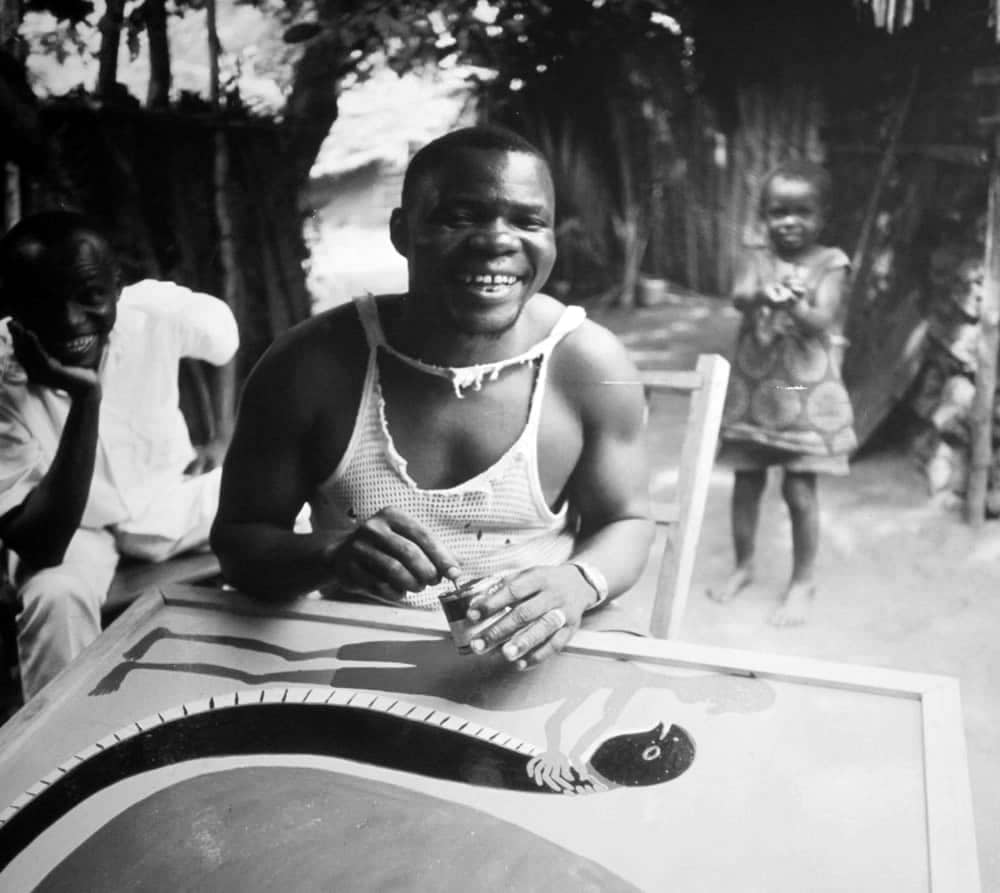 It's rare to find an original Tinga Tinga art because of the artist's short career. All of Tingatinga's most famous paintings, including The Lion, Peacock on the Baobab Tree, Antelope, Leopard, Buffalo, and Monkey, have been forged, as is now widely known.
Influences of Tinga Tinga Art
Tinga Tinga art's style has been debated as either unique or a direct descendant of East African traditions. For Berit Sahlström's classic study Tingatinga and His Followers, she indicated he was of Mozambican descent, suggesting that his style may have been influenced by modern Mozambique culture. The majority of scholars and the Tingatinga Society, on the other hand, refute the claim that Tingatinga was of Mozambican descent. Edward Tingatinga may have been influenced by Congolese paintings marketed in Dar es Salaam at the time of his lifetime, according to art dealer Yves Gocinny. In Merete Teisen's writings, she also claims that Tingatinga painted two house walls in exchange for money before beginning to paint on masonite boards.
Merete Teisen's claim that Tingatinga painted home walls may also refer to the Makua and Makonde people's customary hut wall decorations as a probable source of Tingatinga's paintings. During his time in Ostafrika, Karl Weule viewed these paintings for the first time in 1906. Many of Tingatinga's descendants still reside in Ngapa, a community in southern Tanzania where many of his father's relatives still live, and these paintings have been documented by anthropologist Jesper Kirknaes and the Japanese Kenji Shiraishi painting curator, as well as current travellers.
In Dar es Salaam, Jesper Kirknaes also documented the labour of Makua and Makonde migrants. When it comes to debating whether or not Tinga Tinga art is related to Makua traditional wall paintings, Shiraishi is a leading voice. That a style emerged and spread across the majority of East Africa without any connection to traditional art was one of Shiraishi's observations. He said that the results of his research supported this claim.
Omari Amonde, a Tinga Tinga art student, confirmed to Hanne Thorup in 2010 that Tingatinga painted on hut walls as a child (around 12 years old).
Makua painting notion was expanded by Shiraishi, who suggested that the walls of huts and traditional rock drawings in Africa were linked by Shiraishi's interpretation of the concept. As a result of this link, Shiraishi believes Tinga Tinga art may be regarded as the "longest artist trend ever."
Tinga Tinga Arts's Cooperative Society
Tingatinga's immediate six followers attempted to organize themselves following his death: Adeusi Mandu, Adeusi Mandu, January Linda, Casper Tedo, Simon Mpata, and Omari Amonde, respectively. The "Tingatinga (or Tinga Tinga art) Partnership," as the organization was afterwards known, included Tingatinga's family as well. In the end, some of Tingatinga's supporters decided to form their own group at Slipway instead of joining the partnership. In 1990, the Tingatinga Partnership was renamed the Tingatinga Arts Cooperative Society after incorporating as a society (TACS). The society launched its site in May of 2018: www.tingatingaArt.com.
George Lilanga and the Tinga Tinga Art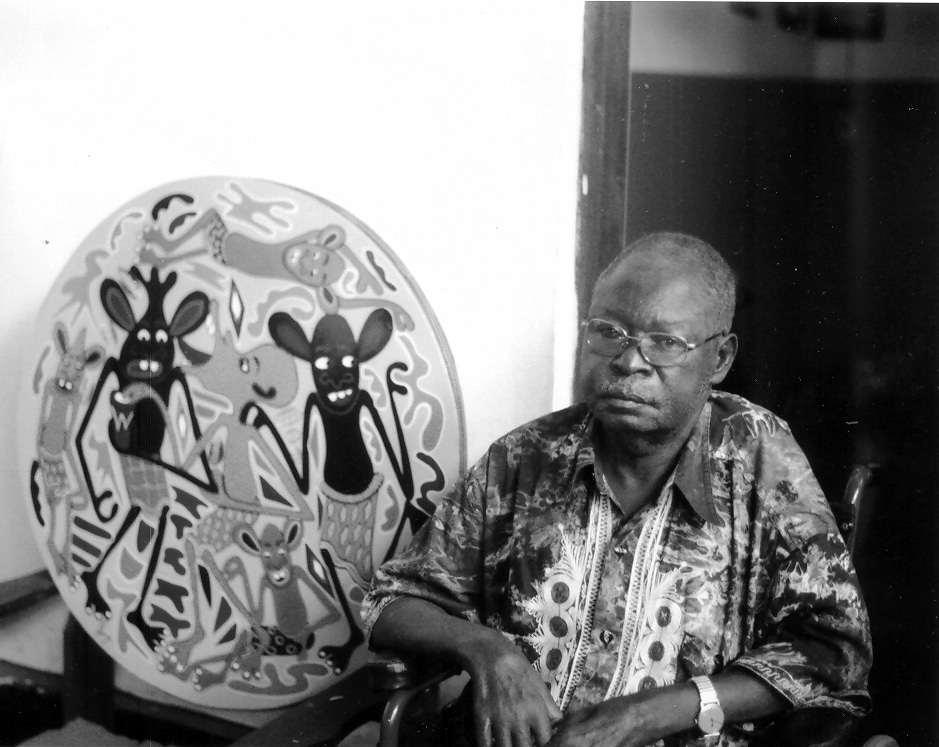 In spite of the fact that internationally renowned Tanzanian artist George Lilanga was not enrolled in the Tinga Tinga art school or a member of the Tingatinga Society, his work shows some Tingatinga influence, notably in terms of painting (an art form that Lilanga approached in 1974). According to Kenji Shiraishi, Lilanga admitted this in a conversation with him, citing the use of both enamel and square hardboard paint as examples of this. While Tingatinga painters employ the same materials and techniques, Lilanga's art is related to Tingatinga in terms of the dazzling colours and composition style, which shares the same horror vacui as Tinga Tinga art. Tinga Tinga art painters such as Mchimbi Halfani and Noel Kapanda are said to have inspired Lilanga how to paint. Others say it was an alliance. For many years, Lilanga and Kapanda worked together.
For more articles related to Tanzania, click here!