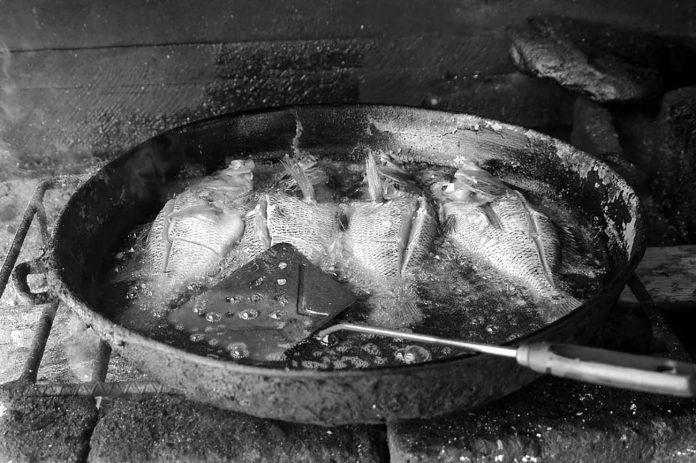 Swahili Food Recipe: Exotic Tanzanian Style Pan Fish Recipe
Have you been searching for pan frying fish recipes? Give this one a try, it comes with Tanzanian flavors.
Pan Fried Fish Recipe Ingredients
 For four Servings

 1-kilogram of Victorian fillet or 1 kilogram of redfish fillet

 one tablespoon of lemon juice

 Three garlic cloves, pressed

 one teaspoon of cinnamon ground

 dried thyme

 powdered paprika

 freshly ground pepper and salt

 150-gram fresh spinach leaves

 coconut milk (300 mL).

Two onions

 one garlic clove

 Butter, 40 grams

 220 grams of ready-to-cook peeled shrimp

 flour (40 grams)

 1 tsp. curry powder

 1 tsp. coriander powder
Time to prepare Pan Fish– 45 minute
Frying Pan Fish Difficulty Level: Easy
How to Pan Fry Fish
Preparation for Pan Frying Fish
 Clean the fish fillets, pat them dry, and season with lemon juice. Crushed pepper, cinnamon, thyme, garlic, paprika, and a sprinkle of salt are mixed into the RUB and mind of the fish—marinate for one hour in the fridge.

 Clean the spinach and chop it into thin pieces. Bring the coconut milk to a boil in a skillet and cook till the spinach is tender and the fluid is somewhat reduced. Allow it to cool down a little.

 Finely slice the garlic and onions after peeling them. Half of the heated butter should be used to cook them until they are transparent. The prawns should be washed, dried, and simmered for about three minutes.

 Mix the spinach with the coconut milk to provide the shrimp, then continue to cook.

 Cut the prepared fillet of fish into pieces. Combine the flour, curry powder, coriander leaves and salt with the fish sauce. Fry the fish in the extra butter for about 6 minutes on both sides, or till gold-like brown. With a special spinach-shrimp soup. Serve the

pan seared fish

with a sesame-seed-studded crispy flatbread that tastes just like bread.
For more articles related to Tanzania Food Recipes, click here!