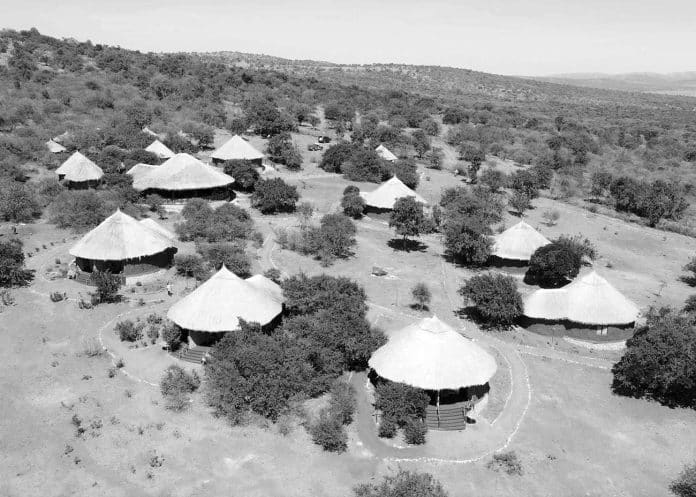 Maasai Boma – Things to Know and Expect (Anniina Sandberg)
The Dynamism of a Maasai Boma
Anniina Sandberg writes about her time spent in Tanzania with a Maasai family, their goats, and the odd scorpion.
One who is prepared to leave the comforts of home to live in a distant Tanzanian village is a lady to be admired and revered. Anniina Sandberg, a Helsinki-based solo female traveler, is a fearless adventurer. At the University of Helsinki, where she had completed her studies, she went after what she loved. To meet the Maasai people, she had to fly to Tanzania and remain for nine months.
This self-motivated woman packed her books, left her family and friends, and moved to Tanzania to better grasp the Swahili language, Maasai culture, a Boma Maasai homestead, and the Maa language. Nine months later, the mission was completed. The Swahili and Maa languages were now second nature to her.
It changed my life," Anniina gushed about her time spent among the Masai. "When I returned home, I had a deep longing for Africa. I missed the solitary grassland. In my absence from village life, I missed the sense of community and connection that comes with it, "She commented. Living among indigenous peoples has made me realize that the joy I got was from these encounters. I had a sensation of emptiness when I returned to Helsinki. For my return, I created a plan "As a matter of fact.
While participating in various Maasai rituals, Anniina reflects on some of her fondest memories. "Maasai clothing was the norm. We'd be dancing and singing all day. My Maasai friend Lea would host me at her maasai boma in ngorongoro before each ceremony and present me with a new item of Maasai dress, "she stated with a smile.
"Lea was a gracious host who shared a wealth of knowledge about her people and culture with me. As the matriarch of the Boma, described as the village clan settlement, she commanded respect and reverence.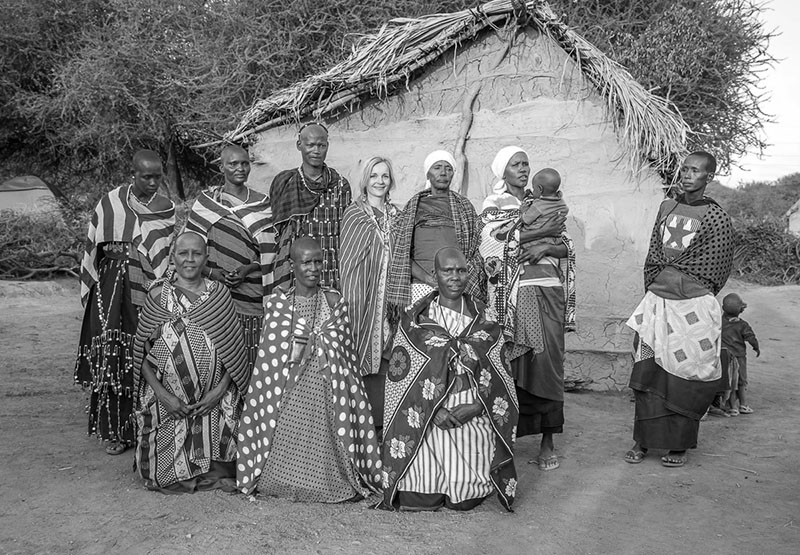 Living in a Maasai Boma Tanzania
The Maasai Boma definition:
The Maasai are nomadic people that don't live in settlements like other tribes. As a result, they live in a family structure known as a Boma. There are residences for each man's wives and children in a Boma, a single male-headed homestead. When it comes to polygamy, the women of the Maasai live in their husband's Boma. It was normal hearing a maasai woman say " I married a maasai and moved to his Boma." Depending on the number of members in the family, the sizes of cottages will vary.
I have to mention the story of my Maasai grandmother. She was a source of inspiration and a caring person in my life. A widow and the mother of nine children, her life was a struggle. I shared a cow-dung Maasai Boma hut with Lea, her children, and daughter-in-law each night when I lived in her Boma. Sticks were used to build our bed, covered with cowhide. We had a great gathering in the tiny hut at night, with all the baby goats occasionally coming to join us. We slept on a single bed that could fit up to six people for the night. When I returned to Europe, I felt isolated in my student flat.
Anniina went on to say, "Our daily routines in Tanzania were very consistent." Milking the cows and having a cup of tea were the first things we did in the morning. A few minutes later, the males and young men of the tribe withdrew for cattle herding duties while the women and children stayed. As women, we were expected to fetch water and firewood while Lea sought to grow vegetables in the hard arid soil, "and we always ate lunch in the middle of the day." After milking the cows in the morning, we ate rice, tea, and maize porridge called Ugali in the evenings until we were full. Except there were no fruits or vegetables in our meals.
The hard-working Maasai women enjoy their work tremendously. "The savanna was filled with Bantu men pedaling with their bikes. One was delivering a case of Coca-Cola to a small town so that he could sell it to residents. "Anniina jogged her memory.
"We negotiated and purchased one Coca-Cola, which we shared among four people. Even though the Coca-Cola was boiling, we had a great time sipping it and retelling the story."
It wasn't simply the dangers of the environment I had to learn to deal with; I once came dangerously close to stepping on a deadly scorpion. The Maasai were shocked to learn that I could not see at night. Although there was no power in the town, "my eyes never adjusted to seeing in the dark." The good news is that Lea was nearby and quickly moved me away from the danger. She grew upset with me for not seeing it. She envisioned that I would have been unable to walk for a week if I had trodden on it.
Anniina added, "There were so many priceless moments," with a distant expression in her eye. Despite this, "I do have one amazing story to tell that signaled where my heart truly belonged," she continued. "I once had a very high temperature. When it went on for several days, Lea grew increasingly anxious and was disturbed. To get me to the nearest clinic, she arranged for a group of Maasai to take me there on their bicycles. I turned down the doctor's offer to drive me to a nearby town to recuperate. There was no other place I wanted to be but with the Maasai people who cared for me. Lea gave me a pink drink consisting of milk and reinvigorated cow's blood to help me recuperate. Regaining my footing was a cinch. "Nonetheless, restoring and maintaining health and well-being.
Maasai Boma; Recuperation and Healthiness
Three years ago, Anniina began working in the health care industry, where she has maintained close ties with the local community. Locals frequently lack the financial ability to pay hospital bills, especially when specialized care is required because of severe medical issues that cannot be handled ordinarily. For a woman and her child to come to town for treatment and pay for the prescription, Anniina participated in forming a health insurance support program. It "often saves lives," she stated. Over the past year, the initiative has helped more than 100 people of the Maasai tribe lead healthier and happier lives.
Maasai Boma; Repaying the Favor
Both non-indigenous and indigenous individuals can benefit from working together if they can overcome their differences. When Anniina went home, she had another project: keeping in touch with the Maasai tribe. She founded www.visitnatives.com, a travel agency specializing in tailor-made Tanzanian safaris such as a maasai boma visit, that immerse visitors in the country's unique culture. Visit Natives, a three-year-old company that offers tailor-made vacations and one-of-a-kind experiences for discerning travelers. Providing health insurance to a new family on each trip makes a huge difference in their dynamism and fortunes.
"I want tourists to have life-changing travel experiences while also contributing to the well-being of the communities they visit. I believe that this is the future of travel. If it weren't for our volunteers, we wouldn't be able to aid the families we do today," Anniina elaborated. Visit Natives inscribed this in its reason, and I escort most of our expeditions.
In January 2021, Anniina's next voyage will provide a new focus point. A philanthropist, anthropologist, and superb photographer, David Metcalf, is her partner in this project. Their mission is to take a small party to the northern part of Tanzania for an Africa safari Maasai boma experience. The Ngorongoro Conservation Area is around four hours from Arusha by car, and the Boma (comfortable tent) is included in the package.
Animal photography and nature exploration can be done in many ways. Anniina's goal is to ensure that each journey impacts the local community positively. Each time a new home-stay boma is selected, this ensures fairness. As a result, the community's people can all participate in the joy of sharing and greeting visitors. We'll stay with the Hadzabe hunter-gatherers in their Maasai Boma settings on the January trip, who are among the last of their kind in the world. Cross-cultural exchanges are mutually beneficial, and hosts are grateful for their overseas guests' contributions to their family's overall well-being and the care they obtain.
Tourists often remark how well they get along with the locals when treated like guests rather than just another tourist group. In many cases, indigenous hosts are obligated to make handicrafts as gifts for their guests. "With this program, we're working with a group of indigenous people that share our dedication to sustainable indigenous tourism and are overjoyed! Our guests often confess that their expeditions have given them a new perspective on life," Anniina chimed with her thoughts.
We're hoping to be able to voyage across the world again by 2021. Tourist programs are available for those who want to experience Tanzania and learn about a different culture, including a maasai boma day trip for short stay tourists.
Visit Natives was founded by Anniina Sandberg. She received a master's degree in African studies from Helsinki. Anthropology, indigenous cultures, and intercultural communication are all areas of expertise in her field. To follow her dream of working with and helping indigenous peoples, she founded the organization.
Dedicated filmmaker and photographer David Metcalf is committed to documenting indigenous cultural history through photography and film. He's known as a "cultural storyteller" for capturing the most breathtaking, provocative, and mystical scenes in the most remote parts of the world. In a "learning spirit" that embraces traditional wisdom and actual human touch inspiration, you can learn photography from David through direct instruction. You are cordially invited to join David and Anniina on their Maasai Boma January 2021 vacation.
On January 17th, 2021, the voyage departs from Kilimanjaro, Tanzania.
For more articles related to Things to Do in Tanzania (Zanzibar), click here!