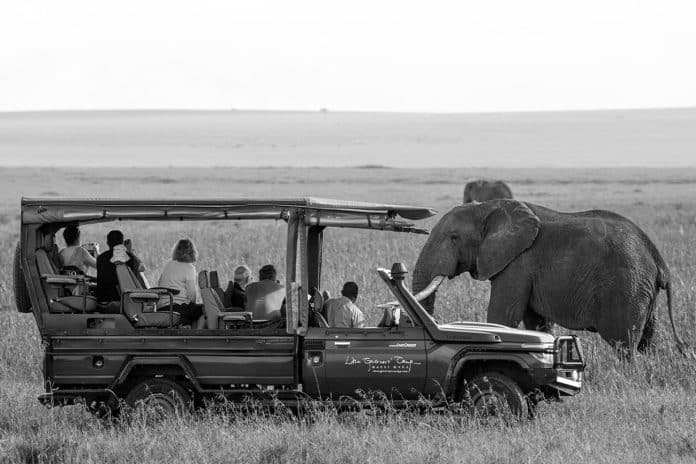 The Thrill of Group Safari Tours in Tanzania: A Comprehensive Guide
From the heights of Mount Kilimanjaro to the vast plains of the Serengeti, Tanzania's breathtaking landscapes and diverse wildlife make it a top destination for group safari tours. This comprehensive guide will take you through the highlights of what you can expect to experience on group safari tours Tanzania.
Explore the Africa's Roof: Mount Kilimanjaro
Mount Kilimanjaro, the highest peak in Africa, is a challenge many adventure seekers aim to conquer. On a guided Kilimanjaro Lemosho trekking tour, you'll journey through lush forests, grassy moorlands, and upland deserts, all while gradually acclimating to the altitude. The journey to the summit, Uhuru Peak, offers an unforgettable view that, on a clear day, may even reveal the curvature of the earth on the horizon.
Witness the Big Five: Serengeti Safari
The Serengeti, Tanzania's oldest national park, is home to an astounding array of wildlife. The park is known for its large lion population and is one of the best places to observe the Big Five – lion, leopard, rhinoceros, elephant, and buffalo. On a Serengeti Safari Tour, you'll traverse the savannah in search of these magnificent animals and witness firsthand the awe-inspiring spectacle of the Great Migration, when over a million wildebeest and zebra traverse the plains in search of fresh grazing.
Discover the Ngorongoro Crater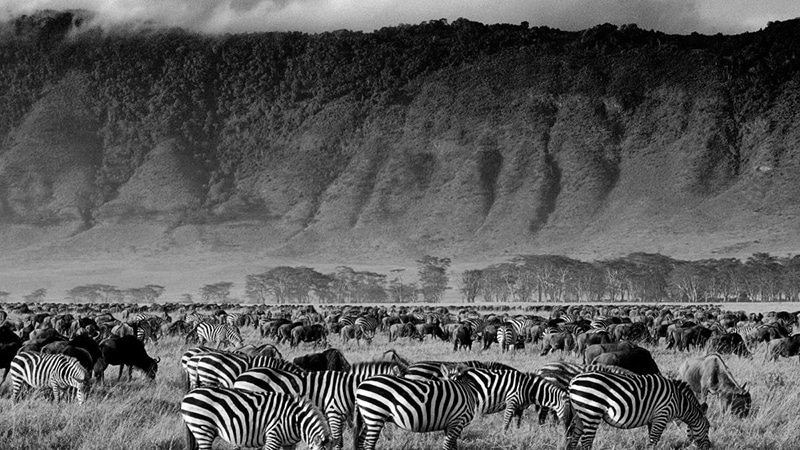 The Ngorongoro Crater, a large volcanic caldera, is a haven for wildlife. Formed from a fracture in the Rift Valley over 15 million years ago, the crater is home to a diverse range of animals, including the Big Five and numerous bird species. On the Serengeti Wildlife experience, you'll descend to the basin floor, where you'll likely spot elephants, buffalo, and rhino, among other wildlife. The crater's nutrient-rich soil and abundant water sources make it an ideal habitat for a high concentration of wildlife, offering spectacular game viewing opportunities.
Unwind in Zanzibar
If you're looking for a change of pace, consider adding a Zanzibar Extension trip to your group safari tour in Tanzania. Known for its white-sand beaches and crystal-clear waters, Zanzibar is the perfect place to relax after an action-packed safari. Explore the historic city of Stone Town, learn about Zanzibar's spice exports on a Spice Tour, or simply soak up the sun on the beach.
Traveling Solo in Tanzania
Traveling solo doesn't mean you have to explore alone. With solo vacations to Tanzania, you'll join a group of like-minded adventurers for a safe and hassle-free journey.
Best Time to Go on Tanzania Safari Group Tours
Safaris
The dry season, from June to October, is the best time for safari trips in Tanzania. During this period, wildlife gather around waterholes, allowing for excellent game viewing opportunities. The Serengeti wildlife trip is particularly popular during this time.
Kilimanjaro
For Kilimanjaro treks, the best weather usually occurs from June to October. However, this is also the busiest period. If you prefer a quieter trek, consider visiting in January, February, or March, when the trails are less crowded.
Embrace the Adventure: Booking Your Group Safari Tours Tanzania
Whether you're a seasoned traveler or embarking on your first safari, group safari tours in Tanzania offer an unforgettable experience. Not only will you witness some of the world's most spectacular wildlife and landscapes, but you'll also share these memorable moments with fellow adventurers. So why wait? Start planning your Tanzanian adventure today!
Final Words
Group safari tours Tanzania offer an unparalleled opportunity to witness Africa's stunning wildlife and landscapes. Whether you're standing on the summit of Kilimanjaro, watching the Great Migration in the Serengeti, or relaxing on the beaches of Zanzibar, the memories you create will last a lifetime. So pack your bags, grab your camera, and get ready for the adventure of a lifetime in Tanzania!
For more articles related to Things to Do in Tanzania (Zanzibar), click here!