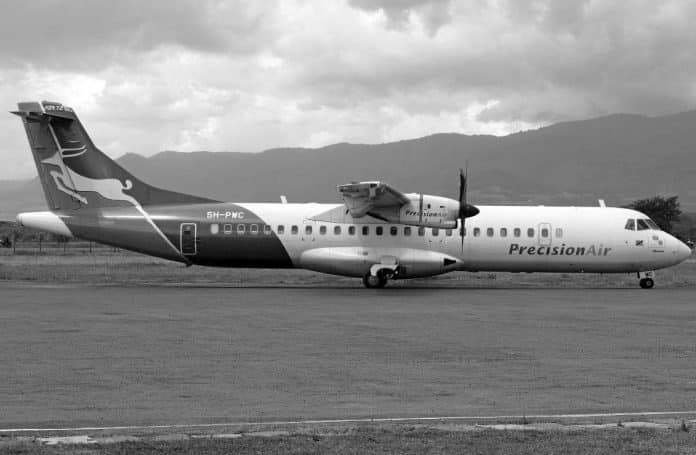 Precision Air – Everything You Need to Know (Booking, Destinations & More)
Precision Air Services Public Limited Company in business as Precision Air; DSE: PAL has a base at Julius Nyerere International Airport (JNIA), Dar es Salaam. Precision Air operates regular passenger flights to Entebbe, Nairobi, and to the two airports as well as other small airstrips around Tanzania.
Background
In January 1991, Precision Air got registered in Tanzania as a commercial airline and began operating in 1993. Initially, it was working as a commercial air transport hire company, however by November 1993, adjusted to offer regular services to cater to the needs of the flourishing tourist market.
In 2006, the airline became the pioneer airline in Tanzania to pass the industry standard operational safety audit by IATA.
Precision Air became a publicly-traded company in April 2011.
Corporate Affairs
Proprietorship
The airline was under private ownership until 2003 after Kenya Airways (KA) bought 49 % shares worth $2 million, some weeks after South African Airways (SAA), its competitor, bought 49 % Air Tanzania shares worth $20 million. Michael Shirima, who founded the airline, retained the remaining 51 %.
By October 2011, the airline made the first public offer of its shares on Dar es Salaam Stock Exchange (DSE), making Shirima and KAA's shares decline with the new shareholders owning 15.86 %. The majority shareholders by 31st March 2016 included:

Precision Air Group's trends over the past years are portrayed below. Being a privately owned company up to 2011, its published figures weren't available before 12th September 2011 after its initial public offer catalog. The annual figures for the parent company including those of its subsidiaries – Precise Systems Ltd and Precision Handling Ltd ending 31st March are: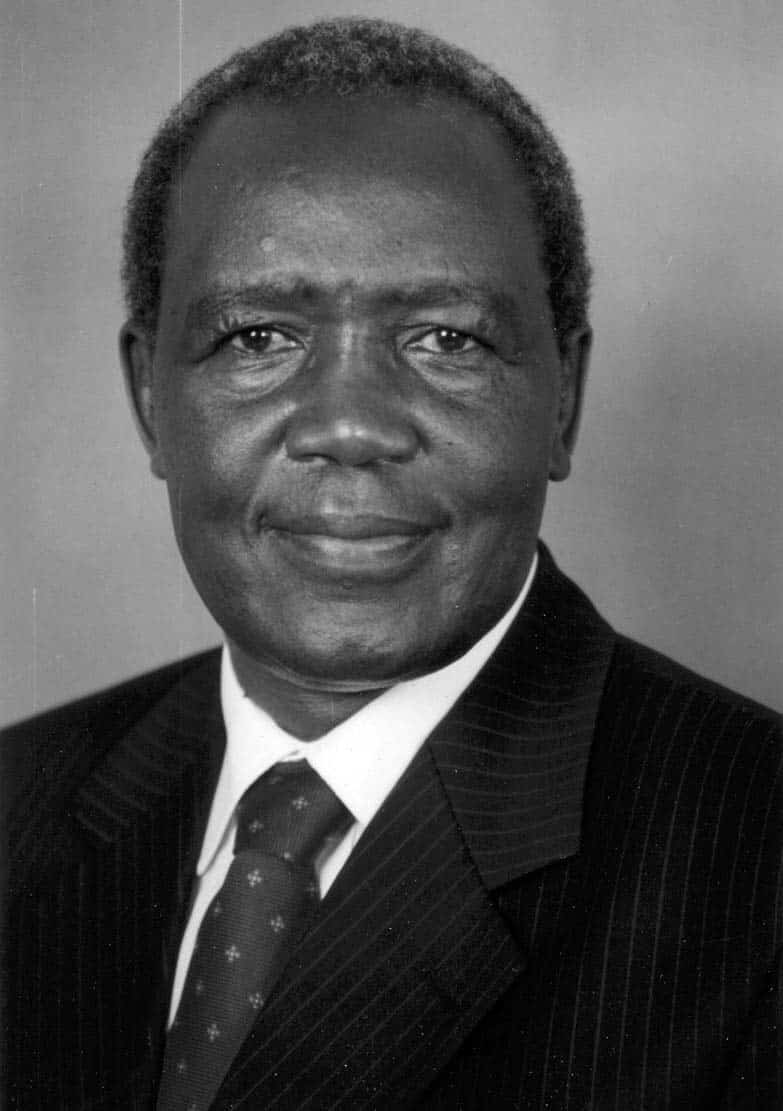 In June 2013, published reports showed that Precision Air had was facing substantial financial problems, resulting partly from losses that happened while servicing flights to as well as from Johannesburg in South Africa. By September 2012, such flights had stopped. The Citizen newspaper in Tanzania spread news by August 2013 about the airline's desperate need for a bailout of $32 million from the government of Tanzania or another source apart from its shareholders.
By 2011, Precision Air's problems escalated after receiving just $7.4 million instead of the $17.5 million it hoped to get after its first listing on the DSE. Escalating prices of fuel, taxes and charges including currency fluctuations as well as the refusal by KA, a minority owner, to chip in the capital also harmed the airline.
Precision Air Destinations
By May 2019, Precision Air served 14 locations including the following: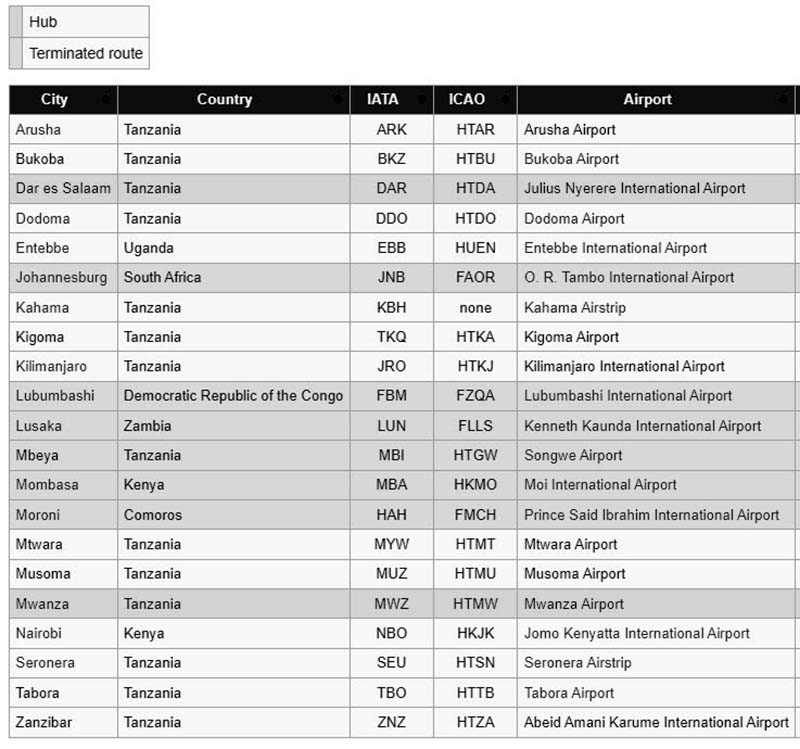 Precision Air Collaborations
Codeshare Agreements
Precision Air has codeshare partnerships with four airlines including the following:
Kenya Airways on various routes
Etihad Airways from Abu Dhabi to Dar es Salaam
LAM-Mozambique Airlines serving Nampula, Maputo, Pemba, Dar es Salaam
Rwandafrom Kigali to Kilimanjaro region.
Precision Air Interline Partnerships
By 2011, Precision Air and Qatar Airways signed an interline partnership, letting the latter's passengers reach more destinations in East Africa including Zanzibar and Arusha via KIA and Dar es Salaam International Airport. This contract included electronic ticketing (e-ticketing).
By 23rd December 2014, Precision Air also signed 21 interline agreements for paper ticketing and baggage with airlines including the following:
Alitalia
EgyptAir
Emirates
British Airways including e-ticketing
Air Seychelles including e-ticketing
Etihad Airways
Gulf Air
Ethiopian Airlines including e-ticketing
Hahn Air including e-ticketing
Oman Air
Saudia
Heli Air Monaco
Kenya Airways including e-ticketing
KLM including e-ticketing
RwandAir
LAM-Mozambique Airlines including e-ticketing
South African Airways including e-ticketing
Swiss International Airlines
TAAG- Angola Airlines including e-ticketing
SN Brussels Airlines
Virgin Atlantic including e-ticketing
Fleet
Present fleet
By September 2020, Precision Air's fleet included the following aircrafts: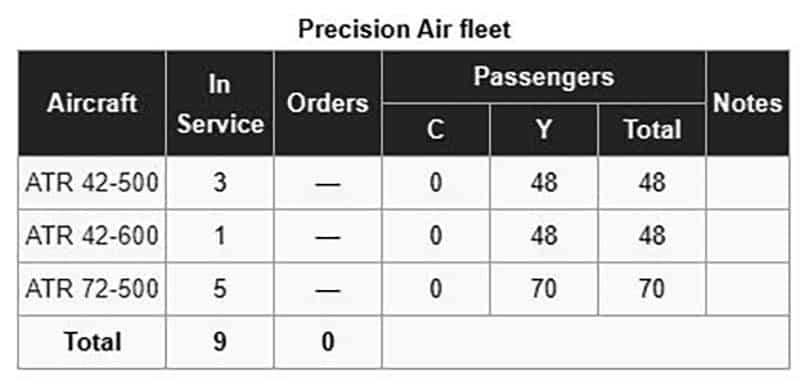 Historical Fleet
Precision Air has previously utilized the following aircrafts:
Boeing 737
De Havilland Canada Dash 8
ATR 42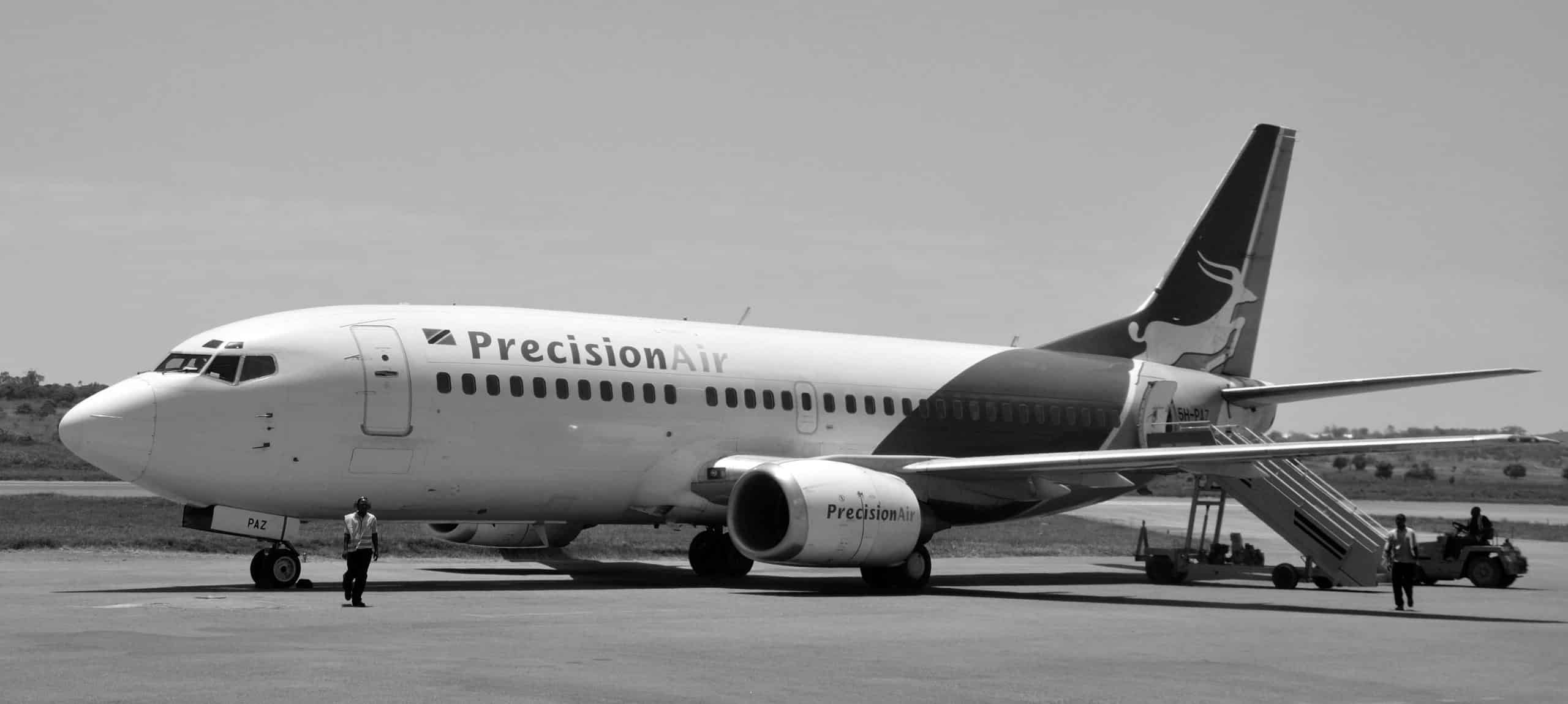 Accidents Including Incidents Involving Precision Air
Aviation Safety Network (ASN) revealed that the airline has been involved in 5 accidents or circumstances.
On 26 July 1999, the airline's Let L-410 Turbolet with registration number 5H-PAB, landed on its underside at Arusha Airport during a flight test whilst maneuvering a touch and go. Three passengers and two crew members survived unhurt.
A Let L-410 Turbolet with registration number 5H-PAC landed without lowering the undercarriage at Kilimanjaro Airport during a training flight. Two pilots got injuries for not strapping their shoulders.
By 8 July 2007, the airline's ATR 72 with registration number 5H-PAR veered off runway 06 after landing at JKIA. It swerved to the right over a trench until it stopped by Taxiway F. Its nose wheel fell off. None of the 4 crew, as well as the 62 passengers were injured.
The airplane got substantial damage. Power asymmetry while applying reverse thrust during landing was the potential cause of the accident. Control levers had got jammed in a single position.
An ATR 42 (5H–PWI) landed safely at Arusha Airport on 13 December 2013, after its 4 tires deflated on landing. The 4 crew and 37 passengers were safe. Precision Air afterward explained that greater braking forces, required by the airplane landing amidst a tailwind, led to the deflations.
An ATR 72 with registration number 5H-PWA suffered from a second engine seizure during a normal cruise on 10 July 2014, halfway through the journey from Mwanza to Dar es Salaam. This encouraged diverting the plane to KIA.
The airplane landed normally; nevertheless, after finding idle ground (as the captain explained), the airplane swerved leftwards and left the runway to hit one light on the runway edge and went ahead to glide by the pitch facing runway 09, about 180 meters prior to joining the runway again afterward. No one was injured.
Precision Air's PW 722 from Nairobi carrying 68 passengers to Mwanza through Kilimanjaro made an emergency landing on December 9, 2018, because a swam of birds bombarded the plane stacking on the wheels making landing difficult.
For more articles on airlines in Tanzania click here!