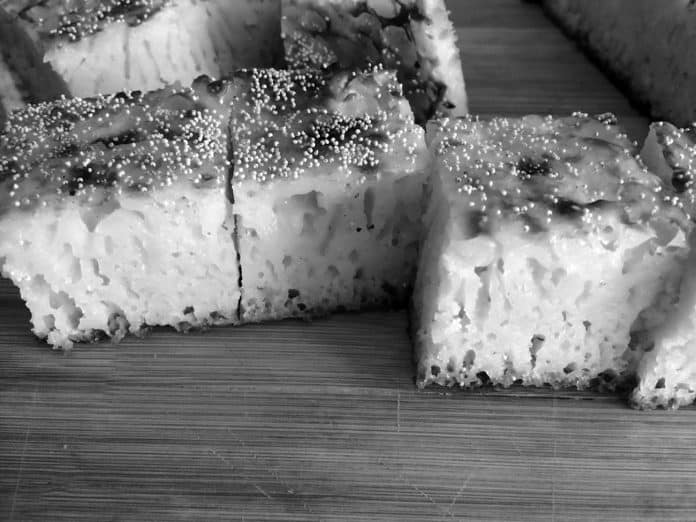 Swahili Food Recipe: East African Tanzanian Sweet Rice Cake
This sweet, spongy treat is known as [mkate wa Sinia / Mkate wa kumimina/sweet rice cake] in Eastern Africa, and it's a popular morning or afternoon tea [4 pm] because Eastern Africans adore their tea!
It took me several attempts over the years to perfect the recipe for the sweet rice cake, and along the way, I've made flat, scorched, and motionless mkate wa Sinia. I've finally figured out how to manufacture the special sweet rice cake, so it becomes tender and sponge-like, and it's an accomplishment worth toasting with a full cup of nice lightly spiced Chai, my friends. Did I say that tea is extremely important in Eastern Africa? Also, the finest tea I've ever tasted!
You should try the sweet rice cake dish even if you have never had rice cake/bread or visited East Africa. It's something you should definitely try.
It also happens to be gluten-free.
Ingredients Used in Making Sweet Rice Cakes
 2 cups of basmati rice (long grain)

3 cups of coconut milk

 2 cups of water (you might require more)

 1 1/4 cups of sugar

 1 ½ teaspoon cardamom powder

 1/4 cup powdered milk

 One egg white (put in an extra for a more richer rice bread)

 1 1/2 teaspoon yeast (instant)

 three tablespoons butter, melted
Instructions – How to Cook Sweet Rice Cake
Wash the rice thoroughly and immerse it overnight.

Butter the sides and bottom of a deep saucepan lined with parchment cloth. This keeps the grains from sticking to the bottom of the pan.

Blend the rice with three cups of coconut milk in a blender. Blend thoroughly. If the combination is too thick, add a little water at a time. If the dough is too runny, leave out the water

Stir in the cardamom and sugar, then add one egg white. 1 minute of blending

Mix the dough with a whisk after adding the yeast.

Cover and place in a warm place to rise.

After one hour, gently mix the dough and pour it into your deep saucepan.

Place the saucepan on the cooker over a medium-low temperature.
Cover the saucepan and steam for ten minutes.
After 10 minutes, carefully push the special sweet rice cake to inspect the top. It should have a hard but spongy texture. Please place it in the oven and turn on the grill mode. Coat the top with melting butter & grill for ten minutes, uncovered. You're on the lookout for a lovely gold-like brown top…and there you, this is how to make a sweet rice cake at home, simple!
NB: If the sweet rice cake does not bounce back when lightly pressed, cover it and cook it for a few minutes longer on the stovetop.
Take it out of the oven when it's a gorgeous golden-brown colour and cover it up with the lid; place a towel on top to capture any droplets of water that form.

Allow the rice cake to settle before removing it from the saucepan.

When cold enough to handle, cut into tiny squares and then serve.
For more articles related to Tanzania Food Recipes, click here!