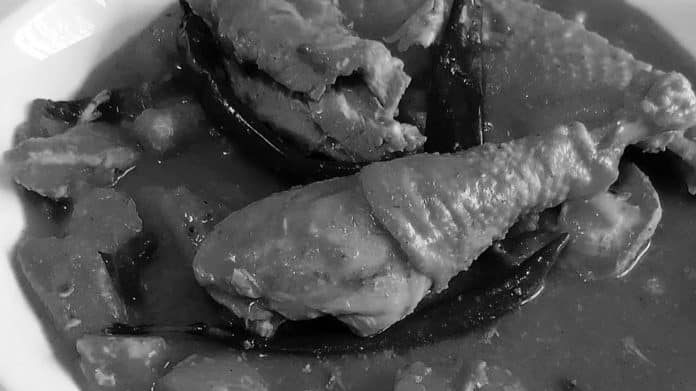 Swahili Food Recipe: Mchemsho wa Kuku (Boiled Chicken Mixed in Vegetables)
Mchemo Recipe Overview
Mchemsho wa Kuku soup isn't something you'd eat daily, but it's a tasty dish that can be made with fish rather than chicken.
SERVES 4
PREPARATION 15 MIN
6 HOURS OF COOKING MCHEMSHO SOUP
EASY SKILL LEVEL
Ingredients for Mchemsho Recipe
 One whole chicken

 Two garlic cloves

 one × 4-centimetre piece of peeled fresh ginger

One lime (juiced)

 four chopped potatoes

 two sliced carrots

 one chopped tiny green capsicum

 one sliced little yellow capsicum

 two sliced tomatoes

 four spring onions or walking onions

 a handful of baby spinach or makaranga mwitu

 500 millilitres of milk

 200 grams yoghurt (organic)
Mchemsho Recipe Instructions
Gently bring a large pot of normal water to a boiling point over extremely high heat. Clean the prepared chicken and cut it up into bite-sized pieces. Place the chopped chicken in the pot of boiling water.
Crush the garlic, lime and ginger in a mortar using a pestle. Into a saucepan of boiling water, sifter the mixture. Cook for fifteen minutes before adding the potato, capsicum, tomato and carrot/

Meanwhile, warm the milk in a different saucepan until it boils. Reduce the heat to low and continue to cook the

Mchemsho

soup until the liquid has reduced slightly, then stir in the yoghurt—Cook for six hours on low flame. Serve

Mchemsho

soup in a different dish.
For more articles related to Tanzania Food Recipes, click here!