Swahili Food Recipe: The Popular Zanzibar Pizza Recipe
I'll be the first one to admit that I had no clue what Zanzibar pizza even was. Was it chilli and prawns on top of pizza? Now there's something delicious to try next.
Pizza Zanzibar Style
I took out my handy laptop and started searching for anything that could lead me to a better knowledge of the Zanzibar pizza I was being requested to cook. I came across a documentary by Mark Weins in which he reviewed, or should I say condemned the Zanzibar pizza -Oh, Mark Weins, what's all that cruelty necessary? I anticipated seeing something unique but instead witnessed the improvement of what we refer to as Chapati mayai in the Mombasa region. Besides the cream cheese and mayo (Zanzibaris be weeping!), the procedures are the same. Those are components that are not used in Mombasa.
My children and I both enjoy chapati mayai, so I fetched a bowl of oil, flour, and salt and set out to make my Zanzibar pizza in bright Muscat.
Making Zanzibar pizza dough is quite simple, and the most difficult aspect is waiting around for the dough to settle. As with most mothers, the longer it is left alone, the better it develops.
My opinion, as well as the opinions of both of my children, is that it was fantastic. I can understand why Zanzibar is so fond of it. Here's how to put it together:
Zanzibar Pizza Ingredients
Dough:
1 cup flour (all-purpose)

one teaspoon of salt

2 tbsp oil (vegetable)

1/2 cup of water; you may need more; add a bit at a time if necessary.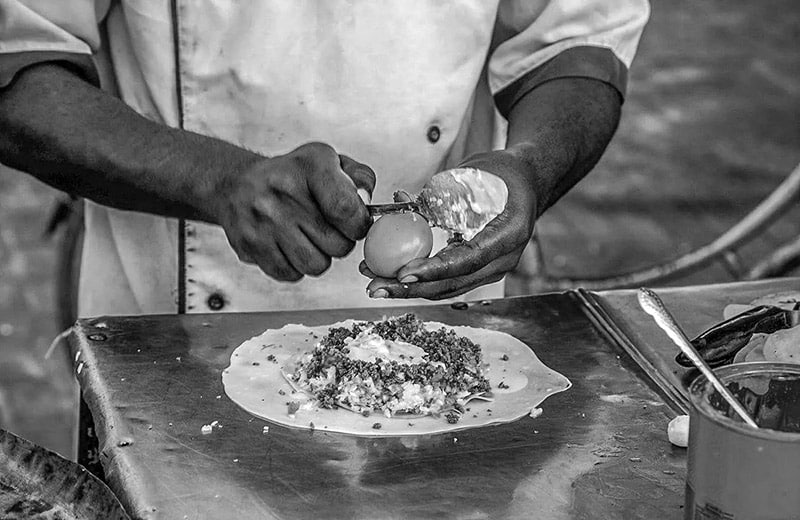 Fillings:
one sliced onion

two sliced tomatoes

Cream cheese [cube

Mayonnaise

Egg

Minced meat; my Samosa Blend recipe comes highly recommended

Chilli (optional)
Instructions – How to Make Zanzibar Pizza
In a mixing bowl, combine the flour [all-purpose], oil and salt, then add the water. Add just enough water to make a ball out of the dough. Put it aside for one hour, covered.

Pinch off a little piece of dough when you're ready to create. Oil your work surface and begin expanding the dough into a giant disk.

For an authentic

Zanzibar Pizza

, put in your filler of choice, including the cream cheese, egg and mayonnaise.

Pull all four corners together in the centre, leaving a little gap.

Remove the unprepared

Zanzibar pizza

from the counter with care and place it in a skillet with just a little oil. Cook for 8 minutes on each side.

Chopped into tiny pieces and enjoy with a chutney or sauce of your choice.
Zanzibar Pizza Near Me?
Zanzibar Pizza Forodhani
Zanzibar Pizza Stone Town
For more articles related to Tanzania Food Recipes, click here!