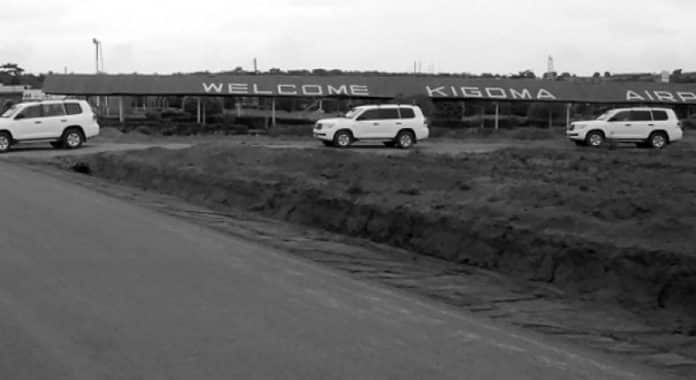 Kigoma Airport – Information, Arrival and Departure Passenger Guides
Kigoma Airport is among the 59 airports that the Tanzania Airports Authority manages, maintains, develops, and operates. Kigoma Airport is a member of GROUP II of airports. It serves as a domestic hub as well as an international entrance and departure point. Mwanza, Arusha, Mtwara, Dodoma and, Songwe are among the others in this group. The Kigoma Airport is overseen by the Airport Manager, who is also in charge of the Region's other airstrips including Kasulu, Uvinza and Kibondo.
The Kigoma Airport has a total size of 1,989,534m2, it is situated 3NM North East of the town center. The airport was built in 1954 during the colonial period to carry government officers to the western section of Tanganyika.
In 1979, substantial and minor renovations were carried out at various intervals to enhance and upgrade the Kigoma Airport, allowing planes from East African Airways up to DHC 5 aircraft to land (TWIN OTTER).
As a result, substantial renovations, including the enlargement of the administration buildings and terminal, were completed in 1981.
In the 2010s, extensive renovations were made to the movement area, which included extending the runway to 1800m and increasing the width to 45m, as well as constructing two 150m long and 18m wide taxiways.
Kigoma Airport is designated as a Code 3C airport by the International Civil Aviation Organization (ICAO). The airport's infrastructure includes a runway with a length of 1800 meters and a width of 45 meters, with orientations of 15 and 33, PCN 38/F/B/Y/U), 2 taxiways, and an apron that can accommodate three medium-sized aircraft (ATR 72 and Bombardier Dash 8 Q400).
Operational Hours
Kigoma airport is open Monday through Sunday from 0700 to 1830 hours. The following are some of the other services provided at the airport:
Immigration and Customs (Two hours Pre-Note)
Aeronautical Data Services (0700 to 1830hrs daily)
MET Briefing Office (0700 to 1830hrs daily)
Fueling – (0700 to 1830hrs daily)
Security (0700 to 1830hrs daily.)
Ground handling – done by FASTLINK daily between 0700 to 1830hrs daily)
Firefighting and Rescue Services (RFFS)
The fire category at Kigoma Airport is five (CAT 5), and the fire station is equipped with the required rescue facilities, including communications, fire chemicals, as well as other rescue amenities.
Kigoma Airport Guide for Arrival Passengers
Kigoma Airport Arrival
Passengers exit the plane via an accommodation ladder and are brought to the arrival lounge using special busses. (For airplanes parked at a remote parking location)
Kigoma Airport Public Health Inspections
If you have any COVID-19 symptoms, such as fever or diarrhea, please notify the Kigoma Airport Public Health-Check Counter. For additional information, please refer to www.moh.go.tz.
Kigoma Airport Control of Passports
Please submit your passport at the Kigoma Airport immigration booth marked "Non-Residents or Residents and Diplomats." Please make sure that your travel documents are up-to-date. For additional information, please refer to www.immigration.go.tz.
Kigoma Airport Baggage Claim
After checking in your luggage, head to the Kigoma Airport baggage claim area, then go over your receipts for baggage claim to see if you may collect them. If you have any questions concerning your luggage, such as misplaced luggage or damage, please visit a baggage claim counter for more information and assistance.
Kigoma Airport Passenger Guide for Departures
Check-In
Please arrive and check-in early at the Kigoma Airport International and Domestic Kigoma Airport Flights Check-In Counters.
Provide your plane ticket, national ID or passport and deposit your luggage at the counter, carrying only carry-on luggage. Please ask airline employees for your luggage receipt and boarding pass.
Kigoma Airport Inspection by Customs
Passengers leaving Kigoma Airport and Tanzania in general with a considerable quantity of cash may be forced to go through the customs declaration process. For further information, please visit www.tra.go.tz.
Kigoma Airport Immigration
Please submit your boarding pass and passport to the immigration officer at the Kigoma Airport passport control counter. Please remove your passport covers for a smooth inspection. For some nations, you will need a passport that is valid for over six months, as well as a valid visa. Before travelling, you should always verify your target country's entrance regulations; you should also apply for a visa at the applicable embassy. For additional information, check out www.immigration.go.tz.
Kigoma Airport Security Check
At the checkpoint, the officials perform carry-on luggage and security checks. Please show the security officials your boarding pass and run your carry-on luggage via the X-ray scanner. Passengers must go through a metal detection gate to be inspected for security.
Kigoma Airport Boarding Gate
Please follow the airline's instructions for boarding provided by their staff.
Kigoma Airport Boarding
Passengers board the aircraft using customized buses and utilize accommodation ladders to gain access to the aircraft. This applies to aeroplanes that are parked at a remote parking lot.
Kigoma Airstrip
Kigoma Airport is in charge of managing and monitoring Kigoma's other airstrips, including Uvinza, Kibondo and Kasulu. Kibondo and Kasulu airstrips, however, mainly serve refugees from Burundi and Uvinza airstrip that has been out of operation for several years. However, it occasionally handles non-commercial planes (i.e. aircraft, medical helicopters, military helicopters, etc.).
| | | | | |
| --- | --- | --- | --- | --- |
| NAME | RUNWAY DIMENSIONS (m) | DISTANCE (km) | STATUS | RUNWAY SURFACE |
| Kibondo | 1000×18 | 266 | Fair | Gravel |
| Kasulu | 1100×18 | 95 | Fair | Gravel |
| Uvinza | 950×18 | 110 | Fair | Sand |
You can explore more articles related to airports in Tanzania by clicking here!