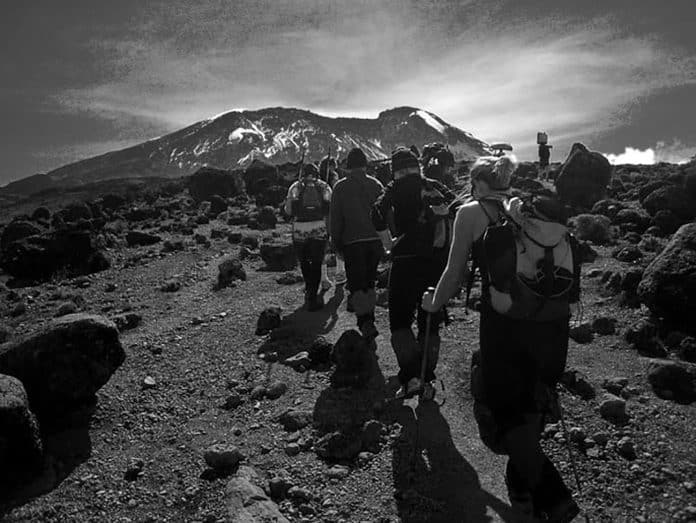 Answer – How Hard is It to Climb Mount Kilimanjaro
Climbing Mount Kilimanjaro?
There are no severe climbs on most of Kilimanjaro's routes; instead, it's getting used to the altitude. However, the summit night is really difficult because this is the breeziest and the coldest portion of your journey. Forty-nine percent less oxygen, a 4,084ft rise, and an almost 6,870ft fall. You can stroll for up to 12 or 14 hours.
The difficulty of climbing Mount Kilimanjaro is a commonly asked question that we see on various sites. The question of 'How hard is it to climb Mount Kilimanjaro?' is subjective and based on various factors, the answer can be difficult or tricky.
When it comes to challenging tasks, one individual may think it's a piece of cake for another. In addition, isn't it fun to do something difficult?
According to many of those who've done the climb, "Kilimanjaro is by far my most challenging challenge," especially the summit night. Although we've yet to come across someone who thinks it's "simple," everything is relative, as we've learned the hard way.
Kilimanjaro is "effortless" when likened to Everest.
But, a stroll along the shore is much easier.
The most important factors about determining how demanding or effortless Kilimanjaro will be have been discussed below.
Climbing Kilimanjaro's Technical Ordeal
Aspiring mountaineers often wonder if Kilimanjaro is too technical for them, and this is a valid issue. There is none of them. Kilimanjaro is a "walk-up" mountain, which means that no climbing twines, ice ax, or harnesses are required to ascend it. Mountaineering skills are not necessary for this trip.
Getting used to the Altitude on Kilimanjaro
Kilimanjaro's most challenging piece can be found here. Acclimatization to deficient oxygen levels in the atmosphere set Kilimanjaro apart from a typically long day's hiking on the footpath. While altitude training for Mount Kilimanjaro is an option, it might not be easy to estimate how well you'll be able to cope with the high altitude.
It is best to take a longer route, such as six or more days, to give your body time to acclimate and allow for adequate rest and recovery.
Always take your time and be careful as you stroll. Those who think it's strange to recognize when your guide regularly repeats "Pole pole," which means "slowly slowly" in Swahili. To avoid weariness and enhance acclimatization, walk slowly and conserve your energy; this isn't a race!
To help with acclimatization, you may also want to take Diamox. To receive one, you'll need a prescription from your doctor.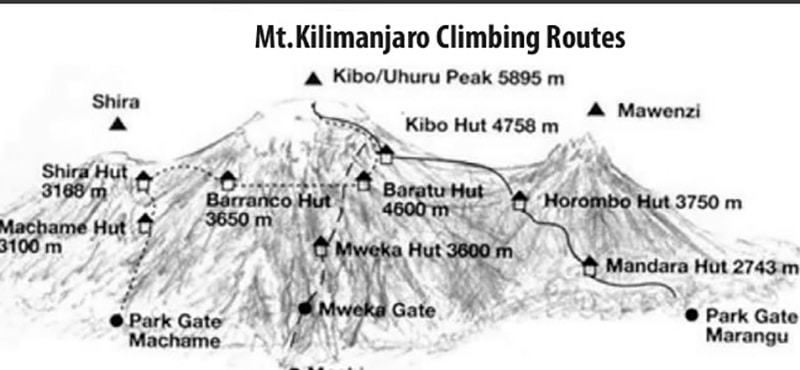 How Fit Are You?
The question; How hard is it to climb Mount Kilimanjaro? Is answered by your personal health and well-being. The walk will be much more difficult if you are seriously out of shape and physically unprepared. The question of how apt you should be frequently causes a lot of anxiety. There is no need to become an ultra-marathon adventurer to join. Still, you must be able to walk uphill for several hours with a heavy backpack for a long period and replicate the procedure the successive days.
How quickly or slowly you recover from each day's hiking depends on your fitness level. You'd be walking at a very slow speed, perhaps so slow that you'd become bored if it weren't for the altitude!
After checking with your doctor, our recommendation is always the same: how fit can you be? This is why we've put together an extensive training plan for Kilimanjaro.
Be as fit as you can, but don't make your path more difficult by thinking that you must be an amazing athlete.
On the Course Camping and Overnight Stays
Camping and sleeping on Kilimanjaro may be difficult for those accustomed to resting in their beds with silky white linens and 'How hard is it to climb Mount Kilimanjaro?' This will depend on your personal level of comfort. If you've never slept in a tent before, you may need time to get accustomed to these conditions.
Those who spend their weekends sleeping on the ground in the wilderness will find camping nearly luxurious because they won't have to cook or create a tent!
To recover, you must get enough sleep at night. Don't worry if you don't think you can handle this aspect of climbing Kilimanjaro; the Marangu route, which involves staying in huts, is a good option.
Some of the people we've encountered were concerned about the logistics of camping and sleeping in a tent. At the top, people often talk about how much they'll miss the hike when they return to their normal lives!
Temperature and the Environment
Bad weather might make climbing Kilimanjaro more difficult. Rainfall in the mountains is unpredictable, but some seasons are better than others. Kilimanjaro may be climbed at any time of year; however, the best time to visit Tanzania and the month to do it is elaborated.
It's chilly most times, with extremely frigid conditions. As you gain elevation, the air becomes increasingly frigid. Prepare for the cold by bringing the necessary clothing and being mindful of your vulnerability. The wrong gear can greatly impact your ' How how hard is it to climb Mount Kilimanjaro?' question and your experience when it comes to mountaineering. Check out our Kilimanjaro gear list.
Your Health and Well-Being are Important
A pre-existing medical condition or an injury that makes walking and carrying a pack tough will naturally make the experience more challenging for you. To determine whether you are fit enough to climb Kilimanjaro, you should consult your doctor. Those who have conquered Mount Kili despite the odds should serve as inspiration.
In addition, you must keep your health in check when out on the trail. Before eating, it is vital to maintain adequate hygiene. Verifying that the company you tour with complies with stringent food preparation hygiene standards. Kilimanjaro food and water information can be found by clicking here.
The Guide You've Been Looking For
The difference between a successful summit and a premature descent due to altitude sickness could be your guide's competence, experience, and training in high-altitude medicine.
The question of ' How hard is it to climb Mount Kilimanjaro?' should be answered by having a sense of trust in your guide who might help reduce some mental strain of adjusting to the altitude. Even on days when it feels "too difficult," confiding in your guide about any manifestation you experience and getting daily medical examinations will give you greater confidence to continue.
Aside from the physical challenges of traveling with others, traveling in a group can reduce the emotional challenges, which is a wonderful way to share the experience!
Fitness for the Mind
Do not lose your sense of humor!
There's a lot of information out there about physical fitness and Kilimanjaro. On the other hand, your mental toughness is just as important, if not more so. Some people aren't conscious of their mental fortitude when faced with adversity.
Long days on the path, being away from your abode, sleeping in tents, and walking through cold, tough terrain all contribute to the emotional or mental strain of the climb. On summit night, the long, arduous ascent can seem eternal, and your mental toughness is all that keeps you pushing.
You may be tougher than you think! Kilimanjaro, on the other hand, can be just as much an emotional and mental challenge as it is a physical challenge.
Recall your "why" at all times. What was the driving force behind your decision to climb Kilimanjaro? What drew you to Africa to conquer this enormous mountain? When the going gets tough, remembering why you're on this adventure can be a great source of motivation.
The summit challenge is something you'll never forget, so keep a positive attitude and remember to appreciate the mountain's beauty.
The Gears
We've already covered this. The things you bring aren't the only thing to consider while making your packing list; you can find detailed guides here.
In addition, the tools brought along by your trip operator are crucial. When choosing a climbing company, look for one that uses mountain-specific equipment. Even if you have everything you need, it won't matter if you have to sleep in a leaky tent and sit on squeaky chairs! Ensure that the company you choose properly maintains all of their equipment. For more information, check out our article about choosing the best Kilimanjaro tour company.
Your shoes must be worn in and accustomed to before getting to Africa, don't wait to get started! Wear them hiking, around the home, on the treadmill, or whenever possible. Carry your weighted pack and become acquainted with its adjustments and how it fits with various layering blends. The more you practice layering, the easier it will become and the better you will become at analyzing; How hard is it to climb Mount Kilimanjaro?
The Foods and Beverages
The ascent will be quite challenging if you're dehydrated. A lack of sleep can make it more difficult for you to acclimate to high altitudes and recuperate from a long day of hiking. Even if you don't like the taste, you can add flavorings such as electrolytic powder to the liquids or even plain squash to your water.
As a result of all that exercise, you'll need to refuel your body. Eating enough meals can help you stay energized and help you recover after a hard workout by keeping your blood sugar levels stable throughout the day. Some of your favorite snacks from home may tempt you to eat even if you aren't really hungry because of the influence of altitude on your appetite.
Do you have any doubts about your ability to complete the climb? We're here to help you get to the bottom of any issues! How difficult was the ascent of Kilimanjaro? Are there any suggestions from you? We want to know what you have to say in the comments!
For more articles related to Things to Do in Tanzania (Zanzibar), click here!