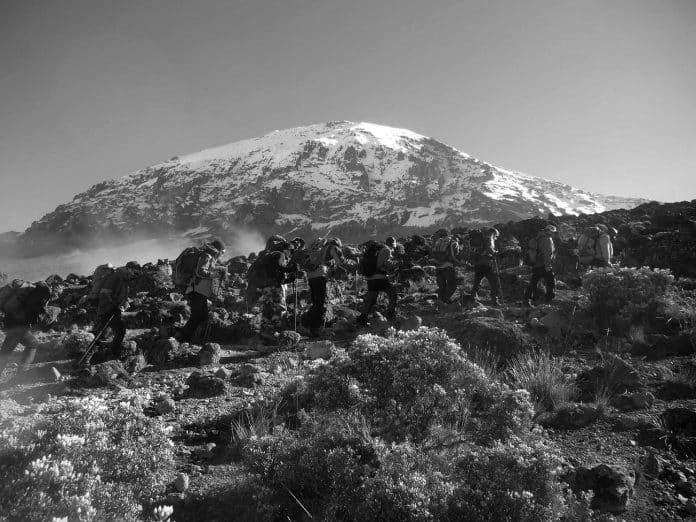 The Ultimate Guide About
Climbing Mount Kilimanjaro
Kilimanjaro Climbing Tips and Tricks From the Experts
The ascent of Kilimanjaro is described in detail on this page. Picking the correct timing, getting to Tanzania, and finally climbing mount Kilimanjaro are necessary steps.
If you'd like to learn more about the climbing mount Kilimanjaro price, how to choose a trekking agency or the route to take, I've got you covered there as well.
You can get a good idea of what it takes to climb Mount Kilimanjaro from this website, which deals with just a few of the many issues that need to be addressed.
Kilimanjaro is a mountain located in northern Tanzania, near the Kenyan border, in East Africa.
Map of Kilimanjaro and the Tanzania Regions
At the height of 5895 meters or 19340 feet, Mount Kilimanjaro is Africa's highest peak and the world's highest free-standing mountain (i.e., it stands alone in a plain and is not part of a mountain range).
There is a lot of planning and preparation to climb Mount Kilimanjaro.
A successful climb of Mount Kilimanjaro necessitates meticulous planning and preparation.
By success, I don't just mean the likelihood of reaching the summit. To have a positive experience during the entire voyage, you must plan thoroughly.
A Kilimanjaro Ascent Plan that Works
Three crucial decisions must be made before climbing mount Kilimanjaro:
You'll need to pick a time.

The route and duration of the climb (number of days and nights) must be selected.

Choose a hiking or climbing company to help you out.
If this is your first time, follow this plan of climbing Mount Kilimanjaro for beginners:
Picking a Date or Season
January to February and August to September are the driest months for summiting Mount Kilimanjaro, and these are the best times to do so. There is a good chance of beautiful weather in Kilimanjaro between January and March between June and October.
Figuring Out the Best Route and Duration for a Climb Up Mount Kilimanjaro
There are several ways to consider when climbing Mount Kilimanjaro. Depending on the subject matter, they might be short or long. All but one of them need you setting up in camps. Camping is not permitted on the Marangu route. Instead, you'll stay in shelters.
A minimum of five days is required to complete a Kilimanjaro trek, although six is preferable. Machame is a famous journey that requires a minimum of six days; seven is advised.
Your prospects of reaching the summit are much improved if you spend an extra day acclimatizing. For those who can afford it, longer journeys are an option.
Selecting Hiking or Climbing Outfitter
As the name implies, this park protects Kilimanjaro from harm. Climbing Kilimanjaro is prohibitively expensive because of the mountain's severe access restrictions and high park entrance fees.
Before looking for a cheap Kilimanjaro trip, read the page on the actual climbing mount kilimanjaro cost.
Climbing Mount Kilimanjaro requires the services of a licensed guide or trekking company. A professional climbing company will offer you guides, porters, cooks, and camping gear.
You don't have to prepare food or pitch a tent; you only have to carry a daypack. It's as simple as picking a Kilimanjaro excursion provider.
Many foreigners book to climb Mount Kilimanjaro in advance. This is a better option for most climbers than deciding on a climbing company at the last minute.
There are so many different Mount Kilimanjaro trips that it's mind-boggling. You can go from "cowboy" style to "luxury" climb operators who practically carry you to the top.
It's essential to find a respectable and trustworthy operator who treats their workers well. Don't skimp on your climb to Mount Kilimanjaro. Mount Kilimanjaro climbing on a shoestring budget is a bad idea.
A lot of the time, I get letters from people asking whether I can recommend a specific operator. And here they are: You can get in touch with my preferred operator by clicking here.
Preparation Tips for Climbing Mount Kilimanjaro
The following steps must be completed before your climbing Mount Kilimanjaro trip:
Flights must be booked in advance.

You must get a visa before you can.

You need to get the proper vaccinations.

The necessary gear must be purchased or rented.

You need to work on your fitness.
Itinerary Booking
Booking a Kilimanjaro trek from an international location can also include the booking of your flight to Tanzania.
Mt. Kilimanjaro's closest airport is Kilimanjaro Airport, located just a few miles away (JRO). Most travelers arrive at Kilimanjaro Airport, located midway between Moshi and Arusha.
Mount Kilimanjaro is physically closer to the Tanzanian city of Moshi than it is to Arusha. Arusha is also home to a large number of trekking companies. Ngorongoro, Tarangire, and the Serengeti are all easily accessible from Arusha.
If you're going to be in Tanzania for an extended period and fascination, consider flying into or out of Dar es Salaam, Zanzibar, or Nairobi, three of the country's other primary airports.
Organizing Your Travel Documents and Visa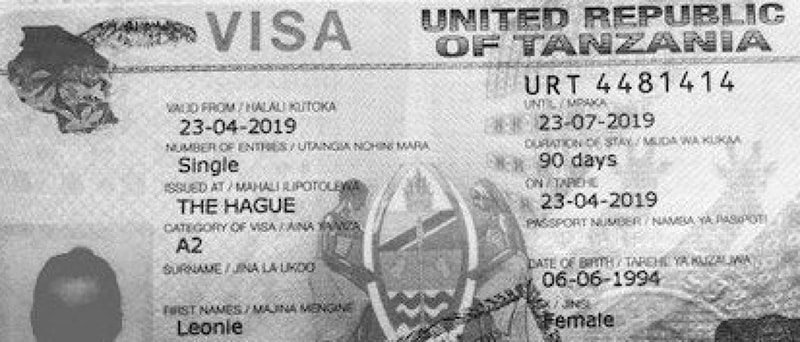 A visa and a passport valid for at least another six months are required to enter Tanzania.
Obtaining a Tanzania visa can be done via your country's Tanzanian embassy, either by phone or through their website.
You can get a visa on arrival in Tanzania if your country does not have an embassy there.
Getting a Series of Vaccinations
Various vaccines, including a yellow fever certificate, are recommended before climbing Mount Kilimanjaro. See your doctor right away because you need to start any of these treatments months in advance.
Malaria prophylaxis medicine can also be necessary, depending on your travel intentions. Consult your doctor if you have any doubts.
It depends on how long you plan to remain in Tanzania and what other sites you plan to visit, such as Zanzibar or a safari.
Obtaining the Necessary Tools
If you book with a trustworthy operator, camping gear of the same caliber is included in the charge.
Several Kilimanjaro tour companies also provide the option to rent out any equipment needed for climbing Mount Kilimanjaro. So you don't have to buy for a single-use or that you won't need to transport around Tanzania for a long time.
Make sure you know what to pack for climbing Mount Kilimanjaro. There are various down-filled items for rent, such as sleeping bags, coats, and insulating cushions.
Thermal undergarments and outerwear of the most excellent quality are also required for climbing Mount Kilimanjaro. Other essentials include:
A high-quality daypack.

Rain gear for everything.

Water bottles or a camel bag.

Gloves.

A warm cap.

Nice sunglasses.

Sunscreen (particularly for the lips!).
You must wear well-fitting hiking boots that have been worn in.
Here are the essentials for climbing Mount Kilimanjaro and some pointers on what to bring.
Fitness
There are no special skills or equipment needed to climb Kilimanjaro. Hiking rather than climbing is the proper term. The top is walkable.
That may sound easy, but it isn't at all!
Altitude sickness and training for Kilimanjaro are concealed. The better prepared you are for your climb up Kilimanjaro, the better.
Specialized mountaineering abilities are unnecessary for Kilimanjaro, but prior long-distance trekking and hiking experience is. If you're used to camping and roughing it, you'll be better prepared for climbing Kilimanjaro.
Over half of attempting hikers never make it to the top of Kilimanjaro; that doesn't mean you're doomed! Operators that claim a success rate of 80 to 90 percent are not exaggerating. If you have the proper preparation for climbing Mount Kilimanjaro, it is possible to climb Kili with a greater than 90% likelihood of success.
Most of the time, altitude sickness is to blame for people failing to summit. Here is a great place to learn how to deal with altitude sickness.
A person's ability to reach the top of Mount Kilimanjaro is not influenced by their fitness level, age, or previous climbing experience. It's entirely up to you. You have to be willing to put in the time and effort to do the research.
If my mum can conquer Mount Kilimanjaro, anyone can, too.
Is There Anything You Need Help With at This Point?
There are several trustworthy and reliable operators worth your consideration for climbing Mount Kilimanjaro, but which one is best for you?
Free and No-Obligation Advice on How to Plan a Trip?
Many people write to ask whether I have any personal recommendations for operators. This website has a direct link to the operator I use the most.
Dangers of Climbing Mount Kilimanjaro
Climbing Mount Kilimanjaro, the highest mountain in Africa, is a challenging and rewarding experience. However, like any mountain climbing expedition, it comes with its own set of dangers. 
You might be wondering, how dangerous is climbing Mount Kilimanjaro? Here are some of the most common dangers associated with climbing Mount Kilimanjaro:
Altitude sickness: 

Weather conditions

Physical exhaustion

Falls and injuries

Wildlife
To reduce the risks associated with climbing Mount Kilimanjaro, it is important to properly prepare for the climb, including training for the physical demands of the ascent, acclimatizing to the altitude, and bringing appropriate gear and supplies. It is also important to climb with a reputable guide or tour company who can provide guidance and support throughout the expedition.
Has Anyone Died Climbing Mount Kilimanjaro?
Unfortunately, yes. There have been fatalities on Mount Kilimanjaro. Most fatalities on Mount Kilimanjaro are due to altitude sickness, falls, or other accidents, and are often associated with climbers not being properly prepared or acclimatized. 
How Many People Have Died Climbing Mount Kilimanjaro?
It is difficult to determine the exact number of Mount Kilimanjaro climbing deaths.
So if you want to know how many have died climbing Mount Kilimanjaro, keep this in mind: Around 30,000 individuals ascend Kilimanjaro annually, and the recorded count of tourist fatalities is roughly 10 per year.
Mount Kilimanjaro Routes
There exist seven recognized Mount Kilimanjaro climbing routes that can take you to the peak:
Lemosho

Machame

Marangu

Rongai

Shira

Umbwe
Climbing Mount Kilimanjaro Lemosho Route
The Lemosho Route is considered one of the best routes to climb Mount Kilimanjaro. This route approaches the mountain from the west and is one of the newer routes, gaining popularity among trekkers and climbers in recent years.
Climbing Mount Kilimanjaro Machame Route
The Machame Route is a popular route to climb Mount Kilimanjaro. This route approaches the mountain from the south and is known for its stunning scenery, challenging terrain, and excellent success rates.
How much is climbing Mount Kilimanjaro through these routes? 
The price for the Lemosho route is around $2,850. The price for the Machame Route is $2,790. 
Climbing Tours of Mount Kilimanjaro
There are multiple Mount Kilimanjaro climbing trips. Here are some of the best Mount Kilimanjaro climbing tours:
Climbing Mount Kilimanjaro Facts
Here are four interesting facts about climbing Mount Kilimanjaro:
Mount Kilimanjaro is known as the "Roof of Africa" and is the tallest freestanding mountain in the world. This means that it is not part of a mountain range but stands alone, rising from the surrounding plains of Tanzania.

Climbing Mount Kilimanjaro is not just a physical challenge, but also a mental one. Altitude sickness can affect climbers at high elevations, and many people must deal with the psychological effects of being in a remote and challenging environment.

Kilimanjaro is home to a variety of unique plant and animal species, including the Kilimanjaro tree frog, the Kilimanjaro shrew, and the Kilimanjaro white-eye bird. The mountain's glaciers are also an important source of freshwater for local communities and wildlife.
Every year, thousands of people attempt to climb Mount Kilimanjaro, making it one of the most popular trekking destinations in the world. However, due to its popularity, the mountain faces a number of environmental and social challenges, including overcrowding, littering, and impacts on local communities and wildlife. Many organizations are working to promote sustainable tourism practices on Kilimanjaro and protect the mountain's unique environment and cultural heritage.
Fun Fact! Did you know about Spencer West climbing Mount Kilimanjaro? In 2012, an amputee climbing Mount Kilimanjaro did what few people have done. Read about it here!
Climbing Mount Kilimanjaro Resources
Check out these resources before your Mount Kilimanjaro climb!
FAQs
How long does climbing Mount Kilimanjaro take?
The time it takes to climb Mount Kilimanjaro depends on the route taken and the climber's pace and level of fitness. Most climbers take between 5 and 9 days to climb the mountain.
How much does climbing Mount Kilimanjaro cost?
The average cost of climbing Mount Kilimanjaro is $2000 to $6000, but the price varies depending on the travel agencies. 
What's the best Mount Kilimanjaro climbing season? 
The best time to climb Mount Kilimanjaro in Tanzania is during the dry seasons, which are from January to March and from June to October.
Is climbing Mount Kilimanjaro dangerous?
Climbing Mount Kilimanjaro is not without risks, as with any high-altitude mountain. However, with proper preparation, training, and guidance from experienced guides, the risks associated with climbing Kilimanjaro can be minimized. 
How many people died climbing Mount Kilimanjaro?
It is impossible to determine how many climbing Mount Kilimanjaro deaths there have been.  The recorded count of tourist fatalities is roughly 10 per year.
What's the success rate climbing Mount Kilimanjaro?
The success rate is between 45% and 65%.
What's the climbing Mount Kilimanjaro difficulty? 
It is hard to determine the difficulty of climbing the Mount Kilimanjaro. The difficulty level can vary depending on several factors such as the chosen route, altitude acclimatization, physical fitness, and weather conditions.
How hard is climbing Mount Kilimanjaro? / Is climbing Mount Kilimanjaro hard?
Climbing Mount Kilimanjaro can be a challenging experience. The climb is physically demanding and requires a good level of fitness and stamina. It is also important to acclimatize properly to the altitude to avoid altitude sickness, which can be life-threatening.
Is climbing Mount Kilimanjaro worth it?
Climbing Mount Kilimanjaro is absolutely worth it! It has a nearly 50% fail rate, but achieving the top is extremely rewarding.
For more articles related to Things to Do in Tanzania (Zanzibar), click here!