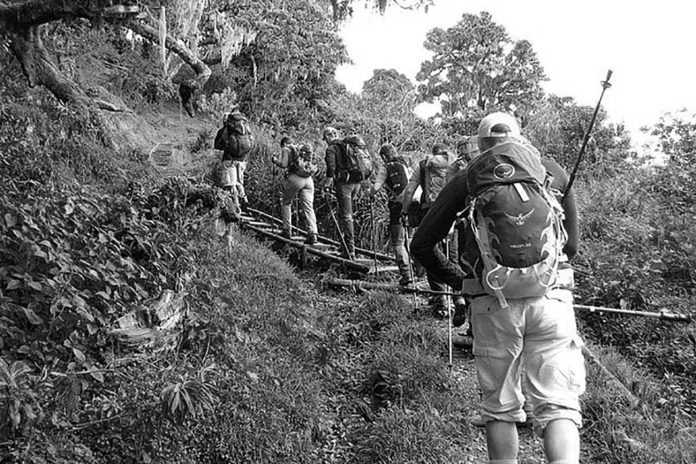 Mount Meru Waterfall Hike: Things You Need to Know
Why You Should Visit the
Mount Meru Waterfall
There are numerous stunning sights on Mount Meru, which flow from its steep volcanic cliffs. Having spent the night in severe rain, I decided to take a day excursion to Mount Meru Waterfall, one of the greatest waterfalls at the base of Mount Meru. In this adventure, motorbikes ride along a steep road and then descend into a gorge down a forest ladder. Once you've gotten inside, you can wade down the river and climb over stones until you reach the roaring Mount Meru Waterfall at the bottom of the gorge. Arusha's Mount Meru waterfall, a spectacular sight only a few kilometers from town, is one of the city's most popular attractions.
Snapshot About Hiking to the Mount Meru Waterfall
The total distance walked to the Mount Meru Waterfall is approximately 4-5 kilometers (including the return trip)
1.5-2 hours is the maximum walk time from the ticket office to the waterfall and back.
Due to the slippery terrain and river crossings, most physically active and adventurous people will be OK. Get ready to get soaked.
There is a 200-meter grade hike inclination.
Mount Meru Waterfall's Exact Location
I have no idea what the waterfalls around Mount Meru are called. There are too many Mount Meru Waterfalls for me to provide accurate information and Google Maps pins for you to use in your travels. These waterfalls were all labeled Mount Meru Waterfall, familiar with the area even with my guide. According to Google, at least four more falls have the same name; the Mount Meru Waterfall including one that I crossed on my Mount Meru volcanic tour. The Mount Meru Waterfall, which reminded me a lot of Bali's Sekumpul Falls due to its huge force slamming at the foot, is worth a visit, and I'll supply directions to it.
This waterfall is located in the Meru Conservation Area, just above Themi Park. Riders on a boda-boda must climb a steep, muddy hill to reach this area (motorbike). You can't get there with a tuk-tuk. Themi Leisure Park is a kilometer away. The entrance to Meru Conservation Area is up a driveway on the left.
However, because it is not viewable on Google Maps, this pin does not accurately depict where visitors enter the Meru Conservation Area, which can be found at the top of Waterfall Road in the neighborhood of Meru. Themi Leisure Park is one kilometer past where you're supposed to be (on Google Maps).
Permits and Guides for Mount Meru Waterfall
Meru Conservation Area has a ticketing office where visitors pay the $12USD per person fee and are met by a group of cheerful men eager to serve as their tour guide. However, despite my doubts, I have to admit that a guide is quite helpful on the Mount Meru Waterfall walk. There are no signposts at starting points and trails, and the path is not marked on maps or any other mapping site. Additionally, they show how to navigate some of the trail's rocks, stones, and steep sections using local angles and techniques. A $15 guide fee is too expensive for a one-hour tour if I remember correctly. However, even if they succeed in persuading you to take two, there is no good reason for them to do so. Only one guide should be requested, and the guide should cost no more than $15.
Writer's Eye Opening Insight – The Waterfall Hike at Mount Meru I Accomplished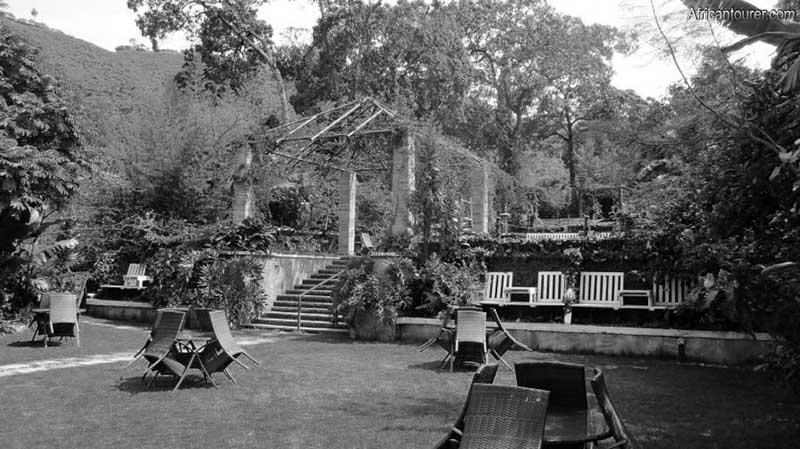 At the bottom of Waterfall Road, I got a boda-boda and began the steep, rocky ride through Themi Leisure Park to the Meru Conservation Area's entrance. We were greeted at the door by three cheery lads who all appeared eager to be our guide for the day. The Mount Meru Waterfall was our first stop after paying the admittance charge.
The trail begins on the road before taking a left turn into the woods. Nothing indicates that this was anything other than a traditional Tanzanian expedition, complete with a guide. Almost immediately, we were ushered into a deep rainforest, where trees appeared to be suffocating under the weight of dense ferns that appeared to blanket the entire landscape.
Our path down the gorge was abruptly turned into a flight of stairs. I was reminded of Indonesia's Tiu Kelep Waterfall by this flight of stairs and the gradual ascent to the river. Even though it is a volcanic country, the landscape seems eerily similar to Indonesia's. We tried our best to stay upright after a rainy night on the muddy steps, which was quite a beautiful experience.
At the bottom of the stairs, we were greeted by a breathtaking landscape. Because we were the only ones in the gorge, we took the opportunity to stop and take in the unique natural sounds of the rushing stream and the birdsong that filled the air. We were pleasantly surprised by our Mount Meru Waterfall trip, given its proximity to Arusha.
It was time for our boots to get wet as we made our first of many forays into the icy river. Getting your shoes wet is all you need to do. Our return journey brought us across a few folks on the trail with flip-flops and bare feet, and their discomfort was obvious. In this way, you won't have to worry about having your shoes wet and will be able to enjoy the hike fully.
You may get your adrenaline pumping on the way to the big falls by stopping at one of the smaller waterfalls. It was actually on our way back that we paused to dry off and take in the surroundings.
The terrain includes some rock scrambling and slick areas, but it isn't too difficult. As our instructors instructed us on the best way up the boulder, we only had to rely on them once for assistance. We arrived at Mount Meru Waterfall's entrance after a thirty-minute hike through a small ravine.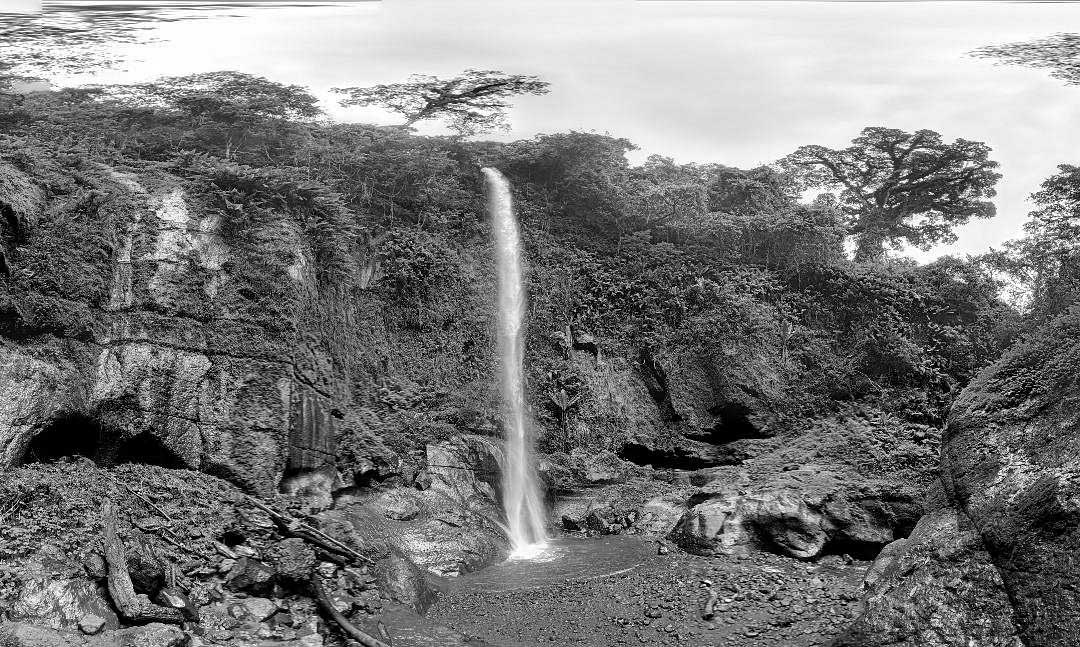 We could immediately sense the gorge filling with mist despite the ankle-deep water. There was a lot of power behind it. At the beginning of the rainy season, the wind nearly knocked us down as we approached the last bend, and this was at a time when the Mount Meru Waterfall had not yet peaked. While it is possible to get up close and personal with the waterfall, extreme caution is advised due to the sheer intensity of the water. If you get too close to the falls, you risk being swept away. Take care with your cameras and other gear.
Alternatively, you can make a wide loop and visit some of the area's other waterfalls on your way back. Arusha is also a good starting place for hiking up and across the hills to and from Arusha. Depending on your idea of fun, this place offers many options.
Writing this stroll guide to the Arusha, Tanzania, Mount Meru Waterfalls was a pleasure.
Which Company Did I Use for All of My Safaris, Treks, and Other Excursions?
Every trip I've had with Altezza Travel has been excellent. It was a pleasure working with the guides and drivers, who were always on time, well-trained, and provided a wide range of tours, hikes, and activities, especially the Mount Meru Waterfall tour. Altezza Travel offers a 5% discount on any safari, tour, or trek booked via them with my code JACKSON5. If you book via Altezza Travel and use the code JACKSON5, you will save hundreds of dollars on a trip to Mount Kilimanjaro, amongst others.
Recommended Best Places to Stay in Arusha Near Mount Meru Waterfall
The 5-star Gran Melia Arusha has a spectacular view of Mount Meru and is the ultimate in luxury.
Wakawaka Hostel – cheap, convenient, and had a laid-back vibe — was where I stayed while on a tight budget.
Tulia Boutique Hotel & Spa, which contains a swimming pool and high-quality facilities and rooms, is the best value hotel in the area.
For more articles related to Things to Do in Tanzania (Zanzibar), click here!