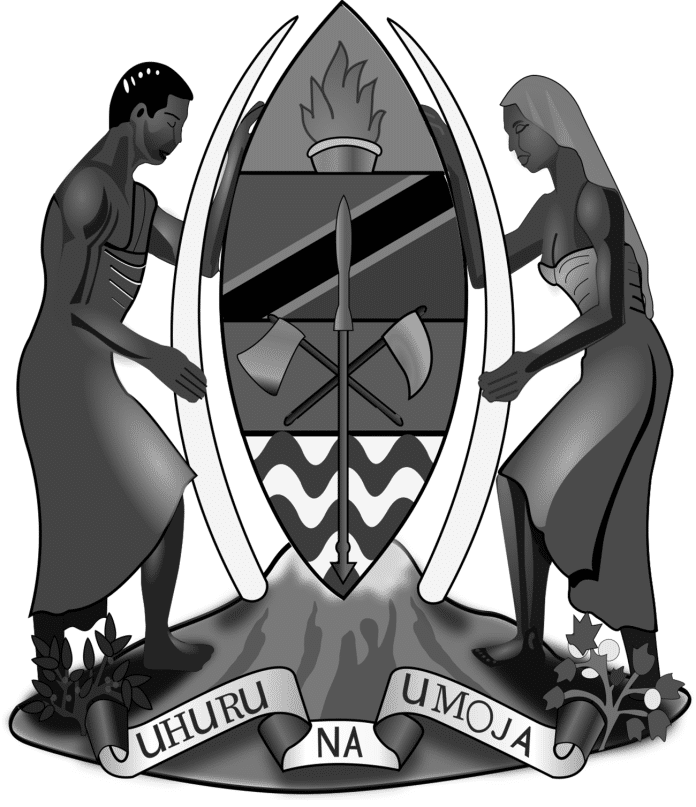 What You Need to Know About the Tanzania Coat of Arms
Tanzania's Coat of Arms; Its History, Meaning, Styles, and More
Definitions and Styles
Tanzania coat of arms meaning – The Tanzanian coat of arms depicts a shield, with the flag of Tanzania superimposed on a golden section.
The flag's top, golden section represents mineral wealth; the bottom, red, represents Africa's rich, fertile soil; and the bars, which undulate, represent the United land, sea, lakes, and coastlines.
The golden section of the flag features a blazing torch, which stands for freedom (Uhuru), knowledge, and enlightenment; a spear, which represents the defense of independence; and an axe and hoe, which stand for the tools used by Tanzanians in the building of the country.
A depiction of Mount Kilimanjaro anchors the shield with a man and woman holding the elephant's tusks, while a clove bush and a cotton bush sit at their respective feet; the woman's head is covered with a golden scarf signifying cooperation.
The below Swahili phrase represents the official slogan of Unity and signifies "Freedom and Unity.
History of Coat of Arms of Tanzania
A nod to the Republic of Tanganyika's coat of arms can be seen in Tanzania's own. The flag, coat of arms, and state seal of Tanganyika were officially incorporated into law on the first anniversary of independence, December 9, 1962. The flag was formed by decree on the day of independence, December 9, 1961. On the Day of Union, before the soils of Tanganyika and Zanzibar were mixed, President Nyerere declared that the Emblem of Tanganyika would henceforth be known as the Emblem of Tanzania. The new Tanzanian flag was officially accepted on the Day of Union, and a new insignia was afterward created; the Tanganyika emblem inspired that. In 1971, a new flag and a new coat of arms for the Union were adopted.
Whoever created this object has yet to be revealed. Currently, there are three strong prospects.
Zanzibari Abdalah Farahani claimed in 1964 to have invented it.

In 1957, Francis Maige Kanyasu (also known as Ngosha) and his associates claimed they had created it.
For more articles related to Laws of Tanzania (Acts), click here!